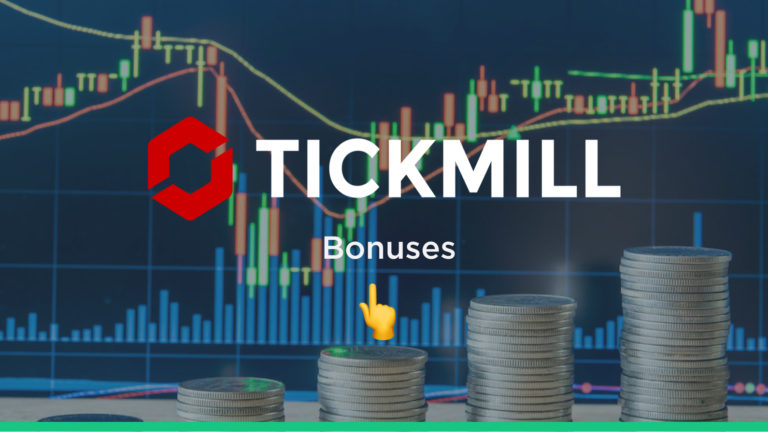 However, there are even more reasons to consider using Tickmill, namely the bonus offers that it provides from time to time. There are even offers where Tickmill gives clients $30 with which to trade.
Heading to the Tickmill site will take you to the safe URL address of what is a global broker. In fact, Tickmill Group companies operate in 200 different countries around the world. Depending on your location, and which entity operates in your region, you may be eligible for one or more of the below Tickmill bonus offers.
It's important to reiterate that Tickmill is a great candidate for any shortlist of brokers, even without the addition of bonus offers. This report will consider and explain the following:
Welcome bonuses for new clients
Introducing Broker – Tickmill's unique affiliate partnerships scheme
Tickmill's NFP Machine
Tickmill's – Trader of the Month Competition
Forex Demo Challenge
MT4 Trading Competitions
Before we get started, take a look at our other Tickmill guides:
Welcome Bonuses for New Clients
As bonuses go, it's difficult to beat hard cash. The Tickmill $30 Welcome Account allows new clients to trade using $30 that the broker puts in an account for them. There's not even a need to make a deposit.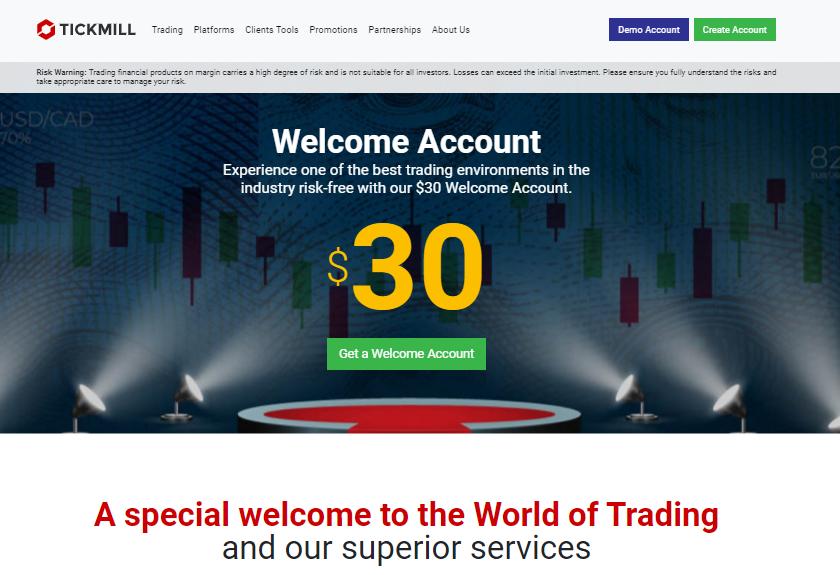 Source: Tickmill
The Welcome Account takes moments to set up and any profits you make are yours to keep.
Registration for this account is very straightforward. From a skills development perspective, the trading functionality is exactly the same as the other accounts. This means you get to practice trading using someone else's money.
Not only do you get $30 credited to your account, but you also get to enjoy the premium-grade service Tickmill is so well known for. You'll trade using lightning-fast execution, low trading costs, and the support services of an award-winning broker.
No need to deposit funds
No risk of losing your own money
Keep any profits you make
[Note: Existing clients aren't eligible for the Welcome Account offer, so when onboarding, be sure to consider giving priority to opening Welcome Account over the standard version.]
Referral Introducing Broker – Tickmill's unique affiliate partnerships scheme
If making a return from the Welcome Account bonus scheme relies on making a few shrewd trading decisions, the referral bonus scheme doesn't require any trading at all. It's an easy to access non-trading revenue stream, which is always nice to have considering the ups and downs of the markets.
The Introducing Broker (IB) bonus revolves around Tickmill clients being rewarded for introducing other new clients to the platform. Given that the Tickmill offering is a combination of high-quality trading apparatus and security, it's an easy sell. There are four easy steps to the process:
Advertise— Leverage off the supporting marketing materials Tickmill provides and start attracting traders
Introduce— Refer interested traders to Tickmill using a unique tracking number.
Gain— Your account will be credited in real-time. As your clients' trade, you gain.
Track— Tickmill provides a secure Introducing Broker portal so that you can track your referred clients.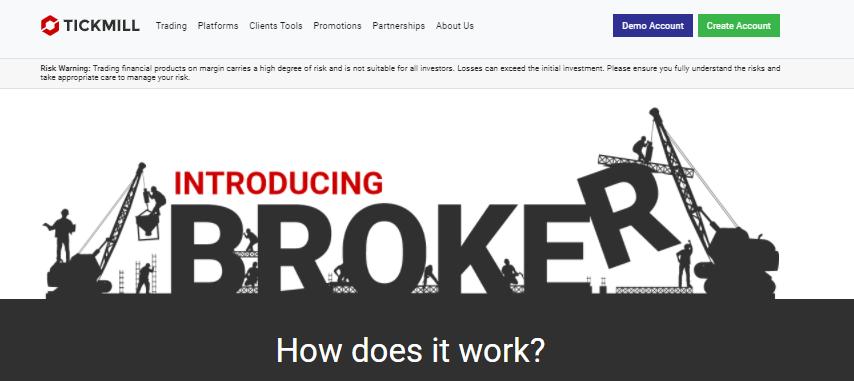 Source: Tickmill
The process is pretty straightforward and the benefits that come from being a Tickmill Introducing Broker include.
No set up fees. Just sign up and refer new clients to the platform
Available to corporations or individuals – no minimum threshold
Credits of $10 per lot for a trader who signs up for a Classic account
$2 per lot on Pro account
$2 per lot on VIP accounts
Forex and Metals trades executed by your referral will earn you commission
If your recommendation opts for a Pro account, they will themselves get a 5% discount on commissions
Utilise the specially designed and ready-to-use materials, which are free to use
No hidden fees or special commissions
Reports relating to IB income can be accessed from your trading account — no need for a separate account
One of the neat features of the Tickmill IB program is the way it's available to everyone. If you think you can steer any number of traders to Tickmill, you will be rewarded. As the Tickmill site states:
"Our IB program is not limited to companies or individuals with large lists of potential clients – every trade generated by referral will bring profit to the trader who introduced the business."
Source: Tickmill
Tickmill's NFP Machine
The NFP machine is a unique bonus scheme. It offers traders the opportunity to win up to $500 with no stake being put down and also helps with actual trading of the markets.
The way it works is that Tickmill chooses one instrument in the run-up to the US Non-Farm Payroll (NFP) jobs numbers being released. It's then the task of clients to predict what price that market will print exactly 30 minutes after the NFP numbers are released.
The NFP numbers are one of the biggest data releases in the trading calendar and come out on the first Friday of each month. If the payroll numbers beat or miss analyst predictions, then market turmoil can ensue. In fact, there are even instances where the numbers match forecasts and asset prices still whipsaw.
The NFP numbers are the number to watch and having a fun and potentially rewarding scheme in place to keep them in mind can rub off on your trading.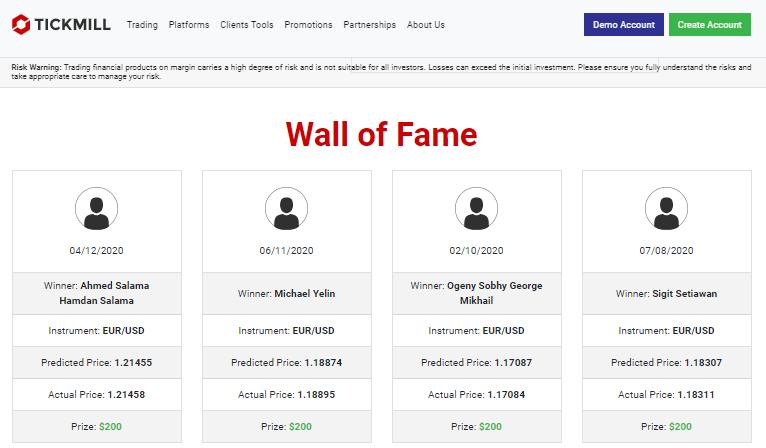 Source: Tickmill
The Upsides of the Tickmill NFP program include:
If you guess the price in that market exactly, you will receive $500 into your trading account.
If no one guesses the exact figure, the trader with the closest prediction will win a $200 prize.
Even if you don't win, you will probably come out of the experience better prepared for the biggest data release of the trading month.
Tickmill's Trader of the Month Competition
The promotion that best supports Tickmill's reputation for developing the skills of its clients is the Trader of The Month competition.
It's a long-running promotion and there is a long list of successful traders. Each month the broker chooses the best trading account and awards that top-performing trader a $1,000 prize.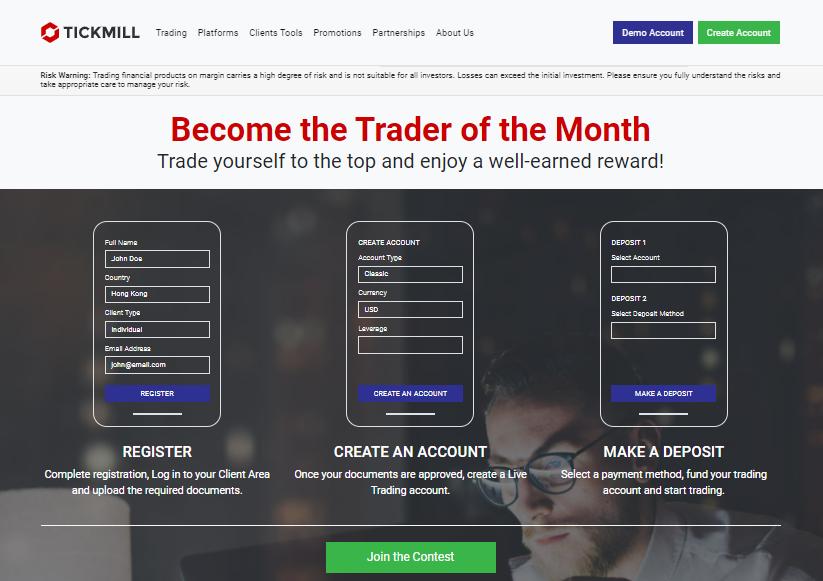 Source: Tickmill
A clever twist is that it's not just a case of rewarding the largest profit of the month. The process takes into account money management and risk mitigation skills.
You don't even need to complete any additional registration forms. All that is required to participate in the contest is to have an open live account with Tickmill. If you post a stellar return, Tickmill will contact you to let you know about the additional reward to present you with.
Forex Demo Challenge
The Tickmill Forex Demo Challenge is ideal for those who are just starting out in trading. Demo accounts allow clients to trade using virtual funds, which makes it a risk-free environment. The beauty of this Tickmill bonus is that it helps beginners keep focused on virtual trading rather than leaping, possibly prematurely, into setting up a live trading account.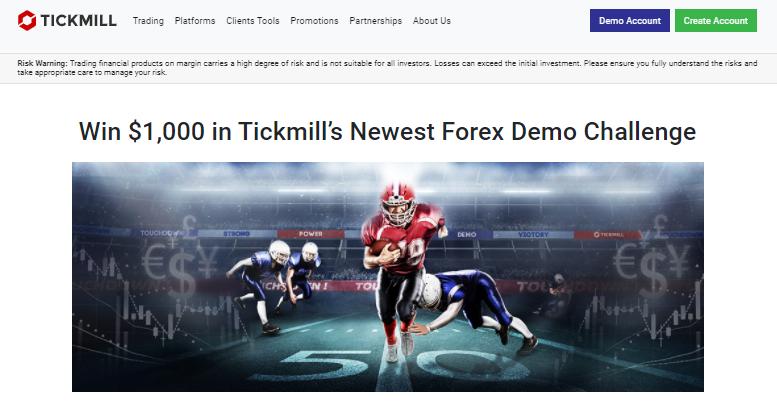 Source: Tickmill
Demo accounts are one of the best ways to develop skills. The truth is that the accounts can sometimes lack the edge of live trading as they don't involve the emotional rollercoaster of using real cash.
This Tickmill bonus allows newbies to trade risk-free, but with something more than paper-profits at stake. You also get to test-drive the Tickmill platform and find out for yourself how good it is.
Entering the competition is a simple three-step process:
Registerfor the contest
Set up your Tickmill Demo account
Start trading
The top-10 traders with the highest account equity at the end of each round receive a cash award. The total prize pool for each round is $3,000, with the 1st place winner pocketing $1,000 and a complimentary VIP account.

Source: Tickmill
While this bonus is particularly beneficial for beginners, there is no reason you can't continue taking part even after you set up a live account. Running demo and live accounts at the same time, in fact, gives traders an opportunity to be more conservative with their 'real' trading. The demo account can be used to experiment with new ideas — which might even result in you landing a $1,000 jackpot.
MT4 Trading Competitions
The MetaTrader 4 trading platform Tickmill provides to clients is the benchmark by which other trading platforms are measured. It's so popular that a whole community has sprung up around it. It's a place for MT4 traders to share ideas and thoughts on the markets. Some even share their self-built software models, which allow users to set up for automated trading.
The size of the MT4 community has resulted in various trading competitions being created where traders can test their skills against their peer group. Not only does this keep traders focused on developing their skills, but there are also cash prizes available to the winner. The Trading Cup competition, for example, sees MT4 traders compete for prize money up to $90,000.
If you're not taking part in the Trading Cup yourself, you can watch the trading activity in real-time and learn from more experienced traders. There is even a competition for demo account traders, which is likely to appeal to beginners.

Source: Trading Cup
How to Check If You Are Eligible for Tickmill Bonuses?
The interesting thing about Tickmill bonuses is that not every bonus is available to every client. This is because different regulators have different rules and regulations regarding promotions. Tickmill is regulated by the following authorities and the decision of which one each client falls under is down to geographical location:
Tickmill Ltd is regulated as a Securities Dealer by the Seychelles Financial Services Authority (FSA). FSA licence number: SD008
Tickmill UK Ltd is authorised and regulated by the Financial Conduct Authority (FCA). FCA Register Number: 717270
Tickmill Europe Ltd is authorised and regulated by the Cyprus Securities and Exchange Commission (CySEC) as a CIF limited company. CySEC licence number: 278/15.
Tickmill Asia Ltd is authorised and regulated by the Labuan Financial Services Authority (Labuan FSA). Licence number: MB/18/0028.
Tickmill South Africa (Pty) Ltd is authorised and regulated by the Financial Sector Conduct Authority (FSCA). FSCA licence number: FSP 49464.
(Sources: Tickmill)
The fact that Tickmill is regulated by a range of top-grade regulators is good news for clients but does require them to double-check that promotional offers apply to them. One of the easiest ways to run that check is to follow this link to navigate to the Tickmill site and discover the promotional offer for you.
Final Thoughts
The biggest bonus of using Tickmill is the platform itself. It's built by traders, for traders and has a regulatory structure as strong as any in the market. The bonus offers are also as good as you'll find elsewhere in the market and are well worth exploring further.
Tickmill deposit bonus schemes deserve a special mention for being innovative. As well as offering great cash rewards, the bonuses also incorporate a range of features designed to simultaneously develop the trading skills of Tickmill clients.
Further reading: