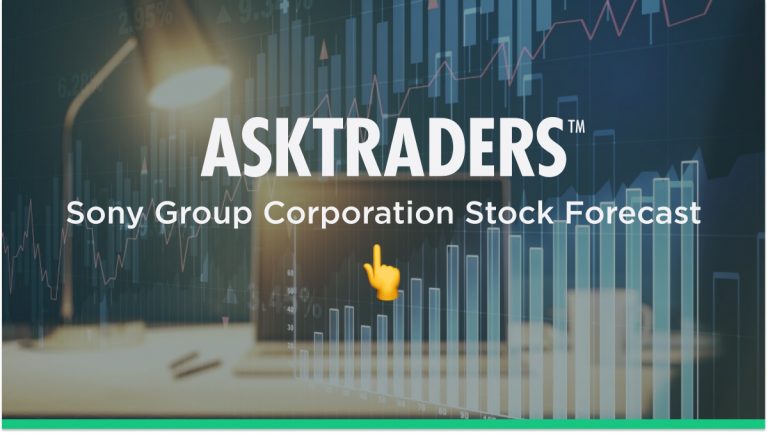 There are good reasons to suggest the stock could continue to generate returns for investors. Forward-looking divisions of the firm are currently in sweet growth spots, and there are moon-shot style projects in the pipeline as well. There are, however, potential trip hazards to consider. The below Sony stock forecast draws on technical and fundamental analysis to outline the reasons to buy Sony and how to find the best time to do so.

Sony (SONY) Share Price 2012 -2022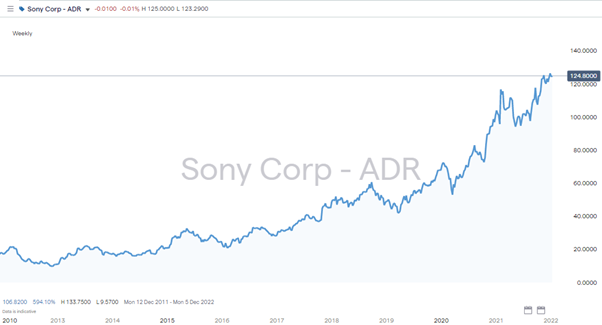 Source: IG
Who is Sony (NYSE: SONY; TSE: 6758)?
Sony Group Corporation designs develops and manufactures a range of globally recognisable electronic equipment and devices for the consumer, professional, and industrial markets. Its move into online streaming in the form of Sony Interactive Entertainment has excited investors and complements its operations in a range of other sectors. Sony's other interests are diverse, ranging from film production to life insurance. This can make it hard to factor in every permutation that might influence a Sony stock valuation.
Sony is a global brand headquartered in Tokyo, Japan. The primary listing of Sony stock is on the Tokyo stock exchange, but to accommodate international investors, it is also listed on the New York Stock Exchange. The ticker of the NYSE listing changed from SNE to SONY in 2021.
Most good brokers offer their clients the opportunity to buy shares listed in Japan or New York. As the Tokyo listing is priced in Japanese yen, those with accounts that aren't denominated in yen are required to factor in that total returns in Japan listed shares will incorporate forex price moves and price moves in the underlying stock itself.
The purpose of ADRs is that investors can essentially buy the same stock as the foreign listed one, but more easily. This Sony stock forecast will therefore use data and reports relating to both listings of the stock.
Sony Fundamentals

Source: IG
Sony Balance Sheet
Source: IG
Highlights from the 6-month financial results up to 30th September 2021 include:
Sony Group Corp (ADR) revenues increased 14% to Y4.626trn
Net income decreased 35% to Y424.94bn
Revenues reflected Electronics Products & Solutions segment increase of 29% toY1.134trn
Game & Network service segment increase of 13% toY1.231trn
Music Business segment increase of 29% to Y520.77bn
United States segment increase of 29% to Y1.249trn
Asia / Oceania segment increase of 40% to Y515.27bn.
Where Will The Sony Stock Price Be in 3 Months?
The start of 2022 has been marked by primary movers such as the US Federal Reserve having significant influence over the markets. Reports that US interest rate policy may turn hawkish faster than expected and worrying price inflation data suggest global economic growth could be at risk.
Inflation and a downturn in the economy would be a double whammy for tech stocks like Sony. Its valuation is primarily based on its ability to protect future profit margins and revenue streams. This could lead to Sony joining other tech stocks in being more volatile over the next few months.
The more traditional business lines, which are seen as being less exciting long-term opportunities, could in the short-term offer some stability to the Sony stock price. If cinema attendance, for example, continues to grow after the Covid lockdowns, that would be a boost for the Sony films and cinema division. The life insurance division is also relatively resilient to economic downturns.
Sony (SONY) Share Price 2019 -2022 – Weekly Moving Averages
Source: IG
Sony's short-term prospects appear vulnerable to pullbacks, but potentially not on the same scale as rivals such as Netflix, which only operate online. These pullbacks would represent opportunities to buy dips and take positions for the medium and long-term, which is when Sony's gaming and online presence is expected to thrive.
Over the last three years, the Sony stock price has benefited from significant support from the 50 and 100 Simple Moving Averages on the Weekly price chart. Short term noise could lead to the Sony stock price falling in value, so it can be expected that many will be using the SMAs as indicators of when to step in and buy.
The nature of any sell-off is also worth investigating. Data from 31st December 2021 confirms Sony is not a popular target of short-sellers. Only 0.1% of the total stock is sold short, which equates to 1.6 days of average trading volumes. That is a low number and means very few hedge funds are betting against the stock. Therefore, a price dip is more likely to come from traditional investors taking profits, which means dips may be smaller in size than they are with firms being actively shorted.
Where Will The Sony Stock Price Be in 1 Year?
Despite the impressive rise in the price of Sony stock, the P/E ratio is still an attractive 14.59. This is because earnings have continued expanding largely thanks to growth in the firm's gaming and music streaming services.
Quarterly earnings announcements made over the next 12 months will allow analysts to test if this growth is keeping up with forecasts. Each statement can be expected to give a steer to the stock price. The numbers which will be given the greatest significance will be those relating to gaming and music streaming.
Sony Gaming Analysis
The PlayStation brand has cemented a dominant hold on the increasingly popular gaming market. PlayStation consoles have outsold Microsoft's Xbox for more than 20 years, and from 2010 to 2020, those products grew from accounting for 12% of the company's total revenue to 30%.
PlayStation sales can be expected to hold up thanks to the PS5 console released in Q4 of 2020 and still in the early stages of its lifecycle. Taking nothing for granted, Sony has invested in developing a pipeline of exclusive games for PlayStation owners.
Sony Music Streaming Analysis
The growth in online music services has revolutionised the industry and resulted in winners and losers. While some artists have seen their incomes squeezed, Sony has been able to secure profit margins of nearly 20% in this division. Revenue growth in 2020 was a stunning 40%, and as with gaming, Sony is investing in developing a pipeline of new artists. It's also building cross-over links between its music, gaming, and film operations in an effort to protect the position it has held since 2012 as the world's top music publisher.
Sony (SONY) Share Price 2020 -2022 – Supporting Trend Line
Source: IG
Those key divisions are a large part of any hopes for the bull-run in Sony stock continuing. Investors with a medium and long-term investment horizon might want to consider any disappointing sales figures as blips and buying opportunities. While the supporting price trend line dating back to 2020 still holds, there doesn't appear any reason to change strategy even if there is one set of disappointing numbers released.
Where Will The Sony Stock Price Be in 5 Years?
Compiling a Sony stock forecast is easier when it focuses on the gaming and music operations. For longer-term investors, the question 'Is Sony a good stock to buy?' has to factor in the diverse and fragmented divisions, including banking, healthcare, and photography. These still account for more than half of Sony Group Corp earnings and are exposed to the risk of a general economic downturn.
Given the size of Sony, a large number of brokers have dug into the detail of the firm's prospects, and the resounding consensus among those 22 analysts is that Sony Group Corp is a 'buy'.
Sony Broker Ratings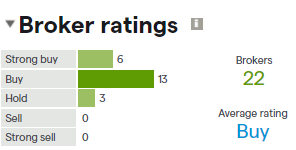 Source: IG
PlayStation 6 (PS6) doesn't yet have a confirmed release date, but industry insiders are mentioning 2026 and 2027. The markets in which the PS consoles and Sony Music divisions operate aren't immune to revolutionary change; however, one of the reasons to buy Sony stock is that the firm has a track record of being on the winning side when change occurs.
Possible Upside For Sony
Sony Pictures stock can be expected to recover as cinemas continue to reopen. The firm is also investing in robotics, the Internet of Things, self-driving car technology and digital imaging and sensory advances.
Who Owns SONY stock?
Both institutional and retail investors own Sony's stock. The investment firms have carried out the due diligence necessary before buying Sony stock worth many millions of dollars. The institutions include many household names.
Officially reported positions in 2021 included Bank of America holding $352m worth of Sony stock. Boston Partners $281m, Morgan Stanley $244m, Gamco Investors $187m and BlackRock Inc $125m.
Is Sony a Good Buy?
Sony's relatively complicated business model means there is some difficulty in answering the question, Sony, buy or sell? While the more traditional revenue streams are exposed to the risk of an economic downturn, the firm's positioning in key growth sectors results in the answer leading towards 'buy'.
An economic downturn isn't, after all, a foregone conclusion and could ultimately be ridden out by investors with a buy-and-hold approach. Therefore, short-term price dips could offer opportunities for those looking to take a position in one of the most exciting large-cap stocks in the market.