The quarterly updates from big corporations on how their businesses are performing often determine the direction the stock markets take next, and the Q2 earnings season of 2022 looks to be no exception
Big banks are typically first out of the blocks, and earnings report 'misses' from some of Wall Street's highest-profile names have caused jitters among investors. Airlines and telecoms stocks, sectors that are also causing concern, have updated with lower earnings.
The quarterly updates for shareholders offer the best insight into the health of companies, their customers, and the state of the general economy. After the stock market sell-off of early 2022, the question is, is it the time to buy the dip? Digging into the details of earnings misses goes a long way to answering that question.
What Is An Earnings Estimate?
An earnings estimate is a calculation by industry analysts of what a firm's earnings per share (EPS) and total earnings might be for a given period. As big corporations tend to provide quarterly updates on their performance, most earnings estimates also operate on a quarterly basis.
The analysts might work for investment banks, institutional investment funds or third-party research firms. To come to their conclusions, they use data from their market research and information released by the reporting firms. Reporting firms provide data as part of offering 'guidance' to reduce share price volatility, which can spike if expectations and reality are dramatically different.
Q2 Earnings Report Misses – Morgan Stanley
Banks are often seen as a bellwether of the broader economy. Their position as a hub of financial and economic activity means their earnings reports are always keenly awaited. Luckily for investors, they have traditionally been some of the earliest firms to release their numbers. Not such good news was that market titans like Morgan Stanley and J P Morgan are among the firms which have posted Q2 earnings reports misses.
Misses on Top and Bottom Numbers – Share Price Dips, Then Rallies
After the release of the bank's Q2 earnings report on Thursday 14th July 2022, the stock price of Morgan Stanley (NYSE: MS) plummeted 2,5% in value. Top line revenues missed, with the bank posting a $13.13bn figure compared to analyst expectations of $13.48bn. There was more bad news regarding earnings per share (EPS) which had been expected to be $1.53 but came in at a disappointing $1.39.
Digging into the detail, it was clear that the malaise that swept over the global economy in the first half of 2022 has extended to M&A activity and IPO launches. Investment banking revenues for Morgan Stanley were 55% lower than the previous quarter, another number which missed the forecast target.
Morgan Stanley – Daily Price Chart – 2022 – Earnings Miss on 14th July
Source: IG
The notable 'beat' was in the fixed income trading division. That part of the firm was buoyed by investors moving into bond positions. That might be good news for the traders on those desks in terms of end-of-year bonuses, but it is anything but a vote of confidence in the rest of the financial ecosystem.
The immediate sell-off in Morgan Stanley stock was understandable. Still, the bounce off the key $72 share price support level has resulted in the stock forming a double-bottom price pattern which is a bullish indicator. This upward movement could be more about a market-wide reassessment of risk appetite rather than the specifics of the situation in which MS finds itself. Regardless, if the stock can break the downward resistance trend line, which dates back to March 2022 and currently sits in the region of $82.30, there will be a line of buyers ready to apply breakout strategies. With the year-to-date price high being $109.73, there is plenty of room for upward share price movement before major resistance levels come into play.
Morgan Stanley – Daily Price Chart – 2022 – Trendline Break
Source: IG
The compensatory factor that might be the reason behind the buying pressure is that higher interest rates tend to be good news for banks. Some over-leveraged clients who have extended their credit lines to an unsustainable level might have to be monitored closely. However, the day-to-day business of borrowing and lending should benefit from improved margins. When interest rates are close to zero, as they have been for some time, it's hard for banks to maintain a profitable bid-offer spread on savings and borrowing rates. After all, if you offer savers sub-zero interest rates on their cash accounts, they're more likely to keep their cash under the mattress.
Q2 Earnings Report Misses – Delta Airlines
Valuation models on airlines have had to be recalibrated many times over, thanks to the Covid pandemic and global bans on air travel. Consumer appetite for a return to flying is hard to gauge, fuel prices are historically high, and business clients have established that online Zoom meetings are sometimes a more than adequate substitute for a costly first-class flight ticket.
Earnings Misses Bring Airline Sector Down
Delta Airlines (NYSE: DAL) earned $1.44 a share during Q2, a big miss of the $1.66 EPS analysts forecasted. Adjusted revenue of $12.31bn beat estimates for $12.25bn which offered some hope for Delta shareholders, but a lot of the bad news was found in the accompanying statement.
Domestic passenger revenue rose 3% compared to second-quarter 2019 levels suggesting that area of the industry is coming out of the pandemic in a healthy enough state. Corporate domestic travel improved but was still down, which means 'the new way of doing things' brought on by Covid could include fewer business trips being undertaken.
Delta Airlines – Daily Price Chart – 2022 – Bounce Off Support Level
Source: IG
Supply-side issues are also a concern. The firm stated that total flight capacity is expected to be down 15%-17% vs Q3 2019 numbers. The firm has hired 18,000 employees since last year and was dealing with a "training and experience bubble" rather than hiring difficulties. It also aims to scale up its operations in a way that allows it to provide a more reliable service.
Doing things' right' is bad news for the bottom line, and with the airline running at 85% capacity but running up 100% of costs, the non-fuel unit costs of the airline are expected to jump by 22% in Q3.
CEO Ed Bastian said during the Delta earnings call: "You've got to remember, people have not had access to our product for the better part of two years, particularly business and higher-end consumers. We're not going to satisfy that thirst in the space of a busy summer period."
Delta Airlines – Daily Price Chart – 2020 – 2022
Source: IG
As with Morgan Stanley, the share price of Delta suffered a sharp fall but then rallied. Is this another case of 'sell the rumour and buy the fact'? The intraday low of $28.35 recorded on Wednesday 13th July 2022 took DAL stock to price levels only seen twice since 2020, but the bounce off that support level, as with MS, can be seen to be forming the beginning of a bullish price action pattern.
Q2 Earnings Report Misses – Ericsson
Swedish Telecoms giant Ericsson (ERIC) saw its share price plunge by as much as 10.00% on a week-to-date basis soon after the firm's management released a big earnings miss on Thursday, 14th July 2022. Analysts had predicted EPS of SEK 1.61 per share and net income of SEK 5.27bn, but the released numbers were a disappointing SEK 1.35 and SEK 4.7bn.
Ericsson's Valuation Is Still Based on 5G
While the firm missed the consensus rating, it did post gains in terms of year-on-year performance. During Q2 of 2021, those same data points registered at SEK3.9bn and SEK1.10 a share. Sales in Q2 also improved by 14% to SEK62.5bn.
Ericsson – Daily Price Chart – 2020 – 2022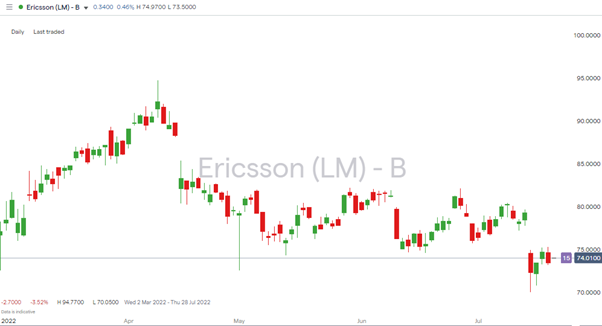 Source: IG
Ericsson stock has now given up more than a third of its value compared to the share price of SEK 115.38 recorded in December 2021. More importantly, it has failed to bounce like Morgan Stanley and Delta Airlines stock. The Ericsson trade is all about the 5G rollout, and the pipeline of new contracts is not materialising in line with investor expectations.
The politically sensitive role played by Huawei in the 5G sector has seen the China-based provider fall out of favour with many Western governments. However, until that materialises into improved revenue streams for Ericsson, any groundswell in buying pressure is still on hold.
Dip-buying is still an option. Nokia, Huawei, and Ericsson are the leading players in the conversion to 5G technology. The high barriers to entry in the industry should be good news for the Scandinavian firms once the projects come online. Investors who can take a long-term view and look past the delays associated with the project could step in and buy Ericsson now and hold a stock which offers a dividend yield of 2.42%. The low P/E ratio of 13.32 is also attractive, given the average for the telecoms sector is closer to 21.1.
Statistics On Earnings Report Misses
The number of firms in the S&P 500 stock index which beat EPS forecasts is on a five-year average of 77%. The scale of the beat or miss also needs to be considered. In Q1 of 2022, companies reported earnings that were 4.9% above estimates, which is below the five-year average of 8.9%.
The natural bias towards firms beating estimates is hard to explain. It could be down to analysts wanting to maintain their reputation by erring to the downside or firms also wanting to manage expectations and offer scaled-back guidance.
Beats and misses can also have varying impacts on stock prices. Stocks such as Apple Inc have a large percentage of their total float owned by passive funds and retail investors, 20% and 41%, respectively. These shareholders tend to take a longer-term view and are less likely to be influenced by a quarter of surprisingly good or bad earnings. Active fund managers and speculative traders are more willing to rotate from one stock to another during earnings season.
Historical data relating to the S&P 500 index shows that the stickiest stocks which beat earnings tend to rise by only 0.5%, whereas the average for the index is 0.7%. The reaction is also muted when earnings miss, with the average price fall for the index being 2.3% but sticky stocks only falling by 1.4%.
Other stocks which are known to be sticky include Johnson & Johnson (passive 24%, retail 30%), Amazon (passive 17%, retail 40%), Ford (passive 22%, retail 47%), and Exxon Mobil (passive 24%, retail 43%).
Final Thoughts
Earnings season certainly stirs things up, and many institutional investors hold off making their allocations until they get the clearer picture the reports provide. There can often be a bias in place, with analysts wanting to get into a position and using an earnings miss as an opportunity to buy a short-term dip in price. This appears to be the case with Morgan Stanley and Delta Airlines, which have seen their share price ultimately show strength despite posting earnings misses. The long-term prognosis for banking and airlines is broadly favourable.
Ericsson is an example of a stock which misses and suffers because of it. While this could represent a buying opportunity, potential buyers of ERIC have time on their side. They can wait to see how the 5G rollout progresses and mark in their diaries 18th October 2022, as that is when Ericsson will release its Q3 earnings report.
Whether you are an experienced investor or new to trading, earnings season can be when opinions on stocks are reset, and new trends emerge. Trading with the trend is the secret to successful investing, so when stocks miss earnings but still experience a price rise, it can signify significant buying pressure coming into the market. These trusted brokers offer economic calendars and previews of earnings reports on some of the names to look out for that offer the safest route into the market.