A Corporate Social Responsibility (CSR) policy is a company's commitment to managing the social, environmental, and economic effects of its operations responsibly. Companies like Apple often make their specific targets public and report on their progress toward achieving them.
---
YOUR CAPITAL IS AT RISK. 76% OF RETAIL CFD ACCOUNTS LOSE MONEY.
---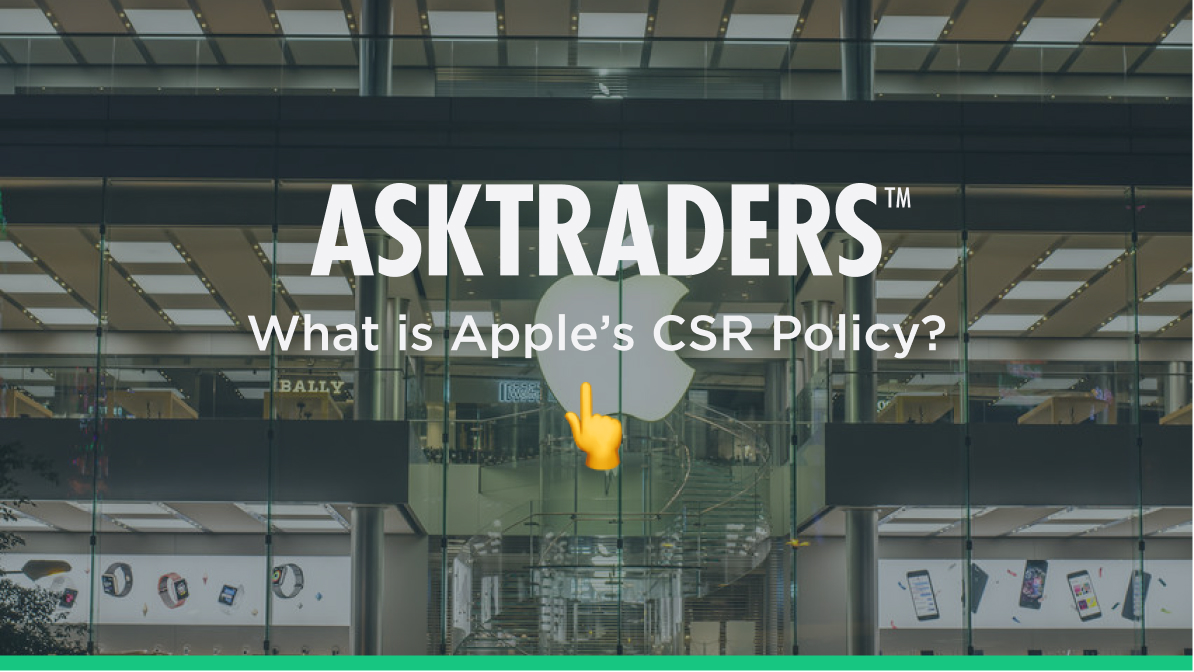 The most frequently used benchmark is known as ISO 26000, which the International Organisation provides for Standardisation. It is not a set of hard and fast rules, which means firms can't achieve 'certified' status. Instead, they have to interpret the guidance and aim to apply it successfully enough to stay on the right side of public opinion.
From an investment perspective, it is important to analyse whether individual firms' targets are sufficient to meet public expectations and are met. Both variables can change over time, and slip-ups can be bad for business.
Firms that get caught out can suffer reputational risk and even consumer boycotts. Those who get it right can see their share price rise thanks to buying pressure from the growing number of retail and institutional investors who give CSR significant weighting in their decision-making.
What is Apple's CSR Policy?
Apple has built its success on designing products that are just what the consumer wants. That makes it interesting that the tech giant was somewhat late to respond to the growing need for an effective CSR policy. It has been playing catch up since 2011 when new CEO Tim Cook took over control of the firm. Before that, founder Steve Jobs received some criticism for focusing too much on the bottom line and not engaging in philanthropic projects.
CSR programs and initiatives are currently headed up by Lisa Jackson, Vice-President of Environment, Policy and Social Initiatives. She reports directly to the CEO and oversees a department that factors in that one million people work for Apple or Apple suppliers.
---
YOUR CAPITAL IS AT RISK. 76% OF RETAIL CFD ACCOUNTS LOSE MONEY.
---
Environmental Policies
Apple may have particularly complex supply chains, but its product range is relatively limited compared to some other multinationals. This scaled-back approach means it has, in some areas, set fairly aggressive targets in terms of the environmental impact of its products. The critical areas of product manufacture and device use, which make up most of its 25.1m metric tonnes of CO2 footprint, are still a work in progress.
Carbon Neutral
If it meets its target, every product Apple sells will be carbon neutral by 2030. This will compliment steps it has already made regarding its day-to-day operations, which have been carbon neutral since 2018. Apple's stores, offices, and data centres all run on 100% renewable energy.
Eco-friendly offices in the US are great photo opportunities. Still, the footprint relating to the manufacturing of its products could increase scrutiny because 75% of the firm's carbon footprint relates to that part of its business. Carbon neutrality in that area is still the best part of a decade away. The chart below, while still relevant, is a couple of years behind, with product manufacturing now making up around 66% of Apple's carbon footprint.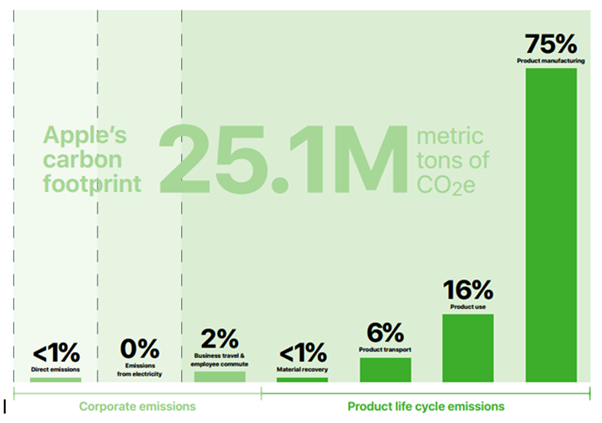 Source: Research Methodology
Beyond Carbon
With tech handsets being a significant drain on global resources other than carbon, Apple has also launched other initiatives to minimise the environmental impact of their production processes. Their "No Mercury, PVC, Beryllium, BFR" campaign is industry-leading work designed to map, test, and switch to safer chemicals in their products and manufacturing processes. The firm is collecting the chemical composition of all the materials in their products to assess their effect on human health and the environment.
This initiative is good news for investors.  It also cuts back on the risk of them facing lawsuits for producing inappropriate products.  To date, more than 700 parts and material suppliers have already shared product chemical data with the firm.
Water
Apple provides less specific detail regarding its 'water stewardship plans.' This may reflect it not currently being as much of a hot potato as carbon is. It does though, have broad aims such as "engaging with external stakeholders," and "We're taking several steps to reduce our water impact," and being "committed to reducing, reusing and returning as much water as possible to the local environments where we work"
Sustainability
One of the more contentious aspects of the Apple product range is the limited lifespan of their products. Embedded batteries on handsets can't be replaced, and encourage users to upgrade to the latest version. It's not too cynical to suggest that this is part of a policy to protect future revenues and ensure the smartphone market doesn't become saturated.
The Apple Trade-In scheme, which started in 2013, allows customers to exchange their old devices for credit towards their next purchase. If eligible, the old device can have a second life with another owner or be recycled free of charge.
The focus on limiting waste goes a long way down the supply chain, with the number of supplier sites committed to achieving zero waste, increasing by 53%.
---
YOUR CAPITAL IS AT RISK. 76% OF RETAIL CFD ACCOUNTS LOSE MONEY.
---
Social Policies
Whilst some of the environmental targets are long-dated and hard to pin down, Apple's strength in terms of equality and diversity is backed up by hard data. For starters, Tim Cook is the only openly gay CEO of a Fortune 500 company.
Greater representation of URCs, Hispanic/LatinX & Women
According to the most recent data, the number of employees from underrepresented communities (URCs) increased by 64%. That's 18,000 people and jobs and URC staff now make up nearly 50% of Apple's American workforce.
And in better jobs
The number of Black employees in leadership roles at Apple in the US is now 10%
The number of Hispanic/Latinx employees in leadership roles at Apple in the US is at 12%
The number of female employees worldwide in leadership roles is now at 44%
Source: Apple
Corporate Policies
One challenge facing Apple is that a lot of its workload is outsourced. This means a lot of its policies relating to employee relations, fair pay, and training have to be imposed on third parties. The good news for those looking to invest in Apple is it has a strong position in the market and is willing to flex its muscles.
Worker's Rights
Apple enforces The Supplier Code of Conduct, which is claimed to be the toughest in the electronics industry.
Equal Pay
In terms of equal pay, Apple demonstrates it has once more done an impressive job of managing directly employed staff, and the company reached equal pay to employees in 2016
The tech giant has also expanded its approach to employee terms and conditions and provides competitive benefits packages for its mainly US staff. Expectant mothers can take up to four weeks leave prior to delivery and up to 14 weeks after a birth. Fathers and other non-birth parents are eligible for up to six weeks of parental leave.
Employee Development
Given that it operates in a hi-tech sector and is therefore going to attract ambitious and enthusiastic staff, Apple has also introduced measures relating to staff training and education.
Apple suppliers have paid back $32.2m of recruitment fees to their 36,599 employees since 2008
The multinational technology company provided training courses to about 4m people over that same time period.
---
YOUR CAPITAL IS AT RISK. 76% OF RETAIL CFD ACCOUNTS LOSE MONEY.
---
How Does Apple Compare to Other Companies?
In terms of the practises and policies relating to staff directly employed by Apple, the firm is hard to beat. The rub is that with so many different third parties involved in the production process, some of the policies of suppliers can create negative headlines.
Even if the firm takes remedial action, there is still the chance that the mud sticks. For example, in 2018, Apple removed five mineral suppliers from its supply chain for failing to pass or not engaging with the firm's human rights audit.
Some more positive headlines counterbalance the bad news and demonstrate that whilst Apple might not be a global leader in terms of CSR it's some way from being the worst.
In 2019 and 2020, Apple was awarded the Safer Chemicals, Healthy Families A+ rating for its work on eliminating toxic chemicals in its production processes.
Apple is the only company that has been awarded with a Clean Energy Index of 100%, according to Greenpeace's Clicking Clean Report.
How to Invest in Ethical Companies
Choose a Broker
Once you've made the decision to buy Apple shares, the next step is finding a reliable and trustworthy broker. Apple's market capitalisation is in excess of 2trn, and because of its enormous size, most brokers offer a market in it, which means there are a lot of potential brokers for your shortlist.
Thinning down the field using certain guidelines can actually reduce your risk. Step 1 is to choose a regulated broker – one which is regulated by one of the below financial authorities.
The Financial Conduct Authority (FCA)
The Australian Securities and Investments Commission (ASIC)
The U.S. Securities and Exchange Commission (SEC)
Cyprus Securities and Exchange Commission (CySEC)
You don't have to choose a US-based broker because the global nature of the financial markets means you can use one headquartered in your own country. They'll have their own links to the Nasdaq Exchange, where Apple shares trade.

Source: eToro
Best Brokers to buy Apple Stocks:
eToro:
68% of retail CFD accounts lose money
Take a look
If you are ready to add some Apple stocks to your portfolio you'll need a broker that is regulated, has low fees and a user-friendly platform. Finding one can be a daunting task, which is why we've selected some of our favourites that tick all of these boxes to help you get started.
Open & Fund an Account
Getting set up is done completely online and can be done using a handheld or desktop device. The process typically takes about 5 minutes and involves answering a series of questions so the broker can build a profile for you. That will come in handy as they'll apply 'client care' conditions to your account.
There are various ways of sending funds to your new brokerage account. To make things easy, debit and credit cards are accepted, which makes the process like any other online purchase. If you prefer to send funds via bank transfer, that will also be possible.
Only you will have access to your account, but be sure to keep your account details secure. Another safety measure associated with regulated brokers is that, thanks to Anti-Money Laundering (AML) legislation, brokers can only return funds back to the account from which they came.
Research Companies Using Technical & Fundamental Analysis
Once you've ticked the box that Apple is ethical enough to justify an investment being made, it's a case of optimising your trade entry point. Applying a degree of patience can help you buy Apple during a price dip, and Technical Analysis can help with that. It uses metrics that, among other things, monitor price moves, market momentum, and trade volumes. Fundamental Analysis gives more weight to medium and long-term factors that could influence the Apple share price. One common approach is to use fundamental analysis to decide if you should buy a stock and technical analysis to decide when.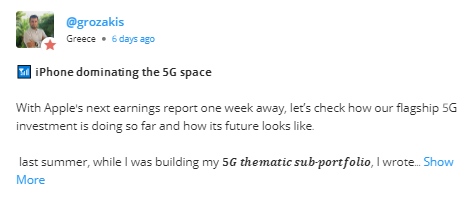 Source: eToro
Open an Order Ticket and Set Your Position Size
The significant investment made by brokers in their trading platforms has resulted in them being a user-friendly combination of powerful software tools and intuitive functionality. There are slight differences between the different setups and trying out a few risk-free Demo accounts will give you a feel for what's on offer from different brokers. Demo accounts are also a valuable chance to practise buying and selling Apple shares using virtual funds.
The actual order tickets have data fields where you enter the quantity of Apple stock you want to trade and Buy and Sell buttons for you to click or tap to execute the trade.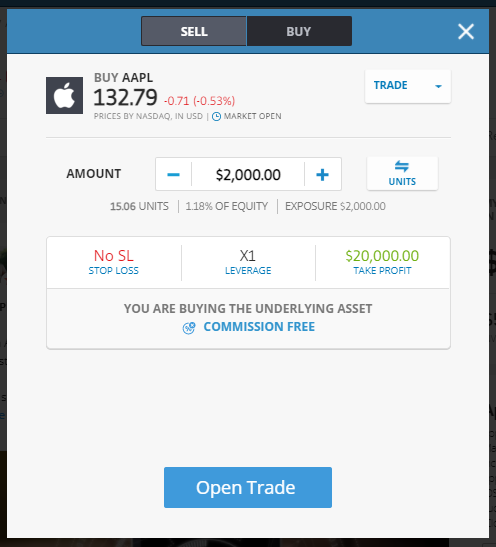 ---
YOUR CAPITAL IS AT RISK. 76% OF RETAIL CFD ACCOUNTS LOSE MONEY.
---
Set your Stops and Limits
Depending on your strategy, you might want to use Stop Losses or Take Profit instructions. These are automated instructions to close out part or all of your position when the price of Apple shares reaches a certain limit. These allow you to focus on your day job and let the trading platform manage some of your risk.
Select and Buy Apple Shares
Once you have built your order and run final checks, clicking 'Buy' will convert some of your cash balance into a holding of Apple shares. From then on, the value of that position will be determined by market price, and you can monitor its progress by accessing the Portfolio section of your broker's site.
Is Apple an Ethical Investment
Due to its phenomenal success, Apple is sitting on a cash pile of approximately $200bn. This means the budget is not an issue as it tries to position itself in terms of CSR policies. It does, though, face the tricky challenge of ensuring third-party stakeholders share Apple's own vision. There is also the risk that margins are squeezed by the costs of supply line items increasing as a result of stricter adherence to guidelines.
As the firm operates in the premium end of the market, there is the perception that it will be able to continue placing high-end price tags on its products without impacting demand. If that remains the case, then the work carried out with suppliers will improve its CSR rating, which is already near the top end of the scale.
In terms of CSR, Apple is a work in progress rather than a finished product. It doesn't make it onto the list of outright eco-friendly firms, but at the same time, there currently appears little chance of reputational risk translating into a PR disaster and a dramatic fall in the share price.