How to Set up Your Trading Screens for Day Trading

Establishing the Best Computer setup when day trading the world's markets doesn't have to be difficult or expensive and in the long run will help you in determining the best opportunities on a daily basis.
In fact given that you'll more than likely be spending 7-12 hours a day in front of your PC it's vital for your long term health to have a dual monitor set up that is easy on your eyes. Dual monitors are essential for every day trader or anyone who is using their PC for more than 3-4 hours a day. You'll find your ability to get tasked done increases too.
Upgrading to a new PC
You'll find nowadays that new PC's come with dual monitor capabilities already built in making you task as easy as plugging the monitors in. Perfect for the busy day trader looking for a potential edge that is easy and simple to implement.
As a general rule, your new PC will have a DVI connection as your second monitor adaptor and your new monitor should come with the relevant attachment. If you don't have the ability to plug it in (due to having the wrong attachment) just head down to your local PC store and buy a $4 converter.
Another key for the busy day trader trading forex, CFDs, Options or futures is to have the new PC stripped of unnecessary programs. If possible try to dedicate your new PC for day trading only.
By doing this you'll ensure your PC stays clean, sharp and will be able to boot and reboot quickly. There is nothing worse than having your PC crash during the trading day, hitting restart and then waiting an eternity for it to get up and running.
This would have to be by far the greatest frustration of any day trading I know.
The Best Daytrading Brokers:
eToro:
67% of retail CFD accounts lose money
Take a look
If you are ready to start daytrading you'll need a broker that is regulated, has low fees and a user-friendly platform. Finding one can be a daunting task, which is why we've selected some of our favourites that tick all of these boxes to help you get started.
Dual monitor capabilities on your laptop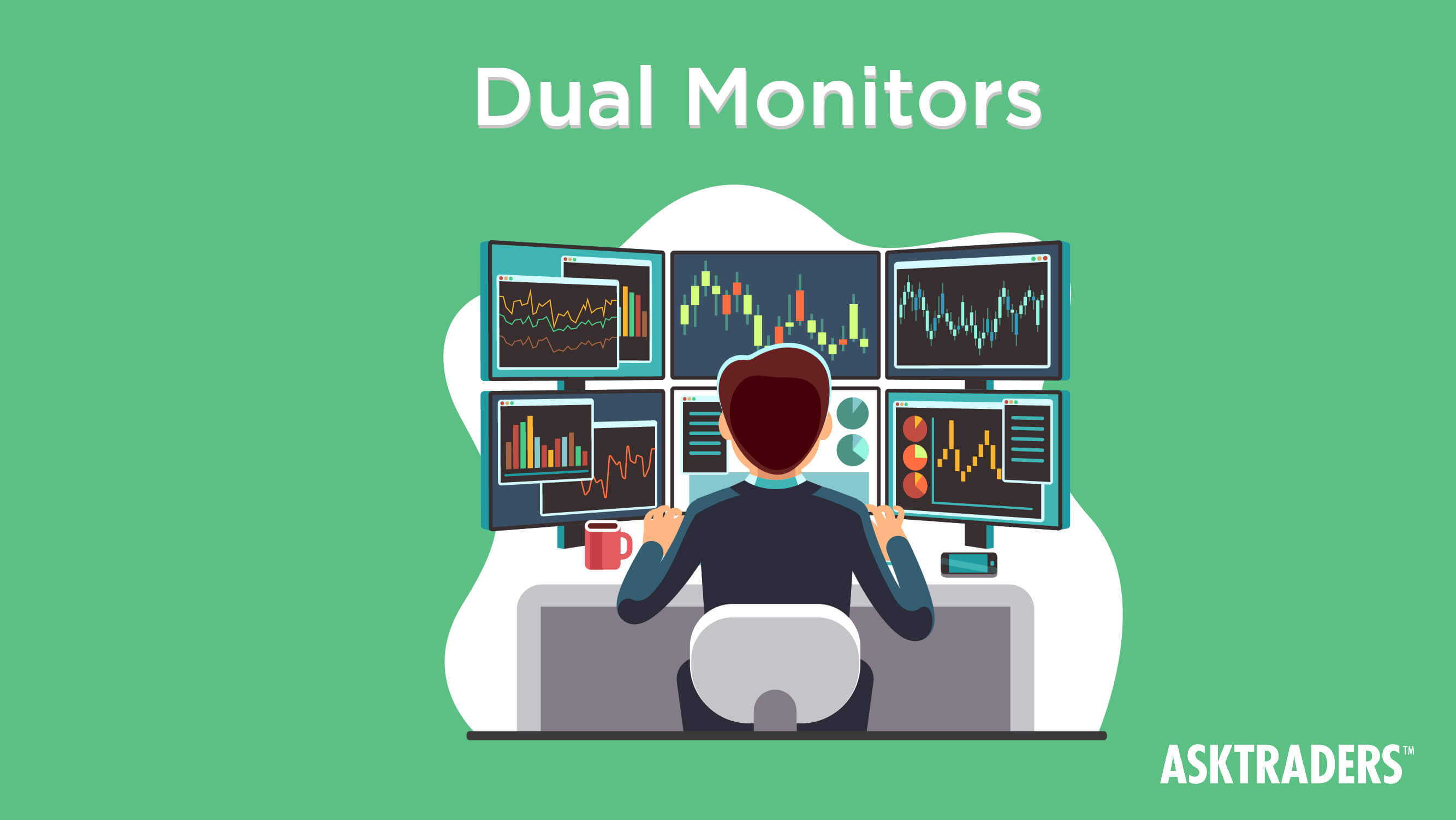 Running a laptop as your day trading machine can have its advantages especially if you use your home PC for other activities like running the family budget, downloading emails and popping the kid's home video's on there. Your laptop can serve as your dedicated day trading computer and it's even easier to install a second monitor here.
All laptops come with the options to plug in a monitor. All that's required from you is to head over to your display settings and set the monitor you just plugged in as your 2nd monitor and configure which is your primary and secondary display. This strategy is literally plug and play and most laptop users don't even realise they have this functionality. As a day trader you may want to even use this as a second trading machine in conjunction with your day trading PC.
Major benefits of using dual monitors when Day Trading
You can access more information at your finger tips fast;
You can adjust the resolution to be comfortable on your eyes;
You can have charts on one screen and order tickets on the other;
Your efficiency across many tasks will improve greatly;
More screen real estate to make your life easier
If you are serious about your day trading endeavours, then running dual monitors is a vital ingredient in your overall efficiency as a trader. Don't compromise on the technology front as I can assure you that once you upgrade you'll be wondering why it has taken you that long in the first place.
Grab the upgrades and you'll be pleasantly surprised at how efficient and effective you are as a day trader.
Important Specs of the Day Trading Computer
Having excellent specs on your computer is essential for your trading journey. It is recommended that you have at least 8 GB of RAM for your day trading computer, though 16 GB of RAM is ideal.
While the minimum recommended specs for your processor should be a Quad-Core 2.8GHz (Intel i5 or i7 are leading options).On the other hand, choose a minimum of 1080P (1920×1080) when buying a monitor. If you have an extra budget, you may consider exploring higher resolutions like 2556×1440 or 4K (3480×2160).
Best Desktop Computer for Day Trading
As a trader, a powerful computer is required to have good trading software working. Trading software usually takes up a lot of space on the computer and demands a potent and fast processor. Thus, it is highly recommended for traders to have a robust working computer.
Among requirements to look at while choosing your trading desktop include.
RAM: A minimum of 8GB RAM is needed for your computer to store all the vast data.
Processor Speed: Look for a processor with at least 4 to 6 cores (like the i5 Intel Processor) to allow your computer to execute operations more quickly.
Hard Drive: A solid-state drive (SSD) is required as your primary hard drive as it is more reliable for retrieving information quickly.
Display: Dual-screen monitor capabilities are recommended if you're a professional trader, or you need to monitor multiple software options at once.
Battery Life: The best trading computers have a battery life of at least 8 hours.
Top 5 Best Desktop Computers for Stock Trading
Lenovo AIO IdeaCentre 520S Desktop.
Acer Aspire AIO AZ3-715-ACKi5 Desktop.
Apple iMac 21.5-Inch MNDY2LL/1.
HP Pavilion Desktop PC.
Acer Aspire AIO S24-880-UR12 Desktop.
Looking to upgrade your old PC?
With modern technology delivering lower and lower prices its always easy to use your day trading profits to upgrade your PC, although it won't necessarily make you a better trader!
For those day traders on a budget, you may want to consider upgrading your video card only in order to make your PC day trader friendly. You can purchase a dual monitor video card quite cheaply and install it yourself if you know what you are doing.
If you are not sure what to do, ask the place you are buying it off if they can install it and they'll probably charge a nominal fee for doing it. Perhaps even barter for your latest and best trading strategy as many PC technicians love to day trade the world's markets too. Once you have the new video card installed and your PC has recognised it, you simply need to plug your second monitor in as above and configure your display settings accordingly.
Further Reading