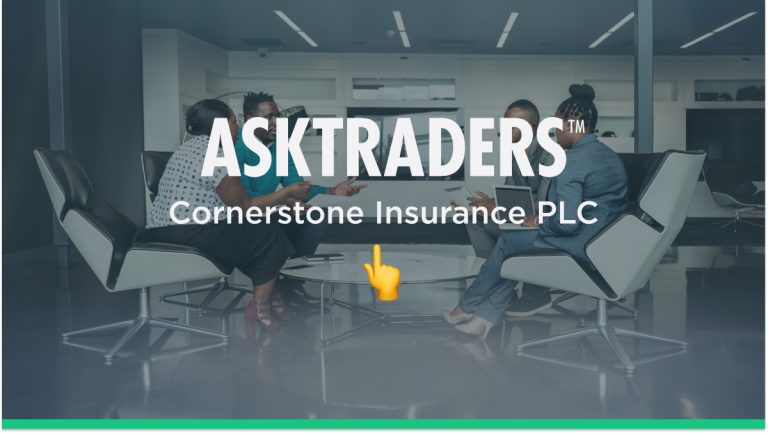 What is Cornerstone Insurance PLC?
Cornerstone Insurance PLC's portfolio of services spans both life and non-life insurance provided to both corporate and individual customers. Cornerstone Insurance PLC operates through the following main segments:
Non-Life Insurance
Life Insurance
Halal Islamic Insurance
Asset Management
Fin Insurance Company Limited
Cornerstone Leasing and Investment Limited
Cornerstone Insurance PLC accommodates General and Life businesses in addition to several other classes of insurance businesses including motor vehicles, aviation, marine, engineering all-risk, asset protection, and several more.
Cornerstone Insurance PLC has several subsidiaries that allow it to further its offering across several additional business lines ranging from property-casualty insurance, life insurance, health insurance, asset management, and leasing.
Cornerstone Insurance PLC's equity stocks are for sale online on the Nigerian Stock Exchange (NGX) under the stock symbol CORNERST. Today, Cornerstone Insurance PLC is based in Obanikoro, Nigeria where it operates within Insurance Industry and Financials Sector.
Cornerstone Insurance PLC Performance
The current share price for Cornerstone Insurance PLC stocks is 0.52 NGN [2021/09/20], with an overall market capitalization of 9.45 billion NGN. Currently, Cornerstone Insurance PLC has a P/E ratio of 1.49 NGN and earnings per share of 0.35 NGN, with a total of 18.2 billion shares outstanding.
Cornerstone Insurance PLC has recently announced its financial statement for the second quarter of 2021, which ended in June. An analysis done on the financial data indicated that Cornerstone Insurance PLC achieved revenues to the value of 2,349.06 million NGN with the total premiums received amounting to 2,604.14 million NGN.
The depreciation and amortization that Cornerstone Insurance PLC recorded for the period were 55.03 million NGN, which decreased from the 57.28 million NGN that was reported for the first quarter which ended in March.
Cornerstone Insurance PLC recorded overall operating expense for the quarter of 2,187.25 million NGN, down from 2,792.80 million NGN reported for March. The operating income for the second quarter amounted to 161.81 million NGN while the net income after tax deductions was 138.31 million NGN, down from 658.15 million NGN reported for March.
The diluted weighted average shares were 18,166.39 million NGN and the diluted EPS excluding ExtraOrd items was 0.01 NGN, with diluted normalized EPS of 0.01 NGN.
When considering these results, it is safe to say that Cornerstone Insurance PLC improved on its financial performance for the second quarter where profits and revenues were concerned, amongst others.
This bodes well for investors who want to buy or sell CORNERST shares as they can anticipate solid dividends and returns, with a forecast on further improvements for the third quarter, which ends in September.
An analysis was performed on the live chart for CORNERST stocks, and it showed that there were some challenges in the short and long-term performance of stocks, with some recovery indicated for the past week as the share price saw an increase of 8.33%.
However, further analysis showed that the four-week share performance was -1.89%, -5.45% over three months, -13.3% for six months, -16.1% in the past year, and -11.9% in the year-to-date, which may worry some investors.
This can be attributed to the Nigerian equity market experiencing significant declines in the past month with a few instances where a bullish market increased trading volume. During an analysis of the Banking, Insurance, and Industrial sectors, it was noted that shares in several companies led to indices plummeting.
The short-term forecast on the equity market shows that market capitalization may depreciate by an additional 1 billion NGN as investors are affected by half-year corporate earnings.
Highlights of Cornerstone Insurance PLC in 2021
Cornerstone Insurance PLC started the year with a share price of 0.59 NGN, but it has since lost 11.9% off this price valuation. This has resulted in Cornerstone Insurance PLC achieving a ranking of 126th on NGX in terms of its year-to-date performance.
Cornerstone Insurance PLC is the 71st most-traded stock on NGX. An analysis of its trading volumes for the past three months indicated that 16.2 million shares were traded in 314 deals. The total value of these deals amounted to 8.55 million NGN and there was an average of 257,419 shares traded in each session.
CORNERST experienced a trading volume high of 4.4 million in September for the period and in the past 10 days trading volumes averaged between 12,000 and 4.4 million.
How to buy Cornerstone Insurance PLC stocks Step-by-step
The stock market is one of the most attractive financial markets that sees millions of retail investors and traders' participation daily. To buy, sell or trade CORNERST stocks, traders and investors can follow these simple steps:
Find the share that you want to purchase, in this case, "CORNERST".
Select a forex broker that offers access to the Nigerian Stock Exchange(NGX).
Review the broker's trading conditions, fees, deposit and withdrawal methods, trading platform, customer support, regulation, and other components to ensure that they are aligned with your trading
Open a live trading account with the broker by completing the online application form and providing the necessary documentation to verify the trading
Make your first share purchase through the broker.
Build and diversify your portfolio when you buy more shares.