Webull is a next-generation broker that uses innovative technical features to deliver an impressive and client-focused trading experience. Founded in 2017, the platform draws on the fintech experience of senior management – a team that has delivered a service that makes investing incredibly easy. As of August 2020, Webull already had 11 million registered users and is part of the movement aiming to democratise trading. Its approach includes providing a blend of user-friendly functionality, competitive pricing in a broad range of markets and neat analytical tools.
The nice-to-have features operate on an A-grade regulatory framework. Webull brokerage services are provided by Webull Financial LLC, a broker-dealer registered with the Securities and Exchange Commission (SEC). Webull Financial LLC is a member of the Financial Industry Regulatory Authority (FINRA), Securities Investor Protection Corporation (SIPC), the New York Stock Exchange (NYSE), NASDAQ and Cboe EDGX Exchange, Inc (CBOE EDGX).
Depending on their domicile, clients may also fall under the protection of SIPC, protecting securities customers of its members up to a total of $500,000 (including $250,000 for cash claims).
The brokerage sector is an exciting space at the moment, with several firms all taking a shot at revolutionising how people invest. Deciding which one to use ultimately comes down to personal preference. This review will outline the pros and cons of Webull and help you establish if the platform is a good fit for you.
#

Forex
| | |
| --- | --- |
| App Support | Trading Fees |
| Good | Mid |
Webull provides markets in the major currency pairs. It's also possible to use leverage to scale up your risk-return when trading. Pairs comprise EURUSD, GBPUSD, USDJPY, USDCAD, USDCHF, AUDUSD, NZDUSD and USDCNH (Chinese Yuan Offshore).
The range of markets isn't as extensive as at some other brokers, but the selection includes the most liquid markets, which offer the most competitive pricing. There is also a good range in the type of markets offered. USDJPY is typically associated with lower price volatility than NZDUSD, so it's possible to find a market that is a good fit for your risk-return profile.

CFDs
Contracts for Difference (CFDs) are synthetic products where account holders trade a market by entering into a direct agreement with their broker. Once the net profit or loss on a trade is calculated, there is a transfer of funds between the client and the broker. CFD trading can be a high-risk form of trading and is currently not permitted in the US. As Webull is regulated by US authorities, it does not offer CFD trading.
Those looking for ways to input more sophisticated types of orders can take advantage of Webull's offering of Options markets. These instruments offer margin-backed exposure to underlying assets and are a way to trade a market while not tying cash up in a full-on position. Profits and losses on naked positions can be extreme, but options can also be used for hedging positions, which is a nod to them originally being intended to be used to manage risk.
#1

Stocks
| | |
| --- | --- |
| App Support | Trading Fees |
| Good | Mid |
Stock trading is something of a sweet spot for Webull. There are over 5,000 different stocks to invest in, which means all the big names are covered, but you can also pick out the up-and-coming small-cap names.

Reflecting the interest from investors in 'the next big thing,' Webull offers trading in stocks that are new to the market. Those that have committed to listing on an exchange can be found on the IPO Offerings monitor, and those that have registered an intent to list but have yet to confirm the exact date are included in the IPO Filed monitor. Both tools are easy to use and allow Webull clients to monitor the progress of exciting start-ups as they come to the market.

It's possible to dig into the prospects of individual stocks by using the Webull analysis tools, which include a stock screener, analyst ratings, volume analysis, price targets and company news. There are a host of other useful tools to help with investment decisions, and heat maps and market overview monitors translate price data into visual form to allow Webull clients to gauge market sentiment.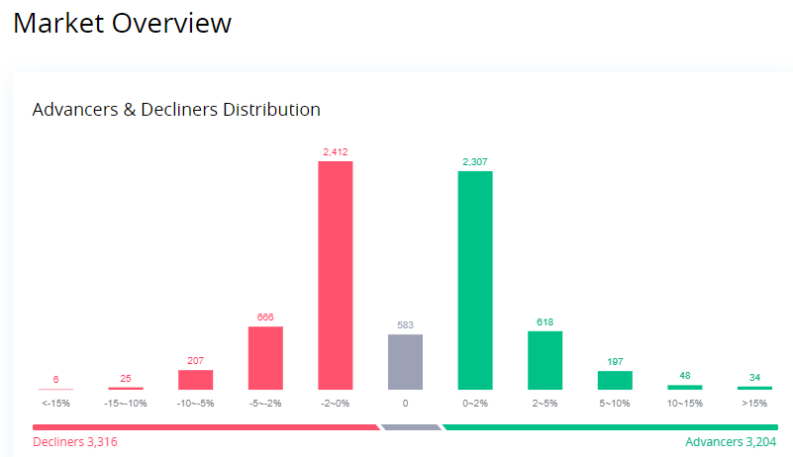 Webull offers access to the global equity markets. Using American Depository Receipts (ADRs) it's possible to gain access to names, sectors and countries around the world. Webull even invites clients to keep a close eye on their investment by taking part in online investor conferences such as the Deutsche Bank Depositary Receipts Virtual Investor Conference.
#2

Social Trading
| | |
| --- | --- |
| App Support | Trading Fees |
| Good | Mid |
The increased amount of crowd-sourcing of ideas going on in the investment community is a significant trend. Meme-stocks catch the headlines when they post eye-watering price rises on the back of retail traders working together, but trading in all markets can benefit from sharing the input of others.
The Webull Community is a place where traders can share thoughts on general market events or particular situations and do so in what is very much like a private Twitter feed. By restricting access to the feed to those with 'skin in the game', Webull has developed a service that is superior to free-for-all chat rooms. It's a good place to get a second opinion on your own investment decisions or develop your ideas and hunt out the next trading opportunity.
One highlight of the social trading service at Webull is the paper-trading competitions where clients trade virtual funds but win cash prizes if they top the league. Even experienced traders use demo accounts to test out new ideas before allocating hard cash to them, and at Webull that risk-free testing of ideas can even generate a financial return. It's a great tool, and the league format keeps newbies engaged in their paper-trading long enough to avoid the risks associated with turning to live trading too soon.
#3

Crypto
| | |
| --- | --- |
| App Support | Trading Fees |
| Many | Mid |
Webull's cryptocurrency offering has caused some excitement in the investment community. All the big-name coins are available to trade, Bitcoin (BTC), Dogecoin (DOGE), Bitcoin Cash (BCH), Ethereum (ETH), Ethereum Classic (ETC), Litecoin (LTC), ZEC (ZEC) and XLM (XLM). As a total of 19 markets are available, there is also a route into trading some of the smaller Altcoins such as Kusama (KSMUSD), Eos (EOSUSD) and Solana (SOLUSD).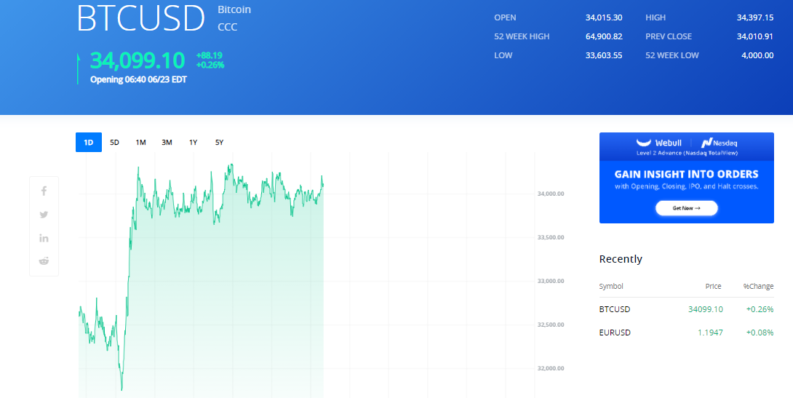 It's also possible to trade cryptocurrencies 24/7 on Webull, with there being only one hour of the week when the system is off-line for maintenance and account reconciliation. Those day trading on Webull and those longer-term strategies are catered for in terms of order processing. The platform allows clients to set Market Orders and Limit Orders as well as Day, and Immediate or Cancel, Time-in-Force orders.
The crypto markets are known for being a high risk-return proposition with prices whipsawing on the back of all kinds of news events. For that reason, crypto trading is offered without leverage, which also means it's not possible to put on naked shorts. Given the extreme price moves, this makes sense and helps Webull position itself as a multi-asset broker providing its clients with the markets they want to trade. It is also worth noting that the entity that supports crypto trading on the Webull platform is Apex Crypto. Apex is not a registered broker-dealer or FINRA member, and your cryptocurrency holdings are not FDIC or SIPC insured.
What did our traders think after reviewing the key criteria?
Fees
If you're looking for a broker which offers cost-effective trading, then Webull should be on your short-list. Trading is hard enough without admin fees and commissions eating into returns, and the T&Cs put Webull firmly on the side of their clients. As the old saying goes, it's hard to compete with zero.
Stock Trading Costs $0
ETF Trading Costs $0
ADR Trading Costs $0
Option Trading Contract Fees $0
Option Trading Commissions $0
Option Trading Assignment or Exercise Fees $0
Webull does not charge for trading crypto. There is a 100-basis point spread on either side of a crypto trade
There are also no annual account charges nor any fees relating to account inactivity, transfers and closing.
The pricing policy of Webull includes some aggressive headline figures, but there is an additional plus-point for the firm – the degree of transparency it offers. By not charging commissions on trades, the whole fees landscape is simplified and easier to analyse. The broker is also very happy to share details of how it does make its money and freely provides this information to its clients in its SEC Rule 606 disclosure.
Margin Fees
Those using the Margin Account will be able to take up x2 intraday and x4 overnight leverage. As the broker is effectively lending those clients money, there are charges associated with this service.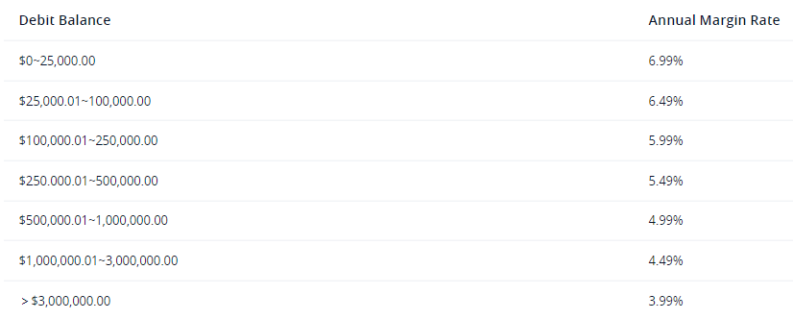 Stock Loan Fees
Trading short requires borrowing stock and that operation incurs charges. These are passed on by Webull to clients and calculated using the standard market formula:
Daily Margin Interest (Short Position) = The Daily Market Value of the Borrowed Stocks when Market Closes * Stock Loan Rate for That Stock/360.
The borrowing fee is variable and will reflect demand and supply. The more people who want to short a stock, the easier it is for lenders to charge a higher price.
Exchange and Regulator Fees
Webull might be able to drive down the costs of trading, but there's little that can be done to swerve fees charged by exchanges and regulators. These are passed on to clients, and to Webull's credit, they are laid out in an easy-to-understand table so that clients can be fully aware of what's involved before pulling the trigger on a trade.

Reporting Fees
Being something of a next-generation operator, Webull has taken the view that the future lies in online reporting. The efficiencies offered by its platform are, after all, part of the reason the broker can waive commissions in so many markets. Those clients who insist on receiving paper statements are charged for the privilege, which removes the chance of more tech-savvy traders carrying the cost for those who still want hard copies.
Paper Confirm Fee – Apex (Clearing Firm) – $2/Confirm
Paper Statements Fee – Apex (Clearing Firm) – $5/Statement
Paper Prospectus Fee – Apex (Clearing Firm) – $2.5/Mail
Banking Fees
Deposit and withdrawal fees are always worth checking before wiring money to a broker. There's nothing worse than being left on the hook for an unnecessarily high admin charge when you come to take your money out. To Webull's credit, it again provides the information in an easy-to-access way and provides pricing that is very competitive in relation to its peer group.
ACH Deposit: US Bank Account – $0.00
ACH Withdrawal: US Bank Account – $0.00
Deposit via Wire Transfer: US Bank Account – $8 per Deposit – Apex (Clearing Firm)
Withdraw via Wire Transfer: US Bank Account – $25 per Withdrawal – Apex (Clearing Firm)
Deposit via Wire Transfer (International): Non-US Bank Account – $12.5 per Deposit – Apex (Clearing Firm)
Withdraw via Wire Transfer (International): Non-US Bank Account – $45 per Withdrawal – Apex (Clearing Firm)
Account Types
Setting up an account with Webull is a straightforward approach, and if you have all the required information to hand, the new account can be set up almost instantly. It can be done on a desktop device or, if you prefer, on a handheld one to which you have downloaded the Webull app. Accounts for individuals are split into two types, 'Cash' and 'Margin', making it easy for new clients to choose an investment approach that suits their needs.
Webull Cash Account
Following a traditional approach, this account does not offer margin-based trading, and trades can only be put on using settled funds. If you've sold out of a position, you need to wait for funds to clear before being able to invest them in a new position.
Cash accounts offer four options strategies – long puts, long calls, covered calls, and cash-secured puts.
Webull Margin Account
This account comes with some additional features. Clients with deposits in excess of $2,000 can access margin. Leveraging positions involves scaling up on risk-return but is popular among those running short-term strategies. Those day trading on Webull can access x4 leverage though the overnight rate is restricted to x2, so intraday position management is required.
If your Webull Margin account has a value of $25,000 or more, you meet the criteria to be a pattern day trader. This means that you are able to make an unlimited amount of day trades. Even if your account value is less than $25,000, you can still make up to three trades per day, every five rolling business days.
Margin accounts support short-selling and provide access to all the Options markets on the platform.
If you have the required $2,000 to qualify for a Margin account, then upgrading from a Cash account is as simple as accessing the settings page and clicking a few buttons.
IRA Account
Webull offers Traditional, Roth, and Rollover IRAs. Each client is eligible to set up one IRA but must have an individual account before creating an IRA.
There are no fees associated with opening or closing IRAs, nor are there annual fees for Webull's Traditional, Roth or Rollover IRAs.
Corporate Account
Webull supports LLC/Entity accounts. The minimum initial balance requirement is $100,000, and there is an application process.
Platforms
Webull's fintech background means that the founders have made the most of the chance to develop a new proprietary platform. The most notable feature is how the platform combines intuitive functionality with a range of powerful software tools.
The technical indicators and research and analysis support is always close to hand but doesn't get in the way.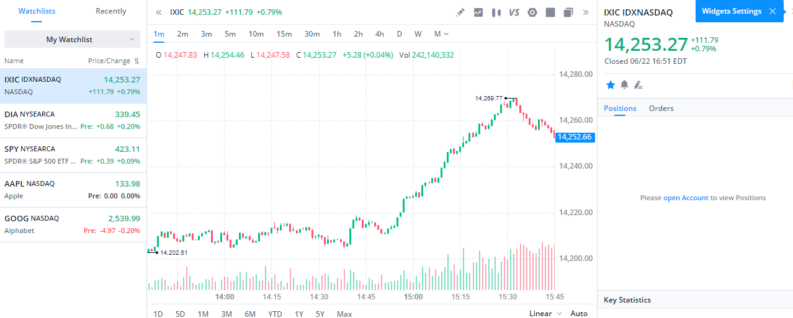 It's super-easy to move from one market to another to compare market moves in options, ETFs, stocks and crypto. At each stop through the different asset groups, there are charts and monitors designed to give clients an immediate overview of current conditions. Dig a little deeper, and it's possible to move down to granular level research.
The widgets and settings area of the platform allows each user to customise the layout and appearance of the platform and save templates, which gives them the market information in the format they want.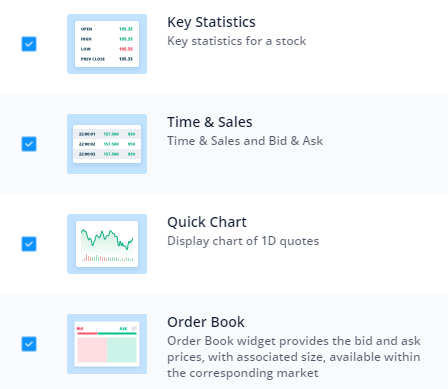 At the click of a button, it's possible to check the order book of a market and find out what prices buyers and sellers are looking to achieve. The key statistics monitor ensures every trade is taken on eyes-wide-open. Trading without full comprehension of the terms and conditions of a specific market can be a costly business.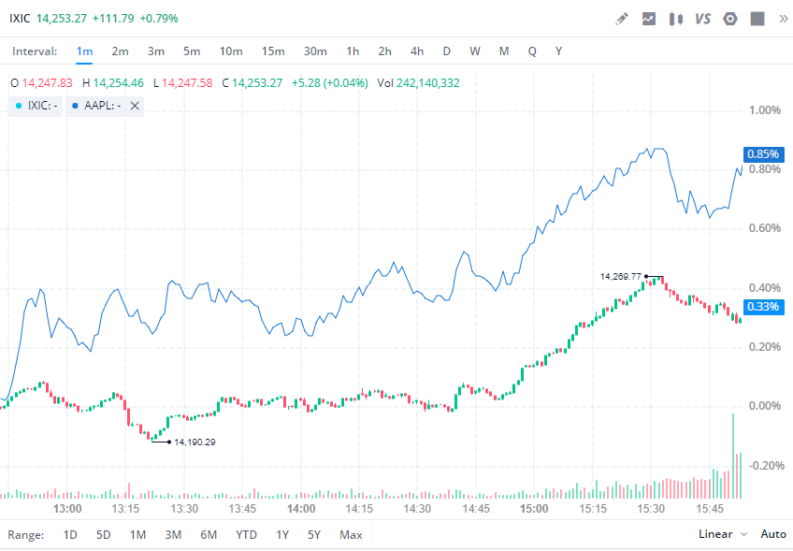 The Webull platform scores highly in terms of the tools and indicators on offer. Some are high-grade, but they have even taken time to get the basics right, with features such as price comparisons on charts being something that not all brokers offer.
Usability
The Webull team has obviously approached the matter of platform design with a fresh pair of eyes. The attractive aesthetics and neat functionality allow users to navigate easily from screen to screen. With seamless effort, it's possible to switch from market news to price charts and then deep-dive into fundamental and technical analysis.
Those considering using Webull, or even just finding out more about how good modern trading platforms can be, can sample the Webull trading experience by signing up for a free demo account.
Customer Support
The FAQ section of sites can sometimes be frustrating rather than helpful, but at Webull, this is different. The Webull FAQs pinpoint specific issues and offer clear instruction on what is possible and how to get the most out of the site.
For those with queries that aren't fully addressed by the FAQs, there is a 24/7 phone and email service, and users of the Webull mobile app can raise queries using live chat.
Payment Methods
Webull allows clients to use both electronic and ACH, transfers and wire transfers to deposit or withdraw funds. This is a standard offering and in line with the peer group.
There are fees involved, and it's worth checking the T&Cs to ensure the charges and payment processing times meet individual requirements.
There is a lot of help provided by Webull on the subject, and the 'Deposit & Withdrawal' selection of FAQ is 41 items long.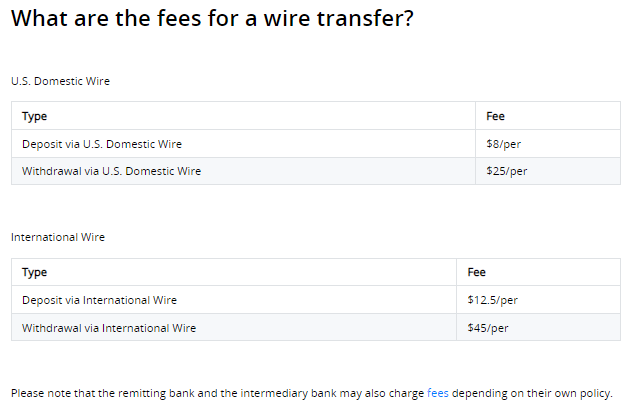 Best Offers
In a very short period of time, Webull has developed a passionate following. This largely comes down to the broker's willingness to think outside the box and establish just what clients want. The functionality of the site reflects the firm being a new entrant – it's packed full of innovative and progressive neat features, and it appears to be hitting the spot with the trading community.
Regulation
US regulators are considered to be some of the strictest around. Any broker providing services to US citizens has to ensure complete compliance with authorities who are renowned for preferring to operate using 'stick' rather than 'carrot'.
The fact that Webull has signed up as a broker-dealer with the Securities and Exchange Commission (SEC) is, from a regulatory perspective, an impressive start. Webull Financial LLC is also a member of the Financial Industry Regulatory Authority (FINRA), Securities Investor Protection Corporation (SIPC), the New York Stock Exchange (NYSE), NASDAQ and Cboe EDGX Exchange, Inc (CBOE EDGX).

Awards
Webull's dynamic and innovative approach has resulted in it picking up a range of industry awards. There's no surprise that some of the awards go to the Webull app, which is packed full of the latest technological advances and ideal for those who like to trade on the go.
In November 2020, Webull Financial was named 'Best Mobile Brokerage' at the 2020 Benzinga Fintech Awards 2020, beating 250 other firms to the title in the process.
The Benzinga awards' Best Brokerage for Beginners prize, given to Webull in 2019, is a mighty accolade for the broker and rewards a firm that has set out to revolutionise the investment industry.