Key points:
Cineplex stock surged by 10.3% on Friday, filling many investors with hope.
Some analysts think that the movie theatre operator's stock will rally higher.
Cineplex is in a much better position than its peer Cineworld.
The Cineplex Inc (TSE: CGX) stock price surged 10.3% on Friday, leaving many wondering whether this is the start of a new upward trend, given that CGX stock has fallen heavily over the past month.
The good news is that some analysts think Cineplex will outperform soon despite its recent performance. For example, drew McReynolds, an analyst at RBC Capital Markets, has today upgraded Sineplex to an outperform from a sector perform rating, despite lowering his price target from C$15 down to C$14.
Also read: 12 Best Shares To Buy As a Beginner.
McReynolds noted that the earnings visibility for Cineplex was improving and that he was expecting the movie theatre operator to return to normal operations in 2023 after surviving the brutal operating conditions in the past two years brought about by the coronavirus pandemic.
The analyst also cited early signs of consumer demand and the evolution of the theatrical winder that will remain mostly intact compared to the pre-COVID-19 period. Therefore, investors should be happy that some analysts have a favourable view of the movie theatre chain.
Furthermore, Cineplex does not face the same challenges its peer and former suitor Cienworld faces, which is the burden of servicing a mountain of debt from years of debt-funded acquisitions that are now catching up to the firm.
As Cineworld files for bankruptcy, we are reminded as investors of the virtue of backing companies that are not overleveraged, given that, as common shareholders, we are usually the last ones to be paid once a company goes into administration or files for bankruptcy.
Cineworld was operating with a massive debt pile, which proved to be undoing when the coronavirus pandemic hit and movie theatres were closed as part of government-mandated lockdowns.
Cineplex is currently suing Cineworld for abandoning its planned acquisition at the onset of the COVID-19 pandemic. The Canadian movie theatre chain has already been awarded C$1 billion in damages, and Cineworld is currently appealing the decision.
*This is not investment advice.
The Cineplex stock price chart.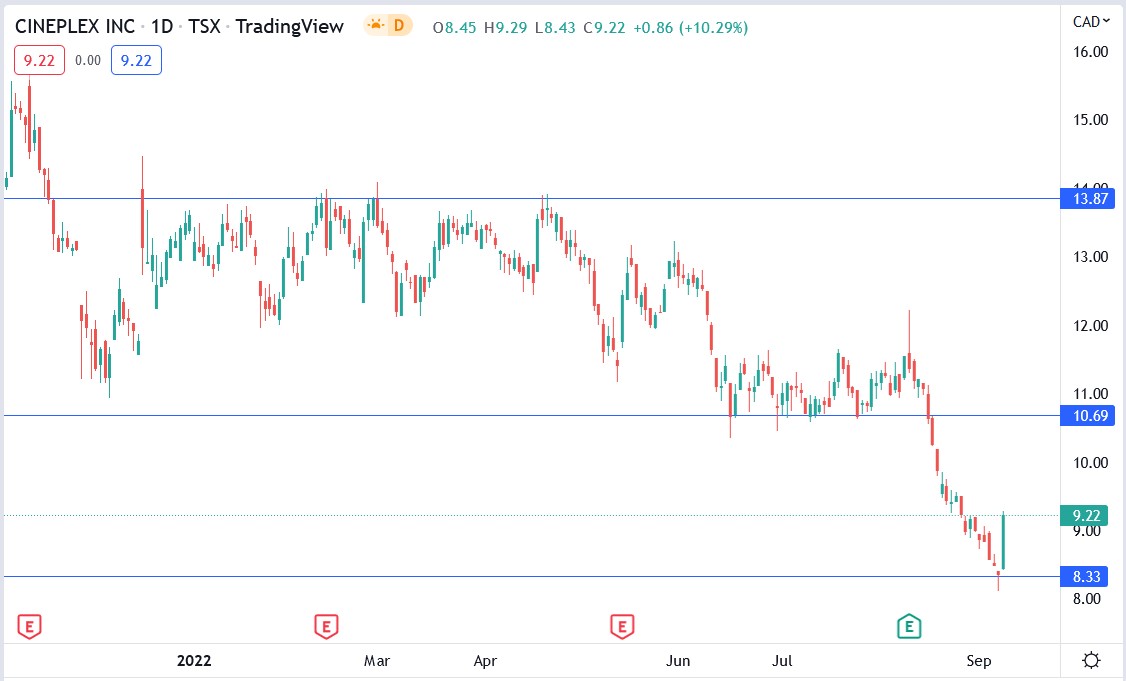 The Cineplex stock price surged 10.29% on Friday after falling over 18% in the past month. So is this a new rally phase?