Key points:
Costco stock price could rally higher if Q4 results are better than expected.
The retailer's membership program continues to attract new customers.
COST shares are trading above a critical support level. Are they a buy?
The Costco Wholesale Corporation (NASDAQ: COST) stock price could rally higher, according to Michael Lasser, an analyst at UBS, who maintained his buy rating on the wholesaler and his $595 price target on the stock.

Lasser expects Costco to report favourable results in Q4, led by robust top-line results as sales surge and the wholesale chain continues to acquire new members at an impressive pace. The company's consistent acquisition of new members has driven growth in same-store sales as members become repeat customers.
Also read: The Five Best Recession-Proof Stocks.
The analyst expects Costco to report same-store sales growth of 9.9% in Q4, with interest in the membership program rising due to the record-high food and fuel inflation witnessed in the US and globally this year, forcing many consumers to focus on cost-cutting.
The Costco membership program allows consumers to save money on purchases at the wholesale store for an annual fee. The membership is split into three tiers, with the business and gold star memberships costing 460, while the executive membership doubles at $120.
The retail sector has come under intense security lately due to the record-high inflation that has seen many consumers reduce their spending on everyday goods, except for essential items, which most consumers want to buy at discounted prices.
The record-high inflation is expected to peak soon, but consumer spending will likely remain strained as everyday goods prices remain high. In addition, many analysts expect fuel prices to rally higher during the winter as demand for energy to heat homes and offices skyrockets.
Costco shares have rallied higher in the past three months but are down 1.45% in the past month due to investor concerns. The retailer's shares are currently trading at $536.58, which is almost $60 off Michael Lasser's $595 target, but COST shares could hit this target if the retailer outperforms in Q4 of its current fiscal year.
So, should you buy Costco shares? The shares look attractive at current prices since they just bounced off a crucial support level.
*This is not investment advice.
Costco stock price.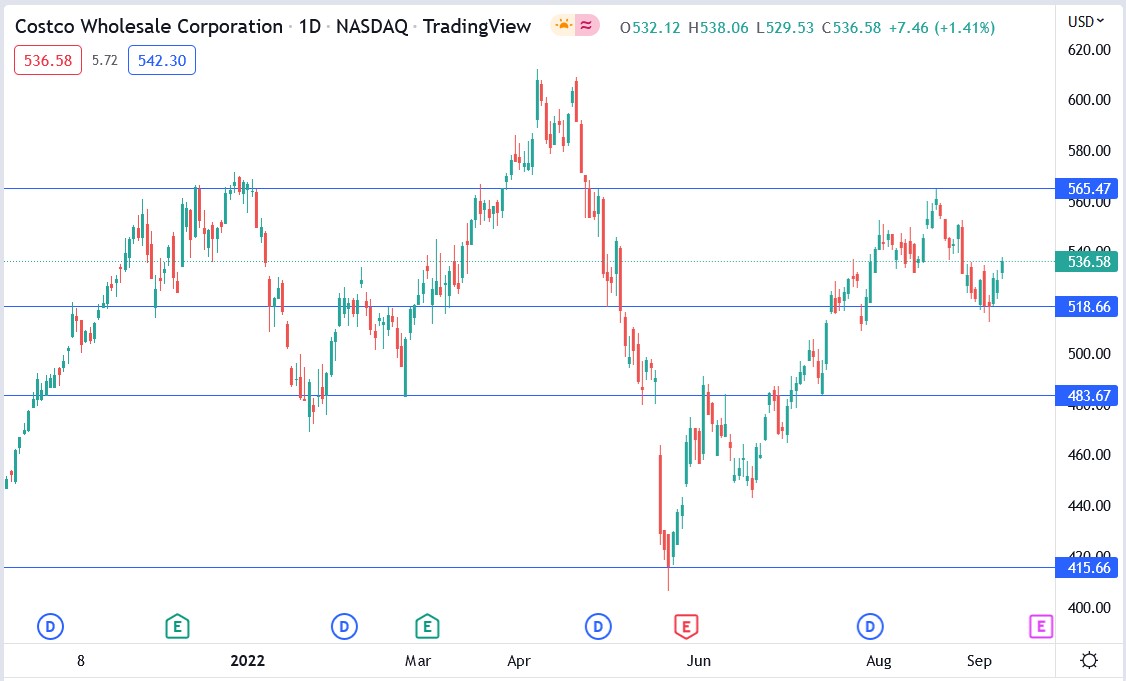 The Costco stock price has risen 15.39% in three months and is down just 5% for the year.