Key points:
The euro records the most gains against the dollar in six months.
The dollar's overall weakness boosted the single currency.
The greenback's decline is expected to persist up to next week.
The euro today recorded its best day against the dominant US dollar in almost six months after the EURUSD currency pair traded as high as 1.02, representing a 1.6% gain, before retracing some of its gains by the time of writing.
The euro's rally was attributed to hawkish comments by European Central Bank policymakers such as Joachim Nagel, the Bundesbank President, who said that the ECB must take bolder steps to combat inflation if the situation remains the same.
Also read: Forex Market Lessons From 3 Day Traders.
Last week, the ECB surprised investors with a 0.75% rate hike, while many expected a 0.50% rate hike. However, the euro's gains were limited by ECB President Christone Lagrade's reluctance to commit to more aggressive rate hikes in future, saying that they were not the norm.
However, as tracked by the US Dollar Index, the dollar's overall weakness also contributed to the euro's rally as it faced a much weaker competitor.
In addition, many analysts say that the US dollar has peaked as the Federal Reserve reaches the upper end of its expected rate hikes, unlike the ECB, which is still in the early stages of its rate hiking cycle.
Multiple currencies, including the Japanese yen, the British pound, the Canadian dollar and the Australian dollar, all posted impressive gains against the dollar. The dollar index was trading down 84.4 pips (0.77%), having retraced some of its losses ahead of the US market open.
Investors are betting on other currencies ahead of the Fed Reserve's upcoming rate hike scheduled for Wednesday, September 21, 2022. As a result, I expect the dollar to keep falling for most of this week as other assets, including stocks, embark on relief rallies ahead of the Fed decision next week.
The US dollar's overall decline was also driven by investors lowering their exposure to the dollar ahead of tomorrow's US CPI data. Many expect the CPi print to show that inflation has started cooling the country, driven by lower fuel prices.
Overall, the dollar's weakness will persist for much longer while other assets recover and rally higher.
*This is not investment advice.
EURUSD price chart.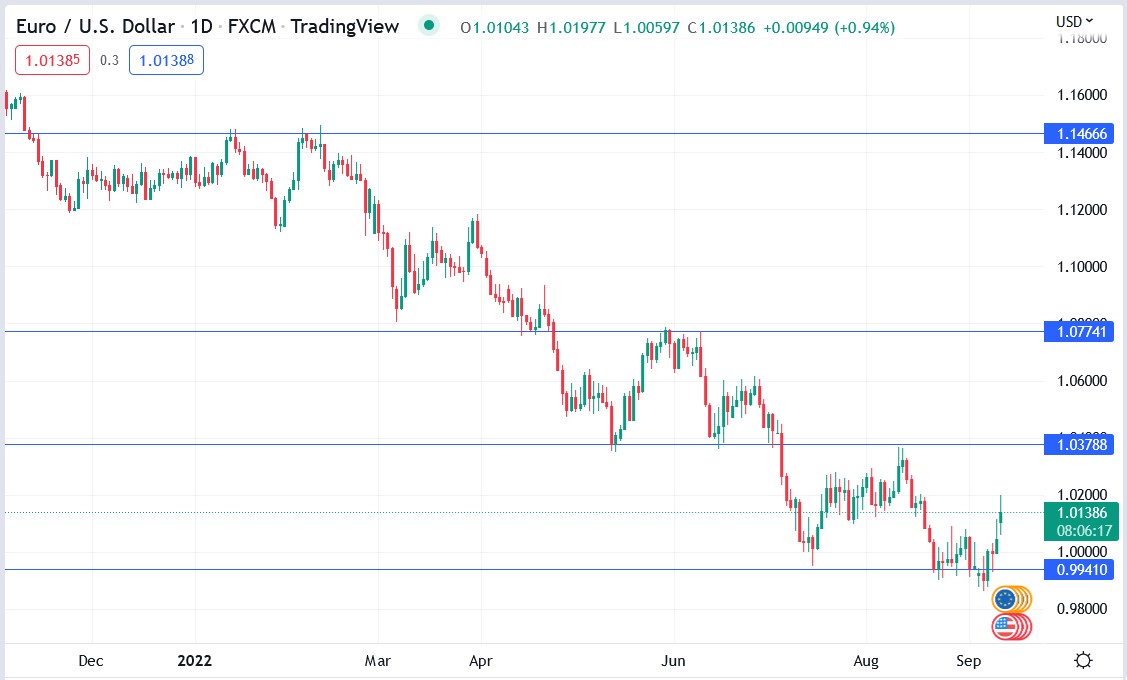 The EURUSD currency pair was trading up 98.2 pips (0.92%), having trimmed some of its earlier gains.