Key points:
The DraftKings stock price has fallen 59.6% in 2022. Has it bottomed?
The gambling stock's price has formed a bottoming pattern.
So should you buy DKNG shares? Read on to find out.
The DraftKings Inc (NASDAQ: DKNG) stock price has fallen 59.6% in 2022 but appears to have bottomed, given the pattern formed on its daily price chart. The chart below shows that DraftKings stock has formed an ascending wedge pattern, usually a bullish signal.

However, how about the company's fundamentals? First, a look at analyst rating for Draftkings shows that JMP analyst Jordan Bender recently has a $25 price target on the company, which he expects will grow its revenues by 19% annually.
The primary reason behind the bullish price target is DraftKings' leading position in the UK gambling market, which is among the top three gambling firms. The company also recently acquired Golden Nugget Online Gaming, which will help it transition into a leading player in the iGaming industry segment.
The purchase is expected to generate significant revenues for DraftKings, given the growing popularity of online gaming as people prefer to place bets from the comfort of their homes as opposed to physical casinos.
DraftKings wants to capitalise on the rising cost of living and the high fuel costs that have dissuaded many consumers from making unnecessary trips, which is where online gaming comes into play. Consumers still want to place bets but do not want to travel to casinos to do the same.
However, some analysts have warned that despite its rapidly growing revenues, DraftKings' high operating costs are a negative sign. The gambling company generated $417 million in revenues during Q1 2022, but its losses surged to $468 million as its operating costs rose to a whopping $933 million.
DraftKings attributed its massive losses to investments in serving clients whenever it enters a new segment as it aggressively acquires clients. However, there are no guarantees that the new clients acquired will generate a profit for customers.
Still, DraftKings stock price looks attractive at current prices due to the rising wedge pattern in the chart below. Therefore, I would buy DKNG shares on a break above the upper resistance level.
*This is not investment advice. Always do your due diligence before making investment decisions.
DraftKings stock price.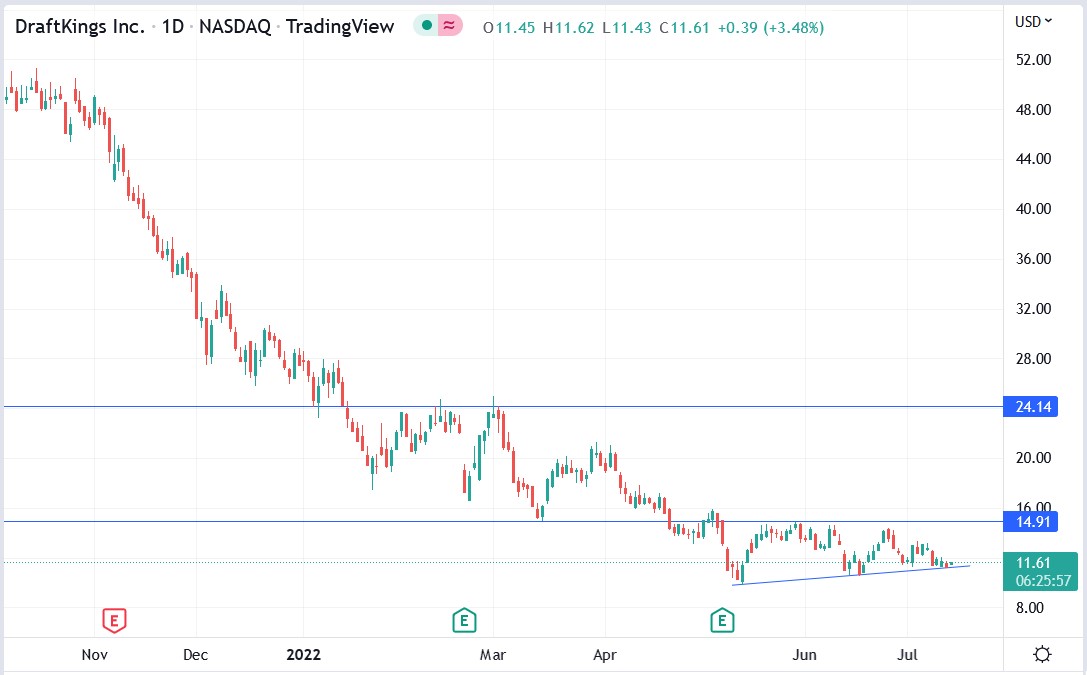 DraftKings stock price has fallen 59.6% this year but could have bottomed based on chart patterns.