Key points:
The Neximmune stock price rallied 32% on FDA IND application approval.
Investors cheered the news that will allow NEXI-003 to enter clinical trials.
So, should you buy NEXI stock? Read on to find out.
The Neximmune Inc (NASDAQ: NEXI) stock price rallied 32% after revealing that the US Food & Drug Administration (FDA) had approved its Investigational New Drug (IND) application for its NEXI-003 drug candidate.

Investors cheered the announcement, which paved the way for the company to develop its first cellular therapy to treat solid tumours. NEXI-003 is an autologous antigen-specific T cell product developed by Neximmune to treat patients with relapsed or refractory HPV-related cancers.
Also read: The Best Biotech Penny Stocks Under $5 To Buy Right Now.
Neximmune can begin phase 1 clinical trials to evaluate NEXI-003's safety and clinical activity. In addition, the company says that it intends to conduct a dose escalation phase before proceeding to an expansion phase.
"The dose escalation phase will consist of multiple safety cohorts investigating increasing doses of NEXI-003 followed by an expansion phase that will enrol 24-36 patients overall," read a statement from NEXI.
Recent analyst ratings of Neximmune include an overweight rating from Cantor Fitzgerald analyst Prakhar Agrawal who recently started covering the company. However, Agrawal lowered the investment bank's price target from $35 to $4.
The analyst based his rating on an expected update from Neximmune regarding its lead drug candidate, NEXI-001, targeted at patients suffering from Myeloid Leukemia, also known as AML. the company is working on a novel T-cell therapy platform that would allow it to develop novel T-cell treatments.
However, the technology is still in its early stages, which makes the company a high-risk play. Neximmune plans to expand the NEXI-003 development program to include other HPV-related cancers once it confirms a phase 2 dose. The firm is also looking to assess potential SOC combination options.
So, should you buy NEXI shares? The short answer is that NEXI shares look attractive at the current price, given that they are trading near a long-term support level. Therefore, they might be a good fit for investors looking to hold them for long periods.
*This is not investment advice. Always do your due diligence before making investment decisions.
Neximmune stock price.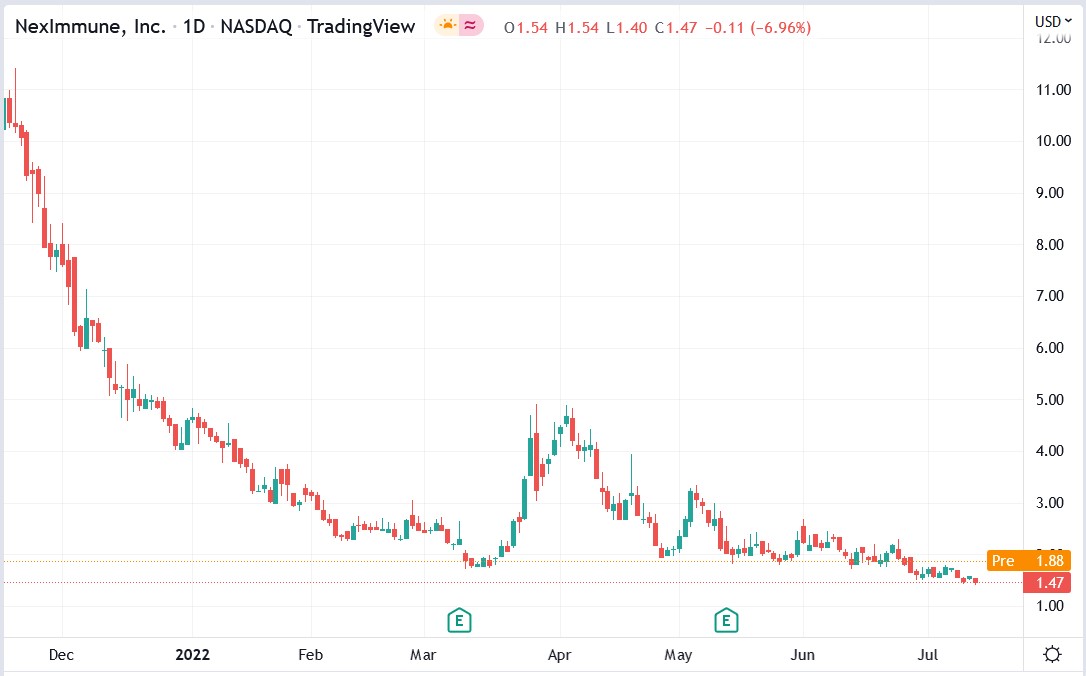 Neximmune stock price rallied 31.97% to trade at $1.94, rising from Thursday's closing price of $1.47.