Key points:
Eqtec shares surged 25% after formally entering the French market
The company has started its first project in France in partnership with SEPS
Investors cheered news that the firm was bidding for other projects
The Eqtec Plc (LON: EQT) share price surged 25% after announcing the formation of its French subsidiary to take advantage of multiple growth opportunities identified in the country.

The waste to energy company revealed that today's milestone resulted from a process that started in September 2021 within its interim results. First, it notified investors that it had identified multiple investment opportunities in France.
Eqtec has partnered with SEPS SAS, a French company that specialises in the recycling and management of industrial waste, after signing a Letter of Intent with the firm in December 2021.
The two companies will deploy both of their proprietary technologies to make their first project a success. The project will be based in an industrial facility in Haute-Garonne, France, owned by SEPS, where they will construct a facility that will convert industrial waste plastic into syngas.
Eqtec and SEPs will seek to duplicate the success achieved in their first project across other projects that they have identified across the country.
Investors cheered news that Eqtec had already identified twelve investment opportunities in France and was actively bidding for contracts relating to three projects. The company reassured investors that it would issue an update on how the bids were progressing in due time.
Eqtec's French subsidiary will be known as EQTEC France SAS and will be a wholly-owned subsidiary led by David Le Saint, an expert who has been working with the firm in France since July 2021.
David Le Saint has played a crucial role in establishing Eqtec's presence in France, including its innovation centre run in partnership with the Université de Lorraine. He has also played a crucial role in the identification of potential opportunities and in getting the backing of leading financial institutions in France.
David Palumbo, EQTEC's CEO, commented: "Formalisation of our market entry into France is a big step as we focus on building a pipeline of go-to-market entities and future licensors, each with a pipeline of projects. France is a major market with a strong history in progressive investment and development of new energy, and we believe this will prove true also for baseload renewables such as clean syngas. As a leader in clean syngas production, we are proud to set our sights first on contaminated plastic waste, in partnership with our colleagues at SEPS, who have a strong track record with this feedstock."
Adding:
"We are also proud that our France market entry was made possible not only by David Le Saint's tireless leadership there but also by the strength of our R&D programme at the Université de Lorraine. The work we do together in France will make a direct contribution to the reduction of rising volumes of plastic waste, transforming it into baseload energy and biofuels."
Eqtec shares have fallen 20.7% this year amid a broad rotation out of growth stocks into value stocks, but today's announcement could lead to further gains for investors in future.
*This is not investment advice. Always do your due diligence before making investment decisions.
Eqtec share price.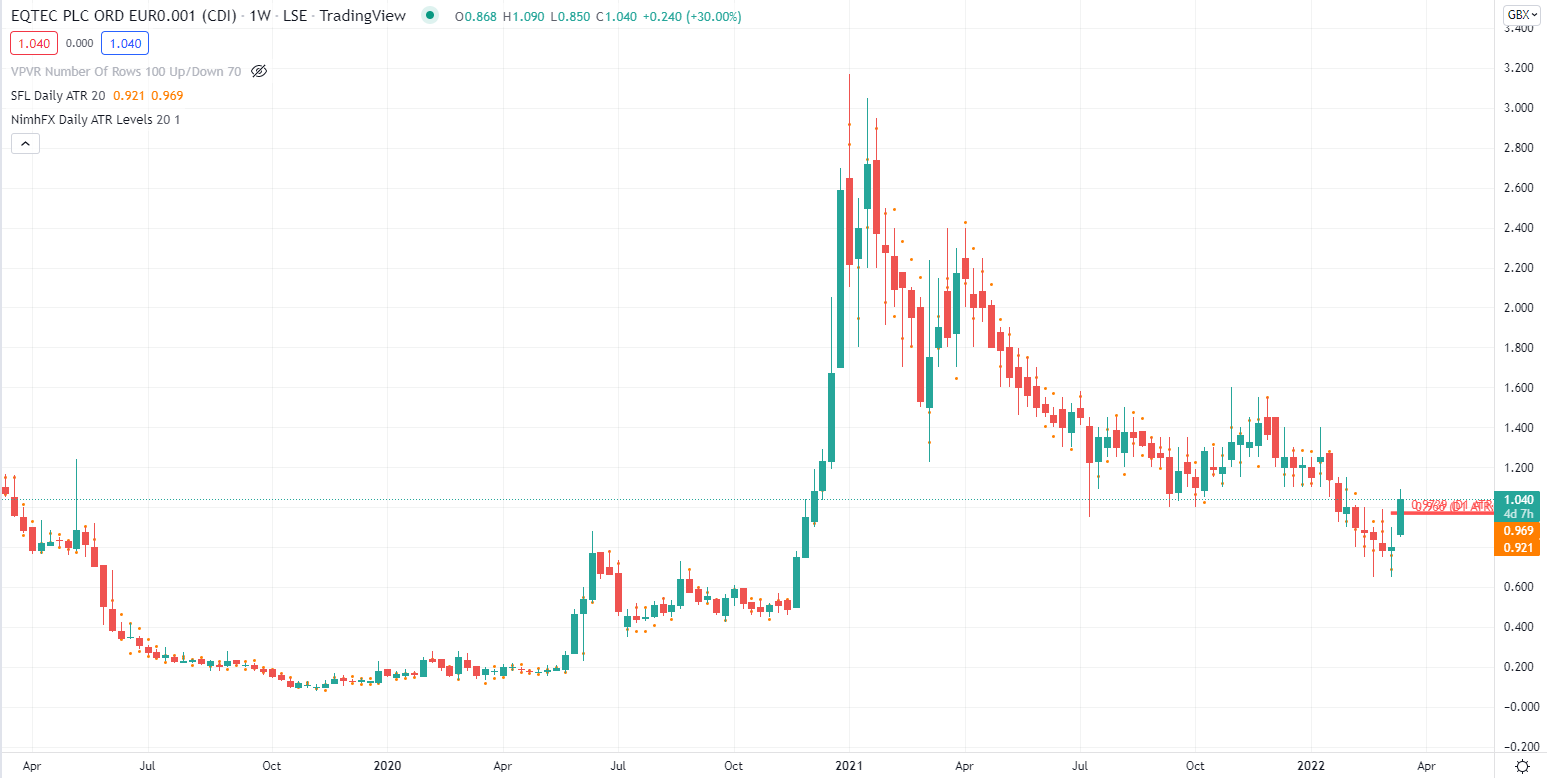 Eqtec share prince surged 25% to trade at 1.00p, rising from Friday's closing price of 0.80p.