Key points:
Eqtec shares edged higher on the Billingham project update.
The company agreed to extend the LPA to December 2022.
The waste gasification firm has significant potential.
The EQTEC PLC (LON: EQT) share price edged slightly higher after releasing an update regarding its 25 MWe Billingham waste gasification and power generation facility.

The update was about the Land Purchase Agreement (LPA) signed between its wholly-owned subsidiary Haverton WTV Limited and Scott Bros. Enterprises Limited, the landowner on which the plant will be built.
The two companies agreed to extend the current conditional LPA to allow more time for the financial close of the deal to happen by December 2022. However, the two firms maintained the purchase price of the land at £8,600,000.
Haverton paid an initial deposit of £260,000 to Scott Bros on 26 February 2021 and is expected to pay another £250,000 on or before 24 February 2022, with another £500,000 payment due by  30 September 2022 to Scott Bros.
The firm must pay the remaining balance of £7,590,000on or before 23 December 2022, the final date the land purchase must be completed, also known as the Longstop date.
Haverton will also pay an additional £250,000 on 24 February 2022 for the extension of the LPA, which is in line with industry practices, given that the deal was supposed to be completed last year.
All the other conditions for the land sale remain unchanged.
David Palumbo, EQTEC's CEO, commented: "The Billingham project on Teesside continues to generate strong and varied interest from investors, EPC and technology partners and offtake purchasers, including potential customers for hydrogen or biofuels. As we drive the completion of feasibility studies on these options and adjust the proposed business model for the plant, we are increasingly excited about the impact we can make and the role we can play in the development of Teesside's leadership with innovative energy provision in the UK."
Adding:
"Our decision last year to defer this project is already giving us the space to gather together an exciting team and actively engage a range of potential partners in the area. We look forward to providing regular updates on our progress and sharing more news as we advance as an innovation leader for clean baseload energy and biofuels."
EQTEC shares have fallen 29.7% this year, and many wonder when the company's share price will start recovering. However, the waste-to-energy gasification firm has significant potential, and investors are eagerly waiting for signs of progress for its projects.
Meanwhile, EQTEC shares look attractive at current prices, but we cannot rule out a further decline. Therefore, I would buy the shares as a long term investment.
*This is not investment advice. Always do your due diligence before making investment decisions.
Eqtec share price.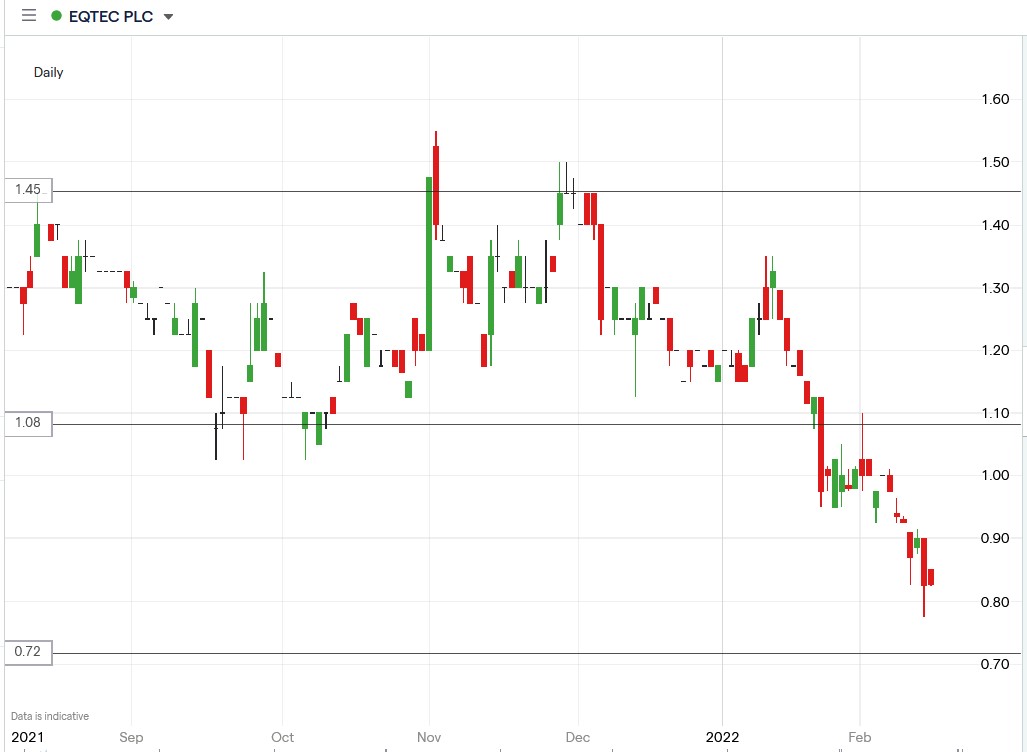 Eqtec share price barely moved on today's announcements as investors deemed the news inconsequential.