Key points:
AFC Energy's share price rallied 14.1% after an agreement with Keltbray
The hydrogen energy company is set to enter the UK construction industry
Investors cheered the landmark agreement that is an industry first
The AFC Energy plc (LON: AFC) share price rallied 14.1% after the hydrogen energy company revealed a partnership with Keltbray Plc, a UK construction and engineering company that has worked on significant projects such as the HS2, the Shard and Crossrail.

AFC agreed to deliver a hydrogen fuel cell (HFC) power generator to one of Keltbray's construction sites in late Q2 2022 as construction firms rethink their temporary power sources amid rising global fuel prices.
Today's announcement is also part of Keltbray's commitment to achieving Net Zero by 2040 in all its projects and also to help its clients achieve the same milestones in the projects once they have been handed over.
Investors cheered the partnership that marks the first time an HFC power generator is being deployed within a UK construction site. Although the two companies are yet to reveal exactly where they shall deploy the generator, it will be in London.
Many diesel fuel users are reconsidering their power sources as the UK's £0.4861 per litre Red Diesel subsidy is set to end in April 2022, with the already high fuel prices.
Kiro Tamer, Keltbray's Head of Environmental Sustainability, said: "We're pleased to be announcing our collaboration with AFC Energy, this is an important step forward in our journey towards a Net Zero future. Keltbray strives to make a positive contribution to the planet, and this partnership allows us to further accelerate the sector's transition to a more sustainable world. Collaboration is key in achieving real change, and the whole sector must work together to ensure we transform how we deliver the built environment. The use of this innovative technology allows us to play a key role in assisting the industry in reducing its reliance on fossil fuels."
Adam Bond, AFC Energy's CEO, said: "AFC Energy is excited to be announcing our collaboration with Keltbray today, highlighting how the industry is increasingly playing its role in delivering on society's Net Zero aspiration here in the UK. As an innovative and socially responsible UK contractor, Keltbray continues to show great leadership in highlighting, through the adoption of hydrogen fuel cell power generator technology, how the construction industry is seeing the benefit of displacing highly pollutant fossil fuels in favour of cutting-edge clean energy solutions. We are most pleased to be supporting Keltbray, its clients and the sector's transition towards a more sustainable future".
AFC Energy shares have fallen 22% this year but seem to be making a comeback. The 40p level offers significant resistance and could trigger a rally if prices hold above the level.
*This is not investment advice. Always do your due diligence before making investment decisions.
AFC Energy share price.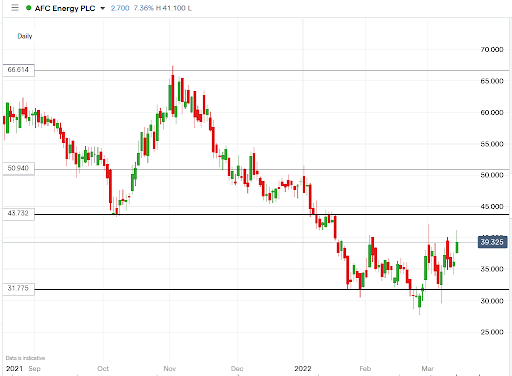 AFC Energy's share price rallied 14.09% to trade at 41.275p, rising from Friday's closing price of 36.175p.