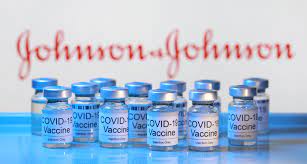 JNJ stock edges higher on positive data from South African vaccine study
2 doses offer 85% protection against Omicron hospitalization
The J&J vaccine may also act as a booster for the Pfizer shot.

Since the start of the pandemic, the leading names in biotech and pharmaceuticals have been competing for the top spot in testing and vaccinations. Notably; Pfizer, Moderna, Merck, and Johnson & Johnson rubbed shoulders in a race to dominate the market. However, vaccines vary in efficacy and a range of other factors; not to mention the need to effectively target variants like Omicron. 
The Johnson & Johnson (NYSE: JNJ) vaccine has always been held in poor repute in comparison to Pfizer and Moderna; deemed as less effective in its single dose. However, a South African study released yesterday shines new light on past data, concluding that two doses of the J&J vaccine offer 85% protection against hospitalization from the Omicron variant. A further lab study also suggests that the vaccine may work well as a booster for anyone who originally received the Pfizer jab. 
Dr. Dan Barouch, Ph.D., Director of the Center for Virology and Vaccine Research at BIDMC, announced in a statement:
"As the Omicron variant has mutated from the original SARS-CoV-2 strain, there is a need to understand how effective currently authorized COVID-19 vaccines remain at protecting against severe disease," 
Adding;
"Our analysis shows that a booster shot of the Johnson & Johnson COVID-19 vaccine generated a robust increase in both neutralizing antibodies and T-cells to Omicron."
On the positive news, JNJ stock edged about 0.3% higher in early Thursday trading. At a time of steep Omicron selling, healthcare stocks have the ability to capitalize on promising vaccine news. This being said, vaccine companies have been prone to serious volatility during the pandemic; with competition remaining strong. 
Is Now a Good Time to Invest In JNJ Shares?
Healthcare stocks, including JNJ shares, saw a wave of investors buy their shares during the pandemic. Governments also pumped money into the companies in an attempt to speed up the vaccine process. But, what happens now vaccines have been approved and the pandemic is becoming less prominent? Should we still invest in coronavirus-focused healthcare stocks? Or should we look to firms tackling other areas? Here are the best healthcare stocks to buy now…