Kohl's Corp (NYSE: KSS) plunged around 13.3% today, dropping to lows of $46.49 at the time of writing. The plunge came after analysts sliced two notches of Kohl's rating in the thick of widespread supply chain issues.
The retailer's stock slumped in mid-Thursday trading after Lorraine Hutchinson, an analyst at Bank of America cut her ranking from 'buy' to 'underperform', leaving Kohl investors reeling in a dramatic sudden sell-off.
Leading into the holiday sales period, Kohl amongst many others are burdened with looming supply chain issues.

The negative news came somewhat overshadowed by the BofA's initial judgement; whereby Kohl were complimented for having exceeded its expectation for market penetration in the activewear sector – with sales jumping 40% year on year.
However, that wasn't the end for Kohl. Due to Kohl's aggressive growth model, specifically in the activewear sector, worries are mounting regarding a growing vulnerability to supply chain problems, especially in key suppliers such as Nike, Adidas and Under Armour.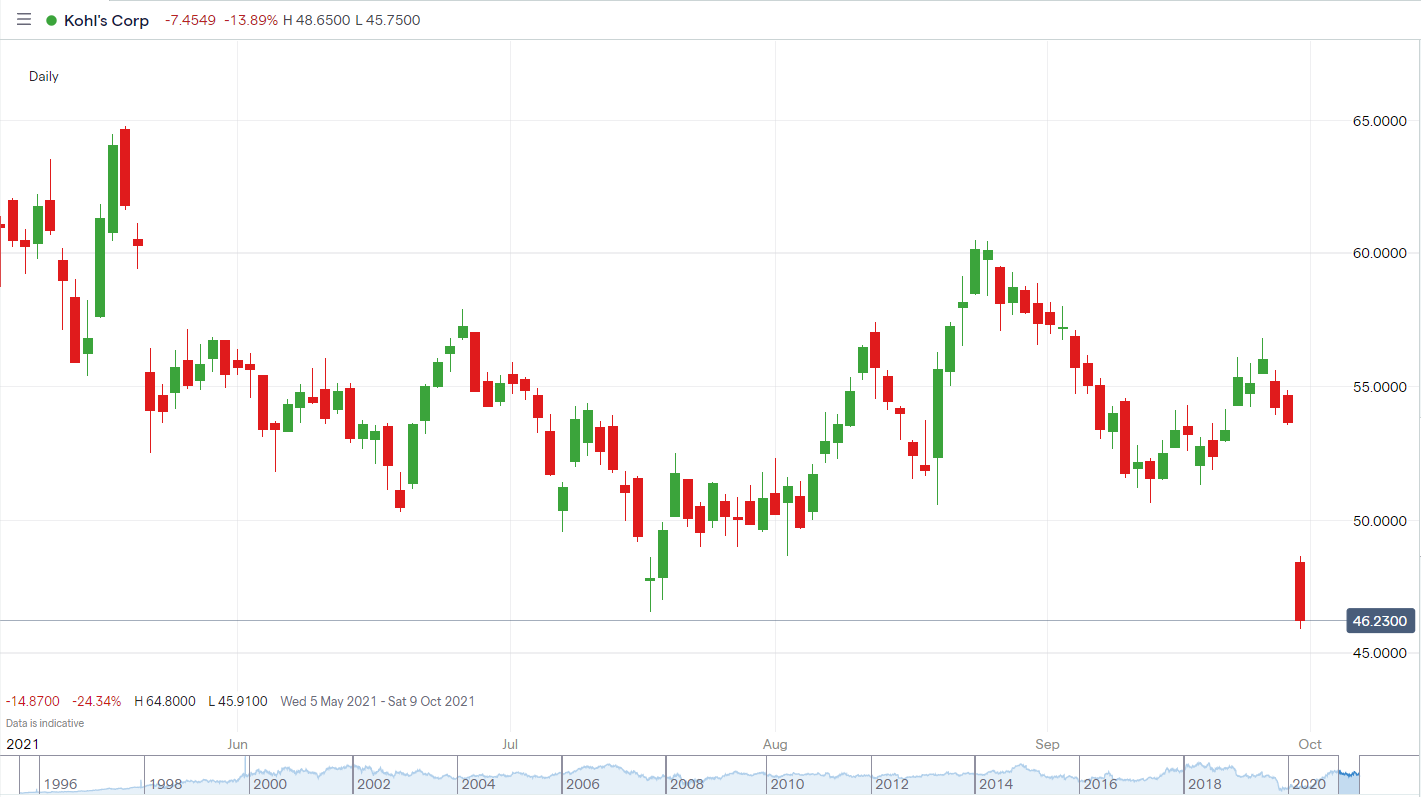 Hutchinson stated clearly: "According to Nike, the North America business will be most negatively impacted by supply chain delays in its 3Q, which corresponds to Kohl's 1Q."
This news comes shortly after a similar drop-off in Bed, Bath and Beyond stock for comparable supply chain issues. As we continue to move into the holiday season, we might see more and more retailers struggling with the logistics of meeting higher demand.
Should You Invest in Kohl Shares?
One of the most frequently asked questions we receive is, "what stocks are best to buy right now?" It's a wide-ranging question, but one that we have answered… Our AskTraders stock analysts regularly review the market and compile a list of which companies you should be adding to your portfolio, including short and longer-term positions. Here are the best stocks to buy right now