The Best Copy Trade Brokers
Copy trading is a new and exciting way of getting exposure to the financial markets without having to give up too much of your own time. It involves taking the trading signals from other traders and applying them to funds you hold at a broker. You remain in control of the relationship, and selection and cancellation of relationships are down to you.
In this article, we'll explore the following:
What is copy trading?
Is copy trading worthwhile?
Which are the best copy trade brokers?
The basic rules of copy trading
Final thoughts
What is Copy Trading?
If you're looking to involve someone else in the management of your own money, it's probably prudent to have a refresher on what copy trading is — and isn't.
Making a profit from trading the markets can be hard and time-consuming. Not only is there trade management to think about, but effective strategies need to be carefully researched and implemented. Prices are constantly flying around, taking your P&L on a roller-coaster ride.
The principle behind copy trading is that those who have the time and skill to master the markets exchange their trading signals for a fee. This means traders with cash they want to make a return on can set up a broker account and have those signals applied to their account.
If the lead trader makes a profit, then the copy trader does as well, and vice versa.
This, to some extent, looks like old fashioned fund management — whereby investors place funds in an account and rely on the fund manager to make a return.
However, copy trading reflects how modern technologies have revolutionised the investment landscape. With copy trading, you use an online platform to locate and use a third party to help you invest.
Copy trading provides you with:
Direct control over the selection process— Use a broker that offers profiles and performance history of lead traders. Transparency is key.
Fees can be lower— In fact, they can be much lower than with traditional investment management firms.
Smaller minimum balances— At some brokers, it's possible to have lead traders manage amounts as small as $50.
Risk management— With minimum investment balances being so low, you can take on a diverse range of lead traders and mitigate the risk of one blowing up.
Response times— The top-ranking copy trade brokers allow you to terminate the relationship immediately.
Is Copy Trading Worthwhile?
There are two ways to approach this question. The first is in terms of performance and the second is in terms of time-management. It's important to be realistic about both.
Performance— One of the fundamental principles of the markets is that past performance is no guarantee of future returns. This applies to copy trading too. Even the best sites can only give you so much information on the lead traders.
Verifiable track record— It's essential to use a broker that provides you with a performance track-record that the lead trader has recorded on their site. Otherwise, anyone can promise anything.
Skin in the game— Look for copy traders who have invested their own funds in their strategy.
Which Are the Best Copy Trade Brokers?
In the same way that lead traders take some of the hard work out of trading, we've done the same thing in terms of selecting a broker. Our team of experts have analysed the copy trading broker sector and have come up with some names you might want to add to your shortlist.
It's also worth noting that some will allow you to try copy trading in free demo accounts. These allow you to practise using virtual funds. This will provide you have a risk-free way of finding out if copy trading might be for you.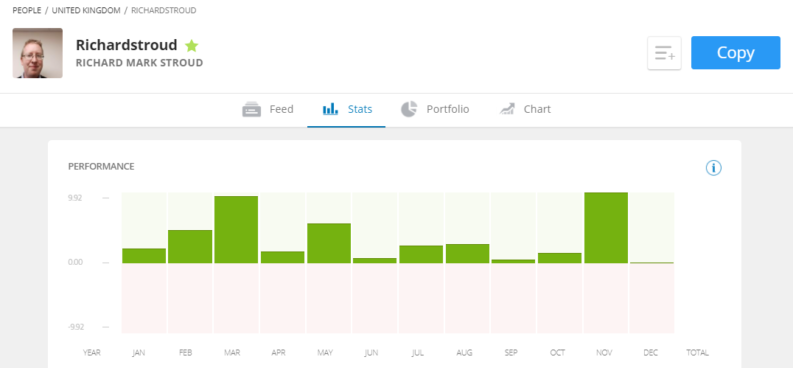 Source: eToro
It's also worth trying out the demo accounts of different brokers. Each has a different range of lead traders to choose from and the functionality of the platforms also varies. The below list is an offering of three well-regarded brokers who each take a slightly different approach to the situation.
The Best Copy Trade Brokers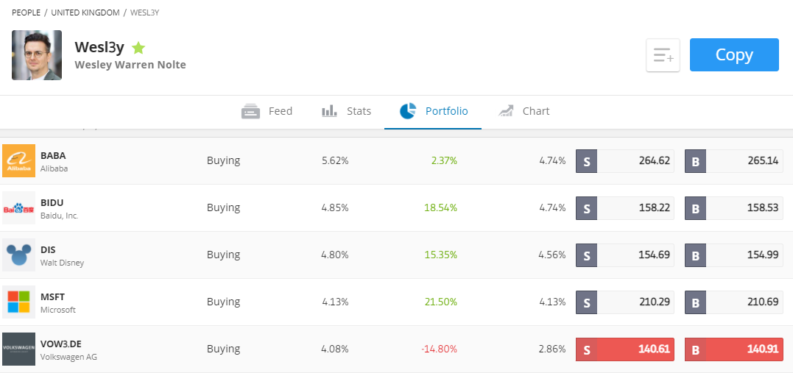 Source: eToro
Making a good choice in terms of broker and lead trader will impact your cash balance. If you make an analogy with online dating, you would be pretty fortunate if the first person you met on a dating site ended up being marriage material.
eToro
This broker has been the market leader in the copy trading sector for many years and continues to improve. The firm now has a staggering 13 million users, which is a sure sign that it is doing something right. In 2020 it recorded a 420% increase in new account registrations than from the same time in 2019.

Source: eToro
The popularity of eToro also offers a degree of comfort to those who sign up with that platform. For one thing, a successful broker is less likely to go bust. In addition, eToro now has a reputation that it wants to maintain. There is also the possibility that clients can benefit from a trickle-down effect in terms of improved T&Cs. The advantages of eToro include:
Thousands of lead traders to choose from.
All asset groups and strategies are covered, meaning you can access the part of the financial markets that you want to.
Transparent pricing structure. Trading costs are included in the bid-offer spread, so there are no additional trading commissions.
Incredibly user-friendly platform with functionality specifically designed to accommodate those who are new to trading.
Once you've registered, you can copy lead traders or put on your own positions and self-trade. Both types of trading are possible in the same account.
Based in the UK, but with offices worldwide, the firm has a secure position in the market and is authorised and regulated by tier-1 regulatory bodies.
*68% of retail CFD accounts lose money
Pepperstone
Pepperstone has a strong reputation for client care. Its customer service team are holders of a host of industry awards and the broker takes a very responsible approach towards regulatory compliance.
There aren't as many markets on offer as at eToro, but an attractive feature of Pepperstone is that it offers its clients a choice of copy trader platforms. Whereas eToro has developed its own in-house trading platform, Pepperstone has enlisted the services of third-party providers — both of which offer copy trading services.
MetaTrader MT4 — Well-regarded within the trading community, this platform is super-reliable and has been operating since the early 2000s. The Expert Advisor function on MT4 allows clients to take signals from thousands of lead traders. MT4 is the most popular retail trading platform in the world and many of its users are happy to share their ideas.
cTrader — The cTrader copy feature is a fully integrated and very flexible part of the cTrader platform offered by Pepperstone. Selection is aided by lead traders being required to detail their performance, fees and profile details. Hooking up and starting to copy then takes only two clicks.
While the Pepperstone copy trading tools are high grade, the firm has built its reputation in the self-trading sector. Those who also want to trade their own book can combine self-trading and copy-trading in the same account. Pepperstone is renowned for low-cost, high-quality trade execution, particularly in forex.
Any client of Pepperstone can, themselves, become a strategy provider and earn a fee for sharing their strategies.
Trade360
This is a slightly left-field option, but one that puts the other choices into context. Trade360 relies on its clients to manually trade. It introduced the concept of 'Crowd Trading'. Trade360's proprietary trading platform 'listens' to the market and identifies price trends.

Source: Trade360
The tech-heavy platform uses computer models to analyse who is buying or selling what, and flags that up to traders. Trade360 highlights the grey area between social trading and copy trading, but is one that is definitely worth getting a better understanding of.
The Basic Rules for Copy Trading
Involving a third party in your investment objectives comes with some inherent risks. Applying common sense can help you avoid potential pitfalls.
Never send funds to anyone — Copy trading is based off a lead trader sending you instructions to apply to your funds. Keep your cash safely in your account or you're unlikely to see it again.
Lucky shots — A lead trader might have a strategy that appears an attractive proposition, but you won't be able to establish if they have a string of failures behind them.
Paradigm shift — Even successful traders can finally become undone by a change in market conditions. The hard part is knowing if a lead trader is experiencing a temporary run of loss-making trades in line with their strategy, or if they are a busted flush.
Version control — You are effectively jumping onto a moving target. The lead trader will likely have positions already in place, so look to use those who advise if you should start copying them from a set start date or if you need to also build up a portfolio to match their existing holdings.
Copy trading is not completely hands-off — A lot of the research and trade management will be done by someone else, but you will be responsible for ensuring their trading stays in line with the investment objectives.
Final Thoughts
Copy trading is increasingly popular because it offers a degree of control but can be less time-intensive than self-trading.
With global interest rates at record low levels, many are looking for a return on their capital but don't want to give up their day-job. For them, copy trading could be the answer and trying it out in a demo account is a logical first step.
It's not risk-free, but accepting that someone might be a better trader than you is a valuable lesson for beginners to learn. You might even find yourself picking up ideas from other traders, or, given time, even becoming a lead trader yourself.
People Who Read This Also Read: