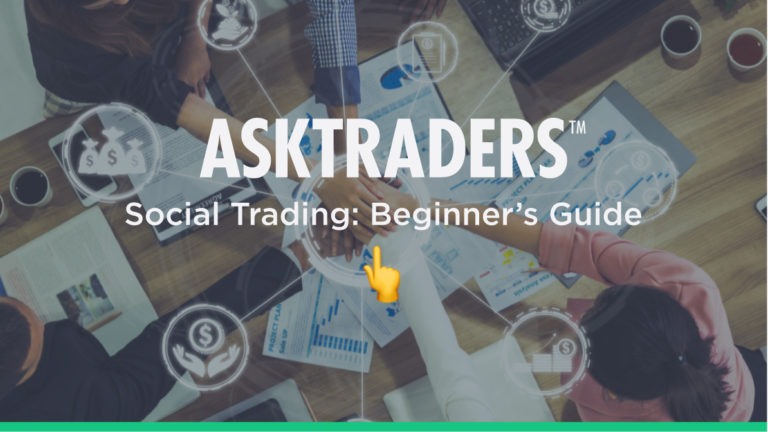 So, this article will provide you with a guide to social trading by going through:
What is social trading?
How social trading works
Social trading vs copy trading
The advantages and disadvantages of social trading
How to get started with social trading
And the best social trading platforms
What Is Social Trading?
Social trading is a way of investing and trading the financial markets without having to do any of the work yourself.
It allows traders and investors to copy the trades of other successful or more experienced traders without having to conduct extensive research and analysis themselves.
How Does Social Trading Work?
Social trading works by allowing anybody, whether they are beginners or experienced traders, to enter the financial markets by copying the trades of others and share trading strategies.
For example, if an experienced trader has a profitable trading strategy and is on a social trading platform, a newcomer to the markets can then copy the experienced trader's trades, therefore utilising the same approach without having to do the in-depth analysis and research.
Depending on the social trading platform used, you can adjust the elements of social trading that you use on your account.
But, why would an experienced trader let someone just copy their strategy and trades? Well, the answer to that is straightforward. The incentive is that there will be a financial reward, and the trader will enhance their reputation. The more people copying their trades, the more money they will receive as a bonus and the more their status will grow.
Social Trading vs Copy Trading
Although they may seem like the same thing, copy trading and social trade have some differences.
Social trading is a broader term for this type of trading in general, and copy trading falls under the social trading umbrella. Copy trading is just a type of social trading.
Copy trading is just that, copying the trades of another trader onto your account. If they make a trade, so do you, if they profit, then you do too. All of their trades will be the same trades on your account. The execution of the trades on your account is automated.
Social trading allows you a more hands-on approach if you wish. It will enable you to observe the trading strategies and trades of others and use their strategy by either executing the trades yourself or using the mirror or copy trading functions.
Advantages of Social Trading
There are many advantages to social trading. Some of those advantages are:
Learn from experienced traders – Social trading platforms will have users with a wide range of trading experience. So, it gives new traders the chance to learn from more experienced traders.
Collective knowledge – Social trading allows beginner traders to crowdsource the knowledge, strategy and wisdom needed to make successful trades. It is not a substitute for learning to trade independently, but it is yet another tool that can help you with that learning curve.
Easy access to trading information – Similar to the two advantages above, social trading platforms provide traders with the ability to get easy access to trading information, whether that be through experienced traders or the collective knowledge of a social trading community.
The potential to make money as you learn about the markets – Social trading allows new trades the opportunity to make some money while they learn about the markets. You can do this by successfully utilising the copy trading functions of social trading platforms.
Build confidence – Social trading is a great way to build confidence. It is not an infallible system, and it is certainly possible to lose money, but the probability of making successful trades can increase with copy trading. Social trading can also serve as a reminder that everybody loses money on some positions, often with planned, strategic loss-taking, so it can provide new traders with the confidence of knowing that this is normal.
Disadvantages of Social Trading
Of course, like most things in life, there are disadvantages, and social trading is no different. So, here are some of them:
A false sense of security – Social trading platforms understandably play up the potential gains that traders can make with copy trading. They emphasise that you will be making the same trades as the most successful traders in their network, with the main selling point being that you will make money. New traders may forget that everybody loses sometimes. They could start copying a trader at the beginning of a winning or losing streak with unrealistic expectations of how much money they can make, and therefore may invest more than they can afford.
Overconfidence – A false sense of security can cause overconfidence, which may lead to traders taking their eyes off the markets in a way that they never would if they were not copy trading. No trading system is a truly "set it and forget" one, but this is precisely what some traders expect to be able to do with social trading.
Differing trading conditions – New traders may be operating under very different circumstances than the traders whom they copy. When you copy one trading strategy in one market, you have no idea of the elements of that trader. He/she may have a highly diversified portfolio of investments and may be using, for example, very high-risk, high-return strategies. In short, you have no idea what the total capital of the trader you are copying is. So, you still need to devise your risk-management strategy, depending on the amount of money that you have and how diversified your investments are. Poor risk management is a significant reason for losses.
How To Get Started With Social Trading
So, let's go through the steps you need to take to get started with social trading:
Select a social trading platform/broker (See below for the top social trading platforms)
Now, there is an ever-increasing amount of social trading platforms available, and you must choose the right one for you. Make sure the platform provides all of the functions you want to enable you to utilise it successfully. Most importantly, make sure they are regulated and trustworthy!
Select and research the traders you want to learn and copy from
The platforms will provide you with recommendations of traders that you can copy and learn from, but it is essential to do your own research. Research the markets they trade, the strategies they use and the risk parameters. Do your due diligence.
Select the amount of money to allocate to each trader
Finally, you will need to allocate a portion of your capital to each trader you follow. Think of this as part of your risk management. You will have researched the trader you are tracking, and now it's about diversifying your investment into each trader. For traders with a high-risk strategy, you may want to allocate less money to traders with a lower risk strategy.
Recommended Social Trading Platforms
eToro
The eToro platform is the first social trading platform ever. It offers access to a wide variety of assets and an even more extensive array of traders available to copy and learn from. It is also regulated and authorised by the FCA, with a lot of positive reviews from customers online.
ZuluTrade
ZuluTrade is regulated in both Japan and the EU. It is slightly different in the fact that it is not a broker itself but provides traders with the ability to connect through the platform to find traders to copy and learn from. It works with 50 different brokers to offer social trading. They are the middle man connecting traders.
Please note you will need to set up an account with one of the 50 brokers they partner with to utilise the ZuluTrade platform.
Tradeo
Tradeo offers a social trading platform, but they do have fewer assets to trade than some other brokers.
However, they support the popular MT4 platform and provide an excellent platform for social trading. One thing to watch out for if you are in the UK is that the FCA does not regulate them. They are governed by the Cyprus Securities and Exchange Commission (CySEC).
PEOPLE WHO READ THIS ALSO VIEWED: