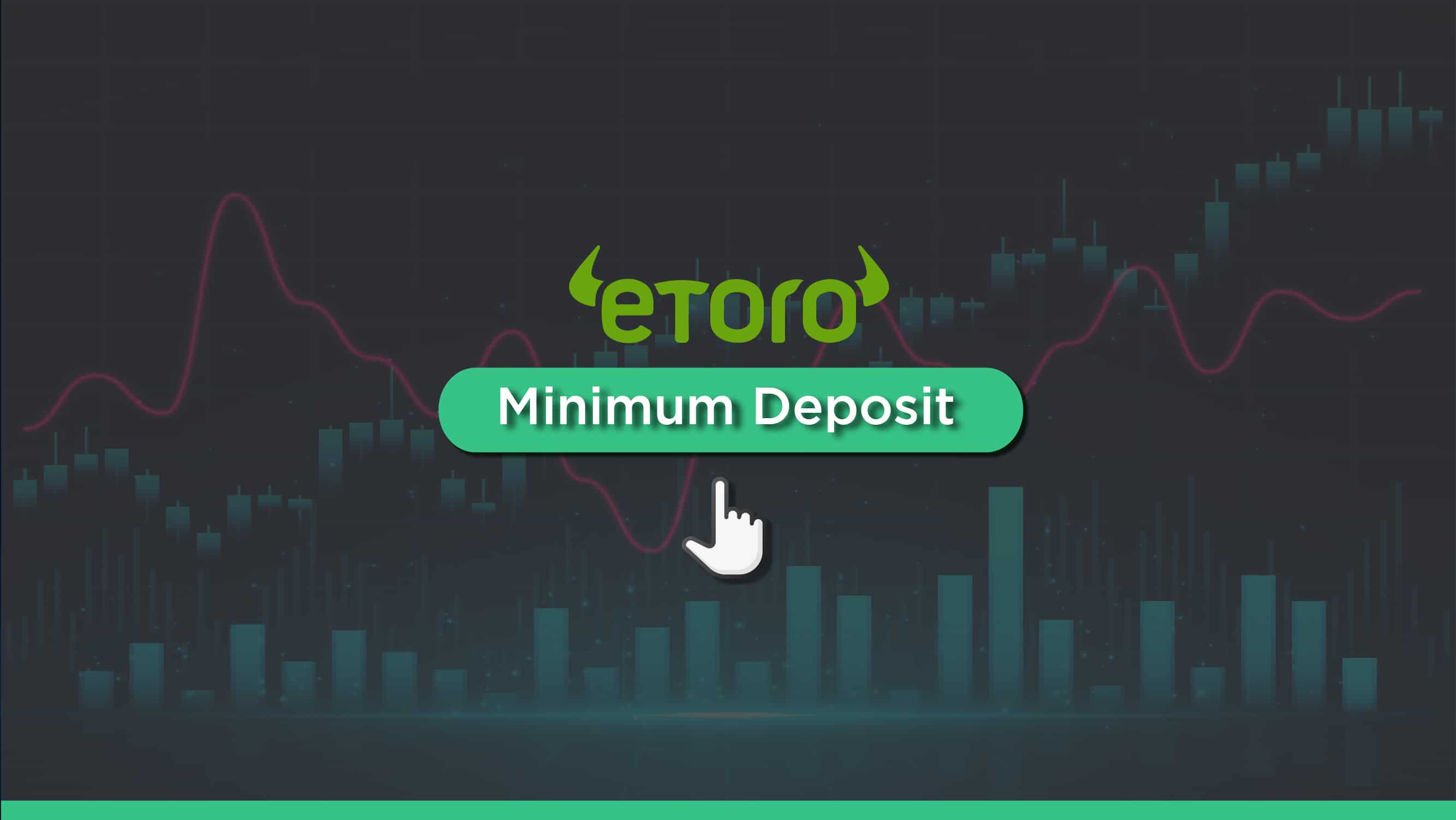 A good online trading broker is one that offers low minimum investment deposits, high-quality trading tools, and full access to excellent customer service with no hidden fees. At AskTraders, we believe that one of the exceptional trading brokers is eToro, with its low minimum deposit and great additional features.
Below is a summary of why eToro is the best brokers to meet all your trading needs. You can also look at our eToro review for complete detail on trading with the broker.
Low minimum deposit
Easy access
Short and long-term investments
Innovation
eToro Minimum Deposit for Individual Traders
Individual traders can open a new trading account with eToro to start their trading experience. The first-time minimum deposit for eToro is $200.
For residents of Australia and the USA, the minimum first-time deposit is $50.
On the other hand, residents of Algeria, Lebanon, the Maldives and Venezuela need to pay the minimum first-time deposit of $5,000.
Traders who are residents of Israel will require a minimum first-time deposit of $10,000, a regulation imposed from 31 July 2017.
Additionally, all deposits other than the First Time Deposit are required to be at least $50. However, deposits made via wire transfers require a minimum of $500.
eToro's Minimum Deposit for Corporate Account
On the other hand, the minimum first-time deposit for a corporate account is $10,000. There is a support team available to answer queries or deal with any problems.
eToro's Maximum Deposit for Unverified Accounts Unverified accounts are limited to a total deposit of $2,250. You can ultimately verify your account by clicking the "Complete Verification" button on your profile.
Start Trading With eToro NOW
However, you must note that eToro has the right to change any of its indicated deposit limitations any time. You can have a look at eToro's 'Help Center' for more information on its minimum deposit amount.
How to Make the eToro Minimum Deposit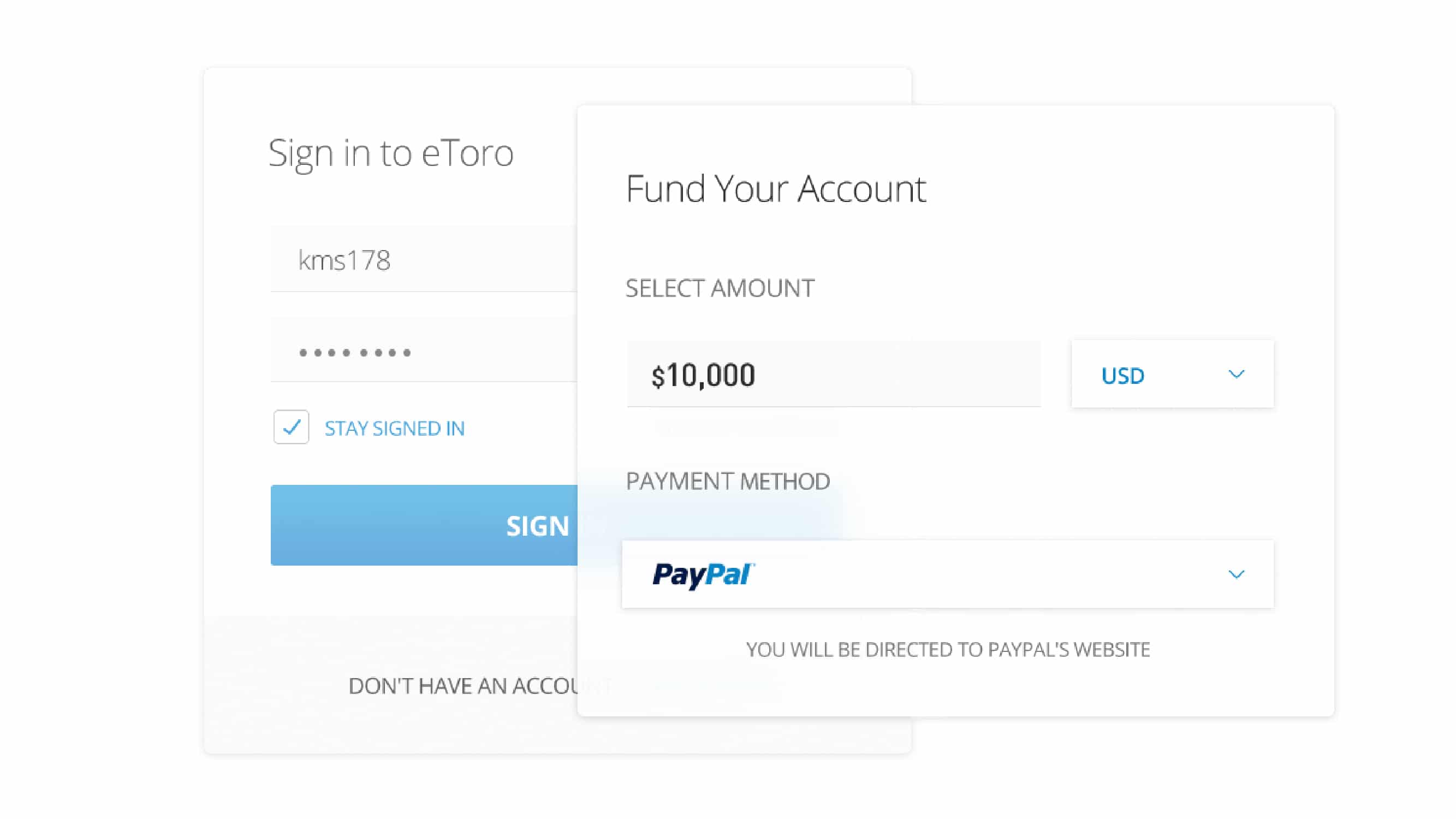 Open your broker account.

To open an account, you have to provide your personal details, like your date of birth or employment status, and there is also usually a test about your financial knowledge. The last step of the account opening is the verification of your identity and residency.

For this verification, you usually have to upload a copy of your ID card and a document that validates your proof of residence, such as a bank statement.

Sign in to your already opened trading account and find the depositing interface.

Once you are on the Deposit page, enter an amount and choose your preferred deposit method to send your eToro account fund.
The deposit methods can be one or more of the following:
Bank transfer (sometimes called wire transfer)

You have to include your own bank account number in the deposit interface. Then, you can start a bank transfer from your bank. The broker will give you a reference number that you'll have to enter as a comment in your transaction. This will allow them to identify your deposit.

Minimum deposit is $500 for international wire transfers.

Credit or debit cards (Supports Visa, MasterCard, Diners, Visa Electron and Maestro)

Just as with a standard online purchase, you are required to enter the regular card details. Card payment is usually the preferred and most convenient way of depositing. On the other hand, some brokers define a cap for card deposits, so you might have to use the bank transfer for a larger amount.

The card transaction will show as "eToro (Europe) Ltd." on the financial statement of your payment provider.

Online wallets like Paypal, Skrill, Neteller, etc.

It works just like any other online purchase. The wallet interface will pop up where you'll have to enter your credentials (username and password) and carry out your transaction.
| Method | Time | Currencies | Countries | MAX Deposit |
| --- | --- | --- | --- | --- |
| Credit/Debit Cards | Instant | USD, GBP, EUR and AUD | International | $40,000 |
| PAYPAL | Instant | USD, GBP, EUR and AUD | International | $10,000 |
| NETELLER | Instant | USD, GBP, EUR | International | $10,000 |
| SKRILL | Instant | USD, GBP, EUR | International | $10,000 |
| RAPID TRANSFER | Instant | USD, GBP, EUR | EEA | $5,500 |
| iDEAL | Instant | EUR | The Netherlands | $50,000 |
| Klarna / Sofort Banking | Instant | USD, GBP, EUR | Germany, Austria, The Netherlands, Switzerland, Italy, Spain, Belgium and Poland. | $30,000 |
| WIRE TRANSFER | 4-7 days | USD, GBP, EUR | International | Unlimited |
| ONLINE BANKING | Instant | MYR,IDR THB,PHP and VND | Malaysia, Indonesia, Thailand, Vietnam, Philippines | $10,000 |
eToro Deposit Currencies
eToro platform operates in USD, so it will not charge any fees for USD deposits. They also accept deposits in 9 other currencies: EUR, GBP, AUD, RMB, THB, IDR, MYR, VND, PHP. When converting the funds to USD, a conversion fee is charged.
Easy Access to eToro Trading Platform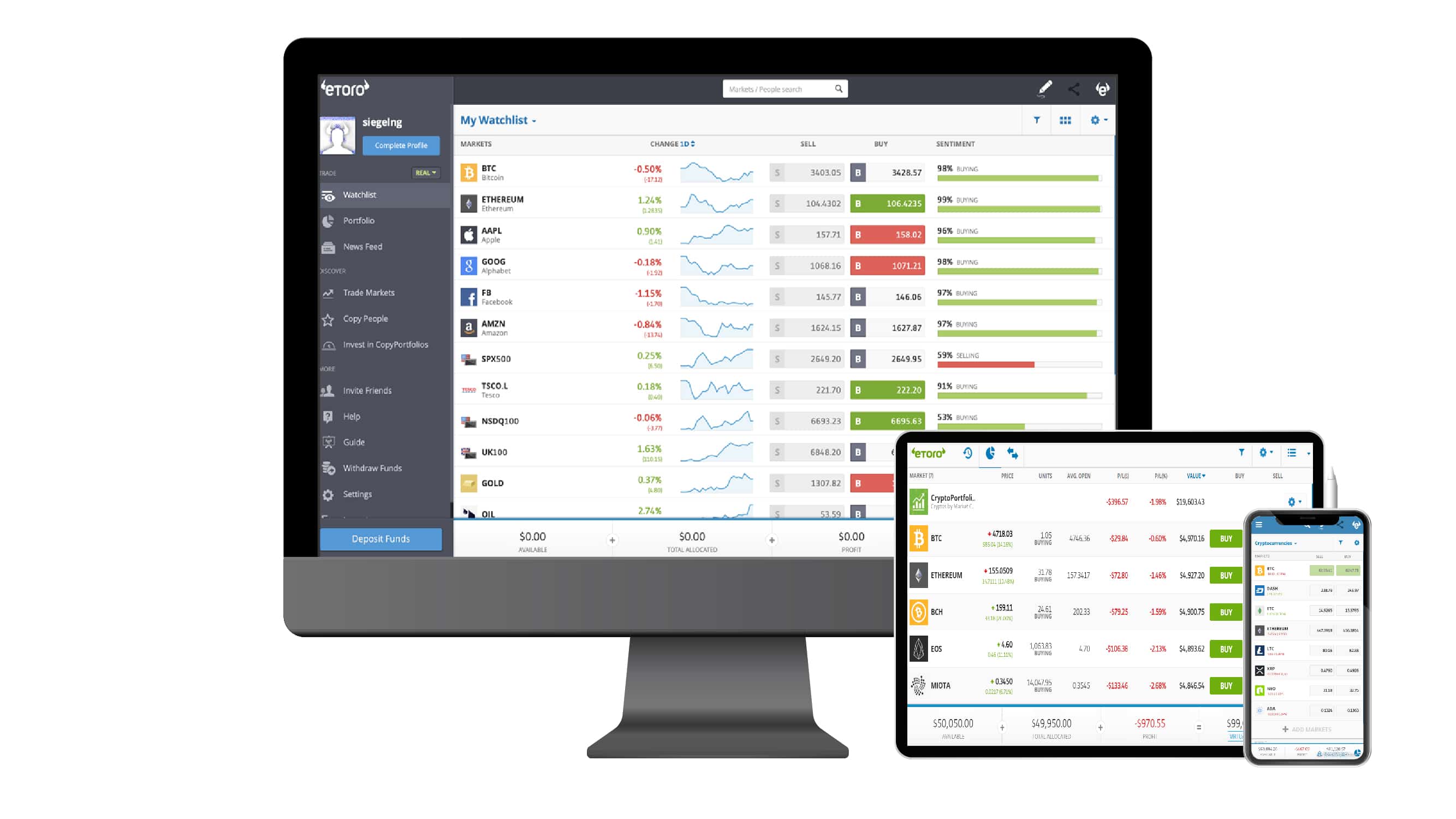 Despite eToro's low minimum deposit, the platform is easy to access and navigate. The platform was initially conceived as one that would make online trading available to anyone anywhere. The developers wanted to build an intuitive platform to give traders an authentic online experience and continued developing their ideas through social trading.
eToro provides cutting-edge financial technology, including CopyFunds, Popular Investor Program, and the CopyTrader system.
Additionally, eToro has a mobile option for tablets and phones and is available for iOS and Android. The mobile option makes all features accessible using an intuitive interface.
Besides, the ability to use eToro on the move lets traders have easy access to their portfolios and take advantage of investment opportunities at any time.
Short and Long Term Investments on eToro
eToro offers a range of investment types that can be either short or long term. Traders looking for quick profits in a fast-moving financial instrument may look at trading in currencies with Forex or invest in Bitcoin and other cryptos on eToro.
Long-term investments can include oil, precious metals (gold, silver, diamonds), and natural gas. eToro offers many options for trading in a wide range of financial instruments. Essentially, you can take a look at our stockbroker comparison to find the right stock broker for your trading journey.
eToro is Leading on Technical Innovation
eToro was at the forefront of the fintech revolution when it was launched in 2007. Since then, it has developed the WebTrader platform in 2009 with tools that both experienced traders and beginners could benefit from.
In 2012, eToro added to its offer of currencies, commodities, and other assets by giving access to a wide selection of stocks for trading, allowing traders to diversify their portfolios further and invest in the global stock market.
CopyFunds was introduced in 2016 as a long-term investment product. These are managed portfolios with a predetermined strategy that bundles various assets or top traders together. Driven by machine-learning engines, CopyFunds aim to generate a double-digit return bundled into one fully managed portfolio.
Social Trading and Other Benefits
Copy Trade
The technology behind Copy Trader lets you replicate another trader's portfolio and trading activity automatically. Some traders prefer to trade on their own, and eToro supports this and offers social trading opportunities.
Data taken from August 2017 shows that since copy trading was launched in 2010, 78% of all trades copied brought profit to eToro's customers. The platform offers transparency so that each trader's portfolio, track record, and a risk score is exposed to enable you to make sound decisions when deciding who to copy.
Newsfeed
Any trader can post relevant information, such as explaining a decision on a particular investment or sharing any other type of knowledge with the eToro community. Successful traders can be followed, and you gain the benefit of becoming more knowledgeable about how to trade in various markets and make better investment decisions.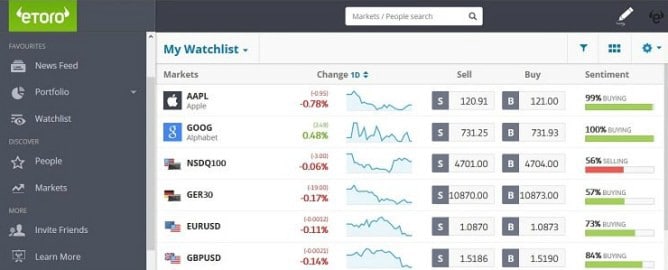 Start Trading with eToro Now
With eToro's low minimum deposit to access the platform, it provides a wide range of educational tools to help you in the world of investment to learn as much as possible.
A vital feature of the platform is eToro's excellent apps for mobile devices that allow investors to trade wherever they are and giving non-stop access to markets day and night.
The platform also allows new traders to open a demo account to begin to practise the skills they are picking up but using virtual money instead of their own. It's a risk-free way of easing into the world of trading and helps traders prepare to open a live account when they have the confidence to do so.
Further Reading
eToro's minimum deposit is $50. Depending on your region and country regulations, the minimum first-time deposit varies from $50 to $10,000. Wire transfer will require a minimum deposit of $500.
eToro social trading is suitable for users who don't have enough experience in trading. Beginners can copy trades of more experienced traders in a rather quick and easy way using the platform
Yes, you can make money on eToro. Develop the right trading skills and remember to invest money you can only afford to lose, and don't make impulsive trades
Opening an account on eToro is free! No management or ticketing fees are charged and stock investment has no commission at all. However, there are some fees charged like withdrawals, conversion and inactivity fees.