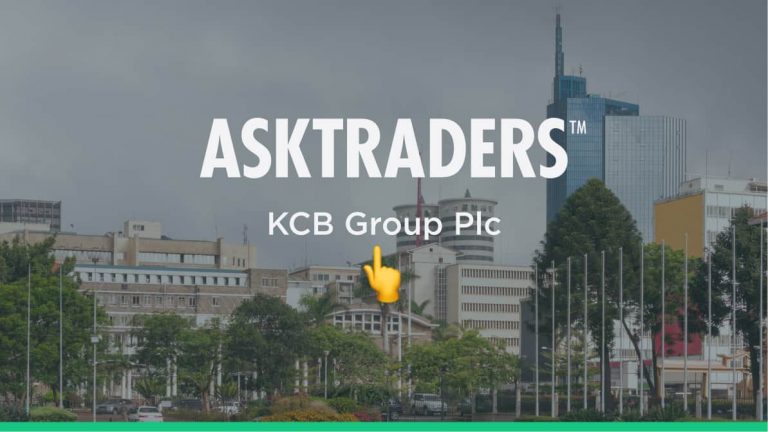 What is KCB Group Plc
KCB Group Plc is the parent company of KCB Bank Kenya Limited. The bank, formerly Kenya Commercial Bank, was founded as a branch of the National Bank of India in Mombasa.
The history of KCB Group Plc goes back to 1896. Grindlays Bank merged with the National Bank of India in 1958 to form the National & Grindlays Bank in which the government of Kenya bought a 60% stake but took full control of it in 1970. It was then renamed to the Kenya Commercial Group and was renamed KCB Bank Kenya after a corporate restructure.
Today, KCB Group Plc also has a diversified portfolio in more sectors of the banking value chain. KCB Group Plc The banking group offers a full-service offering for commercial and corporate clients and runs an Agency banking model. Its head office is in Nairobi, Kenya, providing corporate banking products such as custody and safe keeping services, transaction settlement, corporate actions administration, activity reporting, trustee, and capital and income services; asset finance and insurance premium finance services; corporate and trade finance products and services.
KCB Group Plc offers various personal banking products and services, such as savings and current accounts, personal loans, easy pay loans, salary advances, and credit facilities; Visa and MasterCard credit and prepaid cards; advantage banking services, and Biashara banking products. KCB Group Plc operates the Biashara Club that offers workshops on entrepreneurship and capacity building, networking, business advisory services, and business trips.
KCB Group Plc's equity stocks are for sale online on the Nairobi Securities Exchange (NSE) under the stock symbol KCB.
Joshua Oigara is the current CEO of KCB Group Plc and the company operate as part of the Banking Industry and the Financials Sector.
KCB Group Plc Stock Performance
The current price for which KCB Group Plc stocks sell, is 46.75 KES. The company has a total market capitalization of 149,747.40 million KES, with a Price/Earning ratio of 5.64 and earnings per share of 5.36 KES. A total of 3,213,462,815 shares were issued and 3.09 billion is outstanding.
When KCB Group Plc closed its trading day on Friday 10 September 2021 at 46.60 KES per share on the Nairobi Securities Exchange (NSE), a 0.6% gain over its previous closing price of 46.30 KES was recorded.
KCB Group Plc experienced a 52 week high stock price of 49.90 KES and a 52 week low of 35.40 KES. The 52 week change has been 26.80% and the Year to date change 23.23%.
In an analysis of financial data, KCB Group Plc showed that profits for the tax were up from the first half of the year, indicating a growth of 22.31%.
With an increase of earnings per share and steady profits within the period, investors who want to buy or sell KCB GROUP PLC stocks can look forward to profitable dividends and earnings in years to come.
According to an analysis on the live chart of KCB GROUP PLC, analysts forecast a further improvement of performance for the sector with market share to grow as trading volumes may increase.
Highlights of KCB Group Plc in 2021
KCB Group Plc opened the year with a share price of 38.10 KES and has gained 22.3 % in value on its price valuation, ranking 11th on NSE with its year-to-date performance.
KCB Group Plc is currently the fifth most-traded stock on NSE and it has experienced a total trading volume of more than 54.2 million shares, which were finalised in a total of 4 542 deals, and were valued at a total of 2.47 billion KES over a three month period, with an average of 860,943 shares in each of the trading sessions.
KCB Group Plc experienced a volume high of 3.25 million on June 22nd, and a low of 51,000 on July 5th, for that same period.
KCB Group Plc delivered improved profitability and higher returns to shareholders for the full year ended December, posting a 5% jump in profits after tax to 25.2 billion KES.
How to buy KCB Group Plc stocks – Step by Step
The stock market is still one of the most popular financial markets that attracts millions of retail investors and participating traders daily. To buy, sell or trade KCB Group Plc stocks, traders and investors should follow a few easy steps:
Select a forex broker that offers access to the Nairobi Securities Exchange (NSE).
Review the broker's trading conditions, fees, deposit and withdrawal methods, trading platform, customer support, regulation, and other components to ensure that they are aligned with your trading
Open a live trading account with the broker by completing the online application form and providing the necessary documentation to verify the trading
Find the symbol of the share that you want to buy, in this case, " KCB".
You can start by making your first share purchase through the broker.
You can now continue to buy more shares to build and diversify your portfolio.