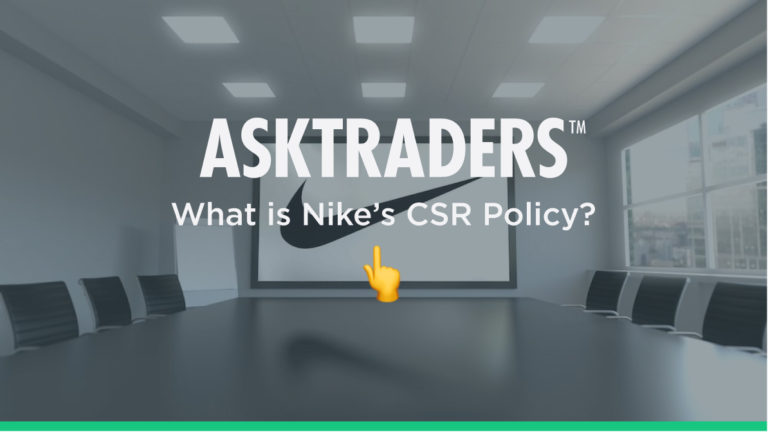 Both institutional and retail investors are factoring in CSR policy data and significant amounts of money are in play. Spotting a firm with a 'good' CSR policy can open the door to share price gains, which means it's worth getting on top of what 'good' looks like.
What is Corporate Social Responsibility?
The most frequently used CSR benchmark is known as ISO 26000, which is provided by the International Organisation for Standardisation. The ISO does not set out hard and fast rules, instead it offers guidance on some key metrics. This all boils down to CSR policies and ratings being important but not particularly transparent. This report will consider the CSR policy of Nike and break down how it ranks. If you are wondering, 'is now the time to buy Nike shares', and factoring the firms ethical rating into the equation; then this report will be an important part of that decision making process.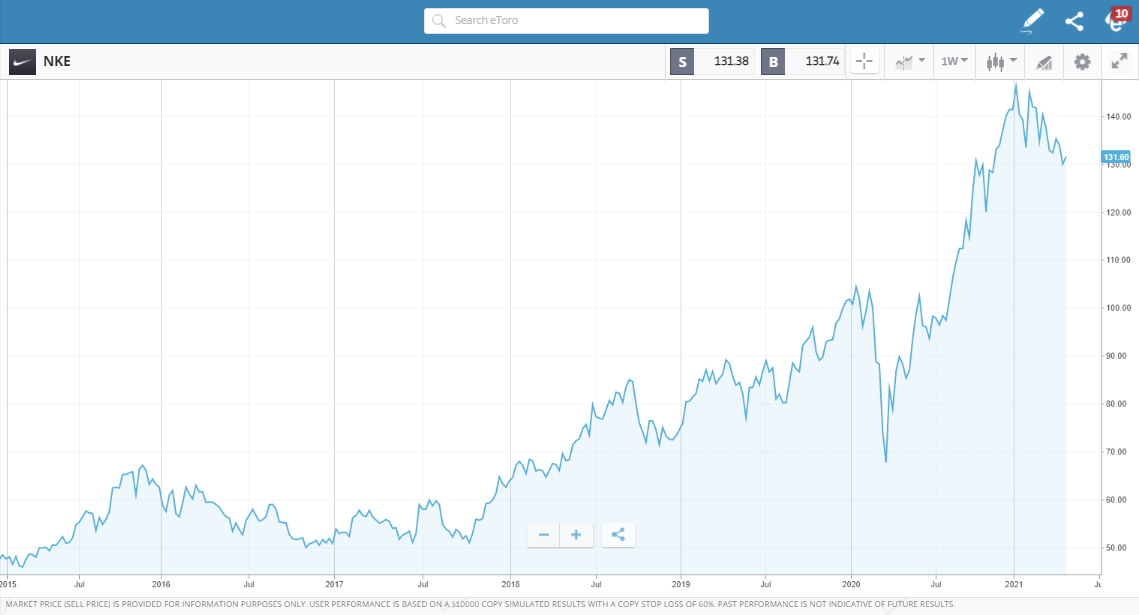 *68% of retail CFD accounts lose money
What is Nike's CSR Policy?
Nike's CSR policy is extensive and detailed and the 2020 statement is a marathon 111 pages long. As the firm manufactures products sold directly to consumers, it's at the front-line in terms of reputation management. One slip up can be bad for business, even if the ball is dropped by one of Nike's suppliers or sub-suppliers.
As a result, its CSR policy goes into great detail. It covers topics ranging from how materials are sourced, water management and even the firm's approach to taxes applied on its operations. There is also an innovative angle where the firm goes on to the front foot to pitch its CSR policy as one of the best in the market.
The firm breaks its CSR policy into three categories:
People– This section outlines the firm's approach to diversity, equality, inclusion and community engagement.
Planet– The firm's supply chain demand attention is given to how it sources its materials. The manufacturing process is subdivided into four categories which address, carbon, waste, water and chemistry.
Play – Nike invests in schemes designed to get children around the world more active. It supports projects which develop sports coaches and increase participation levels, particularly in marginalised communities.
The People section of Nike's report is straight from the modern business playbook. The firm ticks all the boxes in this area. The Planet element of the CSR policy outlines the comprehensive steps the firm has taken to improve its environmental credentials. The firm has started out from a low base line as it has historically come in for criticism in this area. Being the world's highest profile manufacturer of sports goods has placed it under additional scrutiny and the current CSR shows it is willing to meet that challenge.
The Play element of the Nike report is a neat addition that scores the firm points in terms of its approach to CSR. Focussing on initiatives that encourage active lifestyles and the friendships built through sport evens things up a bit for the firm. The underlying message is that the products it makes have benefits that outweigh the societal costs involved in creating them; and that Nike is willing to invest its own money in pursuing that aim.
Nike's in pretty good shape in terms of its current CSR policy but like the athletes who wear their products, everybody needs targets to aim for. The firm is currently aiming to meet 29 specific CSR goals by 2025 as outlined in its 2025 Targets document.
Environmental Policies
Nike's CSR Approach to Carbon
Producing and shipping physical products uses a lot of energy. That makes Nike's 2025 targets in terms of CO2 emissions stand out as being aggressive, particularly as the 2020 Impact report noted the firm missed a key target relating to Average Product Carbon Footprint.
Nike aims to cut the greenhouse gas emissions of owned or operated facilities by 70%.
Its suppliers have been set the target of balancing producing more products whilst ensuring their operations are below 2020 levels.
The firm and its suppliers are introducing hundreds of new processes and high-tech solutions to meet the shared goal. New initiatives include Flyleather, which is an alternative to leather and made up of 50% recycled leather fibres and made using hydro-powered machines.
Nike's CSR Approach to Water
91% of Nike's water footprint relates to materials sourcing and manufacturing. A situation made worse by the fact that cotton is a water-hungry crop often grown in areas of the world where communities have low levels of water security. In an effort to address the issue Nike's suppliers are expected to comply with the firm's Water Minimum Program. This project aims to cut freshwater use in textile manufacturing by 25% in 2025. It also addresses sensitive topics such as pesticide run-off.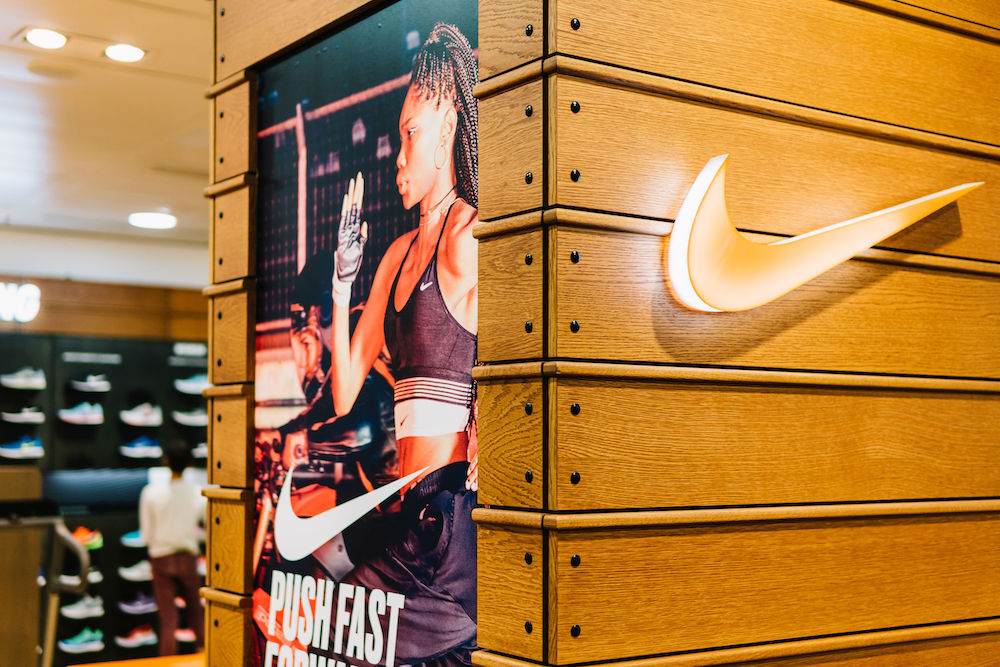 Nike's CSR Approach to Chemicals
This is a particularly tricky issue for Nike. Since the introduction of the Waffle Sole in 1972, it has gained technical advantages by applying new chemical formulae in its manufacturing process. The hazards associated with the approach have historically been dealt with in the lesser developed countries where Nike's products are made, while the benefits of the advances are enjoyed by consumers in wealthier countries.
Facing up to the challenge head-on and making chemistry one of the four pillars of its environmental CSR nullifies some of the risk that would be associated with sweeping the issue under the carpet.
The Nike Cleaner Chemistry program targets:
Science-based health and environmental risks
Future legislative risk
Volume and type of use
Availability of alternatives
Schedule for identification, adoption, and scaling of alternatives
Nike's CSR Approach to Waste
The traditional business model for manufacturers has been 'Take-Make-Waste'. Nike is particularly keen to minimise the firm's footprint in this area and has set itself a wide range of tangible targets. It states that by 2025 it will achieve:
10% waste reduction per unit in manufacturing, distribution, headquarters, and packaging.
100% waste diverted from landfill in its extended supply chain with at least 80% recycled back into Nike products.
A 10-fold increase in the amount of finished product waste refurbished, recycled, or donated.
Social Policies
Nike's 2020 target for the amount of pre-tax income invested in community projects was 1.5%. In fact, the firm set a new personal best by allocating 1.9% of its pre-tax profits to community organisations.
The Play scheme, which encourages getting kids around the world engaged in sport is a quick win for the firm as not only does it offer the chance for some positive PR but it also builds its future customer base.
The Nike Community Impact Fund encourages employees to reach out into their communities and develop grass-roots organisations.
There is a cross-over between the sourcing of raw materials and processing them into Nike products, and the impact this has on local communities. There are potential conflicts associated with farmers growing cash crops such as cotton rather than foodstuffs their neighbours can eat. The issue of forced labour, child labour and sweat-shops also hangs over the firm.
Nike's Code of Conduct includes strict prohibitions on forced, bonded, prison, or indentured labour, but the firm will always be only one step away from being let down by an operator in its supply chain. Such a breach would cause significant reputational damage and looks set to continue to be a major risk for the firm.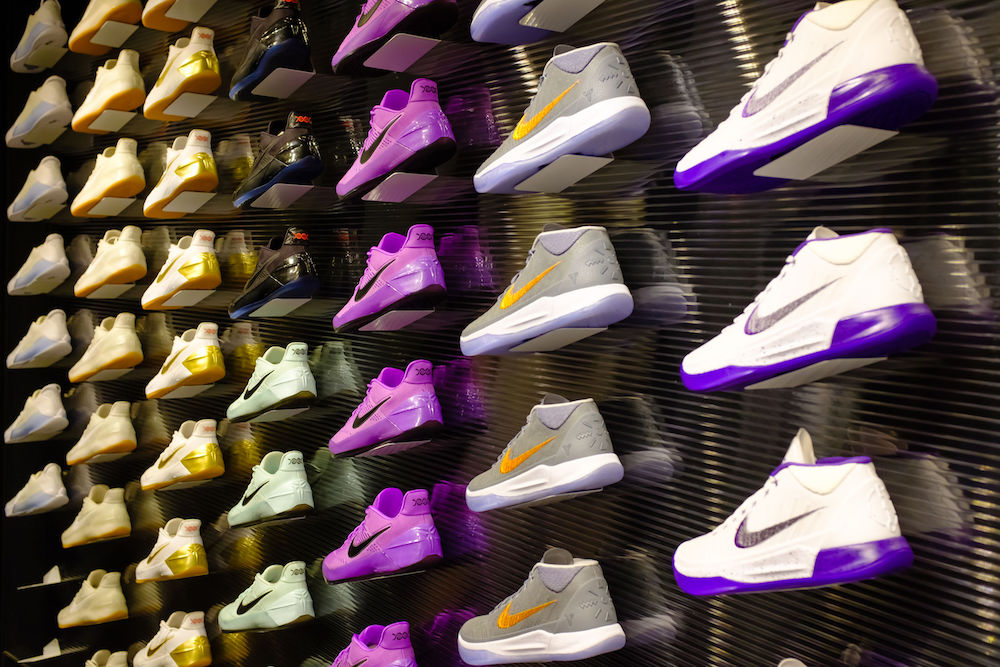 Corporate Policies
The make-up of Nike's direct workforce is governed by its Diversity, Equity and Inclusion strategy. This incorporates staff training and education programs on topics ranging from unconscious bias awareness and partnering with local universities so that staff can engage in leadership training.
If all this work pays off, then the firm will meet its 2025 targets of:
45% representation of women globally at VP level and above.
30% representation of racial and ethnic minorities at Director level and above (US).
50% representation of women in the global workforce.
35% representation of racial and ethnic minorities in the US workforce.
Delivering these targets is a key priority for the whole firm, especially the executive officers who have their compensation linked to them being achieved.
How Does Nike Compare to Other Companies?
The global apparel and footwear industry accounts for 4% of the world's carbon emissions. There is a risk that the bad press associated with the sector impacts Nike's brand, but in a peer group comparison, Nike stands out as one of the front-runners.
The concept of fast-fashion and the manufacture of garments that are intended to have short shelf-lives has come in for public criticism. Nike's position at the quality end of the apparel sector means it avoids most of the bad press associated with that particular trend. Its products are built to last and the firm has set aggressive targets, which aim to minimise the extent to which they are a drain on the world's resources.
The final plus point for Nike is that the products it produces are designed to support more active lifestyles and the societal benefits that come with that. The commitment to use company funds to support initiatives in the community could be seen as a cynical way of building a future customer base. It's one of the targets in the 2020 Impact report which was comfortably beaten. Taken at face-value, it is an innovative and important scheme which can be expected to improve global well-being.
How to Invest in Ethical Companies
Choose a Broker
It's really easy to buy shares in Nike Inc. The firm is listed on the New York Stock Exchange under ticker NKE. To buy Nike stock the first step is to find a trusted broker and this shortlist of firms is a good place to start.
Nike is a big operator, so most of the brokers on that list offer markets in their shares. You don't need to use a US broker or be a US citizen to take a position. In fact, if you want to buy Nike shares from the UK, it's just a case of signing up with a broker and clicking 'buy'. One golden-rule is to ensure your broker is regulated by one of the below Tier-1 authorities.
The Financial Conduct Authority (FCA)
The Australian Securities and Investments Commission (ASIC)
The U.S. Securities and Exchange Commission (SEC)
Cyprus Securities and Exchange Commission (CySec)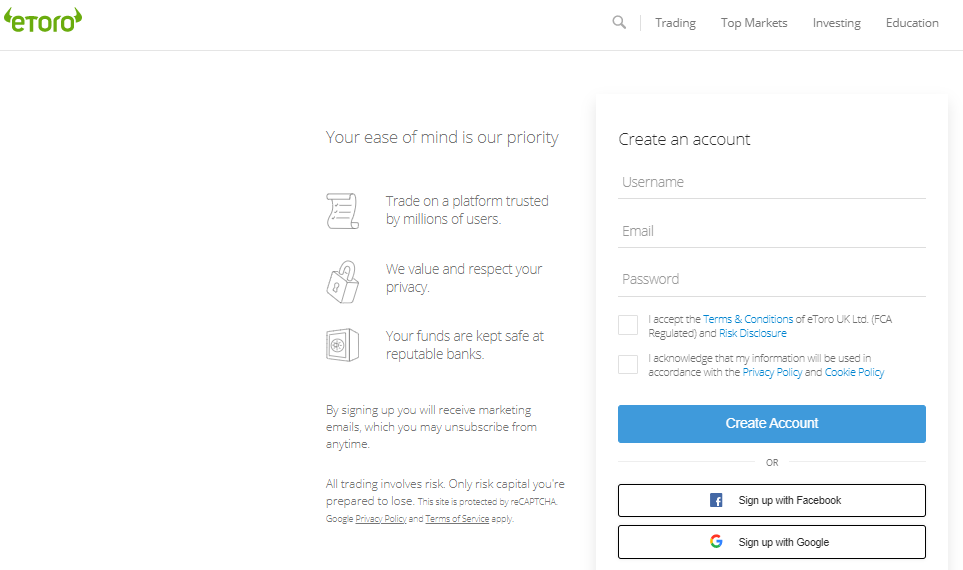 *68% of retail CFD accounts lose money
Open & Fund an Account
Setting up an account with an online broker is a relatively painless process and can take as little as five minutes. You'll have to provide some basic information, verify your email address and answer questions set by the regulator, which cover topics such as your trading experience and investment objectives. These are included so that your broker can build a clear profile of you and apply appropriate Client Protection terms to your account.
Onboarding is all done online and you can use a handheld or desktop device. Once completed, it's just a case of wiring funds to your new brokerage account. Brokers offer a variety of options with debit card, credit card and bank transfer being the most popular. broker supports. The experience of funding your new brokerage account being very similar to any other online transfer or purchase.
Research Companies Using Technical & Fundamental Analysis
There is a lot of free research to turn to when trying to answer the question of whether you're ready to buy Nike shares. Fundamental analysis involves studying the company's business model and reviewing publicly shared financial reports. The Nike share price is a function of what investors estimate its future earnings to be. Signs of new projects in the pipeline, or it improving its CSR credentials, may encourage you to buy Nike shares based on the company heading in the right direction.
Technical analysis involves studying historical price data, market momentum and trade volumes to help you identify the optimal time to enter into your trade. One commonly used approach is to use fundamental analysis to decide if you should treat Nike shares as a buy or a sell. Then consider technical analysis to decide the right time to act on your decision.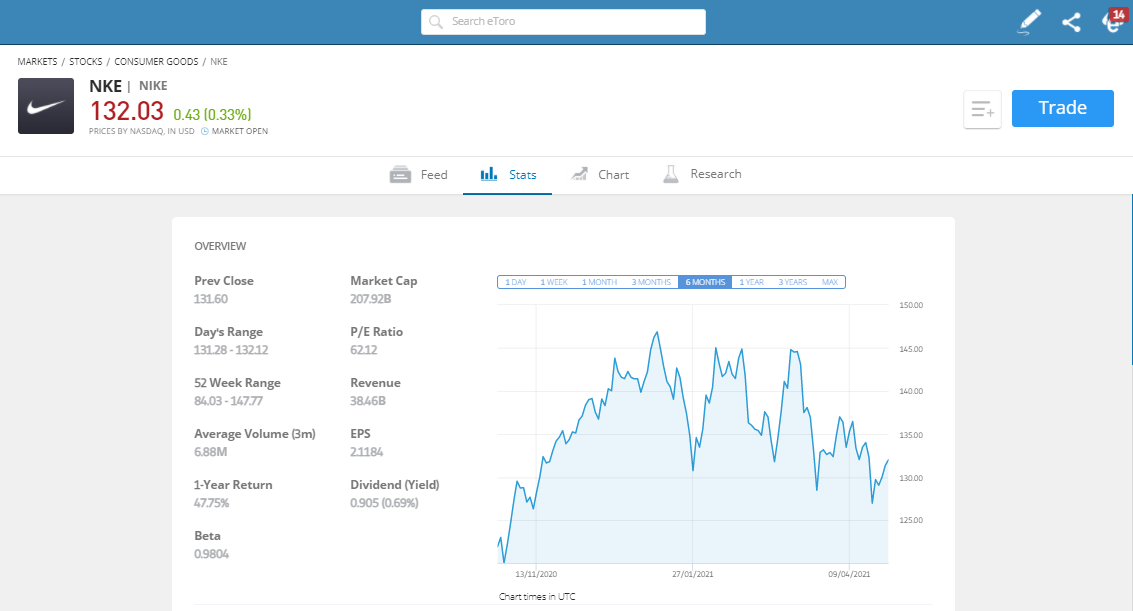 *68% of retail CFD accounts lose money
Open an Order Ticket and Set Your Position Size
Once you're in a position to proceed with buying Nike shares, just access your broker's online platform, search for Nike and head to the trade execution monitor. This is where you build the instruction to buy or sell NKE shares by inputting the amount you want to trade.
If you're new to trading you can practise buying Nike using a risk-free demo account. Nearly all brokers offer these and they are a chance to practice the mechanics of trading using virtual funds. They also allow you to test-drive different brokers to ensure the one has all the additional services such as research and news which you might want.
There are a few more checks to run before you click or tap the 'Buy' and 'Sell' buttons and execute your first trade in Nike.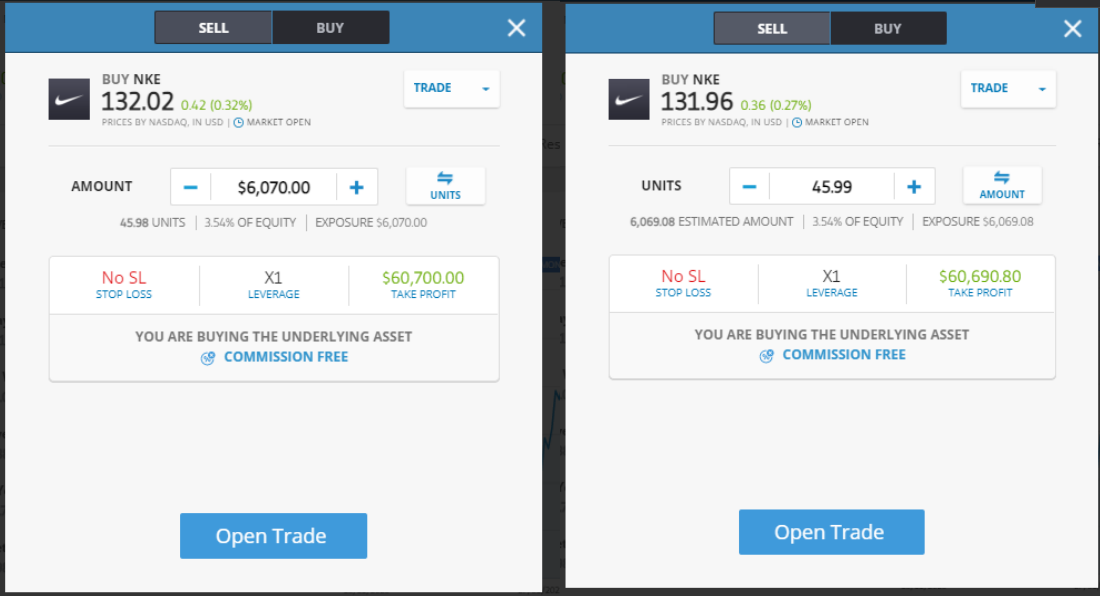 *68% of retail CFD accounts lose money
At eToro you can opt to build an order expressed in terms of an amount of shares or cash, whichever is your preference.
Set your Stops and Limits
Stop Losses and Take Profit instructions are automated instructions you can build into the system, which close out part, or all, of your position if the price of Nike shares reaches a certain level. Stop losses, manage risk to the downside and take profits, lock in gains if things go your way. They also help you focus on your day job rather than monitor the markets 24/5.
If your strategy relating to buying Nike is a long-term buy-and-hold playm then you may want to instead manage risk by scaling back on your position size and not using stops. That minimises the risk of a short-term price move or flash crash kicking you out of your position and locking in a loss.
Select and Buy Nike Shares
Last minute double checks of your order instruction are always a good idea. Another top tip is to check your order as soon as you've executed it to make sure you bought what you intended to.
The process of converting some of your cash pile into a position in Nike shares simply involves clicking or tapping buy, depending on whether you're using a desktop machine or trading on the go using your phone. You can then monitor the value of your Nike holding, and your P&L (profit and loss) by accessing the Portfolio section of your account.

*68% of retail CFD accounts lose money
Is Nike an Ethical Investment?
Nike is the leading brand in a sector that does not have the greatest ethical rating. The firm has taken impressive steps towards upgrading its CSR objectives. Operations it controls directly and its suppliers are required to comply with stringent codes of conduct and on most counts, Nike ticks enough boxes to be considered ethical. The unique schemes it runs to encourage the world's population to get out more are a notable plus point.
The manufacture of shoes and clothing cannot be done without leaving some kind of a footprint, and Nike does well to minimise the size of the one that it leaves.