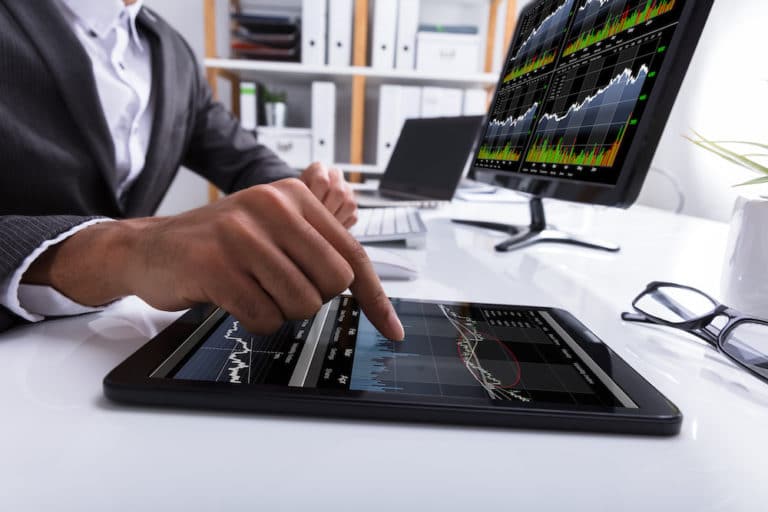 One of the best ways to try out trading the financial markets is to open a free Demo account at AvaTrade. Below is a step-by-step guide on how to do that, with additional tips on how to get your virtual trading off to a good start. We'll cover:
How to open an AvaTrade Demo account.
Which of the AvaTrade platforms should I choose?
Support for new traders.
AvaTrade Demo account review.
Advantages of a Demo account.
HOW TO OPEN AN AVATRADE DEMO ACCOUNT
1. Head Over to The AvaTrade Demo Account Page
Just click here to head directly to the AvaTrade Demo account registration page and sign up for risk-free, virtual trading. Once you click, you will be greeted with a following screen.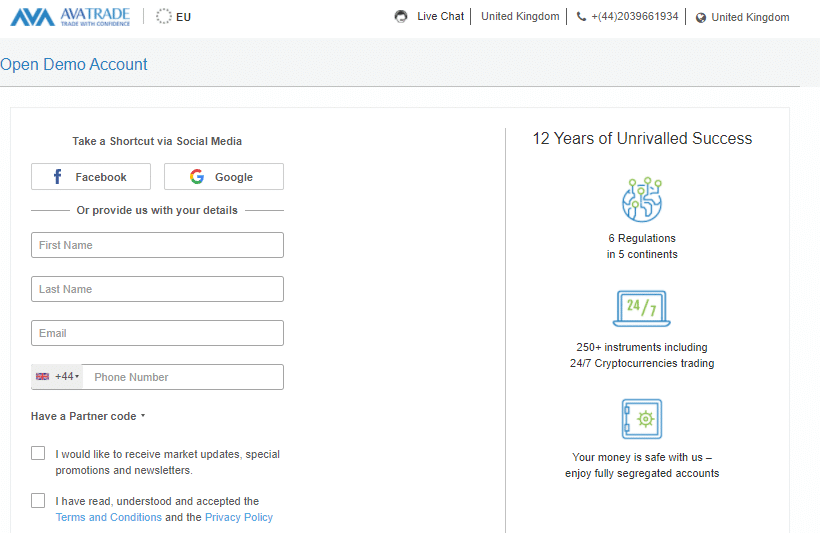 Registering through the dedicated Demo Account link involves entering in the minimal amount of information. It really is as simple as inputting some basic information such as phone numbers and email addresses into the registration page.
Alternatively, you can automatically populate the required fields by piggy-backing on your Facebook or Google profiles.
Although the Demo account involves risk-free trading, AvaTrade, like other regulated brokers, has a duty of care to anyone who registers. The contact details that build your profile are part of its requirement to comply with 'Know Your Customer' rules.
After ticking those boxes, you are taken through to the Demo account platform and into the heart of the markets. Your Demo trading is about to begin.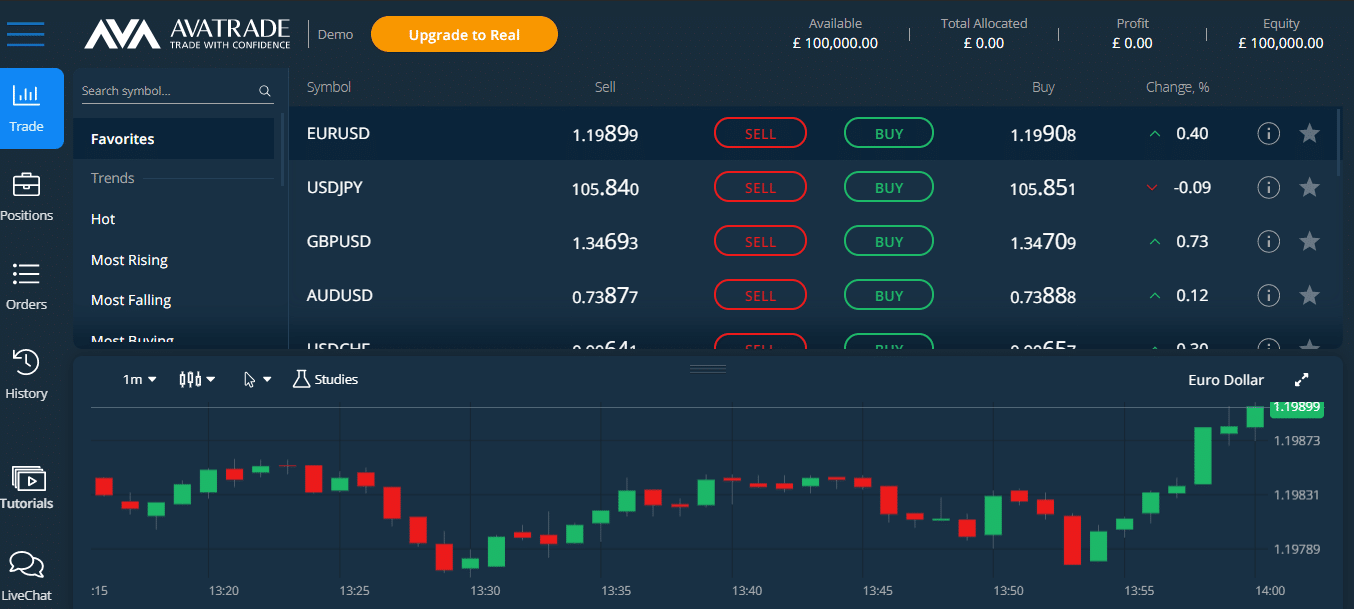 2. How to use the registration process to help your trading
If you want to start your journey into trading by finding out more about AvaTrade, then the homepage is found here. Or you may want to carry out more research by considering our in-depth Avatrade review.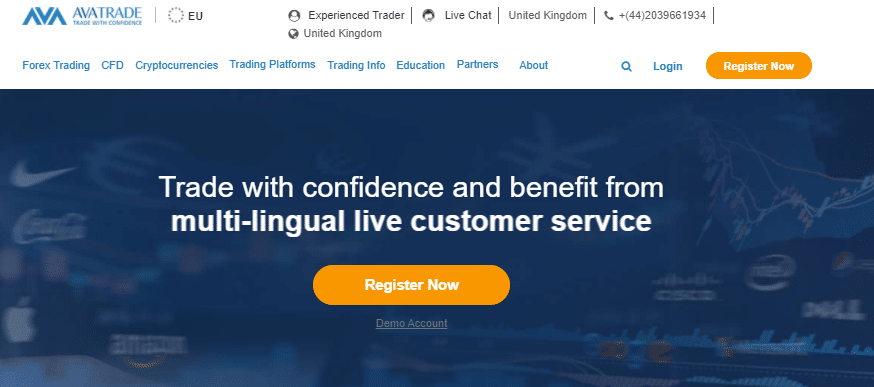 The onboarding process, which involves providing more information, starts from the broker's homepage. It can be a surprisingly useful way of introducing yourself to the markets.
The second page asks you to input some more information, including your main country of residence. This question is important as it determines which regulatory body you will be protected by. AvaTrade is regulated by six top-quality global regulators, and they need to match clients to respective T&Cs.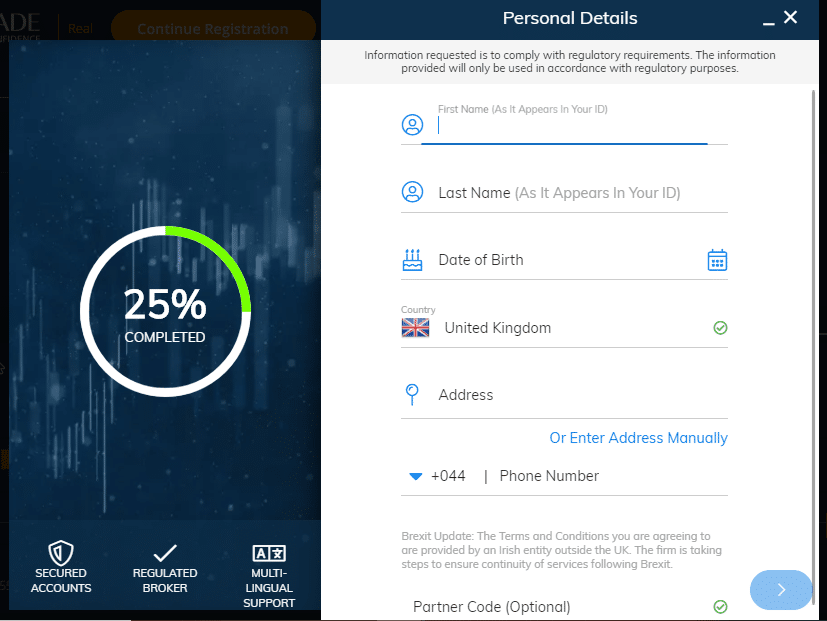 EU-domiciled users will be protected by the Cyprus Securities and Exchange Commission (CySEC). If you select 'United Kingdom', you will come under the umbrella of the Financial Conduct Authority (FCA).
The tick boxes on the registration page are also part of the regulatory requirements. Authorised brokers can only provide Demo accounts to clients who agree to terms relating to privacy policies and other online protocols.
The next page offers a chance to evaluate your own trading objectives.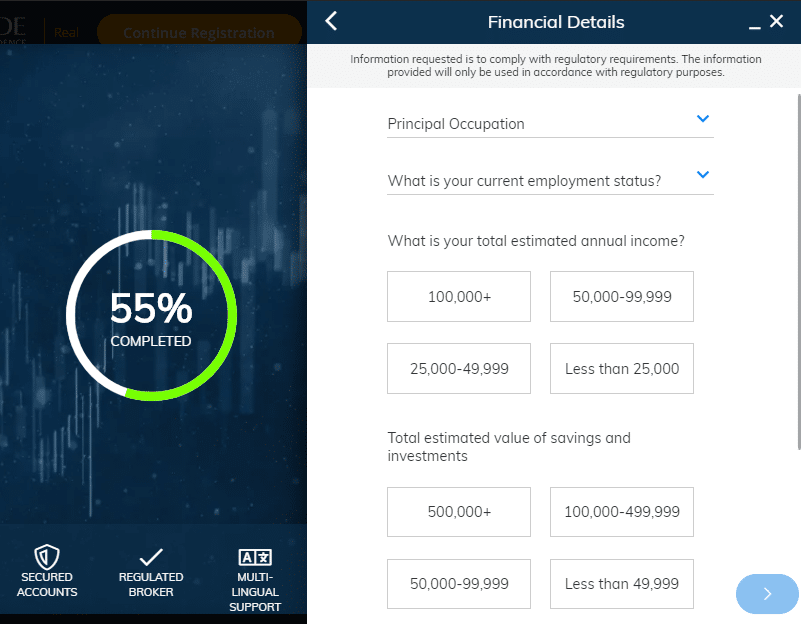 These regulator-inspired questions are a good way for you to ask yourself useful questions that might make your trading more appropriate to your personal situation.
This is a valuable 'sanity check' on your trading aims and intentions. One useful by-product is that the questions asked will hopefully go on to influence your trading decisions and make your trading successful for you.
WHICH OF THE AVATRADE TRADING PLATFORMS SHOULD I CHOOSE?
Both of the platforms on offer at AvaTrade are first class. The below summary of the two platforms on offer might help you with your initial choice.
Ava WebTrader – designed with novice traders in mind
Wide range of markets to trade– trade the markets of your choice.
Entry-level functionality– a combination of simplicity and power.
Easy to access– no need to download anything – just log on from any web browser.
Sentiment indicators– get a feel for the direction the market is heading.
Ultra-low spreads– low trading costs never go out of fashion.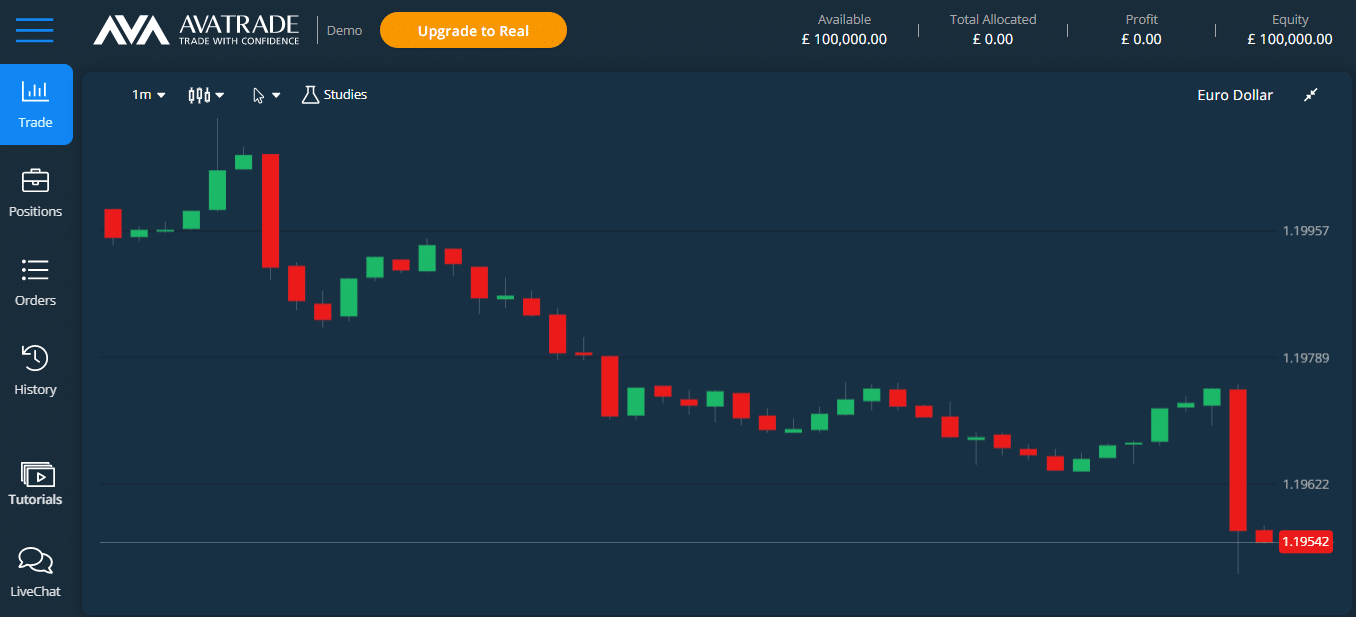 MetaTrader 4 (MT4)
· Number one – the most popular trading platform in the world.
Convenient – available in Desktop and WebMaster format.
Advanced charts– tried and tested and still industry-leading technical tools.
Expert advisors– benefit from using the trading ideas of others.
Straightforward to use, it places a whole host of basic and advanced charting features at your fingertips.
Packed full of technical indicators such as oscillators, MT4 gives you everything needed to begin trading effectively. It also offers scope to move on to more advanced strategies when the time comes.
AvaOptions – trade and learn from the options markets
Wide range of markets to trade– packed with trader-friendly features.
Ultra-fast trade execution– helps you get better prices on your trades.
Extensive risk-management functions– analytical tools to help your bottom line.
Open Positions Page– sort and filter by risk-return targets.
Customisable 'Market Watch' pages– set your monitors to suit you.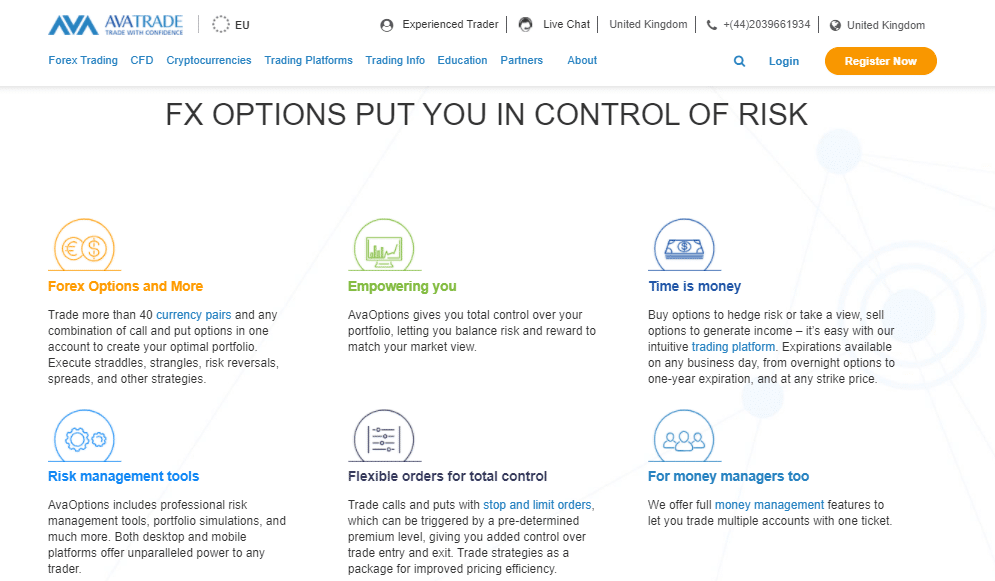 The MT4 platform is available in downloadable and desktop format. AvaOptions and WebTrader are web-based and all are also available in Mobile App format.
SUPPORT FOR NEW TRADERS
AvaTrade offers a wide range of resources designed to help you locate profitable trading strategies.
Beginners can take advantage of the high-quality analytical software and a range of free live webinars.
As you progress, you might want to consider the SharpTrader tool, which contains a range of instruments, including trade signals. This is a valuable resource designed to help research and learning – all good for helping you generate a profit.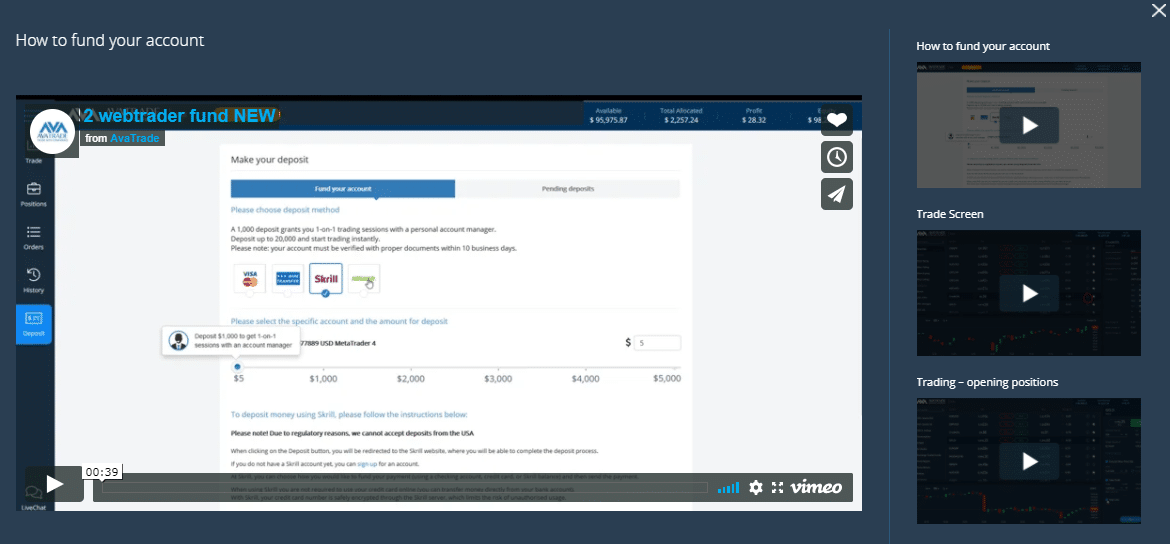 As well as the trading and research sections, there are other areas of the site relating to account and profile administration.
Handy video tutorials on 'How to Fund Your Account' take a lot of the legwork out of getting to grips with that side of trading, leaving you able to concentrate on more market-focused activities.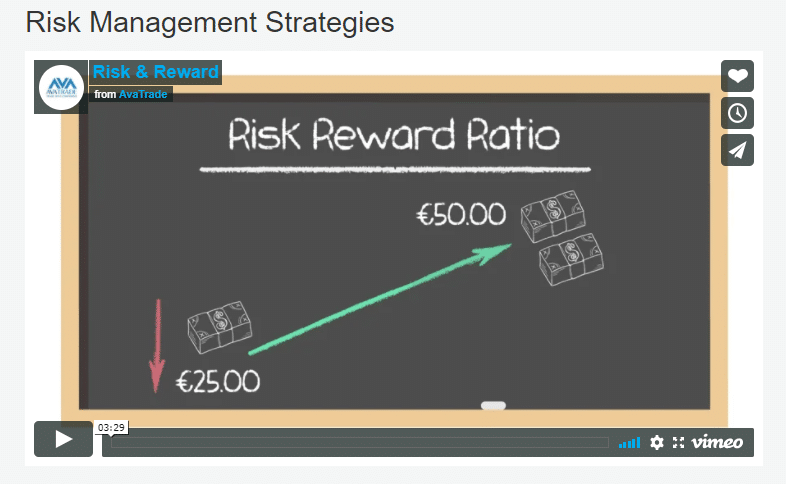 Broker accounts, such as the one provided by AvaTrade, are in many ways similar to online banking accounts, only you have your account log-in details and your cash deposits sit in your account unless you choose to use some of them on a trading idea in an effort to make a return.
The minimum deposit at AvaTrade is £100, so traders moving on from the Demo account are able to follow the tried-and-tested advice of starting Live trading in a small size.
AVATRADE DEMO ACCOUNT REVIEW
Whichever of the AvaTrade Demo account platforms you select, you are in very good hands. They have different approaches to trading, but all have the feel of being designed by traders, for traders.
The WebTrader platform is particularly well suited to beginner and intermediate traders. It's easy to use but has enough tools for you to be well positioned to make a profit.
Scratch the surface of WebTrader and you'll find a lot of powerful software and handy trading indicators. The whole trading experience is a positive one with some notable highlights.
You can tap into news flow monitors or devote time to learning new strategies. The trading experience on the Demo account is exactly the same as if you had a Live account.
ADVANTAGES OF A DEMO ACCOUNT
Fast-tracked learning – the fairly ubiquitous training materials found online can be really useful. A Demo account not only helps you skip some of those lessons but also offers hand-on experience that helps them really count.
Testing – follow the lead of institutional investors and use virtual accounts to test out new strategies.
New tricks – Demo accounts can be particularly useful when branching out into unfamiliar territory. Whether it is a particular currency pair or an entire asset group such as cryptocurrencies, Demo accounts are a great first step to trading new things.
Information is power – a Demo account gives you the opportunity to really get to know how your broker works. There are plenty of alternatives and Demo accounts are free, so if it's not a good fit, you can easily move on.
Operational risk – 'fat finger' errors plague all traders, even seasoned pros – it's just that the top guys have learnt that they need to know their systems and check their trades. A Demo account offers an insight into how to do this and a chance to practice.
THE BOTTOM LINE
The great thing about the Demo account at AvaTrade is that you can enjoy a trading experience that's very much in line with Live trading. The process of getting onto the Demo platform takes moments to complete.
By having three different platforms, your trading progress is to some extent future-proofed, and the WebTrader platform is a particularly good fit for beginners. On top of that, the AvaTrade setup offers all the benefits you would expect from using a well-regulated, global multi-asset broker.
Demo account trading is risk-free. Do bear in mind though that the switch to trading real funds can play tricks on your 'trading psychology'.
One top tip is that when the time comes, start trading in a small size. With a minimum opening account balance of £100, this is certainly possible to do at AvaTrade. Even then, do keep in mind that virtual trading is a big step away from Live trading.
People Who Read This Also Viewed: