AvaTrade Review
Open Account
5 minutes read
/
Updated: 31 March 2020
Founded in 2006 by financial professionals and web-commerce gurus, this broker is an online forex and contract for difference (CFD) based in Dublin, Ireland. Its mission was to provide investors with a full technological experience that combines top-level security, integrity and fairness.
In addition to its Irish headquarters where it is regulated by the Central Bank of Ireland, has locally-regulated offices in South Africa, Japan, the British Virgin Islands, Canada and Australia.  The broker also offers over 250 tradable assets, including forex, cryptocurrencies, indices, stocks and commodities, and its website has been translated into over 20 languages.
If you are interested in this AvaTrade UK review to determine if the broker will satisfy your trading needs and whether it makes sense to open an account today.
Strengths
Requires a low minimum initial deposit.
Tight dealing spreads.
Free demo account.
An internationally-regulated and licensed brand.
Supports MetaTrader 4 (MT4).
Weaknesses
Online tutorial videos lack depth.
Product portfolio is rather limited.
Less-than-favourable client reviews.
What can you trade?
Open Forex Account
AvaTrade Forex Review
When it comes to forex trading, this broker allows you to trade all major pairs on the market, as well as some of the minor and exotic currencies for a total of 50 currency pairs. You can also trade Forex options through this broker, as well as the Israeli shekel, both of which are not widely available among retail brokers.
The broker also offers competitive spreads that start at 0.8 pips, which is competitive with many other retail brokers. With respect to leverage, its EU offices can only offer up to 30:1 leverage to European clients due to strict EU regulations, although its offshore office in the British Virgin Islands may provide leverage of up to 400:1.
You can trade currencies in amounts as small as 0.01 of a standard lot, and you only need a minimum deposit of $100 to get started with a basic account.
In terms of client coverage, AvaTrade caters mainly to retail traders and corporations. They offer educational assistance, demo accounts and other features for beginners and experts alike.
Broker can provide access to the popular, user-friendly and sophisticated MT4 and MT5 platforms for forex trading that supports both manual and automatic trade execution. Low spreads and a decent range of available markets makes it a viable option for most traders.
Open CFD Account
AvaTrade CFD Review
AvaTrade offers a wide variety of CFD instruments, including CFDs on commodities, indices, ETFs, stocks, bonds and cryptocurrencies like Bitcoin and Ethereum. AvaTrade does not offer equity trading on single stocks, so you can only trade individual stocks via CFDs.
AvaTrade also offers CFDs on several assets that cannot be found on many other platforms, such as Exchange Traded Funds (ETFs). This type of investment fund tracks a basket of assets consisting of currencies, stocks, bonds and/or commodities, and they can be traded like stocks on exchanges.
Open Social Trading Account
AvaTrade Social Trading Review
With AvaTrade you can trade on leading platforms for copy trading, including ZuluTrade and Duplitrade with a large range of signal providers to select among.  AvaTrade also supports MT4's trade copying facility.
After you open the MT4 platform, you can register your account for social/auto trading by selecting 'Auto Trading'. You then click the Signals tab in the toolbox window at the bottom of the MT4 platform's default display screen to view a selection of trading signals you can follow. Choosing any signal lets you start copying that trader's Signal in real time.
Although some MT4 signals are provided free of charge, most good traders who provide signals via the service do charge subscribers for the privilege of copying their trades.
When it comes to cryptocurrencies AvaTrade offers you a wide variety of different digital coins to trade that are available to trade on a 24/7 basis, including Bitcoin (BTC), Ethereum (ETH), Litecoin (LTC), Ripple (XRP) and EOS.
AvaTrade also allows you to use leverage with cryptocurrencies that ranges from a maximum of 2:1 for EU residents up to 25:1 for those residing outside the EU. Another feature offered by AvaTrade is the ability to set stop loss and limit orders to protect your account and take your profits automatically at pre-sent levels.
Most cryptocurrency brokers allow you to buy and sell coins against other coins, but AvaTrade also allows you to trade cryptocurrencies against major fiat currencies, such as the USD, GBP, EUR, and JPY. AvaTrade also charges no commissions or bank fees on cryptocurrency transactions.
What did our traders think after reviewing the key criteria?
Fees
Its clients will only need to pay away the dealing spread whenever they open a position, and AvaTrade does not charge commissions on trades.  Also, spreads there are floating, except for gold, silver and cruel oil that trade with fixed dealing spreads.
This means that the bid-offer spread can vary for most products, depending  on prevailing liquidity and trading conditions in the market when the quote is made. In general, greater liquidity results in a tighter dealing spread.
Hence, timing a trade is important since liquidity issues mean traders will need to trade on a wider spread on a Sunday night when market makers are active than on a Monday afternoon in the UK once New York has entered the market. Basically, during the working day, trading volumes much larger, so dealing spreads are correspondingly tighter.
Another factor to consider is the overnight interest charges that are passed onto traders as the swap or rollover fees. Traders who hold a position past the New York market close have to pay a small fee for doing so if they are running a position that is short the asset with the higher interest.
Also broker does charge an inactivity fee if you fail to make a trade for a long period of time. The fee is $25 for three months of inactivity, and $100 if you go without trading for over a year.
Account types
AvaTrade offers a decent variety of trading account types that should suit the needs of most traders. All account types allow traders to access a Dedicated Account Manager on a 24/5 basis and the Dealing Department Transaction Hotline.
In addition to a free demo account funded with virtual money that you can use to practice trading and test strategies, you can choose among the following list of live account types at AvaTrade:
Silver Account: A basic format for beginners which requires a minimum deposit of $100.
Gold Account: A minimum deposit of $1,000 is required, and daily trading signals are included in this package.
Platinum Account: A minimum of $10,000 is required, and benefits include access to the direct dealing room for enhanced trading performance.
Ava Select Account: This premium account includes all of the available features and facilities and requires an initial deposit of $100,000. Account holders also get access to senior account analysts, flexible trading conditions and a 24-hour withdrawal processing time.
Islamic Account: This account type complies with Sharia law and is targeted towards Muslims whose religion forbids the charging of interest. It is a normal account but swap fees or interest are not credited or debited.
Other perks enjoyed by live account holders including mobile trading, live market news and informative financial blogs. The broker also offers trading-related courses to suit practically every type of trader and level of experience.
Platforms
AvaTrade does not charge for the trading platforms it supports that work on all operating systems. It does, however, rather lack the variety in trading software that some top online brokers provide and that would result in a better review.
Most notably, the broker supports the popular, sophisticated and straightforward-to-use MT4 and MT5 trading platforms. In addition to their desktop platforms, MT4/5 each have mobile and web-based versions so you can trade away from home. The screenshot below shows the mobile version of MT4.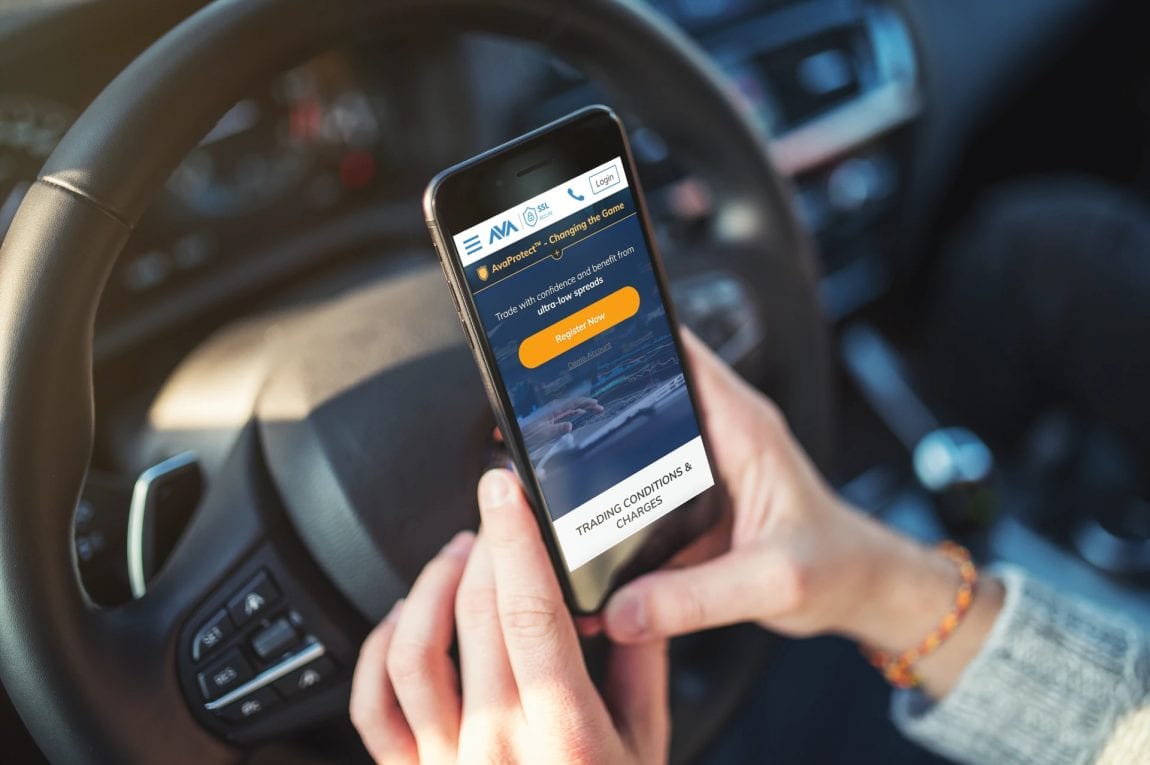 In addition, broker supports MT4's Multi-Account Manager (MAM) terminal for traders looking to manage multiple sub-accounts for clients. Social trading is also supported via MT4's Signals tab.
Also offers its AvaOptions software that is similar to MT4, but it has specific features such as a profit calculator, breakpoint and pips graphics that make it quite helpful for some traders.
There's also a mobile version of the firm's trading software called AvaTradeGo that puts everything the desktop version has in the palm of a trader's hands. It also has a real-time assistant with more than 20 languages available.
The app allows traders to trade stocks, cryptocurrencies, forex, and commodities. It has market trend analysis for every available asset, as well as information about what the community is trading.
Usabilty
AvaTrade's official website has an easy-to-read format with links to relevant areas potential clients may have questions about.  It is also updated regularly with new trading features and the latest market news.
The website features a lot of tutorials and general explanations of trading terminology aimed at beginners, as well as training e-books and videos. All of these materials help new and inexperienced traders to understand the world of forex trading.
Customer support
AvaTrade provides its customers with a range of contact options for technical issues and general inquiries. These include a live chat function, direct phone numbers and a FAQ page. The broker also has a contact page shown below with a form where you can write out your support request.
A confirmation email is usually sent immediately after the message is submitted, although a reply may not arrive until the next business day.
Also included on the Contact Us page is information about how to get in touch with company representatives in offices across the world by telephone. Avatrade has a presence in more than 35 nations, although be sure to check local business hours before calling. Another support option is the broker's FAQ page that has information on 150 topics and is an excellent way to obtain answers to routine questions.
Finally, they provide a very useful live chat service that works during the trading week from Sunday afternoon to Friday afternoon New York time, although there is no support coverage outside of those hours. While customer service representatives won't know everything about the company, they will do their best to point you in the right direction.
Payment methods
As a global broker, Avatrade provides a number of possible payment channels to suit the needs of its regional clients so that they can make a margin deposit to open a trading account. This limits the potential for problems related to international transactions. UK traders can make deposits directly in pounds sterling (GBP) and can hold their account in that currency. Some of the  acceptable payment methods are listed below:
Card payments: Card transactions are processed instantly. The minimum deposit for card transactions in $100 and the maximum deposit is $20,000. This method involves no charges. Canadian residents cannot use this method.
Debit MasterCard: MasterCard offers an easy way to withdraw profits from broker's accounts. It is currently available for U.S. dollar accounts only.
Bank wire transfer: Wire transfers are used globally and have no transaction limits. A 2020 Trading Review of the wire transfer process revealed that the transaction fees incurred are charged at the level of the correspondent banks. Processing of transactions typically takes 2-7 days.
E-wallets: supports the use of e-wallets such as Webmoney, Skrill, and Neteller. For Webmoney, Skrill, and Neteller, the minimum deposit is $100 and the maximum is $5,000. Transaction funds will be credited in your account within 24 hours. Note that this option is not available for Australian or EU based clients.
Best offers
AvaTrade currently offers a new account bonus to clients that can significantly increase your initial account balance. When opening a new account, you can get £200 for each £1,000 deposited or £2000 for each £10,000 deposited, for example. To determine the exact amount of the deposit bonus you can expect to get, check out the bonus calculator on the broker's website here.
Furthermore, it has a friend referral program that lets you get $250 for each friend that you refer to the company who opens up an account, after you have met the initial qualifying conditions specified here.
Also offers demo accounts for traders that want to test the water before putting their own capital at risk. These accounts are mostly used by beginners for learning purposes. Even so, experience traders may use the demo service as a way of testing new strategies, multi-chart features, expert advisors and so on. The demo account works off genuine market prices and also has all of the features that are supported in real accounts. The only thing that you need in order to open a demo account is a valid email address.
Among the other features there is an economic calendar powered by TradingView, an earnings releases calendar, a forex trading calculator and various fundamental and technical analysis tools and also provides its users with market news and analysis, as well as video tutorials.
The broker has a substantial library of educational materials. This includes information on CFDs, a Forex eBook and a trading course for different assets.
Broker also has several active social media accounts. The broker's Facebook Page presently has over 100,000 followers, while its Twitter account has over 10,000 followers, and its YouTube channel has 2,400 subscribers.
Regulation and Deposit Protection
AvaTrade is a legitimate multinational company based in Dublin, Ireland that operates under the regulatory authority of the Central Bank of Ireland and must comply with the Markets in Financial Instruments Directive II (MiFID II) due to its participation in the European Union. The broker was founded in 2006 and has opened regional offices in Paris, Milan, Tokyo, and Sydney. This demonstrates a respectable history of operation and ongoing growth.
In Australia, Ava Capital Markets is supervised by the Australian Securities and Investments Commission (ASIC), while AvaTrade is regulated by the FSB in South Africa and the FSA and the FFAJ in Japan. The broker's offshore entity, Ava Trade Ltd, is registered in the British Virgin Islands and is regulated by the British Virgin Islands Financial Services Commission.
With respect to the safety of funds, segregates its own funds from those of its clients. The broker's data protection system includes 256-bit SSL website encryption, True-Site seal, and it is WebTrust compliant, according to the American Institute of Certified Public Accountants.
Account registration requires you provide a government identification document, such as a passport, and documents with a physical address. The company has comprehensive anti-money laundering procedures and makes sure traders are adults when opening an account. To avoid money-laundering, the broker will only withdraw money to the same source that made the original deposit.
Awards
Broker has a good relationship with the media and has been given several prizes, winning 69 awards in total since 2009. In general broker always receives a positive review from broker comparison websites, although its customers are not always so happy about their experience.
In early 2018, AvaTrade won the Best Trading Experience prize from FXEmpire for being "One of the pioneering Forex and CFD brokers in the trading arena." In 2019, the broker was named Best Forex Broker by DayTrading.com and Most Innovative CFD Broker, UK by the International Business Magazine.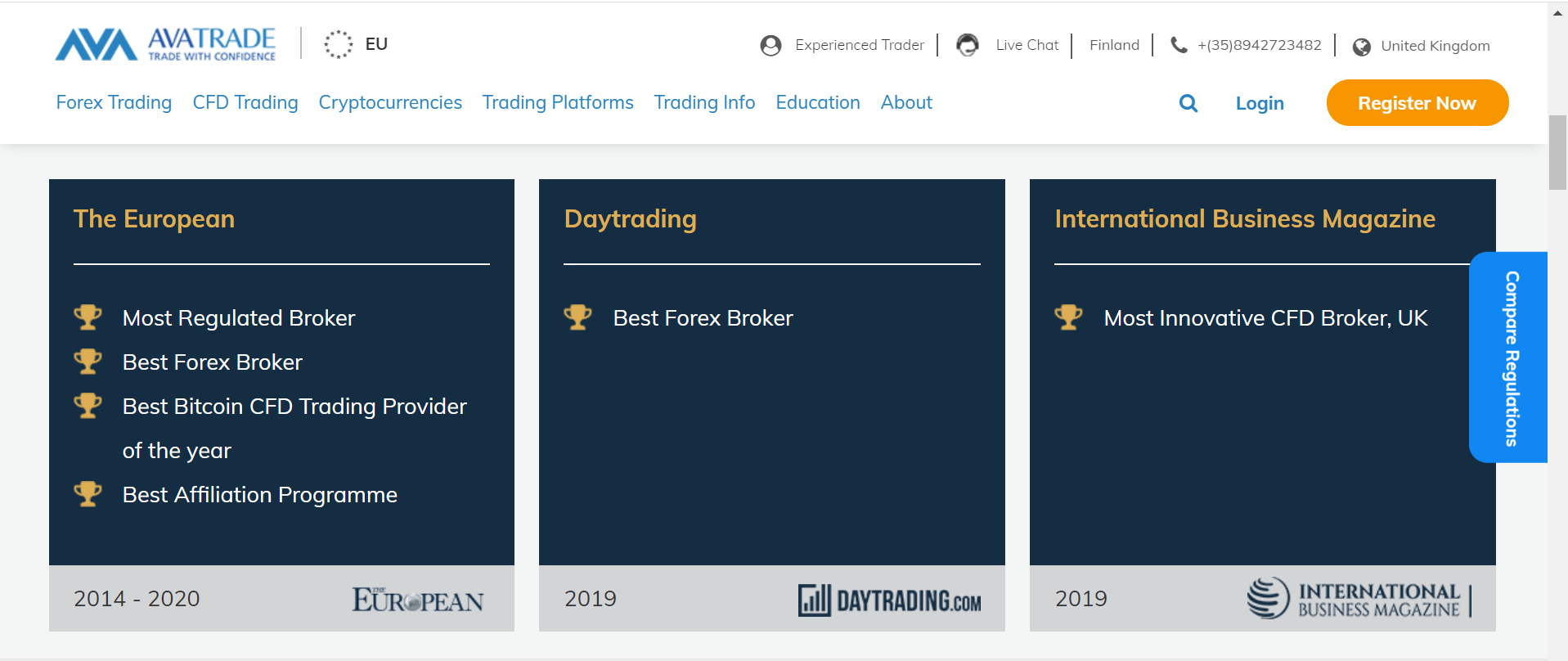 Furthermore, DailyForex.com awarded as Most Reliable Broker three times: in 2009, 2011 and 2015. Awards for safety and reliability have been received from DailyForex.com and the Money Summit. Regarding quality, also won The Excellence Award by IBTimes in 2010, 2014 and 2016, and Best Forex Execution House for the Middle East in 2010, 2014 and 2016.
FXEmpire awarded AvaTrade its Best Affiliation Program award in 2010, 2014 and 2016. AvaTrade also won the Bitcoin award as the Bitcoin CFD Trading Provider of the year in 2012 and 2015.
CFDs are complex instruments and come with a high risk of losing money rapidly due to leverage. 75% of retail investor accounts lose money when trading CFDs with this provider. You should consider whether you understand how CFDs work, and whether you can afford to take the high risk of losing your money.