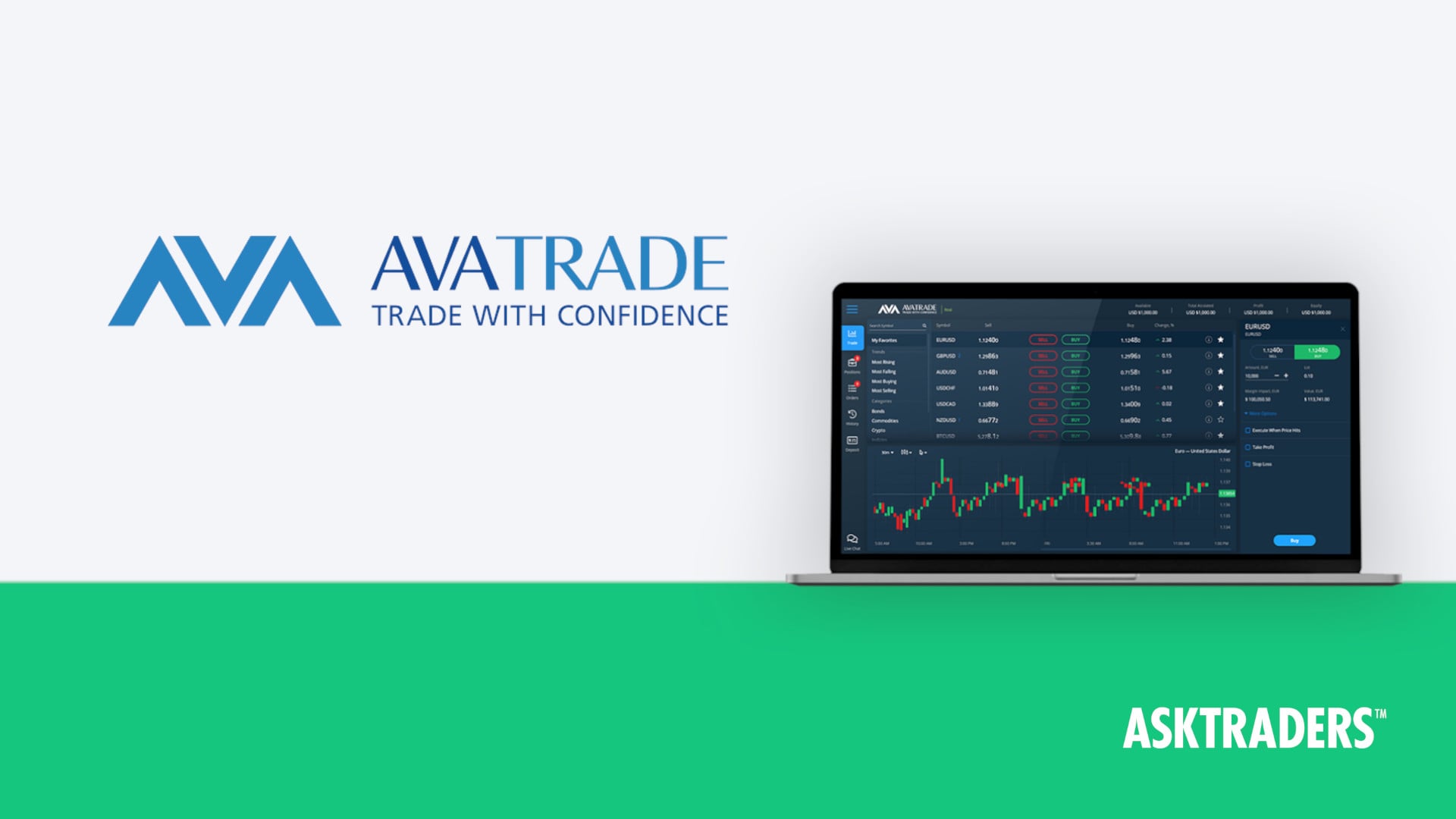 AvaTrade was founded in 2006 and is a privately held company. They are authorised and regulated by six different global regulatory bodies, which means AvaTrade provides a safe and secure trading environment for their 300,000 registered clients.
AvaTrade has a solid offering of platforms tolos and apps, alongside the usual MetaTrader platforms of MT4 and MT5. Strong standouts of their in-house offerings are; the AvaTrade WebTrader platform, AvaOptions and AvaSocial, plus their mobile app, AvaTradeGO. This solid suite of own brand platforms highlights that AvaTrade are committed to bringing bespoke technology to their client base.
The offering of more than 250 instruments to trade across forex, individual stocks and share indices, commodities and cryptocurrencies, is up there with the better offerings in the industry. Whilst the education offered by AvaTrade is first-rate.
But is AvaTrade the right broker for you? In this AvaTrade review, we'll be taking a look at everything you need to know about this broker including; regulation, trading platforms and mobile apps, fees, research and education.
AvaTrade Review Navigation
#

Forex
| | | | |
| --- | --- | --- | --- |
| Min Deposit | App Support | Max Leverage | Trading Fees |
| £100 | Good | 1:30 | Low |
AvaTrade offer their traders access to 55 currency pairs, including majors, minors, and emerging markets. The spreads on offer are in line with the average offered compared across the retail broker market, but are not particularly competitive when compared to the market forerunners.
Forex trading on the AvaTrade platforms allows leverage of up to 30:1 for retail clients, although it should be noted that this maximum level (under ESMA regulations) is only available on designated currency pairs.
#1

CFDs
| | | | |
| --- | --- | --- | --- |
| Min Deposit | App Support | Max Leverage | Trading Fees |
| £100 | Good | 1:30 | High |
A wide choice of CFDs (Contracts for Difference) are available to trade at AvaTrade including: Forex, individual stocks and share indices, bonds, cryptocurrency, Exchange Traded Funds (ETFs) and commodities.
Probably the standout offering for AvaTrade's clients amongst these asset classes are the 59 ETF CFDs that can be traded. Not a unique offering, but many CFD brokers do not provide the opportunity to trade ETF CFDs. AvaTrade offers up to 5:1 leverage when trading their ETF CFDs.
Another standout is that AvaTrade allow their clients to trade European and Japanese government bond CFDs, with leverage of up to 5:1.
Alongside the Forex and stock offering we cover elsewhere in this review, there are 29 commodity CFDs to choose from, including gold, silver, oil, natural gas, alongside a healthy mix of hard and soft commodities. Leverage on these commodity CFDs is up to 10:1.
#2

Stocks
| | | | |
| --- | --- | --- | --- |
| Min Deposit | App Support | Max Leverage | Trading Fees |
| £100 | Good | 1:10 | Mid |
You can trade over 600 individual share CFDs with AvaTrade, from many of the major global markets, including the USA, UK and Europe. While there are appreciably fewer stock CFDs available than can be found at some of its competitors, with over 600 stock CFDs to choose from and leverage of up to 5:1, this should satisfy most traders.
It should be noted that AvaTrade does not offer direct investing or trading in actual stocks.
#3

Social Trading
| | | | |
| --- | --- | --- | --- |
| Min Deposit | App Support | Max Leverage | Trading Fees |
| £100 | Good | 1:30 | Low |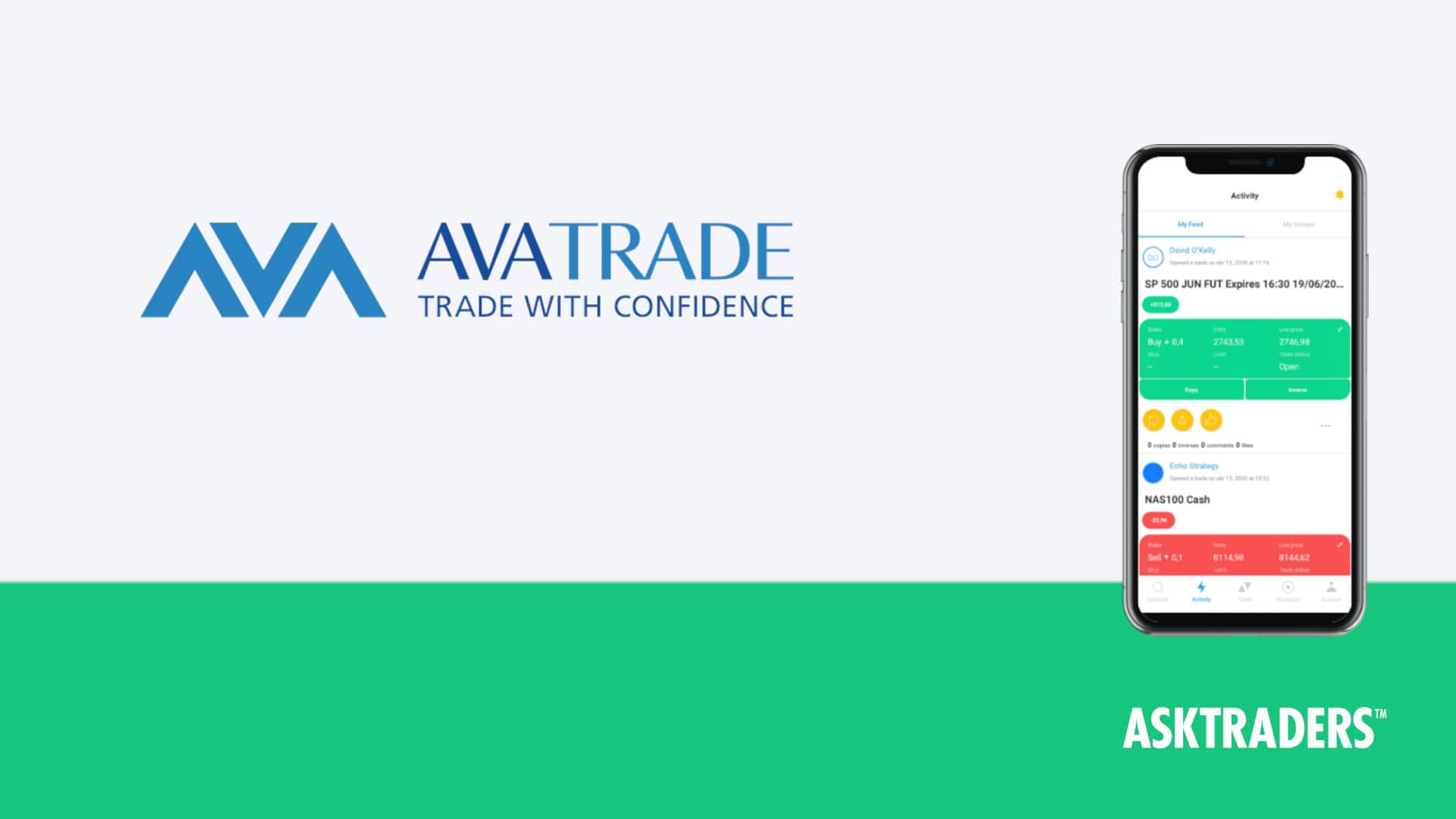 When it comes to social trading, AvaTrade is pushing to be a standout player in the industry, though eToro remain at the forefront of the social trading experience.  AvaTrade offer numerous user-friendly, automated, direct and indirect copy trading options including:
MQL5: Integrates with MetaTrader 4 (MT4) and MetaTrader 5 (MT5)
ZuluTrade: Online and mobile social and copy trading platform.
DupliTrade: Third-party copy platform linked to your AvaTrade account
AvaSocial: A social trading app for copy trading on-the-go
This extensive range of leading signal providers, apps and trading platforms means that AvaTrade is pushing to firmly position itself at the cutting-edge of social and copy trading.
The third-party platforms (MQL5, ZuluTrade and DupliTrade) are compatible with MT4/MT5. In addition, Zulutrade is also available as both a browser-based platform and downloadable app for iOS and Android. Integration of your AvaTrade account is incredibly straightforward on these third-party platforms.
AvaSocial is AvaTrade's foray into the social trading arena, allowing users to follow, chat and copy like-minded traders. You receive real-time updates as your friends and other traders place trades and also have the ability to copy them.
#4

Crypto
| | | | |
| --- | --- | --- | --- |
| Min Deposit | App Support | Max Leverage | Trading Fees |
| £100 | Few | 1:2 | Mid |
AvaTrade offers only a limited number of cryptocurrencies or cryptocurrency pairs to choose from. There are 14 available including; 10 individual coins, three crypto/fiat currency pairs (US. Dollar (BTCUSD), Euro (BTCEUR) and Yen (BTCJPY)) and one cryptocurrency index (Crypto Market Index 10). Compared to its competitors this is a fairly light offering. Leverage is 2:1 for cryptocurrencies.
AvaTrade does not offer direct investment in Bitcoin (or any other coins) as an individual coin.
#5

Spread Betting
| | |
| --- | --- |
| App Support | Trading Fees |
| Good | High |
AvaTrade do not offer UK residents a spread betting account.
What did our traders think after reviewing the key criteria?
Fees/Commissions
Like the majority of its competitors, AvaTrade does not charge any deposit or commission fees and it is compensated through the bid/ask spread, i.e. the difference between the buy and sell price of an asset.
AvaTrade's spreads are near to the average for the industry, for example just under one pip for EUR/USD at 0.9 pip, for the Retail or Standard Accounts. For the Professional Account, the spread on EUR/USD falls to 0.6 pip.
However, there are some additional trading and non-trading fees that you need to be aware of before signing up, including an inactivity fee and currency conversion fee.
AvaTrade will deduct an inactivity fee from your trading account if you don't log into your account for at least three months. The currency unit of this fee depends on the currency base of your account £50 (GBP account), $50 (USD account), €50 (EUR account). There's also a £100 administration fee after one year of inactivity So, unless you're a fairly active trader, you could get stung by inactivity fees.
AvaTrade supports most major currencies (USD, EUR, GBP, CHF, and AUD), but lacks support for minor currencies. This means that you'll be charged a currency conversion fee if you make a deposit in a currency that isn't supported by the broker. While this won't be a dealbreaker for the majority of traders, it's something that's worth bearing in mind.
| | |
| --- | --- |
| Fees/ Commissions | AvaTrade |
| EUR/USD average spread | 0.9 |
| EUR/USD minimum spread | 0.6 |
| Minimum account opening deposit | £100 |
| Withdrawal Fee | None |
| Inactivity Fee | £50 |
Related
Offering of Tradeable Products
AvaTrade has a wide number of products to trade, in that it offers all of the major asset classes to some degree or another. You can trade forex, individual stocks and share indices, ETF CFDs, bond markets, commodities and cryptocurrencies (as we highlight above and detail in the table below).
| | |
| --- | --- |
| Product offering | AvaTrade |
| How many Forex Pairs offered | 55 |
| How many Stock Indices offered | 23 |
| How many Individual stocks offered | 614 |
| How many Bonds offered | 2 |
| How many Commodities offered | 29 |
| How many Crypto pairs offered | 14 |
Although the offering is wide, in that all of the asset classes are offered to an extent, the depth of offering is less impressive. Many brokers offer a greater depth of products to trades in each asset class, though there are only a handful of brokers that offer more products across all these asset classes. In this sense, AvaTrade can be said to offer a wide choice across the major asset classes, but not to as significant a depth of some of their counterparts.
AvaTrade offers four account types:
Retail Account (Standard Account outside of the EU)
Professional Account
Islamic Account
Demo Account
The main difference between the Retail and Professional Accounts is the higher amount of leverage on offer for Professional Accounts. On Retail Accounts, under European Securities and Markets Authority (ESMA) regulation, the maximum available leverage is up to 30:1. The Professional Account offers leverage of up to 400:1 on Forex instruments. However, in order to qualify for this, you must have relevant experience in the financial sector, sufficient trading activity in the past 12 months and hold a financial portfolio of over €500,000. Another key difference is that the spreads are wider on Retail Accounts than on the Professional Accounts.
Non-EU residents can apply for a Standard Account which is the same as the Retail Account available to EU residents, but with a higher amount of leverage available.
The Islamic account complies with all facets of Sharia law and is for Muslims whose religion forbids the charging of interest. It is a Standard Account, but swap fees or interest are not credited or debited.
Finally, there is the free Demo account to practice trading on and get used to the AvaTrade platform. The only downside with the AvaTrade Demo platform is the fact that, unlike demos offered by some competitors, it expires after 30 days.
Related
Trading Platform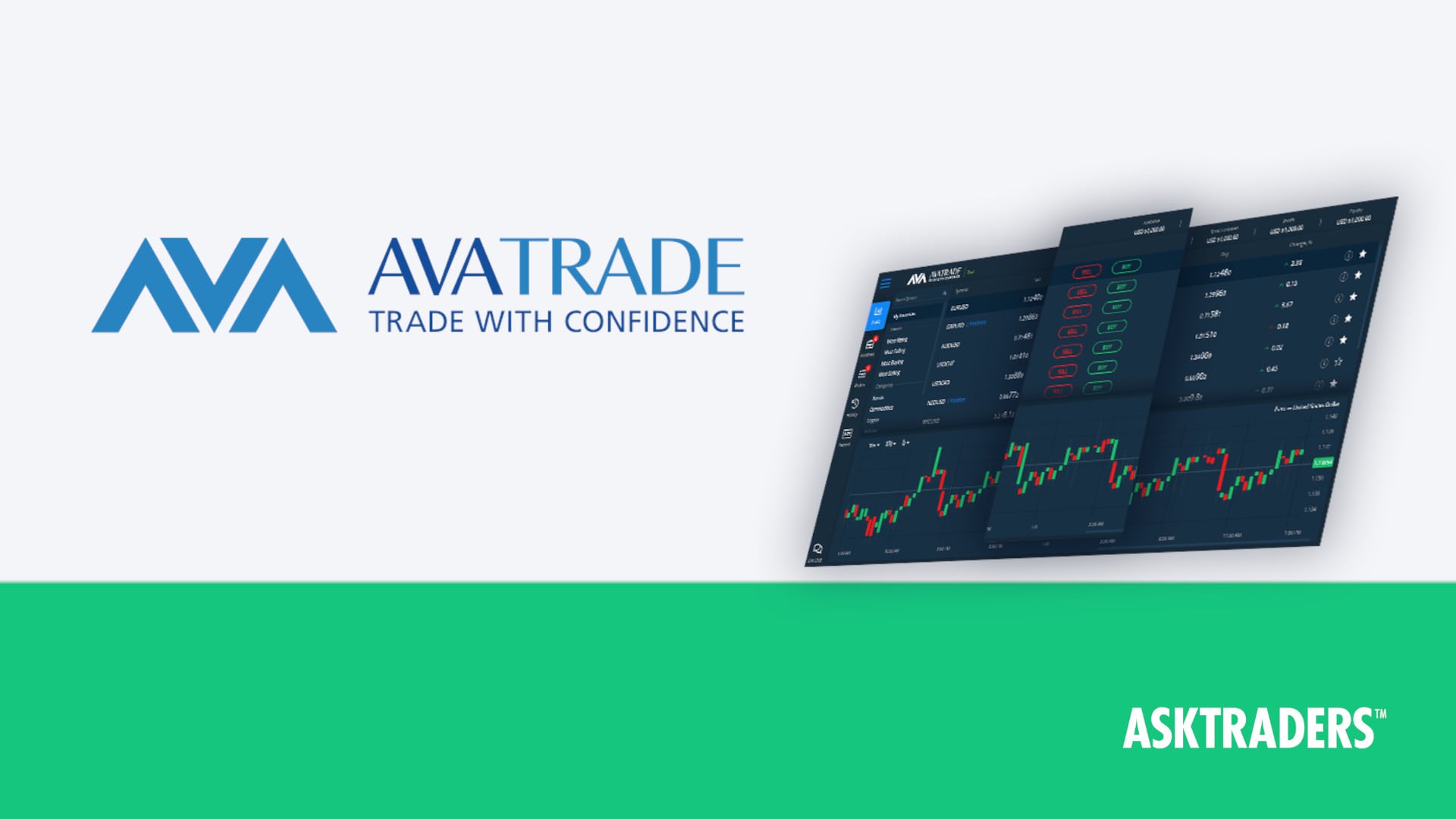 The AvaTrade WebTrader platform connects you with markets via a web browser. There is no need to download or install any software and the platform is simple, intuitive and easy to use, making it perfect for newbie traders.
However, in this case the simplicity does come with a compromise on functionality. Yes, WebTrader has does have a wide selection of technical indicators (90), a market sentiment section whereby hot trends can be identified, plus access to the Trading Central tools including the Economic Calendar amongst other features (we look at in the research section). However, there is no drawing tools functionality, so you cannot draw simple trend lines on the charts, or any of the other functionality that you would normally expect from a drawing tools section of a trading platform (Fibonacci retracements for example).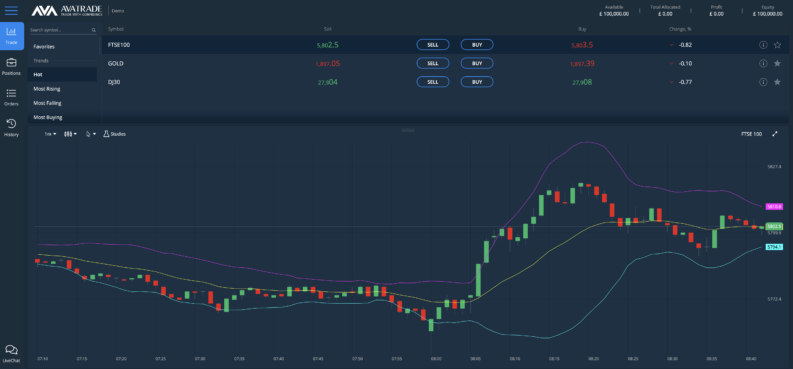 The WebTrader platform also offers a risk management tool, AvaProtect. This risk-reduction tool offers protection against losses in exchange for a fee paid at the time of purchase. It is effectively an option to protect the trader from the market moving in the opposite direction to your open position.  AvaProtect gives trader peace-of-mind, knowing their trades are protected against sudden, adverse market movements.
For traders that deposit at least £1K, AvaTrade offers AvaOptions, its desktop and mobile platform for trading forex options. This provision is designed for more advanced traders and professionals, who have a strong options knowledge.
As we looked at in depth in the Social Trading Review section above, AvaTrade offers social and copy trading via third-party providers; MQL5, ZuluTrade and DupliTrade. Plus, they have their in-house offering, AvaSocial.
MetaTrader (MT4/MT5)
The MetaTrader platforms, MT4 and MT5 are used by traders all over the world with full compatibility across Windows, Mac OS X, Android and iOS. As is the norm in the industry, AvaTrade provides access to both of these to their users, free of charge.
| | |
| --- | --- |
| Platform feature | AvaTrade |
| Own platform | Yes |
| Demo account offered | Yes |
| MT4 | Yes |
| MT5 | Yes |
| cTrader | No |
| Chart Indicators | 90 |
| Chart drawing tools | 0 |
Mobile Offering
AvaTradeGO is AvaTrade's mobile app offering and was voted the No. 1 Best Forex Trading App in 2020 at the Global Forex Awards. It is a solid mobile app, bringing the power of the AvaTrade WebTrader trading platform to the palm of your hand, for on-the-go trading.
The app closely resembles its WebTrader counterpart with syncing watchlists and the Trading Central suite of research tools, but again no drawing tools and on the app even technical indicators are not available. In addition, just like in WebTrader, you can benefit from the safeguard of AvaProtect. Overall though, it is a comprehensive app for beginners.
The AvaOptions functionality that we describe above in the trading platform section is also available as a standalone app for Android and iOS devices, with all of the functionality.
The social copying app, AvaSocial allows users to follow and communicate with other traders and also to copy their trades. You receive real-time updates as other traders enter trades and have the ability to copy them too.
The MetaTrader mobile offerings of MT4 and MT5 are compatible and available for both iOS and Android devices.
| | |
| --- | --- |
| Mobile feature | AvaTrade |
| Own Apple app | Yes |
| Own Android app | Yes |
| Third party app (MT4/MT5/other) | Yes |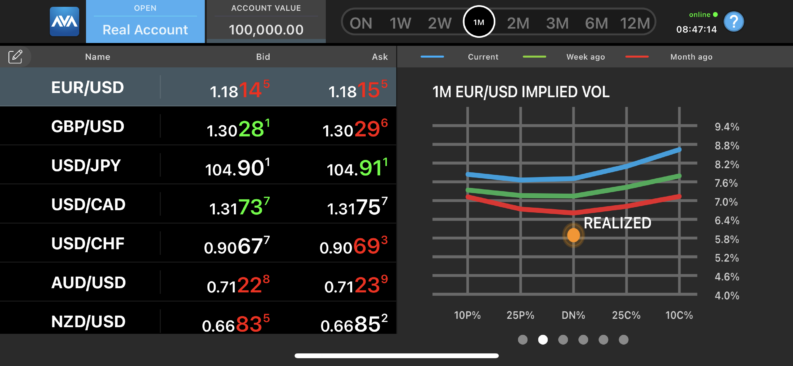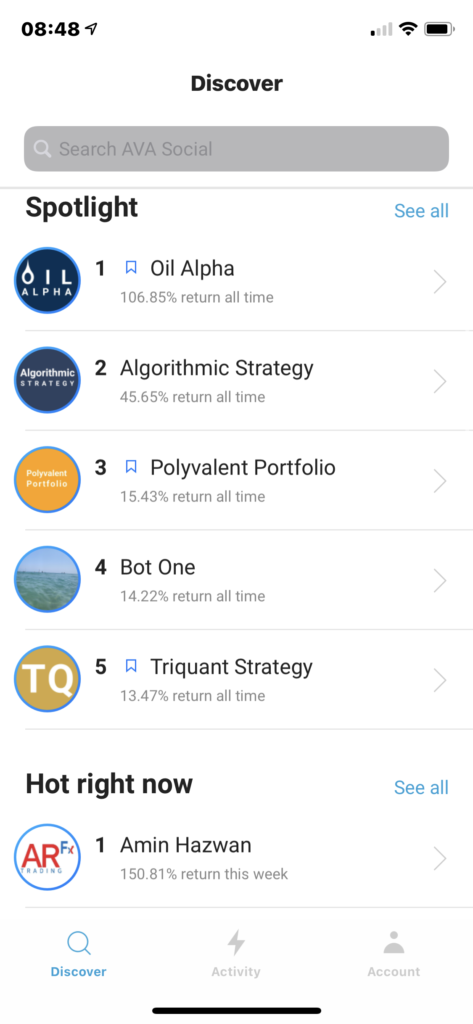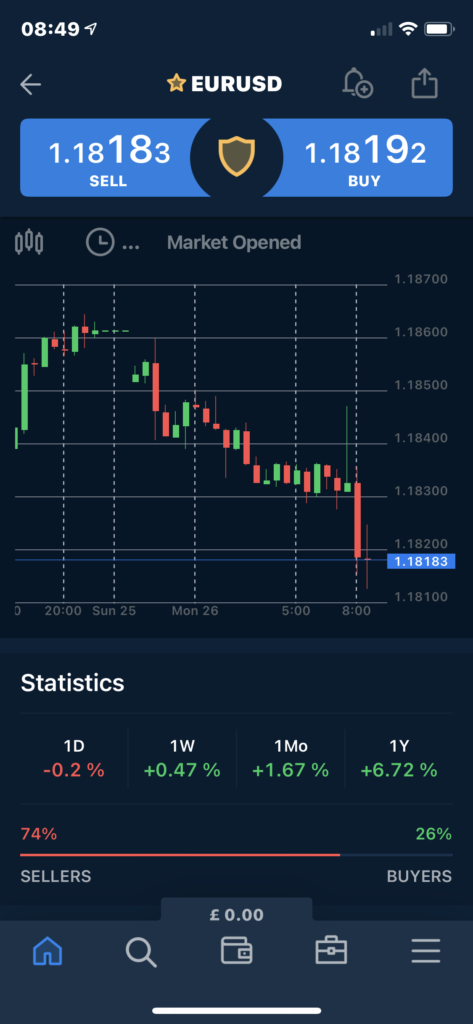 Customer support
When it comes to customer support, there are a wealth of trading and support resources for AvaTrade clients to take advantage of, including:
A vast FAQ & Help Centre, that answers not just the most obvious, generic queries, but also provides answers to many more detailed and specific questions.
The Customer Services team is available 24/5 across live chat, email and phone, with these services available for a large part of the day (for example 07:00 to 21:00 in the UK).
Support is available in 14 languages with telephone numbers available in 38 different countries.
With deposits of over £1,000, a dedicated Account Manager is on hand to help guide you through your trading journey.
| | |
| --- | --- |
| Customer support | AvaTrade |
| Customer call support Mon-Fri over 8 hours | Yes |
| Customer call support Mon-Fri 24 hours | No |
| Customer call support Saturday all day | No |
| Customer call support Saturday part day | No |
| Customer call support Sunday all day | No |
| Customer call support Sunday part day | No |
| Web Chat | Yes |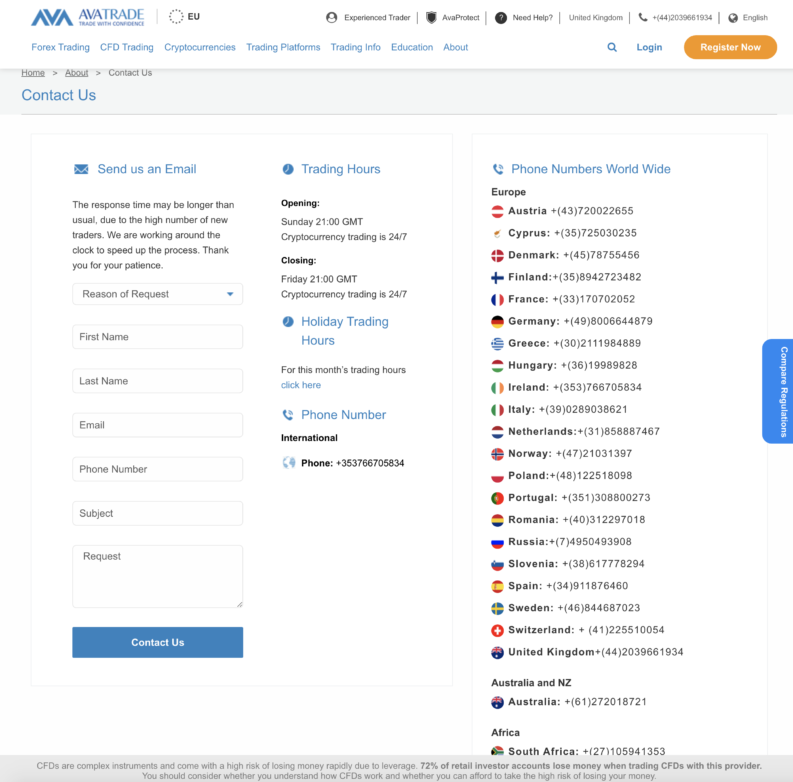 Education
AvaTrade provide a strong offering of free educational resources from their in-house team, which include videos, articles, webinars and even a downloadable e-book.
This wide and rich selection of educational content will appeal to traders across ability levels, providing content for the beginner through to more advanced trading lessons. Along the way, you'll learn the basics of "What is Forex?" through to the more advanced "Ichimoku Cloud Indicator and Strategies".
Alongside the nearly 100 comprehensive articles, there are also numerous videos covering a significant number of topics, again from novice, through intermediate to more advanced.  These videos are archived on the AvaTrade YouTube channel.
AvaTrade also provide free access to a third-party provider of research, but primarily educational content, at Sharp Trader.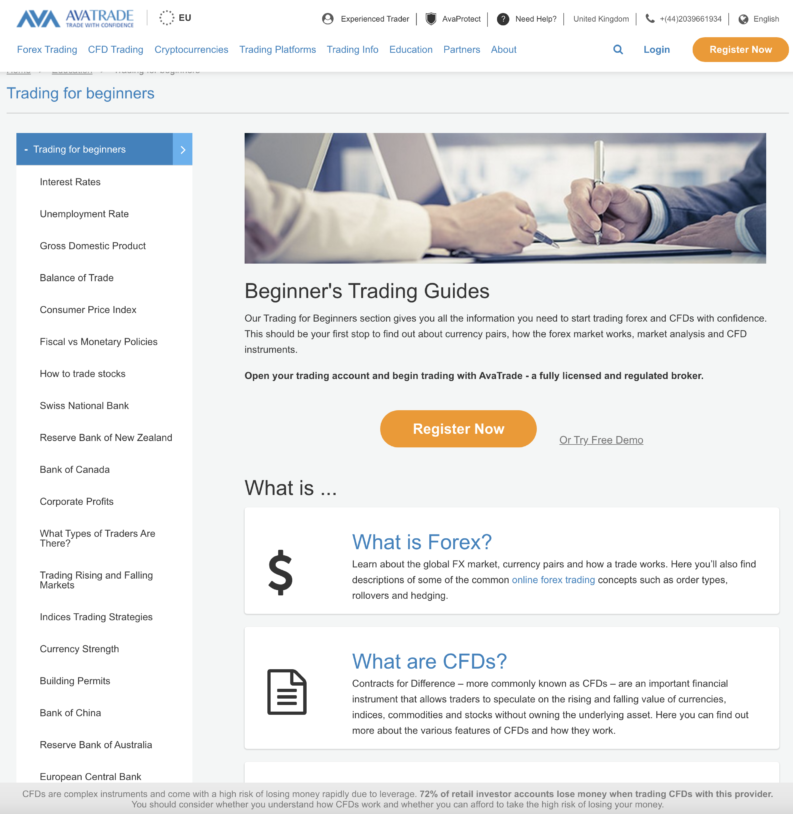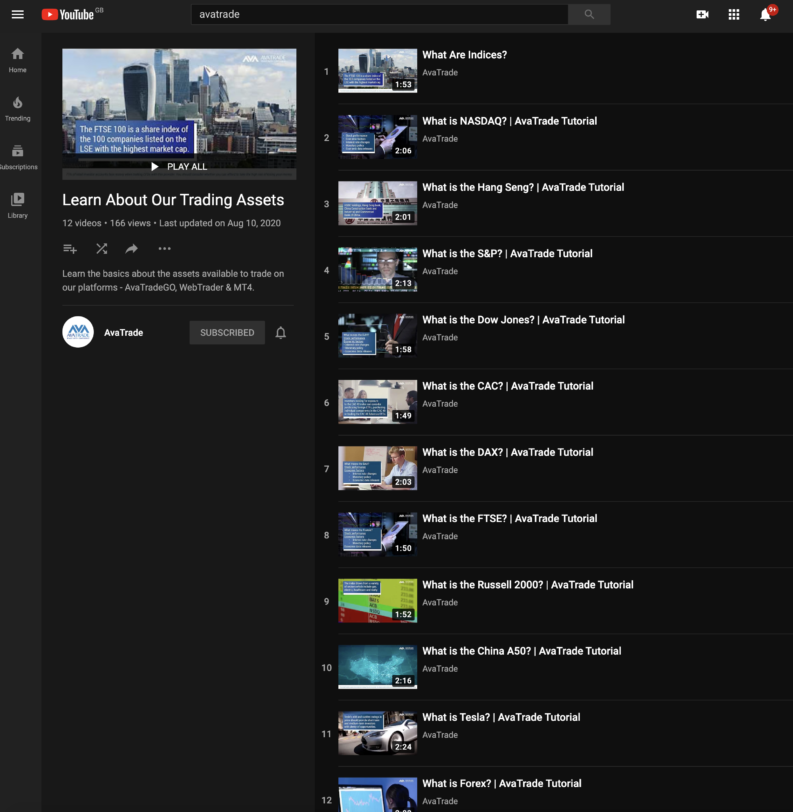 | | |
| --- | --- |
| Education feature | AvaTrade |
| Webinars | Yes |
| Videos | Yes |
| Community Forums | Yes |
| Education Organized by Experience Level | Yes |
| Education Organized by Topic | Yes |
| Education Organized by Type | Yes |
| Has Education – Forex | Yes |
| Has Education – Stock Indices | Yes |
| Has Education – Individual Stocks | Yes |
| Has Education – Bonds | Yes |
| Has Education – Commodities | Yes |
| Has Education – Crypto | Yes |
| Investor Dictionary/ Glossary | Yes |
Research
The in-house offering from AvaTrade is not overly impressive, we would say above average, but a little disappointing given the overall stature of AvaTrade. It is not that the quality is not decent, as the daily market commentaries on their You Tube channel are excellent and there are sometimes 2-3 each day. However, we believe that here is not an adequate amount of in-house research to make AvaTrade truly stand out. On the written side there is a daily blog, but again although the quality of this blog is strong, the amount of content is rather disappointing, again given where you would expect AvaTrade to be in its position as a higher tier broker.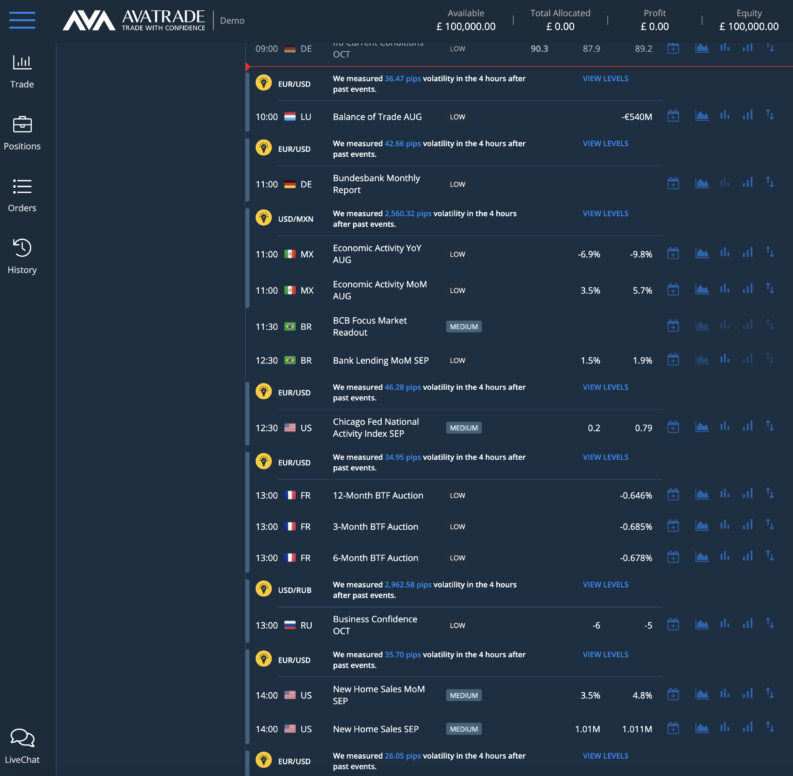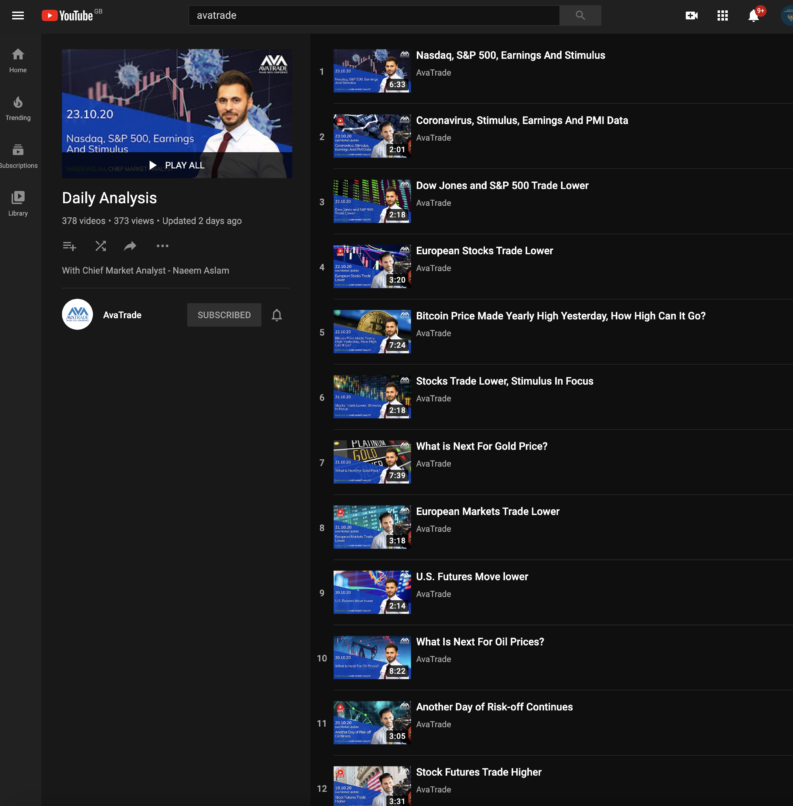 As already mentioned, AvaTrade traders do have access to the third-party research from Trading Central, which includes Analyst Views, Featured Ideas and Market Buzz, alongside the Economic Calendar.
In addition, there is pseudo research in the form of the social/ copying offerings again from third parties we have highlighted; MQL5, ZuluTrade and DupliTrade. Plus, there is in-house social offering, AvaSocial.
| | |
| --- | --- |
| Research feature | AvaTrader |
| Research Organized by Experience Level | No |
| Research Organized by Topic | Yes |
| Research Organized by Type | Yes |
| Has Research – Forex | Yes |
| Has Research – Stock Indices | Yes |
| Has Research – Individual Stocks | Yes |
| Has Research – Bonds | Yes |
| Has Research – Commodities | Yes |
| Has Research – Crypto | Yes |
Trust and Regulation
AvaTrade is licensed and regulated by six of the world's leading financial regulatory bodies. This should ensure a safe trading experience for their clients. It is regulated in the EU, Japan, Australia, South Africa, Abu Dhabi and the British Virgin Islands.
| | |
| --- | --- |
| Trust and regulation | AvaTrade |
| Regulated in how many countries | 6 |
| Year established | 2006 |
| Publicly traded | No |
These regulators require AvaTrade to fully segregate traders' accounts from company funds, adhere to strict anti-money laundering and capital requirements, comply with 'know your client' procedures, as well as a host of other stringent measures designed to protect traders. Although AvaTrade is not regulated by the FCA in the United Kingdom, it is still viewed at the safer end of regulation and protection among the better brokers in the industry and is therefore viewed as a low-risk broker.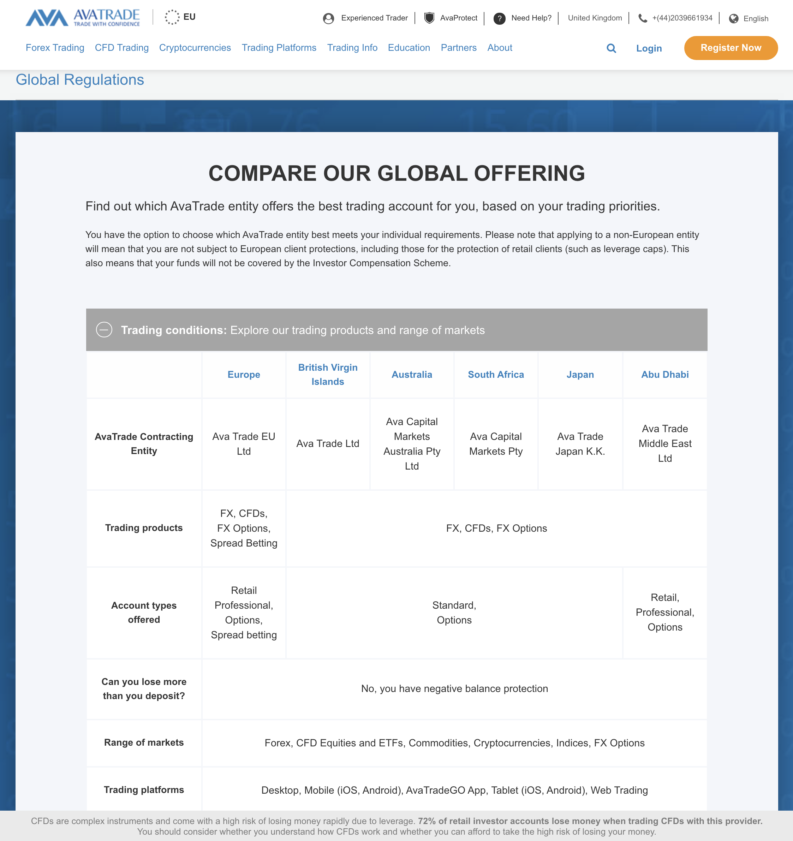 Awards
A multi-award-winning broker, AvaTrade has won numerous prestigious awards over the years. This includes recent accolades such as:
No.1 Best Forex Trading App 2020 – Global Forex Awards
No.1 Broker, Best Forex Broker – The European
Most Innovative CFD Broker, UK – INTLBM Awards
Best Forex Broker 2019 – Rankia Awards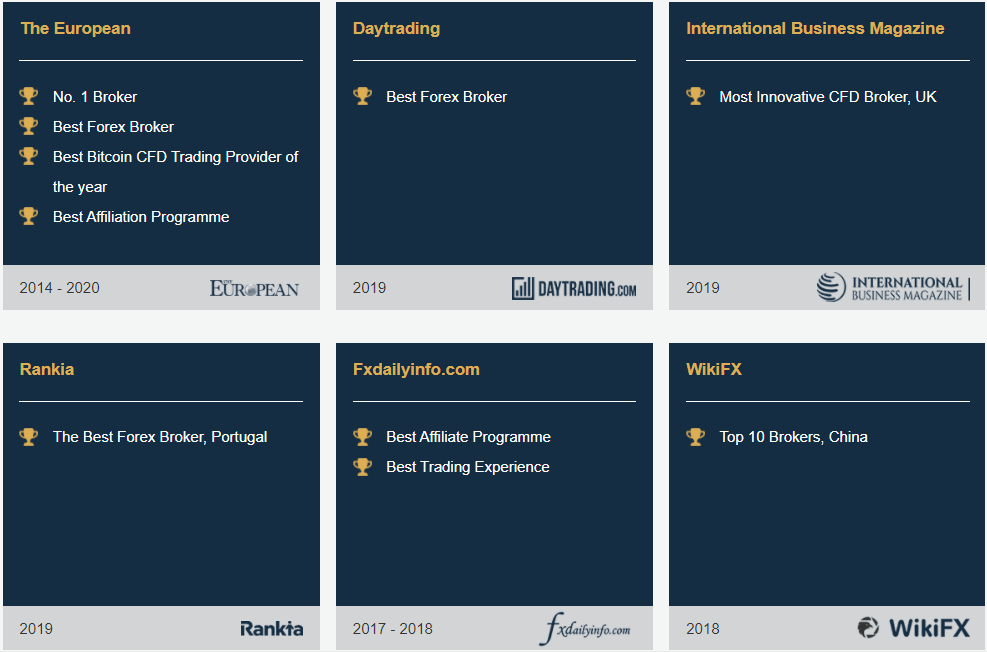 Needless to say, AvaTrade is clearly a well-respected broker in the industry and that you can trust to deliver an excellent overall trading experience. It's most recent award for 'Best Forex Trading App' serves to highlight AvaTrade's focus on delivering a high-quality platform for its users and commitment to innovation.
Overview
Overall the AvaTrade offering is extremely solid, providing a robust in-house trading platform, a significant amount of very useful educational content across various levels, plus several social and copy trading options.
The slight drawbacks are that spreads are not particularly competitive (around average) and the inactivity fees are slightly high. We would also like to have seen drawing tools available on AvaTrade WebTrader and also these drawing tools and technical studies on the AvaTradeGO app.
For the trader on the go, there are three different in-house apps available, whilst a strong regulatory background means that AvaTrade is a broker that you can trust. We would recommend AvaTrade, particularly for new and intermediate level traders.