AvaTrade Review
Open Demo Account
18 minutes read
/
Updated: 23 October 2020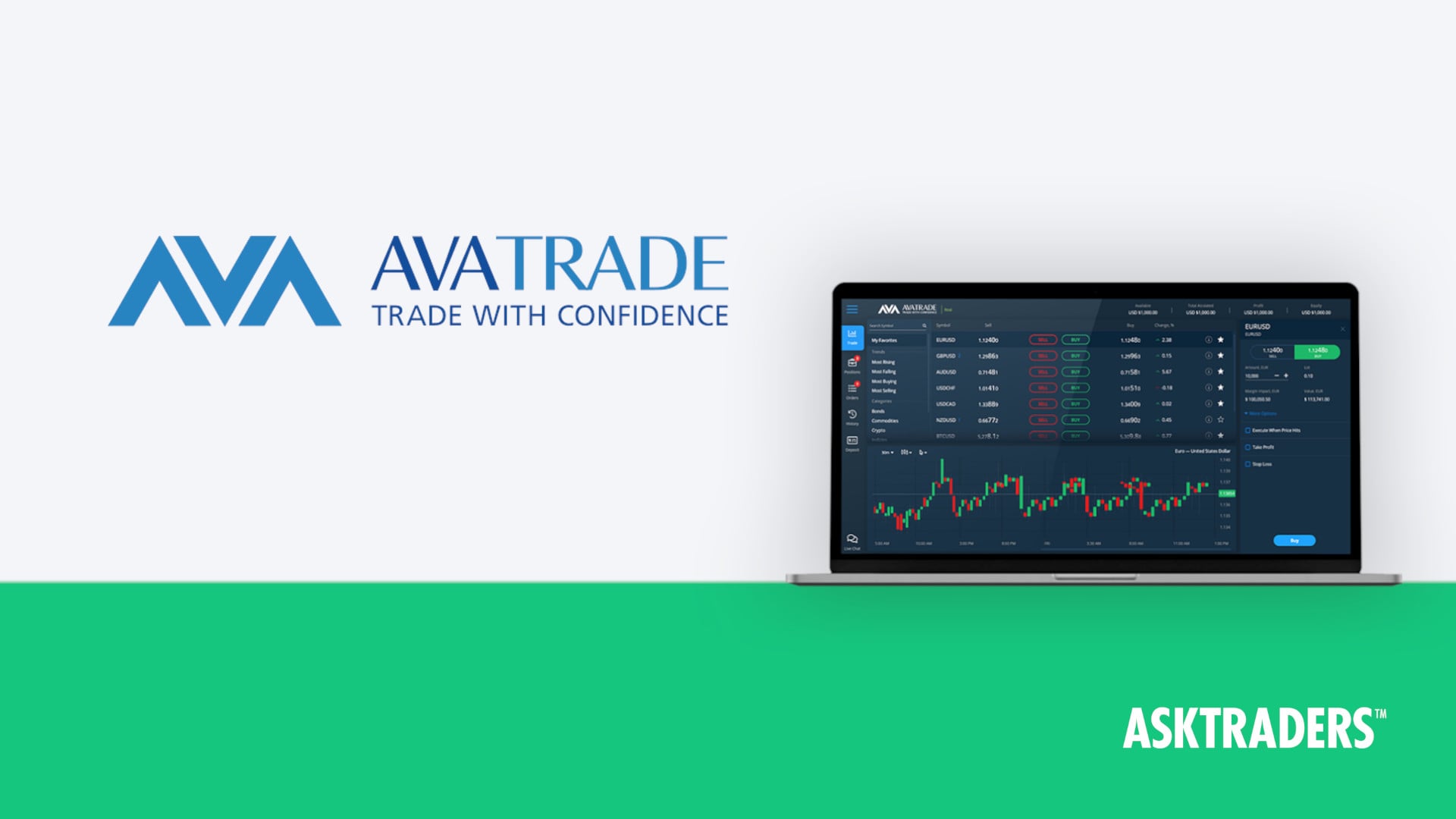 Founded in 2006, AvaTrade is a pioneering broker in the world of online trading. One of the most secure brokers in the industry, AvaTrade's 7 regulations across 6 continents provide its 300,000 registered customers with a safe and secure trading environment.
Offering more than 250+ instruments to trade across forex, cryptocurrencies, stocks, commodities and indices, this multi-award-winning broker has scooped up more than 30 reputable industry awards in the last 9 years and is vaunted for its user-orientated approach to trading.
But is AvaTrade the right broker for you? In this AvaTrade review, we'll be taking a look at everything you need to know about this broker, including account types, regulation, trading platforms and more.
Strengths
Competitive spreads
Strong regulation
Expert Advisor (EA) allowed
250+ instruments available
Supports MT4/MT5
Weaknesses
High admin fees for inactive accounts
No US clients accepted
Demo account can only be used for 30 days
What can you trade?
AvaTrade offers users access to a wide variety of currency pairs, including majors, minors, and exotics. In total, there are 55 currency pairs to choose from, with spreads starting ranging between 0.9 and 90 pips depending on the currency you choose to trade: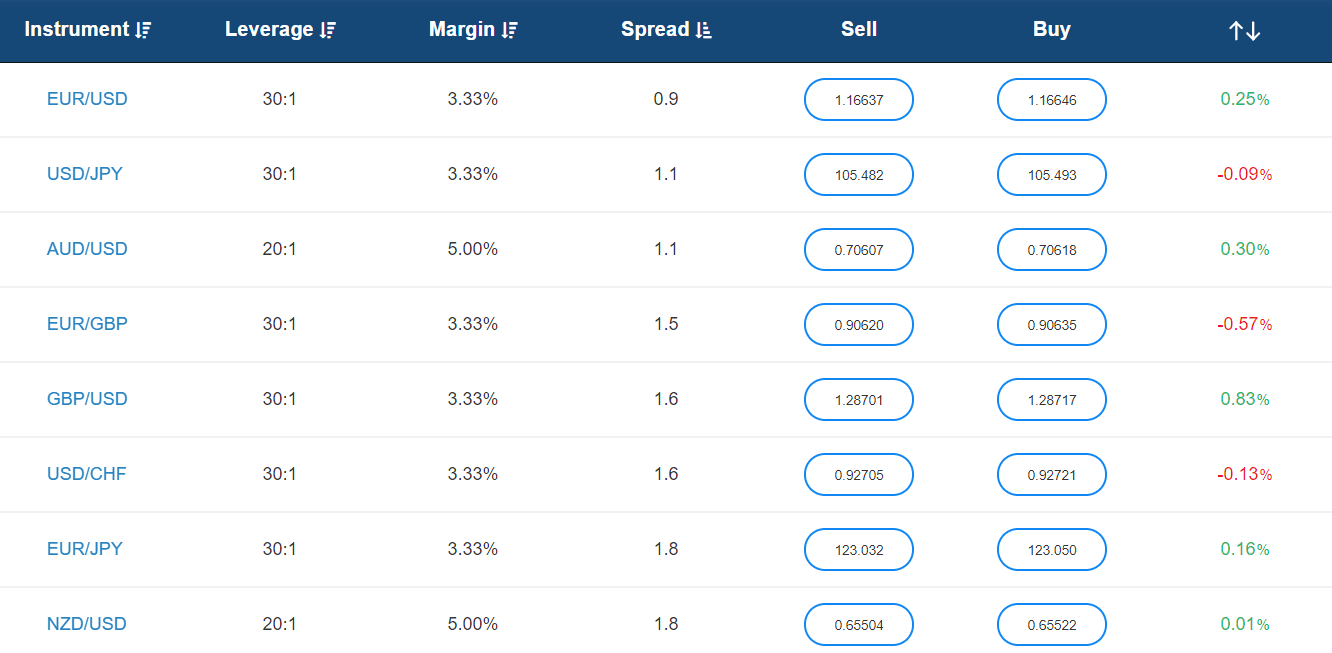 While the number of available currency pairs (55) is in line with what we've seen from its competitors, the spreads on offer, while competitive, aren't the lowest available in the market. AvaTrade does, however, partner with multiple tier 1 liquidity providers to ensure traders have access to competitive spreads at all time. While spreads are very much par for the course, AvaTrade excels at providing additional benefits for users, including:
Access to multiple trading platforms (including MT4 and MT5)
Comprehensive educational material
Global regulation
Overall Forex trading condition on the AvaTrade platform s are certainly favourable for FX traders, with restriction-free scalping and short-selling and unlimited hedging and netting all available to traders. Leverage up to 1:30 is available for retail clients, although it's worth pointing out that this maximum level (under ESMA regulations) is only available on selected currency pairs.
AvaTrade offers its clients a wide variety of CFDs (Contracts for Difference) to choose from, including:
Bond CFDs
Cryptocurrency CFDs
ETF CFDs
Indices CFDs
Commodities CFDs
Stocks CFDs
AvaTrade is unique in that it offers ETF CFDs to its users. While not uncommon, this is a unique instrument that not many of its competitors are currently offering. Let's take a look at some of the CFDs on offer in a bit more detail:
Cryptocurrency CFDs
Compared to its competitors, AvaTrade does not offer as many individual cryptocurrencies or currency pairs to choose from and, disappointingly for aspiring crypto traders, doesn't offer Bitcoin as an individual coin. Instead, AvaTrade provides CFDs on Bitcoin Gold (a hard fork of Bitcoin) and Bitcoin Cash, as well as other popular altcoins such as Ethereum, Litecoin, Ripple and Dash. In addition, you can also trade CFDs on lesser-known coins such as Neo, EOS and IOTA.
In total, there are 14 to choose from:
10 individual coins
3 crypto/fiat currency pairs
1 cryptocurrency index (Crypto Market Index 10)
Unlike many exchanges, which limit their clients to crypto, AvaTrade users are able to trade cryptocurrencies against fiat currencies. However, this only applies to Bitcoin, which is tradeable against the U.S. Dollar (BTCUSD), Euro(BTCEUR) and Yen (BTCJPY) respectively.
Like other trading platforms, AvaTrade charges a spread between the bid and ask price of a cryptocurrency. This is shown as a percentage that varies by currency: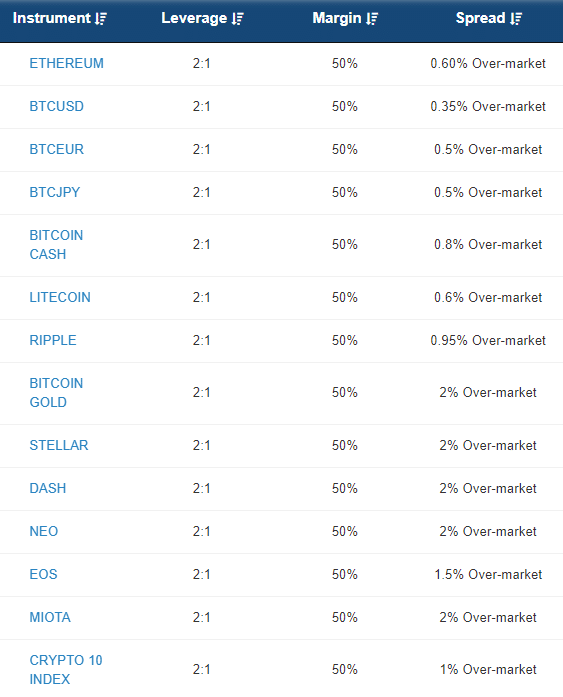 As well as leverage of up to 1:2 for EU residents (1:25 for non-EU residents), there are no hidden fees to be aware of with AvaTrade as this broker offers zero commissions and no bank fees on transactions. In addition, AvaTrade is one of the few brokers to offer around-the-clock service (24/5) as well as support in 15 languages. Traders can also minimise their risk with the help of built-in stop-loss orders or take-profit limits.
Stocks CFDs
The AvaTrade trading platform allows you to trade shares from the most popular markets around the world, such as the USA, UK, Japan, Germany and more. In total, AvaTrade offers over 600 stock CFDs on the world's leading businesses including Apple, Facebook, Tesla and more.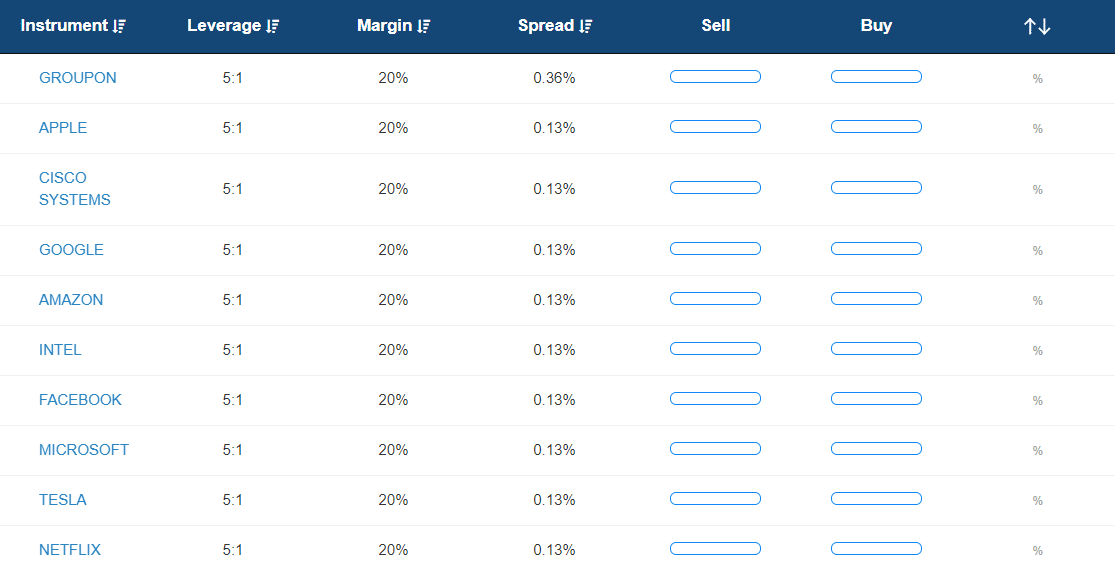 While the number of stock CFDs available is significantly less than can be found at some of its competitors, with 600+ to choose from there is more than enough choice if you're looking to diversify your portfolio with blue-chip stocks. This generous selection of stock CFDs is complemented by competitive commission rates from 0.13% and the ability to trade with leverage of up to 5:1 (20%).
Commodity CFDs
With around 17 commodity CFDs to choose from, AvaTrade provides traders with access to the most popular commodities including gold, silver, oil, natural gas, and more. There is a healthy mix of hard and soft commodities available to choose from, competitive spreads and leverage of up to 1:10.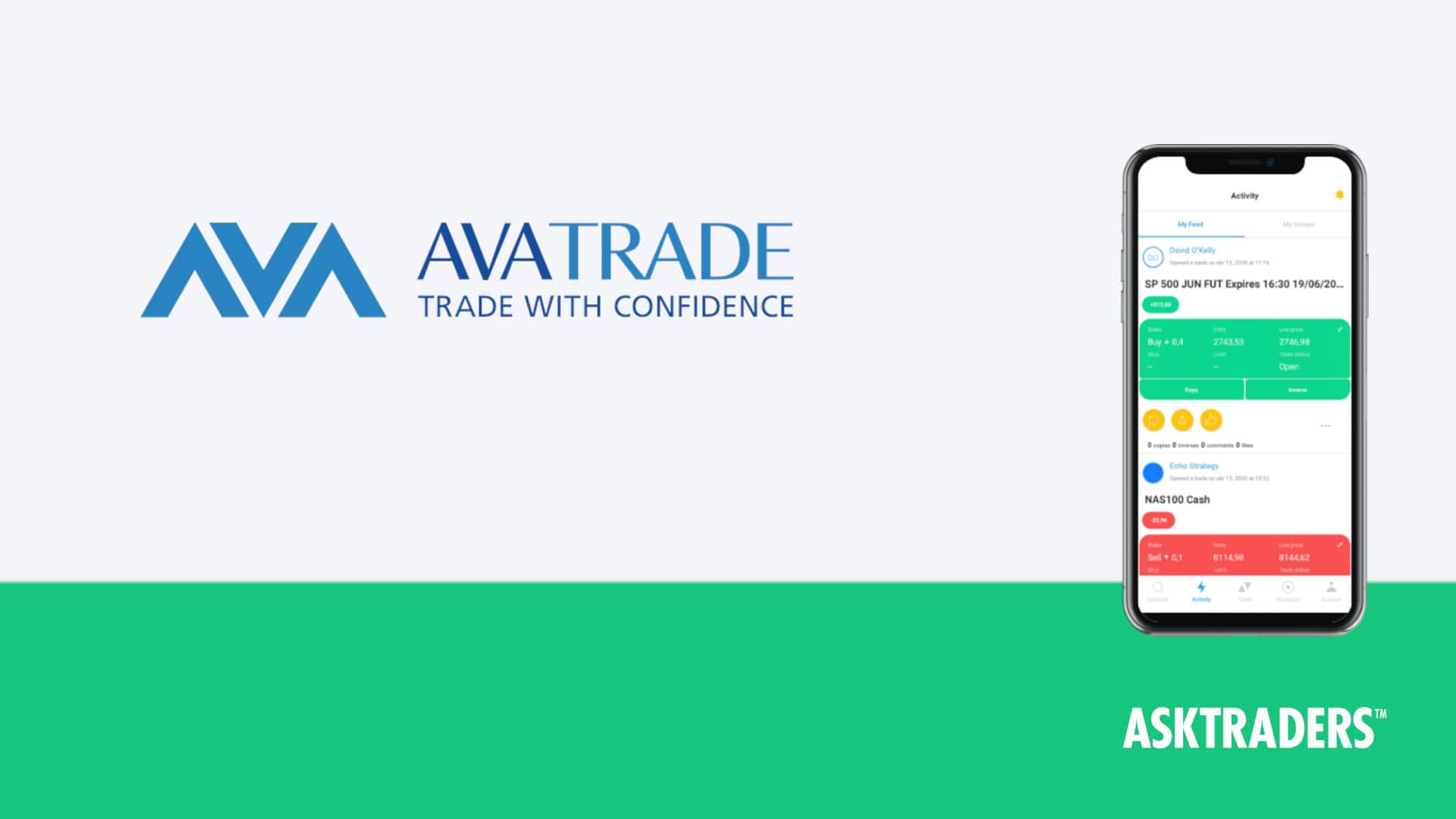 When it comes to social trading, AvaTrade is a standout performer in the industry, offering several automated, user-friendly direct and indirect copy trading options including:
MQL5: Integrates with MetaTrader 4 (MT4) and MetaTrader 5 (MT5)
ZuluTrade: Online and mobile social and copy trading platform.
DupliTrade: Third-party copy platform linked to your AvaTrade account
AvaSocial: Social trading app for copy trading on-the-go
This extensive range of leading signal providers and apps and trading platforms means that AvaTrade is a broker that has firmly positioned itself at the cutting-edge of social and copy trading. Both third-party platforms (DupliTrade and ZuluTrade) are compatible with MT4, while Zulutrade is also available as both a browser-based platform and downloadable app for iOS and Android. Integration of your AvaTrade account is incredibly easy and straightforward on both third-party platforms.
AvaSocial is AvaTrade's latest foray into the social trading arena, allowing users to follow, chat and trade with like-minded traders. You can receive real-time updates about your friends' and other traders' activity and comment, share, like a trade or simply copy trading signals.
What did our traders think after reviewing the key criteria?
Fees
Like the majority of its competitors, AvaTrade does not charge any deposit or commission fees and its compensated through the bid/ask spread, i.e. the difference between the buy and sell price of an asset.
All you need to know is this: AvaTrade will not charge you for executing your buy or sell orders and, instead, makes its money off the cost of opening and closing a trade — nothing new to see here.
In addition, AvaTrade works with numerous liquidity providers to ensure it is always able to give its user the best available rates on spreads and, for the most part, AvaTrade's spreads are fairly competitive.
However, there are some additional trading and non-trading fees that you need to be aware of before signing up, including:
Currency conversion fee
Inactivity fee
Inactivity Fee
AvaTrade will deduct an inactivity fee from your trading account if you don't log into your account for at least three months. The currency unit of this fee depends on the currency base of your account £50 (GBP account), $50 (USD account), €50 (EUR account). There's also a £100 administration fee after one year of inactivity so, unless you're a fairly active trader, you could get stung by inactivity fees.
Currency Conversion Fee
AvaTrade supports most major currencies (USD, EUR, GBP, CHF, and AUD), but lacks support for minor currencies. This means that you'll be charged a currency conversion fee if you make a deposit in a currency that isn't supported by the broker. While this won't be a dealbreaker for the majority of traders, it's something that's worth bearing in mind.
| | | | |
| --- | --- | --- | --- |
| Broker | AvaTrade | XM | Plus500 |
| No. of base currencies | 5 | 11 | 14 |
In addition, AvaTrade states that it is authorised to convert funds in your account at a rate of exchange that they determine. For the majority of traders, this won't be an issue; the five major supported currencies are plenty enough to cover most bases.
Related
Account types
When it comes to account types, AvaTrade doesn't have a long list of accounts to choose from. Instead, it keeps things simple by offering just four to choose from:
Retail Account (Standard Account outside of the EU)
Professional Account
Islamic Account
Demo Account
There are a couple of differences between Retail and Professional trading accounts. The first is the amount of leverage on offer, which is higher on Professional accounts. On Retail Accounts, under European Securities and Markets Authority (ESMA) regulation, the maximum available leverage is up to 1:30.
Professional trading accounts can benefit from leverage of up to 1:400 on Forex instruments. However, in order to qualify for this,  you must have relevant experience in the financial sector, sufficient trading activity in the past 12 months and hold a financial portfolio of over €500,000. The second key difference is spreads, which are higher on Retail accounts than on Professional ones.
Non-EU residents can apply for a Standard Account, which is available to international traders. This is exactly the same as the Retail account available to EU residents, albeit with a higher amount of leverage on offer.
The Islamic account complies with all facets of Sharia law and is for Muslims whose religion forbids the charging of interest. It is a standard account, but swap fees or interest are not credited or debited.
Finally, there's the free Demo account to practice trading on and get used to the AvaTrade platform. The only downside with the AvaTrade demo platform is the fact that, unlike demos offered by competitors, it expires after 30 days.
Related
AvaTrade Demo Account: Tutorial & Review
Platforms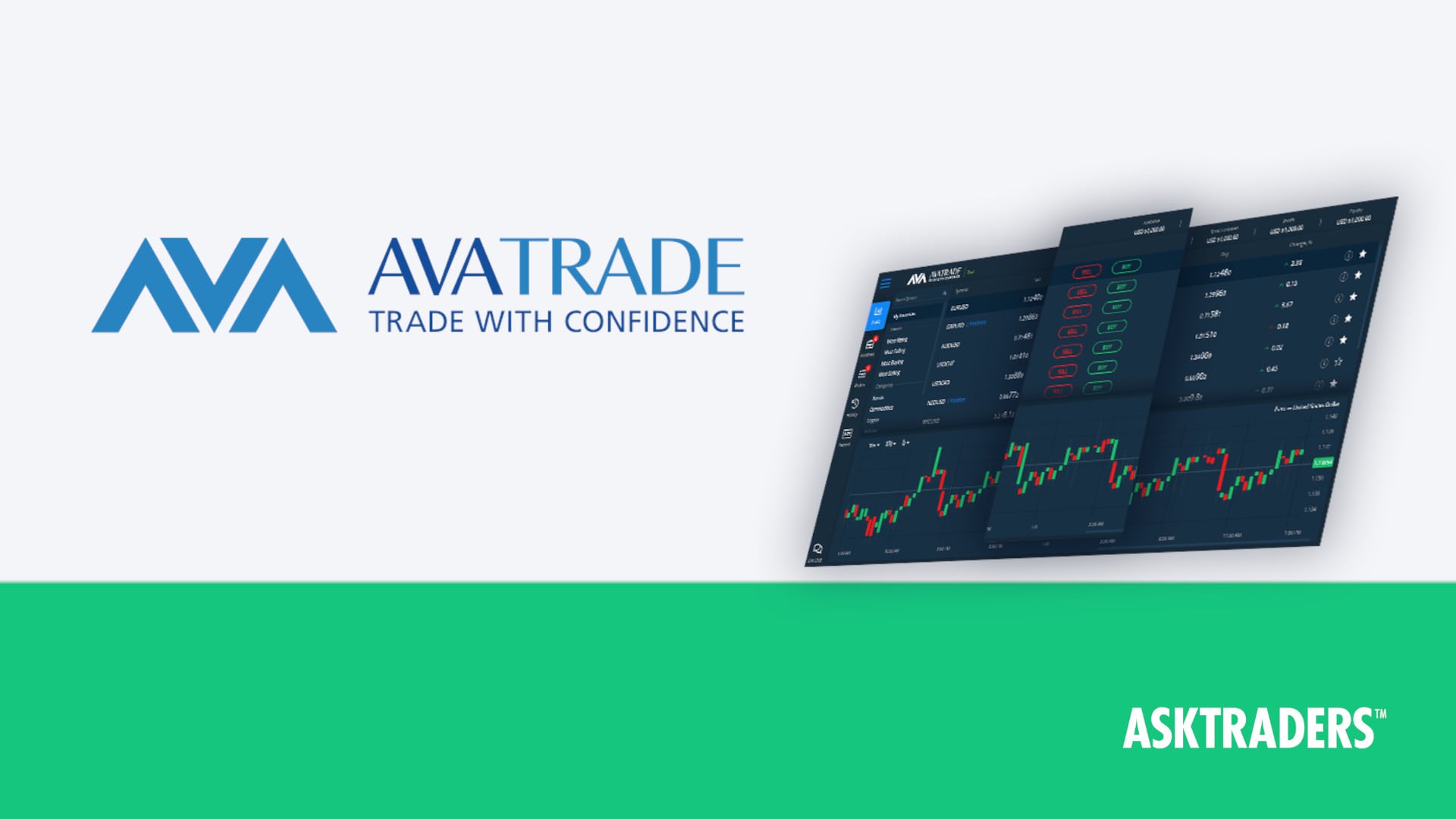 When it comes to trading platforms, AvaTrade offers a wide-selection of trading platforms for both manual and automated trading, across a variety of device types. These include:
| | |
| --- | --- |
| Trading Platform | Description |
| WebTrader | Award-winning browser-based trading platform |
| AvaTradeGO | Mobile trading app for trading on-the-go |
| AvaOptions | Newest trading platform for Spot and Options trading |
| MetaTrader 4 (MT4) | The world's most popular trading platform |
| MetaTrader 5 (MT5) | FX and stock trading with advanced technical analysis tools |
| Automated Trading | via ZuluTrade, DupliTrade and MQL5 |
As you can see, there are plenty of trading platforms to choose from that cater to the unique needs of traders at every ability level. Let's take a look at some of these in a bit more detail:
WebTrader
The AvaTrade WebTrader platform connects you with financial markets directly through your web browser of choice. With no need to download or install any software, simply login to your AvaTrade account and start trading from anywhere in the world. The simplistic interface is both intuitive and easy to use, which makes it perfect for traders of all levels – particularly beginner traders.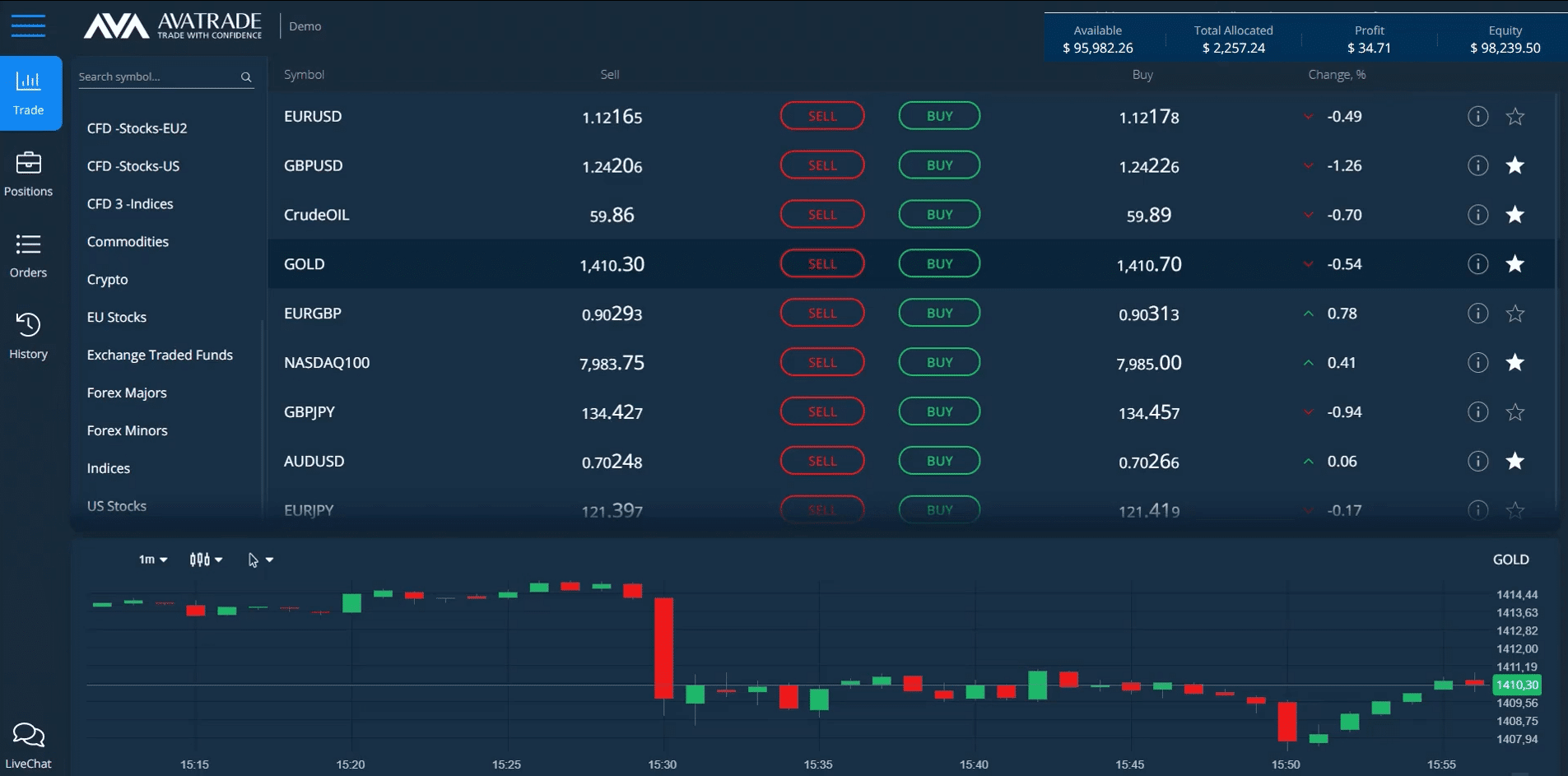 Regardless of your ability level, if you're a trader who wants a clean, simple user experience that doesn't compromise on functionality, WebTrader has everything you need. Don't let its minimalist appearance fool you; under the hood of this award-winning platform is a wide selection of indicators and a veritable arsenal of technical analysis and pattern recognition tools.
We particularly like the live market sentiment indicator, which shows you how other traders are feeling about a particular instrument and which way the wind is blowing in the market. In addition to this, there's AvaProtect; a risk-reduction tool that offers protection against losses in exchange for a fee paid at the time of purchase. AvaProtect gives users complete peace-of-mind knowing their trades are protected against sudden or adverse market movements.
AvaTradeGO
Recently voted the No. 1 Best Forex Trading App in 2020 at the Global Forex Awards, AvaTradeGO is a turn-key mobile app for trading on-the-go, bringing the power of the AvaTrade trading platform to the palm of your hand.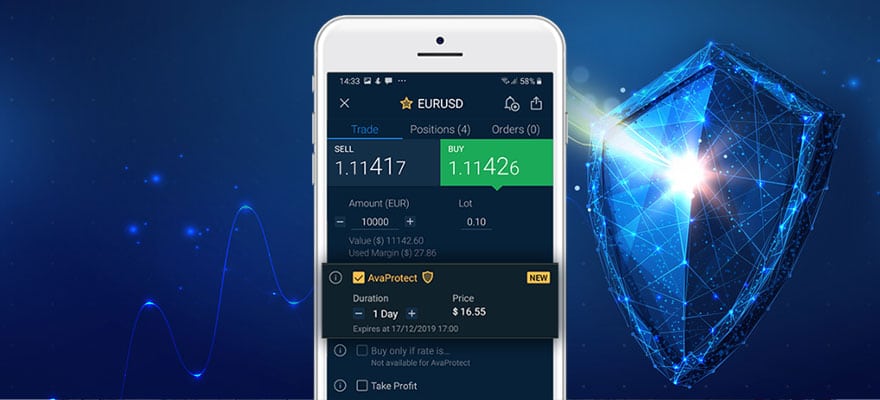 An intuitive trading dashboard, combined with a complete set of sophisticated trading charts and real-time analysis tools sets AvaTradeGO apart from its competitors. The app allows you to create watch lists, view live prices, watch markets develop in real-time and choose from over 1,000 instruments to trade. In addition, just like WebTrader, you can benefit from peace-of-mind trading at the click of a button with the help of AvaProtect.
MetaTrader 4/5 (MT4/MT5)
Experienced traders will likely already be familiar with the MetaTrader platforms. If you're not, MT4 and MT5 and two of the most ubiquitous platforms for trading used by traders all over the world with full compatibility across Windows, Mac OS X, Android and iOS.
AvaTrade provides access to both free of charge for its users. While this is very much the norm in the industry, there are still brokers out there who don't support any of the MetaTrader platforms, so the fact that AvaTrade offers it is definitely a plus.
AvaTrader customers also have access to the Trading Central plugin via MT4; an award-winning automated technical analysis toolset that spots trading opportunities for you across hundreds of financial instruments.
Customer support
When it comes to customer support, there are a wealth of trading and support resources  for AvaTrade users to take advantage of, including:
Customer services team available 24/5 across live chat, email and phone
Support available in 14 languages
Dedicated Account Manager to guide you through trades (deposits of $1,000+)
Free educational resources (videos, articles, e-books, webinars and daily market analysis)
Traders of all ability levels will find value in the educational resources, which provide everything from beginner lessons through to advanced trading tutorials. Along the way, you'll learn what a 'Pip' is and discover how to use technical analysis – everything you need to become a confident, profitable trader.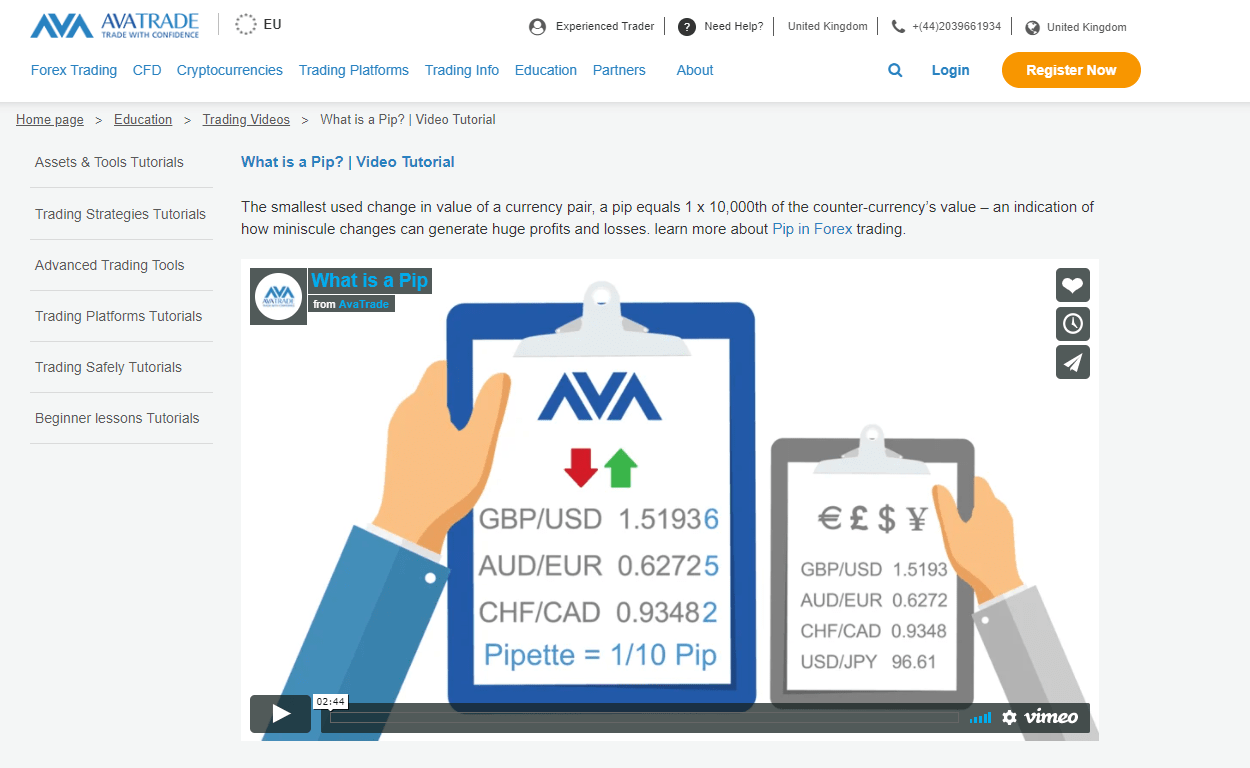 When combined with the easy-to-use AvaTrade trading platform, these courses represent significant added value for users. All in all, AvaTrade gets top marks for its customer service and the value it adds to its user's overall experience and well-being.
Payment methods
AvaTrade provides plenty of payment methods, making deposits and withdrawals an incredibly straightforward and simple process. Many of the most popular deposit and withdrawal methods are supported, including bank transfer, Visa, Mastercard, and Paypal.  Depending on your location, you can also make a deposit or withdrawal through deposit through e-wallets such as Skrill, Boleto and Neteller.
AvaTrade Minimum Deposit vs Other Brokers
| | | | | | | |
| --- | --- | --- | --- | --- | --- | --- |
| Broker | AvaTrade | Plus500 | eToro | Pepperstone | XM | IG |
| Min. Deposit | $100 | $100 | $200 | $200 | $100 | $300 |
The minimum initial deposit for opening up an account is only $100, which is one of the lowest in the market among some of its competitors. Having a generous minimum deposit requirement allows traders without a large amount of start-up capital to get started right away.
AvaTrade doesn't charge any account fees, while deposits and withdrawals are completely free of charge. However, it would be amiss to not mention here the fact that AvaTrade does charge an inactivity fee. So, if you do make a deposit, make sure you remain active or you risk being charged a fee after 3 months of inactivity.
Withdrawals are typically processed and sent within 1 business day, while the time it takes to receive funds depends on the payment method you opt for:
Credit Cards/Debit Cards – up to 5 business days
e-wallets – 24 hours
Bank transfers – up to 10 business days (depending on your county and bank)
Related
Regulation and Deposit Protection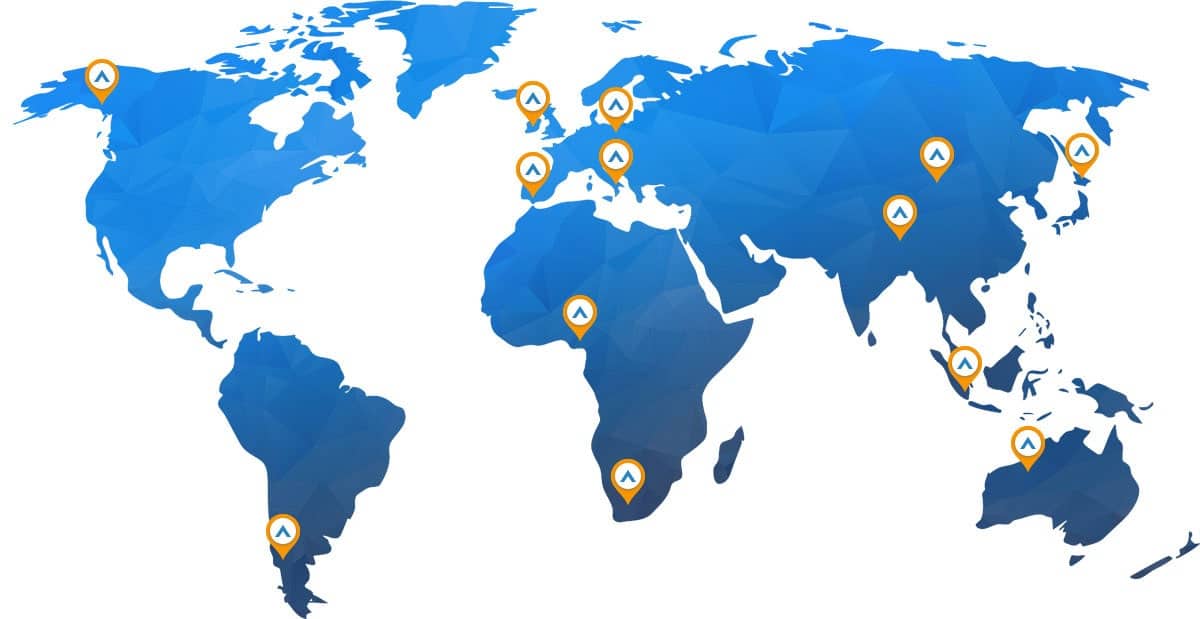 AvaTrade is licensed and regulated by some of the world's leading financial regulatory bodies, ensuring a safe trading experience for its clients. It is regulated in the EU, Japan, Australia, South Africa, UAE and the British Virgin Islands.
These regulators require AvaTrade to fully segregate traders' accounts from company funds, adhere to strict anti-money laundering and capital requirements, comply with 'know your client' procedures, as well as a host of other stringent measures designed to protect traders. Despite not being regulated by the FCA in the United Kingdom, AvaTrade is among the best brokers in the industry in terms of its regulation and protection.
Awards
A multi-award-winning broker, AvaTrade has won numerous prestigious awards over the years. This includes recent accolades such as:
No.1 Best Forex Trading App 2020 – Global Forex Awards
No.1 Broker, Best Forex Broker – The European
Most Innovative CFD Broker, UK – INTLBM Awards
Best Forex Broker 2019 – Rankia Awards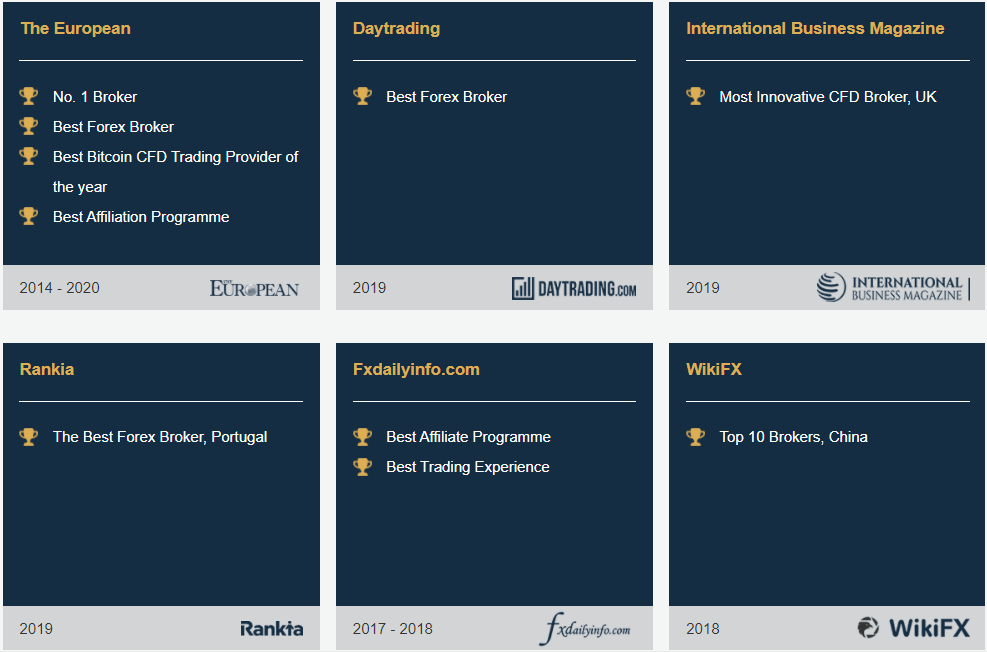 Needless to say, AvaTrade is clearly a well-respected broker in the industry and that you can trust to deliver an excellent overall trading experience. It's most recent award for 'Best Forex Trading App' serves to highlight AvaTrade's focus on delivering a high-quality platform for its users and commitment to innovation.
AvaTrade FAQs
Yes, AvaTrade is a legitimate broker given that it has been operational since 2006 and is licensed by the Central Bank of Ireland. The company has offices in several other countries where it is also regulated such as Australia, where it is licensed by Australia's Securities & Investments Commission (ASIC). It is also licensed in Japan, Poland, South Africa, and its home market of Ireland.
You can close your Avatrade account by following the two steps below.
Withdraw any funds that might still be in the account.
Email your account manager with the request to close your account.
You can also email our support team if you do not have an account manager.
Follow the steps outlined by your account manager, or the support team.
AvaTrade withdrawals are processed quickly within 24-48 hours on weekdays as the firm's offices remain closed on weekends and public holidays. Card and e-wallet withdrawals are processed the fastest and you should receive your funds shortly after processing. Bank wire transfers are also processed quickly but your funds will reach you within 3-7 business days depending on your bank. AvaTrade does not charge a fee on deposits and withdrawals.
The minimum deposit at AvaTrade is £100, which allows you to trade all the instruments offered by AvaTrade, including Forex pairs, CFDs, cryptocurrencies and to participate in social trading. However, the minimum deposit you can make via bank wire transfer is £500.
CFDs are complex instruments and come with a high risk of losing money rapidly due to leverage. 75% of retail investor accounts lose money when trading CFDs with this provider. You should consider whether you understand how CFDs work, and whether you can afford to take the high risk of losing your money.