AvaTrade is a globally-regulated broker that allows traders to trade over 250 instruments including Forex, cryptocurrencies, commodities, stock indices and more.
In this guide, we'll be taking a look at some of the AvaTrade fees you need to be aware of and how to avoid any unexpected charges.
If you're ready, let's get started otherwise head over to our expert AvaTrade review for a comprehensive look at this broker.
Trading Fees
To begin with, let's take a look at the all-important fees involved with trading, including:
Deposit Fees
AvaTrade does not charge any deposit fees. However, minimum deposit levels do apply. The minimum deposit for credit cards and e-payment methods is £100 (or similar if your account is in different currency) and £500 for wire/bank transfers.
Transaction & Commission Fees
Like many brokers today, AvaTrade does not charge any commission fees, which means that AvaTrade will not charge you for executing your buy or sell orders. Instead, it is compensated through the market bid/ask spread, i.e. the price difference between where you buy or sell an asset.
Spread Cost
As we've already mentioned, AvaTrade makes its money off the cost of opening and closing a trade reflected in the spread. An example list of average spreads (along with margin and leverage requirements) is provided below: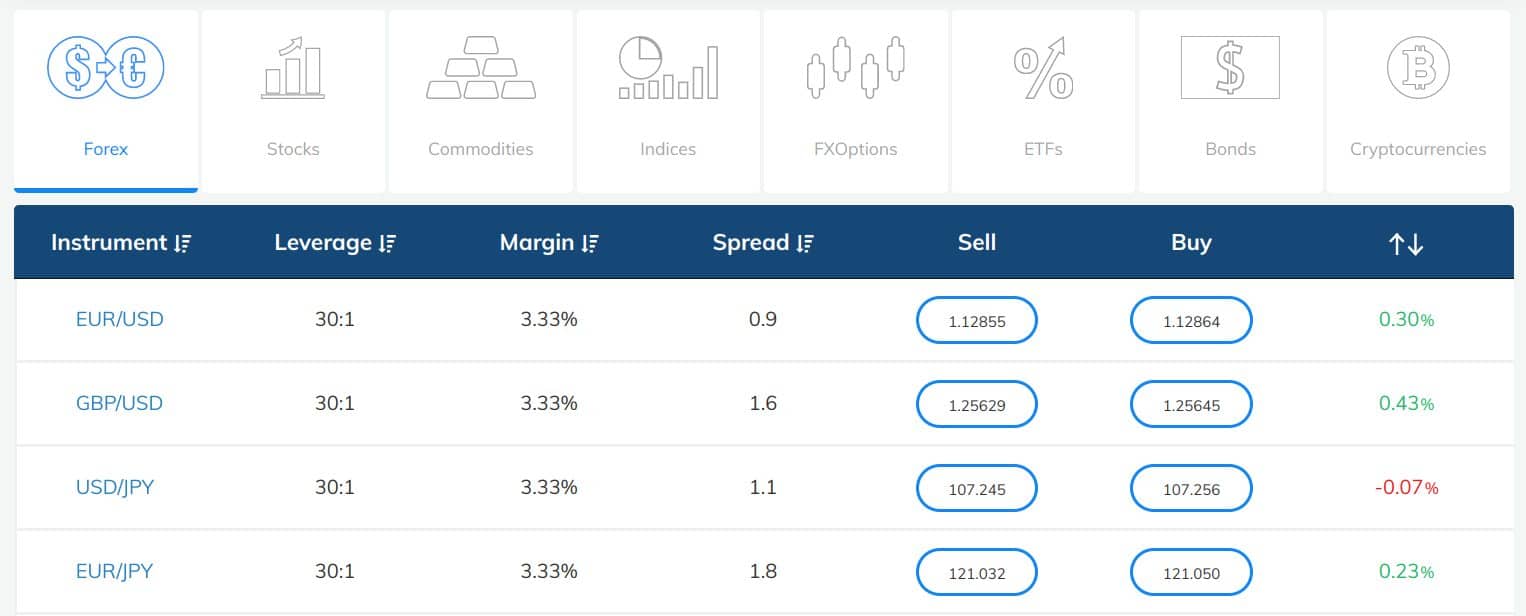 Unfortunately, this information isn't readily available within the platform itself so you'll need to visit the AvaTrade website for full details.
It's always a good idea to shop around and compare brokers as some brokers will have 'tighter' spreads than others, meaning more money in your pocket at the close of a trade.
Currency Conversion Fee
Compared with other brokers, AvaTrade doesn't support a large number of base currencies (5 in total). Therefore, your options for having other trading accounts in different base currencies are relatively restricted.
This relative lack of support for other currencies means that you'll be charged a currency conversion fee if you make a deposit that is in a different currency than the one on your account.
AvaTrade states that it is authorised to convert funds in your account at a rate of exchange determined by them on the basis of the then-prevailing money market rates.
Overnight Funding
Also known as an Overnight Premium, an Overnight Fee will be charged on any positions you hold overnight (22:00 GMT). If you hold a position over a weekend, you'll have to pay a 3-day 'swap' charge that is charged on Wednesdays.
Brokers such as AvaTrade will levy this fee to cover the cost of leverage on open positions. Overnight fees and calculation methods vary by asset. Again, it's information that isn't available within the platform itself. 
If you want to work out the overnight interest rate, you'll need to head over to the 'Trading Info' section on the AvaTrade website for a detailed overview of the calculations.
Transparency around fees and spreads is something to bear in mind when comparing brokers. It's important for you to choose a broker that is open and honest about fees and minimises the friction between trades as much as possible.
Non-Trading Fees
Finally, let's take a quick look at some of the non-trading related fees to be aware of:
Withdrawal fees

Inactivity fees
Withdrawal Fees
Like most other brokers, AvaTrade does not charge a withdrawal fee. It's worth noting that your account must be fully verified before you can withdraw any funds. Also, you can only withdraw funds to the original payment method you used to fund your account.
It will take up to 1 business day to process your withdrawal request, plus some additional time to receive payment:
Credit/Debit Cards (up to 5 business days)

e-Wallets (up to 24 hours)

Wire/Bank Transfers (up to 10 business days)
Inactivity Fee
If you don't log into your account for at least three months, AvaTrade will deduct an inactivity fee of from your trading account. The currency unit of this fee depends on the currency base of your account:
£50 (GBP account)

$50 (USD account)

€50 (EUR account)
After 12 consecutive months of inactivity, your account will be deducted an administration fee:
£100 (GBP account)

$100 (USD account)

€100 (EUR account)