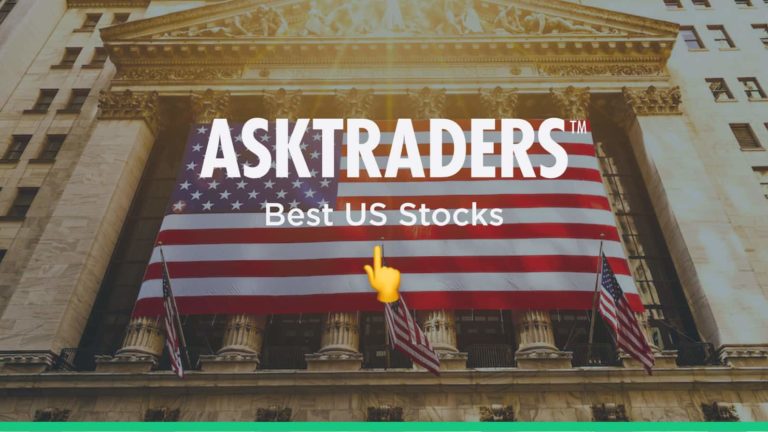 GameStop (NYSE:GME) hit the headlines in January 2021 with its +700% stock price rise. Such price volatility is traditionally associated with crypto markets but GME is a listed equity, traded in the Nasdaq and still managing to throw up eye-watering gains. There are also thousands of 'slow-burners' for buy-and-hold strategies. The good news is that you don't have to be based in the US to trade the opportunities on offer. Thanks to the financial sector being a global market, clients worldwide, from the UK to Australia, can buy into the best US stocks.

The Best US Stocks to Buy in the UK
The Best Overall US Stocks
Amazon (NASDAQ:AMZN)
Amazon has had a good pandemic. As years of societal change were crammed into the space of several months, AMZN demonstrated how to capitalise on the changing habits of businesses and consumers.
Its flagship retail business has thrived and the average Amazon Prime member now spends $1.4k per year. National lockdowns saw those who had been holding out on home-delivery finally succumb to the conveniences of online shopping.
The firm's incredible cash generation has allowed it to diversify into other sectors. The social media site, Twitch, is dubbed the YouTube of the next generation and Amazon Web Services (AWS) is seen as a growth market. That led to Andy Jassy, the head of that division, being promoted to CEO of the entire firm when founder Jeff Bezos handed over the reins.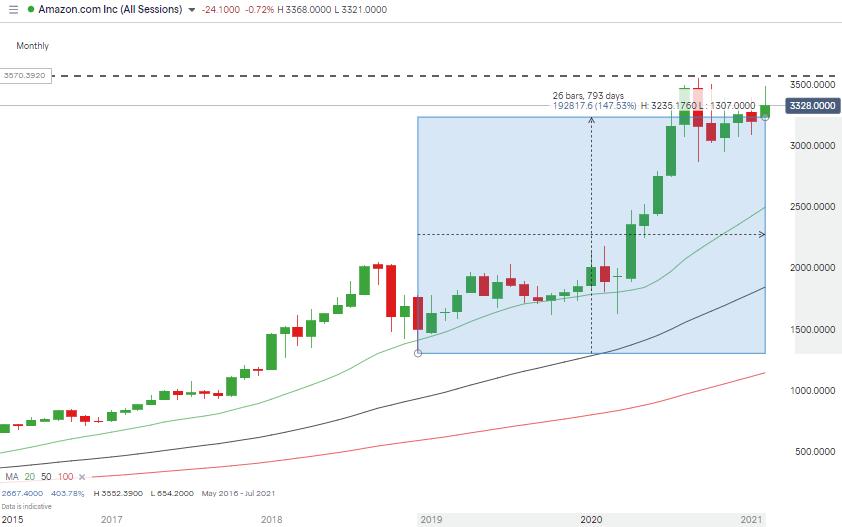 Source: IG
Apple (NASDAQ:APPL)
The US economy is still home to the biggest and brightest names and you won't find a tech-brand as powerful as Apple (AAPL) anywhere else in the world.
The firm's loyal customer base means the iPhone maker effectively has a licence to print money. The company has a staggering $193bn in cash reserves. Therefore, Apple is an opportunity to tap into a growth market by buying into a business that is incredibly strong financially.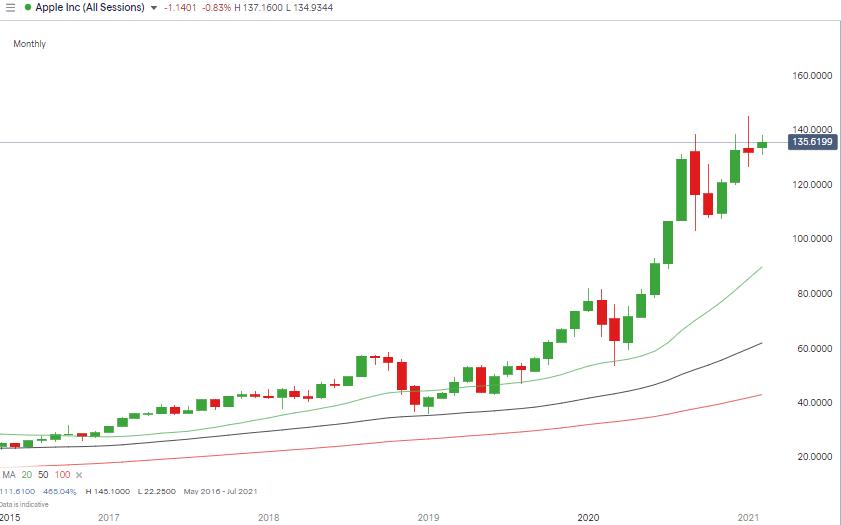 Source: IG
Proctor & Gamble (NYSE:PG)
Blue-chip firms like Proctor & Gamble (PG) are traditionally targeted by those looking for an investment offering a more stable risk-return. But PG's stock price beat the return of the flagship S&P 500 over the last five years. The major index saw a return of 75% while Proctor & Gamble stock almost doubled in value (93% return) over that time.
PG is a well-run company with an impressive track record. Positioned in a more defensive sector, it offers investors an unlikely blend of security and market-beating share price performance.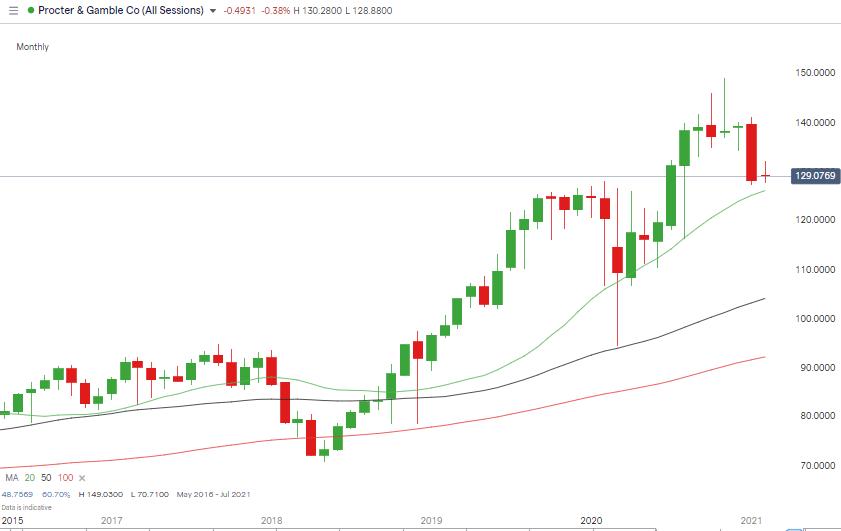 Source: IG
The Best US Penny Stocks
US penny stocks typically trade at $5 per share or less. To trade the below names requires selecting a broker such as IG, which supports trading in a larger than average number of markets.
Support.com Inc. (NASDAQ: SPRT)
Support.com Inc (SPRT) is an online customer service platform with a market capitalisation of less than $50m. Its profit margin of 1.252% is relatively low but so is its p/e ratio of 12.12.
The firm was started more than 20 years ago, which might make some wonder why it hasn't taken off yet? The events of 2020 may act as a catalyst for this provider of outsourced call centre support.
The business has a track record of being an early adopter of new technology. It is well-positioned to pick up business in a growing sector due to the pandemic and our changing work habits. The sector SPRT operates in is highly competitive, that means, as, with all penny stocks, nothing is guaranteed.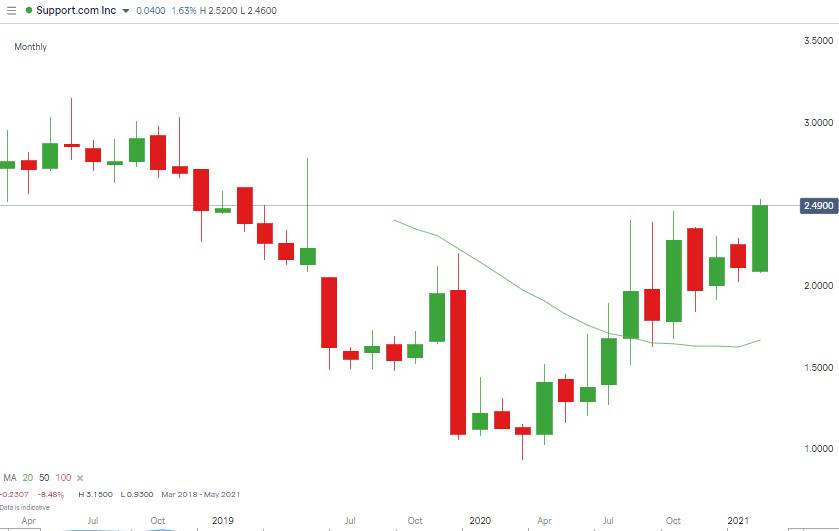 Source: IG
Investing in penny stocks is a high risk-return venture. Not only is the likelihood of a business failing higher but trading costs can also be a drag on performance.
Best US Dividend Stocks
Johnson & Johnson (NYSE:JNJ)
The US healthcare giant JNJ has a historical dividend payout of 2.52%. That might not appear too ground-breaking but certainly beats what is on offer with cash savings accounts. The JNJ dividend has increased every year since 2013.
The company offers a big chunk of security due to the sector in which it operates and in 2020 managed to develop a vaccine effective against COVID-19. Healthcare is trending, meaning that Johnson & Johnson, with a market capitalisation of +$400bn, also offers the potential for its research team to generate a surprise to the upside.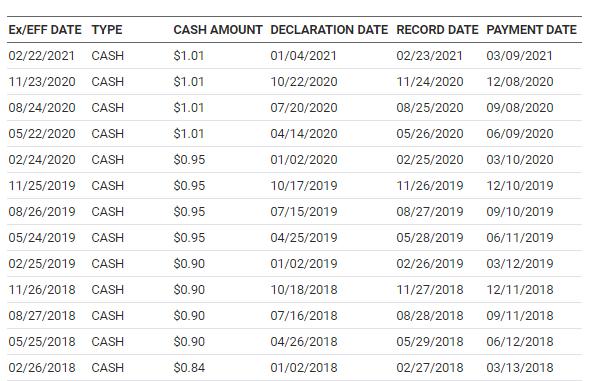 Source: Nasdaq
The Best US Tech Stocks
There's no avoiding the fact that because of the COVID-19 pandemic, US tech-stocks are a market that has to be considered. The good news for investors is that they can choose from off-the-radar start-ups to established market giants.
Microsoft (NASDAQ:MSFT)
Software giant Microsoft MSFT revolutionised desktop computing, but since pioneering that development, it has been undergoing a low-key transformation of its own. The company's move into cloud computing has turned out to be the right call with the stock price up more than 80% from the March 2020 lows.
If Johnson & Johnson is a dividend stock with a growth kicker, then MSFT is a growth stock with a surprising yield — it pays a dividend of 0.92%.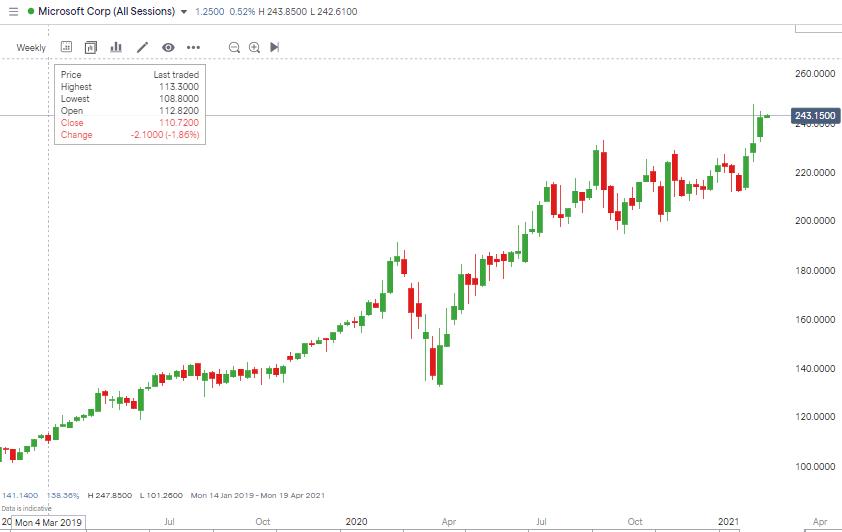 Source: IG
Advanced Micro Devices (NASDAQ:AMD)
Semiconductor chip maker (AMD) has seen its stock price surge during the pandemic. The hardware the firm makes for electronic devices, such as the Ryzen 5000 PC chips is regarded as high-quality and generally superior to its rival Intel.
As more leisure and work-time is spent online, processing speed is becoming a key metric and one in which users are increasingly willing to invest.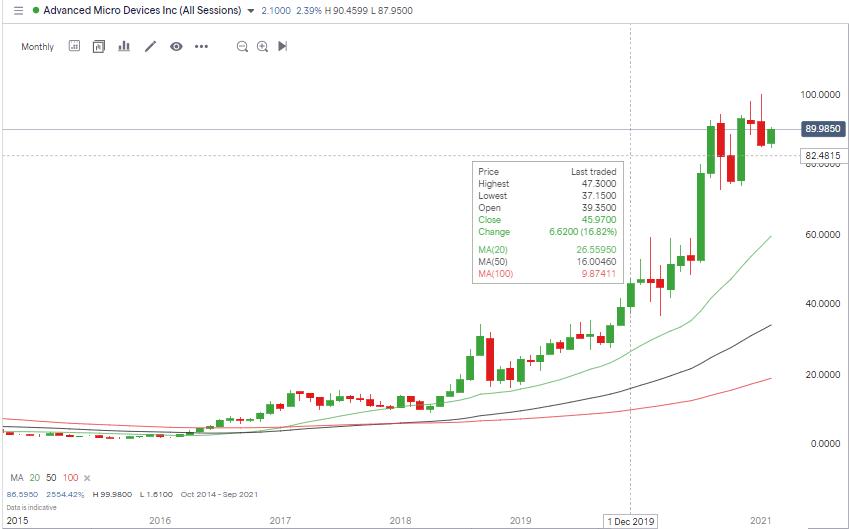 Source: IG
All these high-profile US stocks can be found at eToro, Admiral Markets or IG.
Best US Oil Stocks
Apache Corp (NASDAQ:APA)
Unlike many oil stocks, Apache Corp has not yet rebounded from the 2020 slump, which afflicted the whole sector. However, the firm does generate considerable interest from Hedge Funds looking for long-term plays. APA seems well-positioned to benefit from a rise in the price of crude and a return to economic normality.
Source: IG
Chevron (NYSE: CVX)
Oil giant Chevron (CVX) is one of the 15 largest companies in the world, so it has more critical mass than Apache. It pays a dividend of more than 5% and has a healthy/low debt balance sheet, which puts it in an excellent position to restructure and build a position in the booking renewable energy market.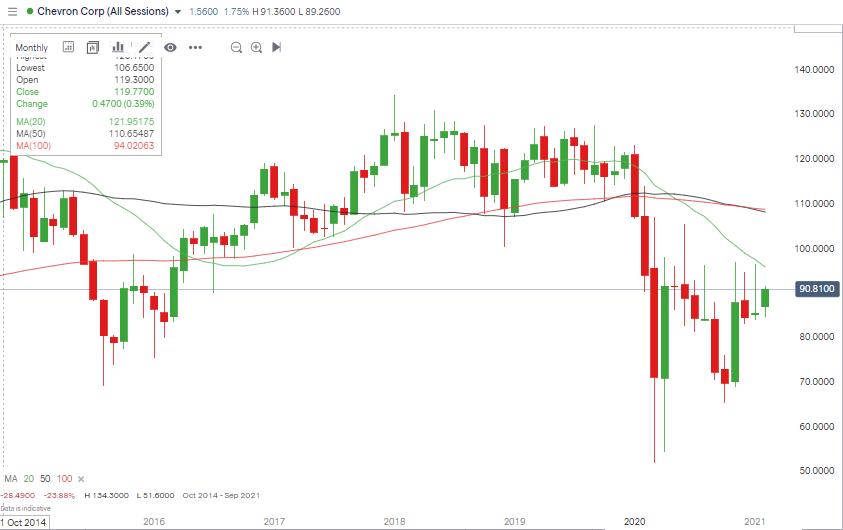 Source: IG
Best US Commodity Stocks
Endeavour Silver Corp. (NYSE: EXK)
Silver has traditionally acted as a hedge against inflation and is also widely used in industry, so the price responds well to an uptick in economic activity. Buying shares in silver miners provides equity investors with a chance to get exposure to the commodity markets using an instrument they are more familiar with.
The Global X Silver Miners ETF (SIL) outperformed the wider market in 2020 and Endeavour Silver Corp. (EXK) has seen its stock price rise by more than 500% since March 2020.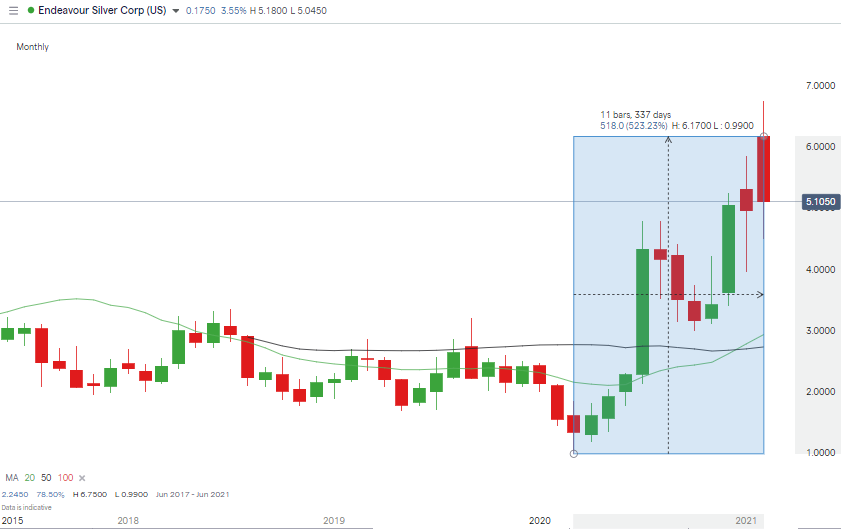 Source: IG
Best US Growth Stocks
Tesla, Inc (NASDAQ:TSLA)
There aren't many stocks that divide investor opinion as much as Tesla (TSLA). Yes, the statistic that its valuation is higher than that of all other US-headquartered automakers put together is startling. On the other hand, Wall Street is littered with traders who placed losing bets against the stock's meteoric price rise.
Tesla stock was priced at $83 as recently as Jan 2020 and has increased 10-fold since then.
Tesla isn't just about electric cars. It's an incubator for a lot of outlandish 'next-big-thing' ideas and one of them might just pay off. That goes some way to explaining the stock price rise but the Tesla market is dominated by speculators rather than investors, so caution is advised.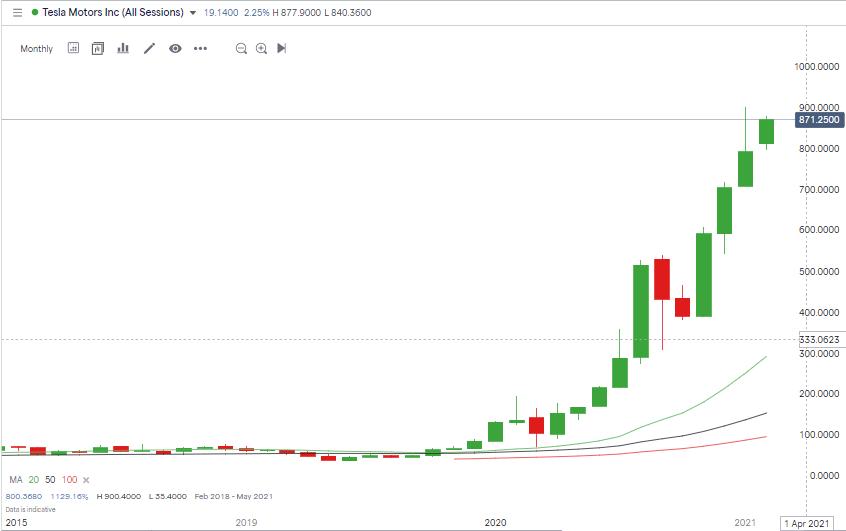 Source: IG
United Natural Foods, Inc. (NYSE:UNFI)
Catching the zeitgeist of ethical investing (UNFI), this firm has a market capitalisation of close to $1.5bn and a p/e ratio of 18. That offers some security and potential for higher stock prices. While UNF operates in a growth sector, it isn't a small, vulnerable start-up.
The UNFI share price is on a multi-year slide so would probably be a name for a buy and hold value investor's short-list. There could be a reversal due as the firm is a leading distributor of healthy foods — in a gold rush, sell shovels.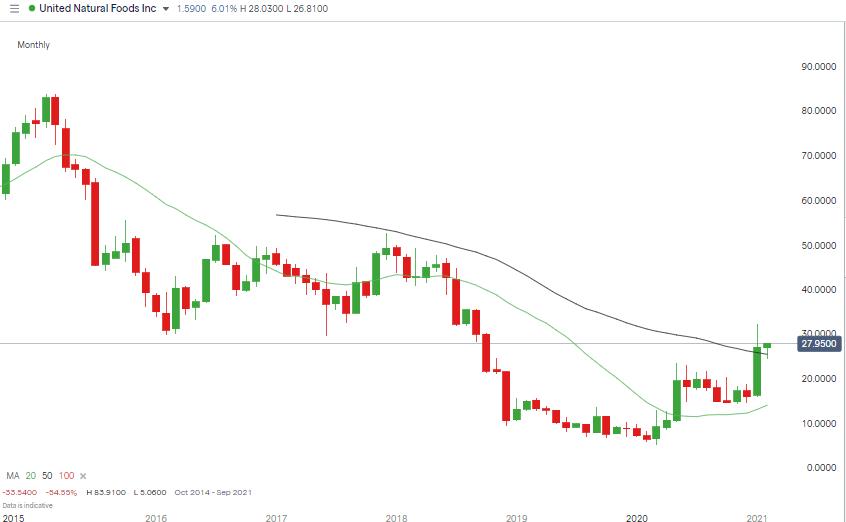 Source: IG
Best US Bank Stocks
JPMorgan (NYSE: JPM)
Like other bank stocks, JPM is dirt cheap because global lockdowns and low-interest rates are bad for business. Any suggestion that economic activity or inflation are picking up would be good for the sector but JPM looks like the pick of the bunch.
Its long-established management team have kept their seats at the top table by investing heavily in IT infrastructure. The bank has built an excellent reputation in the booming FinTech sector and revenues and profits are both on the up.
The stock price is challenging five-year highs and a break above that level could see it soar in the next 12–24 months.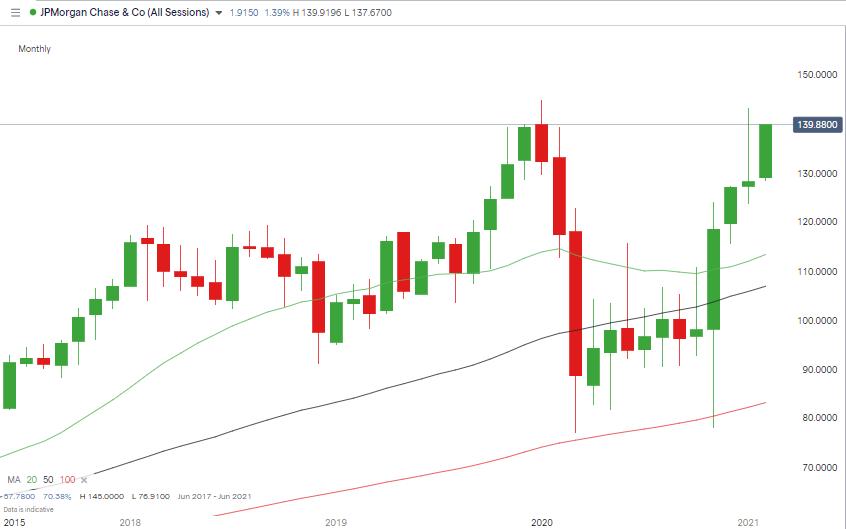 Source: IG
US Bancorp (NYSE:USB)
The personal banking market is relatively commoditised, with minimal differences between rival firms. There is also little to lose from changing banks. This makes USB's decision to offer a more ethical approach a potential game-changer. If you've got to choose a bank and there's not much in it then using one that makes you feel good is an easy option to take.
In 2020, US Bancorp was named one of the World's Most Ethical Companies by the Ethisphere Institute — a global leader in defining and advancing the standards of ethical businesses. This is a long-term approach as EI has recognised the bank for the last six years in a row.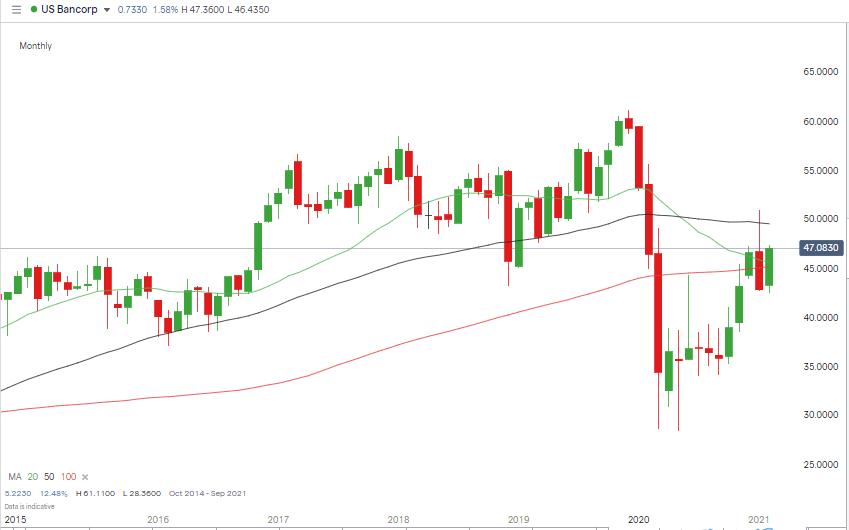 Source: eToro
Which is the Best UK Broker for US Stocks?
eToro
One of the most user-friendly sites in the sector, eToro must be doing something right as the number of traders using it has in a few years rocketed to 13 million.
The registration process is incredibly straightforward and clients can trade their own ideas or copy those of other traders.
IG
With more than 17,000 markets on offer, IG is a great platform for those looking to trade in smaller US stocks and not just the big names. IG provides an in-depth breakdown of every US company it covers so you can build a detailed picture of stock price prospects. It also offers markets in options, meaning you have more available strategy choices.
UK-domiciled clients can also take advantage of the tax breaks associated with spread-betting. The markets traded and functionality is identical to CFD accounts, it's just that any profits are treated differently.
Admiral Markets
A tried-and-trusted operator, Admiral Markets specialises in providing research and analysis tools designed to help clients spot trade entry and exit points. Trading Central, Zero to Hero and the in-house podcasts are all trade-specific programmes that help beginners get a feel of how and when to pull the trigger on a trading opportunity.
How to Buy US Stocks in the UK
UK citizens who use an FCA-regulated broker such as eToro, IG or Admiral Markets can trade US markets knowing they come under the official UK regulator's protective umbrella. The FCA's rules and regulations mean clients are protected in various ways when they take positions in US stocks.
The brokers' trading platforms make buying the best US stocks exceptionally straightforward. It's merely a case of completing an online registration form, wiring funds into your broker account, going to your target market and clicking 'buy'.
The process is broken down into easy-to-follow steps in this article.
RELATED: