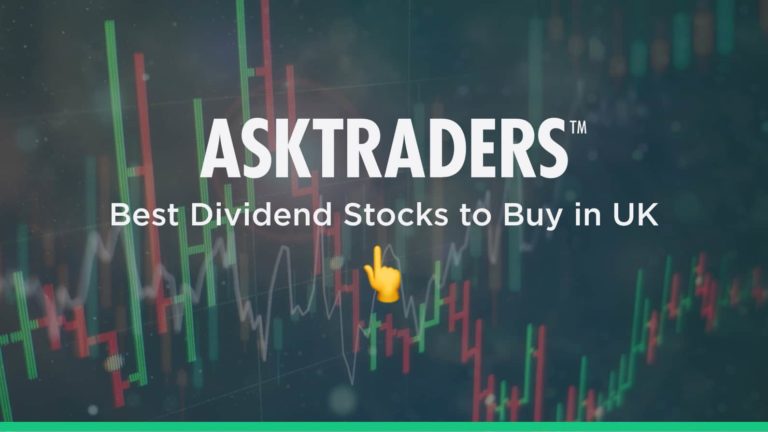 For decades, Investors have outperformed the market by targeting high-dividend stocks. Markets guru Warren Buffet's dividend-fuelled wealth made him a household name and grew his investment company to $81.4bn in size.
The best bit is that finding and buying dividend stocks is a long way from being rocket-science. Not only does it work, but it's easy to do. This review will show you how to get the best UK dividend stocks.

The Best Dividend Stocks in the UK to Buy Right Now
Investors looking for high dividend stocks in the UK will be pleased to know they are looking in the right place.
The fact is that the FTSE 100 is packed full of dividend paying, banks, oil companies and mainstream manufactures. The 100 firms that make up the index are largely regarded as safe bets for generating steady profits and returning cash to investors in the form of dividends. For the FTSE 100 dividend yield, the average for all 100 members, is 2.83%.
The UK's benchmark index doesn't have the same sparkle or growth potential as the tech-heavy Nasdaq index. High dividend stocks in the UK aren't going to change the world like Tesla, or Zoom, but they can still make you rich. Below are our picks of the best dividend paying stocks in the UK.
1. M&G
This London-based investment management company uses its cash pile to invest in equities, property and bonds. For more than 80 years, it's been making shrewd decisions in relatively safe assets and throwing off cash returns to its shareholders.
The company only listed on the London Stock Exchange (LSE) in 2019 when it was spun out of insurance group Prudential. But it has already been marked as one of the highest dividend-paying stocks in the UK. It's one of only four FTSE 100 companies, which in 2019, paid a dividend yield greater than 10%.
2019 — Reported dividend amount per share: 10.81%
2020 — Reported dividend amount per share: 11.81% (estimate)
Source: IG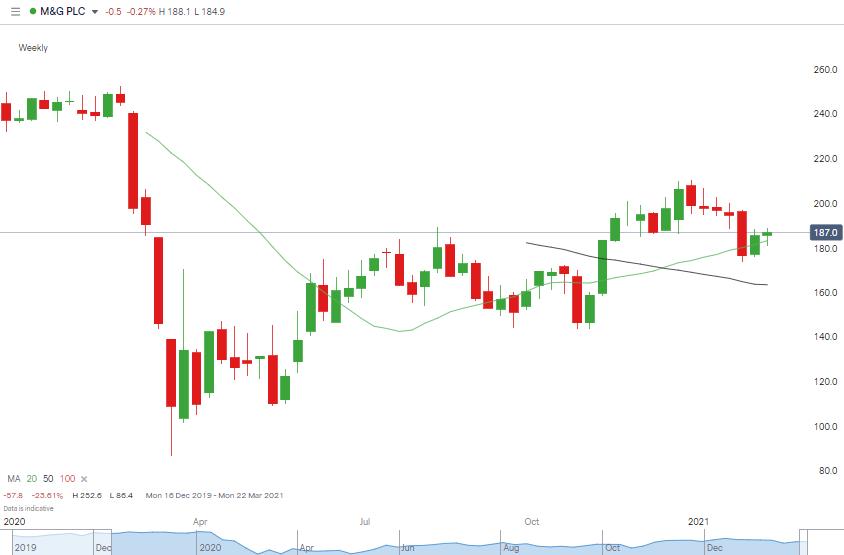 Source: IG
2. Evraz
Evraz is a steel making and mining company. It's listed on the LSE, but a majority of the shares are still owned by Russian billionaire Roman Abramovich, who also owns Chelsea football club. Its status as one of the best UK dividend stocks suggests Mr Abramovich is more than happy with the situation and that makes the dividends likely to keep on coming.
2019 — Reported dividend amount per share: 10.53%
2020 — Reported dividend amount per share: 9.21% (estimate)
Source: IG
Evraz recorded a dividend yield in 2019 in excess of 10% but also offers some aspects of a growth stock. Between March and November 2020, the Evraz share price doubled in value as hopes of economic recovery spread through the markets.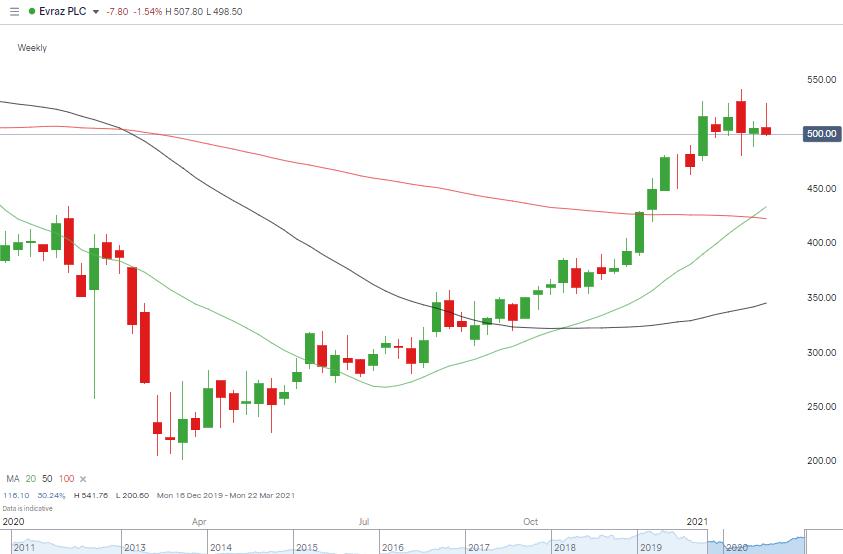 Source: IG
3. Imperial Brands
Imperial Brands, formerly known as Imperial Tobacco, is a UK-based FTSE 100 tobacco and cigarette manufacturer. It has a long track record of returning cash to investors and is considered one of the best dividend stocks in the FTSE 100.
Expanding market share in tobacco products is nowadays politically sensitive. Without the need to invest in new projects, instead, the firm focuses on operational efficiency and profits are paid to shareholders.
2019 — Reported dividend amount per share: 10.55%
2020 — Reported dividend amount per share: 10.53% (estimate)
Source: IG
Source: IG
4. Aviva
Insurance giant Aviva has more than 33 million customers worldwide and, for a long time, has been one of the top UK dividend stocks. A recent management shake-up might see the firm divert some of its spare cash into investment projects rather than shareholders, but that should also pay-off in the long-run.
It will be worth listening out for comments made by new CEO Amanda Blanc, as these might give a clue as to whether the +10% yield is threatened in the near-term. It could be a case of dividend hunters needing to hold on to the stock for a longer time period, before getting a full return on those new projects.
2019 — Reported dividend amount per share: 10.37%
2020 — Reported dividend amount per share: 10.84% (estimate)
Source: IG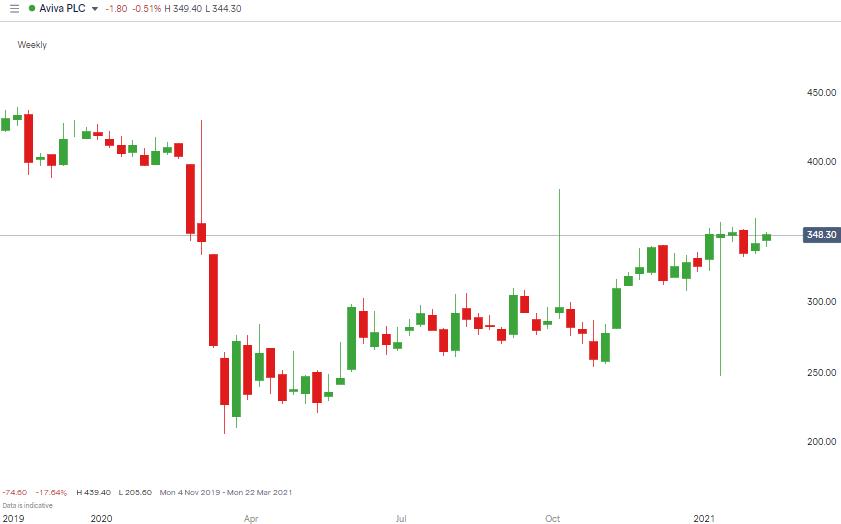 Source: IG
5. Vodafone
The fourth-largest mobile operator in the world has almost half a billion customers. It's one of the largest companies in the FTSE 100. While always on the lookout for expanding market share, it has no issues with returning spare cash to shareholders rather than leaving it sitting on the balance sheet.
2019 — Reported dividend amount per share: 7.65%
2020 — Reported dividend amount per share: 7.73% (estimate)
Source: IG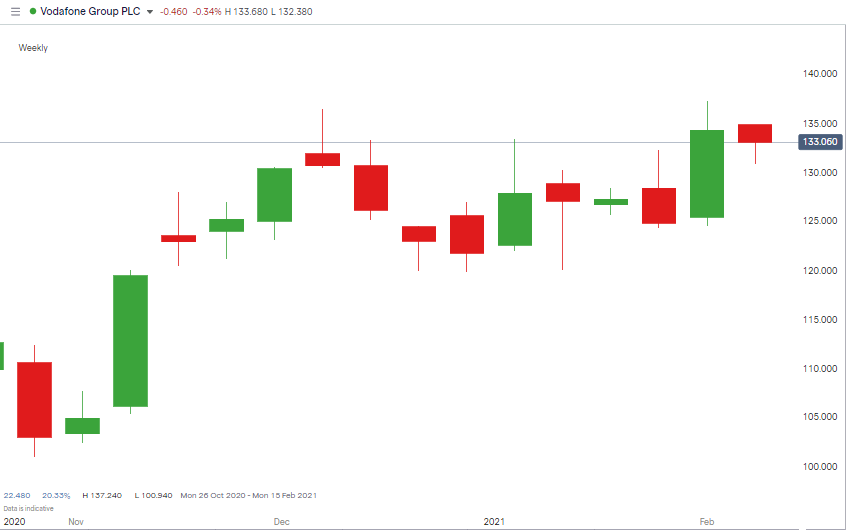 Source: IG
6. Rio Tinto
Rio Tinto is one of the world's largest mining companies. Its reputation as a high yield stock might not be quite as high as some of the other stocks on this list, but its inclusion is because it also offers a little bit more spice. The price of mining stocks can move dramatically as the outlook for the global economy shifts. An economic boom would be great news for the Rio Tinto share price, but if that doesn't come about, the +5% dividend yield still beats what you can get on a savings account.
2019 — Reported dividend amount per share: 7.60%
2020 — Reported dividend amount per share: 6.81% (estimate)
Source: IG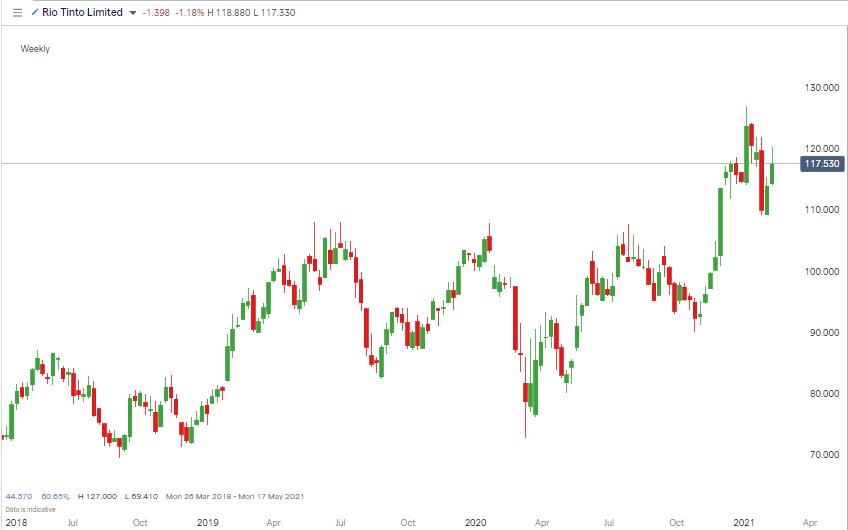 Source: IG
Why Invest in High Dividend Stocks Now?
While all investment is inherently risky, taking positions in high-dividend stocks can scale back the risk-return ratio.
The dividend stocks highlighted are all large cap firms in the FTSE 100. They have strong revenue streams that offer relatively good protection from economic slumps. The COVID-19 lockdowns decimated some 'consumer discretionary' sectors such as entertainment, but people weren't cancelling their Vodafone contracts or Aviva home insurance policies.
During a market crash, all stocks suffer as panic sets in. While the dividend stocks slumped in line with the rest of the market, dips in share prices are regarded by dividend investors as buying opportunities. It allows them to get into positions at lower prices, and improve their personal yield ratio.
What to Know Before Investing in UK Dividend Stocks?
It's possible to make substantial profits from high dividend stocks, but there are some potential downsides.
Opportunity cost
You are forsaking the chance of catching the next Amazon or Google (Alphabet) stock. These two firms have never paid a dividend and instead invest their spare cash back into the business. This approach marks them out as growth stocks and can result in the share price soaring far higher than it ever will with an FTSE 100 dividend stock.
You can never get away from downside risk
While high yield stocks are largely insulated from economic downturns, they aren't immune. The unprecedented events of 2020 rocked oil companies as entire countries ground to a halt and demand for oil plummeted.
Royal Dutch Shell took the drastic step of cutting its dividend for the first time in its history and because it was regarded as a dividend stock, the market reaction was doubly dramatic. If a dividend stock loses its reputation for paying out to shareholders, there can be a rush to the door.
You still need to optimise your trade entry point.
Dividend yield depends on what price you buy at. The dividend paid to shareholders is paid according to the number of shares you hold. If you buy into a stock at a price twice that of your neighbour, their dividend yield will be twice what yours is.
Dividend dates
Dividends are paid on certain dates and getting to grips with some of the terminology can be useful. This report can help you do that. The good news is that dividends tend to be 'priced in' to the share price, so if you sell before dividend ex-date, you shouldn't lose out disproportionally. But it is something to be aware of.
What Warren Buffet thinks about dividends
Firms that pay out dividends have, to some extent, run out of ideas. They're not re-investing cash in new projects, so while your return will be stable, it won't be spectacular. Warren Buffet himself invests in dividend-paying companies but his investment vehicle, Berkshire Hathaway, ironically has never paid a dividend to BRK shareholders. Buffet backs himself to make a better return by holding onto the cash than returning it to his investors.
How to Find and Evaluate UK Dividend Stocks
If you're looking for dividend stocks, then the first step involves understanding the process used to calculate yield.
The formula is annual dividends per share ÷ price per share.
You simply divide how much was paid in dividends in cash terms in a given year per share by how much one share cost to buy.
The estimates applied to each of the six stocks in the text above were calculated using the most recent dividend per share divided by the share price for each company on 27 July 2020. If prices had been taken on another date, then the yield calculation would have been different.
With dividend investing being so popular, a lot of brokers and research houses offer tables that use real-time prices. AskTraders has also produced research notes such as these, which go into the subject in greater detail.
Choosing to use a well-known and regulated broker not only means you're protecting yourself from scams, it also allows you to tap into their extensive research tools. These are aspects that weaker brokers typically don't offer.
How to Buy Dividend Stocks Online
It takes minutes to set up an account with an online broker and start buying high dividend stocks. It can be time well spent, allowing you to then sit back and enjoy long-term gains.
Modern brokers allow you to follow your positions on desktop platforms or on mobile trading apps. There are also free demo accounts on offer so you can practise the mechanics of trading, experiment with virtual cash and learn how to access research and analysis tools.
There are two factors that are particularly important for dividend investors.
How long you want to hold your position will determine whether you buy the stock outright or in CFD form. This research note on CFD vs share dealing explores that subject, but if your investment timeline is months and years rather than days or weeks, you are probably better off buying shares outright.
Choose a well-regulated broker to ensure your funds are safe. One operating under license from any of the below is a good place to start.
Tier-1 Regulators:
The Financial Conduct Authority (FCA)
The Australian Securities and Investments Commission (ASIC)
The US Securities and Exchange Commission (SEC)
Cyprus Securities and Exchange Commission (CySEC)
1. Research Dividend Paying UK Companies
Successful dividend trading relies on establishing the long-term prospects of a company. Good brokers offer in-depth fundamental analysis and news feeds on the different stocks. Tapping into their free research is a good first step.
2. Find a Broker
Most brokers offer markets in the FTSE 100 stocks. Your decision on which one to use will, to some extent, come down to personal preference. The functionality of the different sites can 'feel' different and its worth checking the T&Cs to find the one with the lowest administrative costs for your strategy.
3. Open and Fund an Account
Registering for and funding accounts is very straightforward. The process of verifying your account and logging your Know Your Client (KYC) documentation should take only a matter of minutes. After that, you're ready to fund your account and start trading.
4. Set Order Types
The platforms will offer you a range of order types to help you manage risk. Stop-losses are trading instructions that are built into your account to kick you out of a position at a certain price. This is very useful in the event that a position goes wrong, but is usually associated with more speculative strategies.
If you're looking to buy-and-hold then you might want to consider not using stop-losses. There is a risk that a momentary 'flash-crash' in price stops you out of your position at a loss but price then suddenly rebounds.
5. Select and Buy Dividend Stocks
Buying the best dividend stocks is then as simple as logging on, entering the amount of shares you want to purchase, and clicking 'buy'. It's important at this stage to double-check if you're buying in CFD format or buying shares outright.
Best Broker for Trading UK Dividend Stocks:
eToro:
68% of retail CFD accounts lose money
Take a look
If you are ready to start investing in shares and building your portfolio you'll need a broker that is regulated, has low fees and a user-friendly platform. Finding one can be a daunting task, which is why we've selected some of our favourites that tick all of these boxes to help you get started.
These trading platforms have invested heavily in developing functionality, which is ideal for those just starting out trading. They offer the additional safety of being regulated but have also been operating in the market for a long time. Part of the secret of their success is the support they provide their clients in terms of educational resources, research materials and high-quality customer service. Even if you're just curious, it's possible to visit their sites and try out some dividend stock positions in a risk-free demo account, to see how they work out.
Summary
If you're looking to balance risk and return, then high dividend stocks ought to be your focus. More speculative strategies have their place, but beginners, in particular, might benefit trading those using demo accounts or if using real funds, in very small size.
Dividend stocks might not be the most exciting market to trade, but the record books show that, in terms of steady returns, they are hard to beat.
You don't always need to have an exciting new idea to make a return, nor do you need a tip-off from someone in the know. Sometimes just following established practise can pay off equally as well.
Related Articles