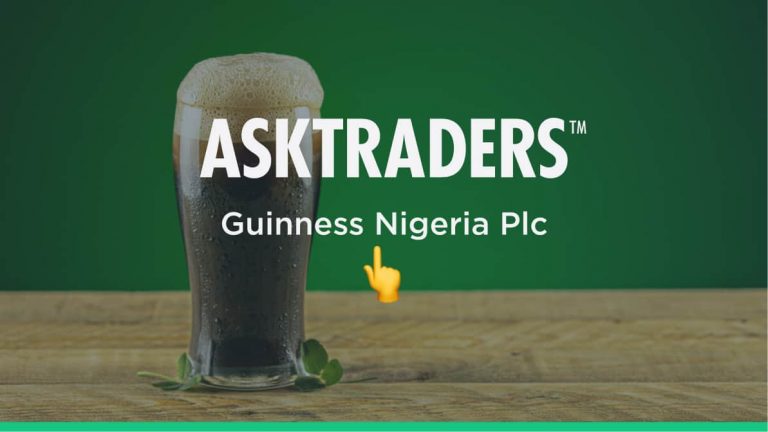 Guinness Nigeria Plc is an African company that operates in Nigeria. It is home of the first Guinness brewery outside of the British Isles.
The company is renowned across the continent and internationally for its high quality brands. The company also believes in enriching the communities within which it operates, through investment and active participation in the positive evolution of society.
Latest Guinness Nigeria Plc Share Price
The graph above shows the latest Guinness Nigeria Plc share price on the Nigerian Stock Exchange. Investors have seen Guinness Nigeria Plc shares perform well historically, and it remains a steady investment. Guinness Nigeria Plc stock is live on the NGX under the stock symbol of GUINNESS and is available to trade via several brokers in Nigeria.
What is Guinness Nigeria Plc
The history of Guinness Nigeria Plc started when it was founded on April 29, 1950 as a trading company importing Guinness Stout from Dublin.
The first bottle of Guinness Foreign Extra Stout in Nigeria was brewed in November 1963, three years after Nigeria's independence. Two years later, in 1965, Guinness Nigeria Plc was listed on the Nigerian Stock Exchange.
Since then, the company has transformed into a manufacturing operation and its principal activities are brewing, packaging, marketing and selling of Guinness Foreign Extra Stout, Guinness Extra Smooth, Malta Guinness, Malta Guinness Herbs Lite, Harp Lager, Smirnoff Ice, Satzenbrau Lager, Dubic Malt, Snapp, Master's Choice, Orijin Spirit Mixed Drink, Orijin Bitters, Smirnoff Ice Double Black with Guarana, Guinness Africa Special, Orijin Zero, Tappers and Royal Kingdom Lager.
Three more breweries were built in Nigeria due to the steady growth in markets for Guinness Stout and Harp Lager. In 1974, the company built a second brewery in Benin which was enlarged to accommodate a second stout brewery in 1978.
In 1982, a fourth Guinness brewery was built in Ogba, Lagos to brew Harp Premium Lager beer. This was also expanded to include Guinness Stout.
From 2016, Guinness Nigeria Plc acquired the rights to import, market, distribute and sell the International Premium Spirit brands of Diageo plc ("Diageo"), its parent company. These brands include Baileys, Smirnoff, Gordon's, Captain Morgan, Tanqueray, Ciroc and the Johnnie Walker range.
In 2018, the company installed Polyethylene terephthalate (PET) production lines and commenced production and sale of products in PET format. Currently it produces Malta Guinness, Orijin Zero and Dubic Malt in PET formats.
Today, Guinness Nigeria Plc has an estimated total of 822 employees. Since 2018, Baker Magunda has been the Managing Director/CEO, and the company's board of directors is composed of 14 members.
Guinness Nigeria Plc's equity stocks are for sale online on the Nigerian Stock Exchange (NGX) under the stock symbol GUINNESS.
Guinness Nigeria Plc has its headquarters at 24 Oba Akran Avenue, Ikeja, Lagos State., Nigeria and it forms part of the Beverage Industry and the Consumer Goods Sector.
Currently, Guinness Nigeria Plc is the only Total Beverage Alcohol Company in Nigeria. The company boasts a wide portfolio of brands catering to alcohol and non-alcohol drinkers, with Spirits, Lager & Beers, and Non-Alcoholic drinks.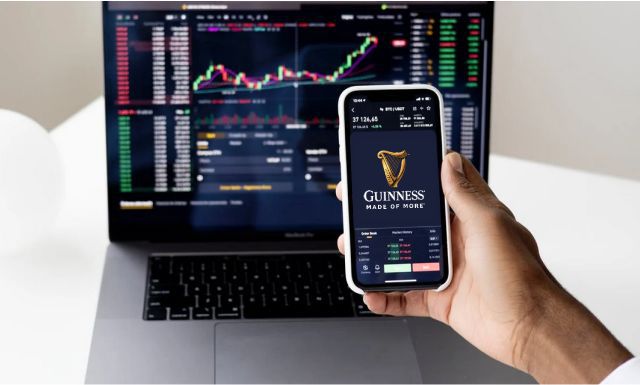 Guinness Nigeria Plc Stock Performance
The current price for Guinness Nigeria Plc stocks is 37.50 Nigerian Naira (NGN). The company has a total market capitalisation of 82.1B NGN with a P/E ratio of 19.23 and earnings per share of 1.95 NGN. A total of 2.19B shares are outstanding.
With an increase of earnings per share and consistent profits over a period, investors who want to buy or sell Guinness Nigeria Plc stocks can be assured of lucrative dividends and earnings in times to come.
According to an analysis on the live chart of Guinness Nigeria Plc, analysts forecast further improved performance with market share growing as trading volumes increase.
Highlights of Guinness Nigeria Plc in 2021
Guinness Nigeria Plc started the year with a share price of 19.00 NGN, and it has gained 97.4% in value on its price valuation, ranking 10th on the NGX where year-to-date performance is concerned.
Guinness Nigeria Plc is currently the 60th most-traded stock on the NGX and it has experienced a total trading volume of more than 30.8 million shares, which were finalized in 2,814 deals and were valued at a total of NGN 1 billion over three months, with an average of 488,616 shares in each trading session.
The highest volume shares traded on one single day was 1,564,756.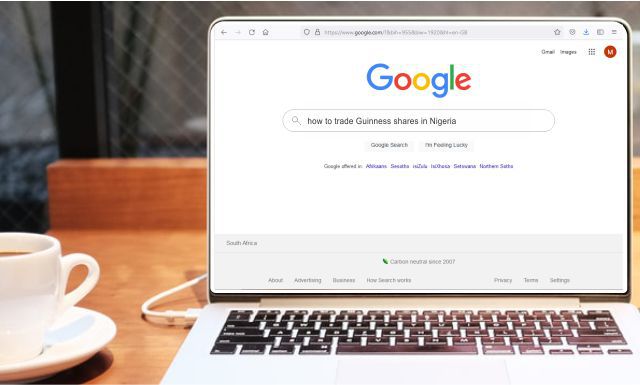 How to buy Guinness Nigeria Plc stocks – Step by Step
The stock market is one of the most attractive financial markets that sees millions of retail investors and traders' participation daily. To buy, sell or trade Guinness Nigeria Plc stocks, traders and investors can follow a few simple steps:
Find the share that you want to buy, in this case, "GUINNESS".
Select a forex broker that offers access to the Nigerian Stock Exchange (NGX).
Review the broker's trading conditions, fees, deposit and withdrawal methods, trading platform, customer support, regulation, and other components to ensure that they are aligned with your trading plan.
Open a live trading account with the broker by completing the online application form and providing the necessary documentation to verify the trading account.
You are now ready to make your first share purchase through the broker.
You can further start to build and diversify your portfolio by buying more shares.