Key points:
Boohoo shares have fallen 19% since the year started. Why is this?
It appears the fast-fashion retailer's shares are headed lower fast.
Is there hope that the shares shall recover soon? If so, when?
Read on to find out what I think of Boohoo and its share price.
The Boohoo Group PLC (LON: BOO) share price has fallen 19% since the year started, and many wonder whether there is still hope for the fast-fashion retailer?

Firstly, we have to look at why the shares have started the new year on such a lousy note since they are down 19% in just three weeks, which does not bode well for shareholders.
The fashion retailer faced a significant tailwind last week when a major institutional investor cut its stake in the company to 4.7% from 9.99%. Jupiter Fund Management slashed its stake in Boohoo without giving any specific reasons.
In my previous articles on the company, I highlighted how an exodus of institutional investors triggered the retailer's current problems as its shares fell 65.66% in 2021.
While the move by Jupiter Fund Management was not surprising, it sent the wrong message to the markets, given that most institutions invest with a long term focus. Therefore, institutional investors tend to sell their shares when they do not see a bright future for the company.
Luckily, institutional investors are not always right. Despite being referred to as the "smart money", they sometimes get their timing entirely wrong, as when Warren Buffett sold his airline stocks just as the industry started recovering in 2020.
Getting back to Boohoo's business, we can see that its management has taken measures to revamp its supply chain since the sweatshop labour scandal of 2020 that made the company a pariah among institutional investors.
Boohoo has since tightened its oversight over suppliers and established new standards for its suppliers, with those who fail to meet the new standard being removed from its supply roster.
However, there are other concerns about the fashion retailer's long term profitability, given the rising costs that ate into its Q3 revenues lowering its overall profitability.
Still, the lower profitability is not a significant threat to Boohoo. It has fared much better than many of its high street competitors, some of whom had to file for bankruptcy after the pandemic, forcing consumers to shop online.
Luckily for Boohoo, they built their entire business based on eCommerce, which saw the company thrive and even acquire some of its competitors after the pandemic since it had optimised its operations for e-commerce.
Boohoo has also taken steps to improve its customer service given the increasing number of returns and has outperformed many of its peers in quickly and effectively handling returns and customer complaints based on recent customer reviews.
Finally, Boohoo's business seems to be firing on all cylinders, and the latest decline is being driven by negative investor sentiment, making the company appear pretty cheap.
Long term investors may find its current share price attractive, but there are no guarantees we will not get a further decline.
*This is not investment advice. Always do your due diligence before making investment decisions.
Boohoo share price.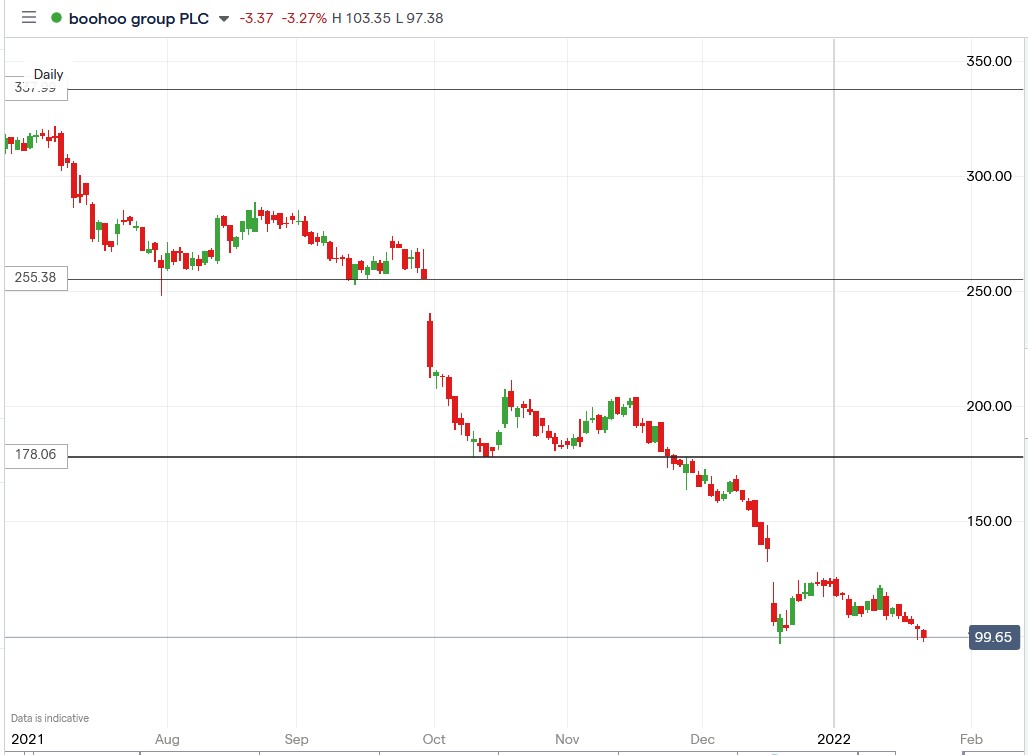 Boohoo shares have fallen 19% since the year started. So is there hope for the retailer?