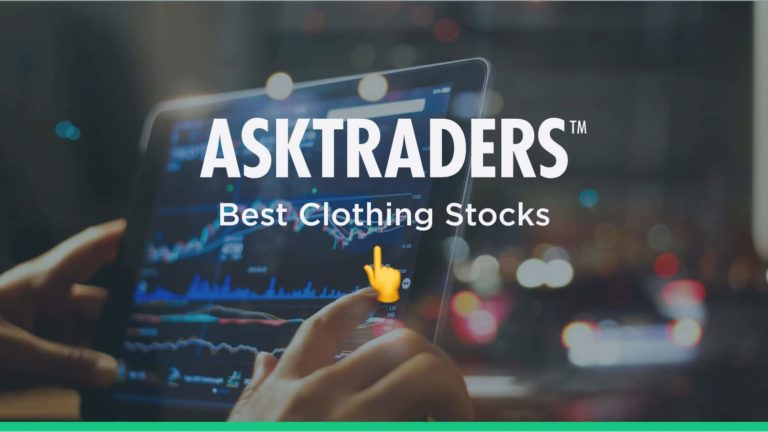 While clothing is a consumer staple and, to some extent, insulated from the ups and downs of business cycles, the firms that get it right can see their share price sky-rocket. The clothing market is very competitive, but good management and intelligent buying pays off.
Some of the branded stocks on our list may look fairly middle-of-the-road in fashion terms, but their stock price performance is anything but. If the stars align, even dowdy retailers can see their stock price increase by more than 150% in less than a year.
This guide looks behind the curtain on six of the best clothing stocks to buy right now and offers inside tips on how to find the right broker to trade them.

The Best Clothing Stocks to Buy Right Now
The clothing and apparel sector reflects the fashion tastes of individual consumers, so the nature of the companies involved is also particularly diverse. As a result, our top six clothing stocks offer exposure to firms that are very different to each other and operating in different parts of the world.
It's not a question of high-fashion or low-fashion, more a case of spotting the business with a good business model, an eye for current trends, and a share price positioned to head higher.
TJX (NYSE:TJX)
Lululemon Athletica(NASDAQ:LULU)
Next Group (LON:NXT)
Foot Locker (NYSE:FL)
Levi Strauss (NYSE:LEVI)
Burberry (BRBY:LN)
TJX
The TJX Group of companies contains a range of house-hold names that operate from North America to Europe and Australia. Brands include Marshalls, TJ Maxx, TK Maxx, Sierra and Winners.
The investment opportunity relating to TJX relates to their approach to doing business. The firm scoops up excess or unwanted stock that strong-brand retailers no longer want. The COVID-19 pandemic, therefore, represented something of a golden opportunity for them.
With their stores boarded up due to lockdown, retailers such as GAP, cancelled or refused shipments from producers in Asia. TJX stepped in and bought up inventory at the bottom of the market. As CEO Ernie Herrman explains. "Historically, disruptions in the marketplace have created off-price buying opportunities for us." (S&P Global)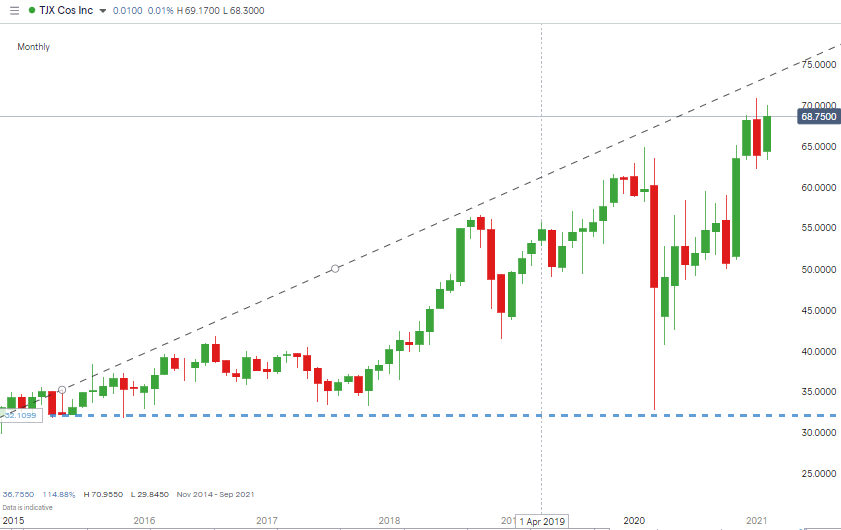 Source: IG
The TJX stock price has more than doubled from its 2020 lows, but the multi-year chart shows the pick up in price starting back in 2018.
Lululemon Athletica Inc
Another clothing retailer, which is a good pandemic is athleisure wear specialist, is Lululemon Athletica. The firm was already building a clothing market share prior to the global lockdown, but its range of comfortable but classy products were the perfect fit for home-based working.
The firm has pioneered the home-shopping revolution and provides a live chat service for clients looking to learn more about an online product. It's also adopted Klarna to make payment easier and has got a good track record of complying with ethical concerns such as modern slavery and gender pay gaps.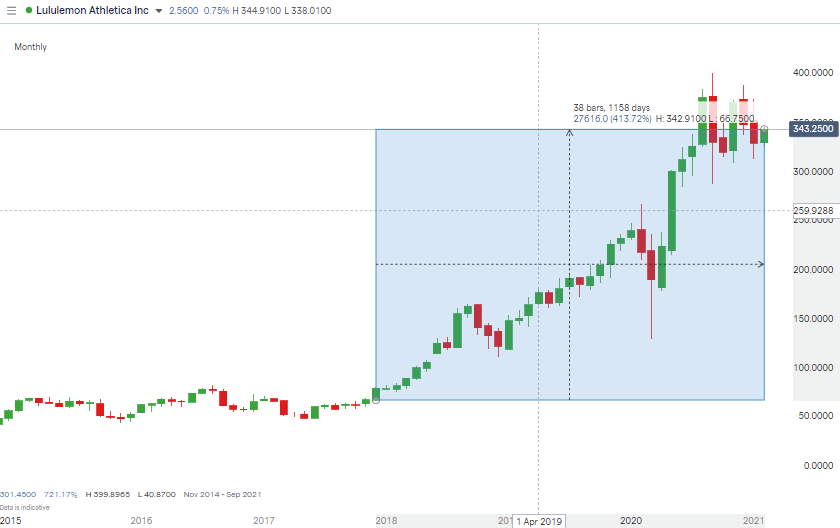 Source: IG
Between January 2018 and January 2021, the stock price increased in value by more than 410% and with home-working becoming more popular there could still be juice left in the trade.
Next Group Plc
UK retailer Next Group is often tipped as a good investment for buy-and-hold investors because of its secure position in the market and appetite for innovation. The firm's knack for staying ahead of the crowd is strong enough to attract more speculative positions and in the nine months from its March 2020 lows the Next share price rose by more than 140%.
Leading retailers' share of the apparel market in the United Kingdom (UK) in 2008 and 2018

Source: Statista
The firm is the UK's third-largest clothing retailer, in 2018 it had a 6.6% share of the UK clothing market. This is a solid performance and unlike many other established firms Next has held its ground since 2008 when that number was 6.7%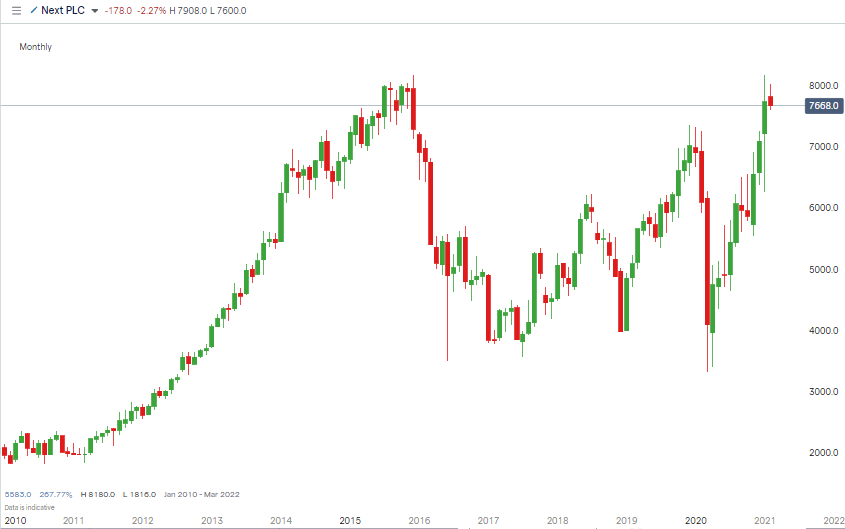 Source: IG
Foot Locker, Inc
The Foot Locker stock price has confounded those who point to the firm's 3,113 bricks-and-mortar stores and the potential for consumers to stay away from shopping malls. There is potential for the stock price to suffer a set-back, but part of the appeal is that a lot of the firm's rivals have fallen off the pace and even gone bust.
Strong Buy– 7
Buy– 6
Hold– 8
Sell – 1
Strong Sell- 0
Source: IG
The 22 broker ratings detailed above suggest there could be further gains though from a technical perspective a break of the downward trend-line would be a nice-to-have confirmation of the move.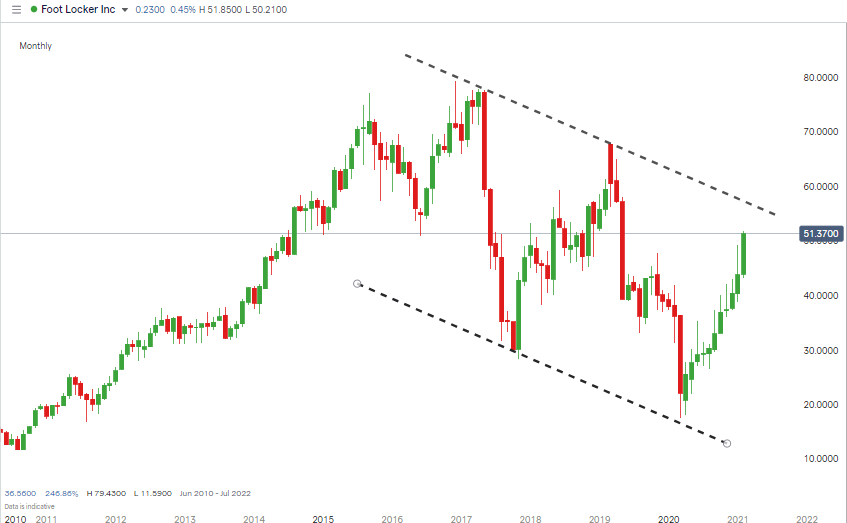 Source: IG
Levi Strauss
With a large network of physical stores, Levi Strauss was always going to become embroiled in the retail tail-spin caused by COVID. The firm is though taking steps in the right direction, it now generates more than 15% of its sales online and that number is growing, direct sales to consumers grew by 13% in 2019.
Occupying the more affordable end of the jeans market, the well-known brands and styles are an easy off-the-peg purchase for customers.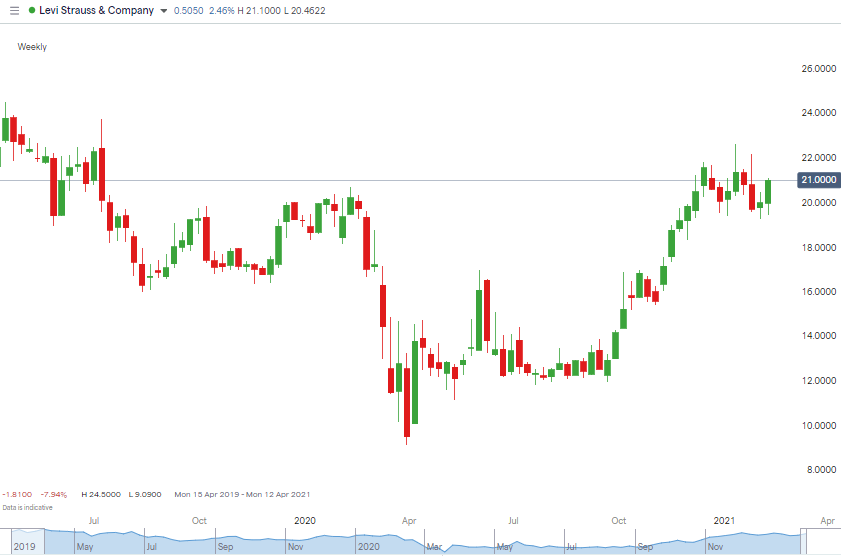 Source: IG
Burberry
Stock positions in British luxury clothing retailer Burberry can be a roller-coaster ride. Sales are very much dependent on fragile trends but when things go well the stock price can soar.
Following the market crash of 2008 Burberry stock rose in value by 940% in less than three years.
The firm has developed a range that is less focussed on their trademark tartan. An additional plus point is that the COVID lockdown has actually benefited some high-earners. Burberry's target market has seen their commuting costs and holiday spend slashed leaving clothes one of the few luxuries they can still enjoy.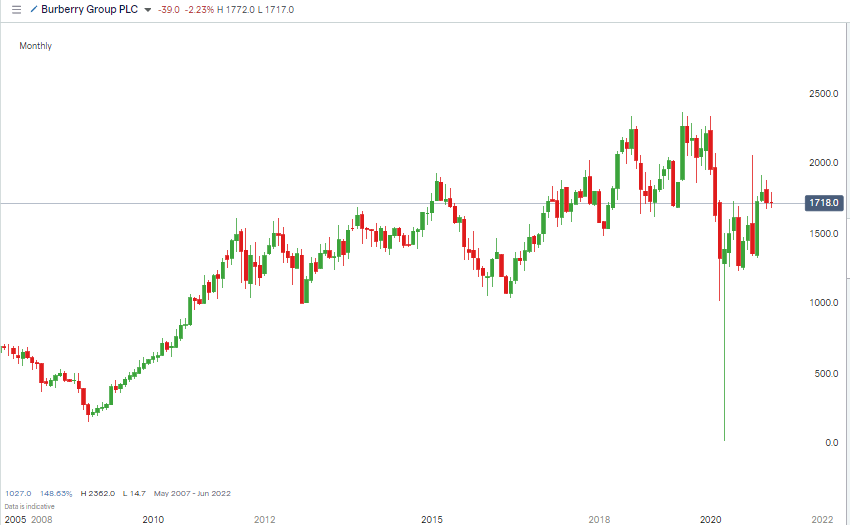 Source: IG
Why Invest in Clothing Stocks Now?
No matter how bad the economic outlook is everyone needs clothes. In a similar way to grocery retailers, clothing retailers fulfil a basic need. The added extra that clothing retailers offer is that if the firm you back captures the zeitgeist, then its stock price can soar.
The combination of a safety net and the possibility of share price outperformance, makes spending time analysing the sector worthwhile for many. The unprecedented events of the COVID pandemic have opened up the potential for good firms to engage in land-grabs of market share.
What to Know Before Investing in Clothing Stocks?
It's important to keep a few factors in mind when trading retail company stocks.
Firms do go bust — The highly competitive sector has claimed many high-profile victims and if this happens equity holders see their positions go to zero
Reputational risk – The clothing industry has the second-largest carbon footprint in the world. Fast-fashion risks losing its client base if ethical concerns outweigh the 'must-have' attraction of items.
Squeezed margins — Labour practices in the industry have come under intense scrutiny. Operators are now looking a long way down their supply chain to ensure workers are paid a fair wage and unless these added costs are passed onto consumers. then profits will decrease.
High street challenges — Even before the pandemic the high-street was on its knees. How this situation pans out will be crucial to the fortunes of clothing retailers and the price of their stock.
How to Start Trading Stocks Online
Stock trading has been transformed by online platforms and mobile trading Apps. Accounts take minutes to set up and brokers offer free Demo accounts to practise with and an extensive range of research and analysis tools to help you develop your trading skills.
The 'democratisation' of trading has also seen costs driven down as brokers compete for market share.
It's particularly important for beginners to appreciate the need to use a well-regulated broker, one operating under license from any of the below is a good place to start.
Tier-1 Regulators:
The Financial Conduct Authority (FCA)
The Australian Securities and Investments Commission (ASIC)
The US Securities and Exchange Commission (SEC)
Cyprus Securities and Exchange Commission (CySEC)
1. Research Clothing Stocks
Successful trading relies on basing decisions off a well-thought-out strategy. Brokers offer free in-depth analysis and news feeds on the different stocks and taking advantage of that offer is a good first step.
2. Find a Broker
Different brokers specialise in different markets. If you're looking to trade a particular name, it's worth checking if your broker of choice covers that market prior to going through the registration process.
Broker choice will to a large extent come down to personal preference. Each broker has a different 'feel' and finding one to suit you is important. It might be the case that you're looking to trade on the go, in which case cross-referencing to these reviews will help you find out those ranked highly in terms of mobile trading.

eToro:
68% of retail CFD accounts lose money
Take a look
3. Open and Fund an Account
Brokers are required to ask a few questions of onboarding clients. These are to comply with regulatory obligations and designed to protect the customer. While they involve a bit of form filling, they are ultimately a sign that you're making a good broker choice.
Funding accounts is very straightforward, but costs and speed of processing may be factors you want to consider. Trading is hard enough without paying out on account admin charges, so it is worth checking the T&Cs of your short-listed brokers.
The process of verifying your account and logging your Know Your Client (KYC) documentation should take only a matter of minutes. After that, you're ready to fund your account and start trading
4. Set Order Types
Practising using a Demo account is a good way to get to grips with the mechanics of trading. Demo accounts use virtual funds so fat-finger errors won't cost you but will instead represent valuable lessons on how to trade.
The platforms will offer you a range of order types can help you manage risk. Stop-losses are trading instructions that are built into your account to kick you out of a position at a certain price. This is very useful in the event that a position goes wrong.
Take profit instructions are automated instructions that work in the opposite direction.
5. Select and Buy Clothing Stocks
Buying the best clothing stocks is as simple as logging on, entering the amount of shares you want to purchase, and clicking 'buy'.
These trading platforms have invested heavily in developing functionality, which is ideal for beginners. They've also addressed the issue of client safety and operate under license from Tier-1 regulators. Successful trading involves choosing a safe broker that offers extra support, such as educational resources and high-quality customer service. These brokers tick those boxes and even if you're just curious, it's possible to visit their sites and try the service in a risk-free Demo account.
Summary
Hunting out the best clothing stocks can be a profitable experience. There are risks involved with all trading, but by choosing a safe broker, you at least mitigate the risk of losing your money to a scam.
Investing in clothing retailers also offers investors the chance to carry out ground-level research. Institutional investors send interns and analysts out to stores to 'see if they're busy, and in the same way, there's nothing to stop individual investors going with their gut instinct on how they think a particular brand might fare.