Shares of Dev Clever Holdings PLC (LON: DEV) soared 29.3% after announcing a pivotal deal with Aldebaron DMCC. Aldebaron is a Dubai-based company that distributes, delivers and implements consumer-facing technologies and digital solutions.
Today's announcement is part of the licensing deal announced on 3 February 2021 with an unnamed client. Aldebaron had licensed Dev Clever's core EdTech and tested its services in a closed beta programme before today's agreement.
Dev Clever noted that the deal would be worth up to $50 million over four years and involves a complete integration of its services with the client's systems clarifying that they could not divulge further details of the transaction until Aldebaran announced its product offerings.
I covered Dev Clever last week, noting the significant rally in its stock price this month. I attributed the rally to its update about its Indian operations that have recently gained significant momentum.
Today's announcement shows that last week's rally could have predicted today's rally, given that in most cases, a company's stock price can tell you what is going to happen in future, which is why most traders rely on technical analysis.
Traders who bought Dev Clever shares at the start of its rally early week are sitting on significant profits today and should consider taking some of their profits off the table.
Dev Clever's fundamentals are pretty solid, which should work out well for its long-term investors. On the other hand, swing traders will likely find better bullish entries in future once the company's shares pull back.
The contract with Adebaron is set to earn Dev Clever $5 million in 2021, $10 million in 2022, $25 million in 2023, and $20 million in 2024. Aldebaron also has the option to acquire 7 million Dev Clever shares at nominal value over the next six months.
Aldebaron also has warrants to purchase 60 million of Dev Clever's shares at 60p each over the next three years after signing the tactical partnership's definitive documentation.
*This is not investment advice.
Dev Clever share price.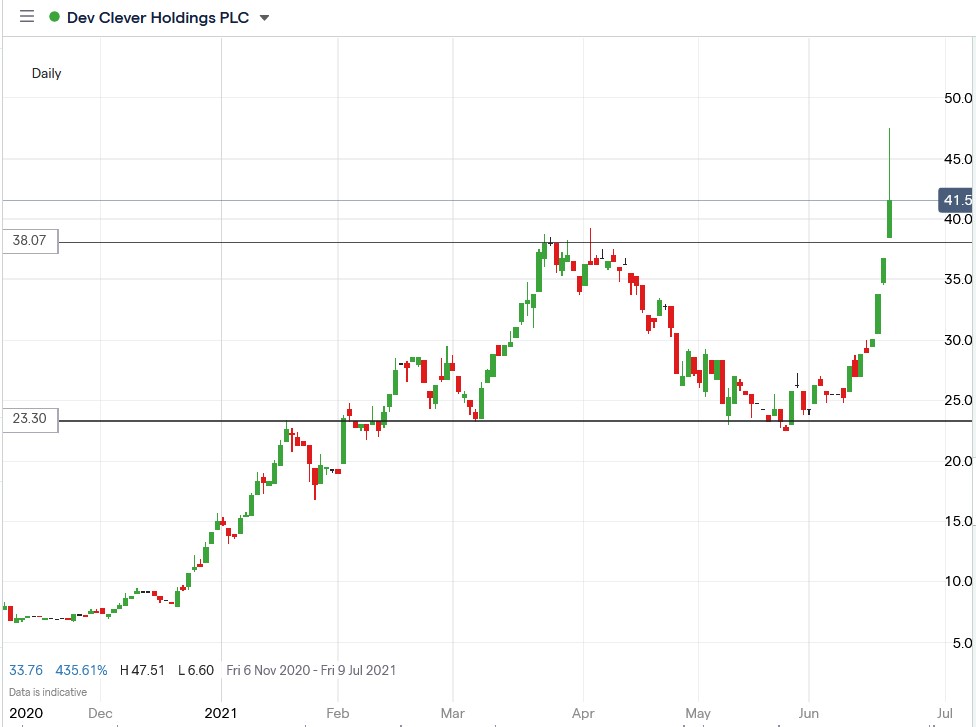 Dev Clever shares rallied 29.28% to trade at 47.51p, rising from Friday's closing price of 36.75p.
Should You Invest in Dev Clever Shares?
One of the most frequently asked questions we receive is, "what stocks are best to buy right now?" It's a wide-ranging question, but one that we have answered… Our AskTraders stock analysts regularly review the market and compile a list of which companies you should be adding to your portfolio, including short and longer-term positions. Here are the best stocks to buy right now