Latest

21:07


US Markets Close Higher Ahead of Election Results

DOW         +2.06%

S&P           +1.73%

NASDAQ +1.85%

Here is a tweet from @PriapusIQ on the timeline if the US election is delayed or contested: https://twitter.com/PriapusIQ/status/1307947656384327682

Goodnight, and good luck if you are trading through the election. It's going to be volatile, to say the least!
19:41


AT&T

AT&T is considering selling a significant minority stake in DirecTV, AT&T Now and U-Verse pay-TV operations according to a report from CNBC.

AT&T shares are trading at $27.49, +0.53%.
19:19


US Stock Movers

Inspire Medical +31.01% – INSPIRE MEDICAL SYSTEMS (INSP) STOCK SKYROCKETS AFTER RAISING REVENUE FORECAST

GW Pharmaceuticals +20.71% – GW Pharmaceuticals stock rallies on Q3 earnings beat. Revenue: $137.05m  (+50.7% Y/Y) vs consensus of $125.97M, Net loss: ($12.2M) (-11.6%); loss/share: ($0.03) (-25.0%) vs consensus of ($0.06)

Collectors Universe +19.95% – Collectors Universe reports Q1 results: Fiscal Q1 GAAP EPS of $0.65., Revenue of $30.79M (+52.4% Y/Y).
16:38


European Indices Make Strong Gains Ahead of US Election...

FTSE 100     +2.29%

DAX              +2.54%

STOXX 50   +2.65%

IBEX 35       +2.48%

CAC 40        +2.44%
16:35


Inspire Medical Systems Shares Surge

Shares of medical technology company, Inspire Medical Systems (NYSE: INSP) have shot higher after the company released its third-quarter financial results.

INSPIRE MEDICAL SYSTEMS (INSP) STOCK SKYROCKETS AFTER RAISING REVENUE FORECAST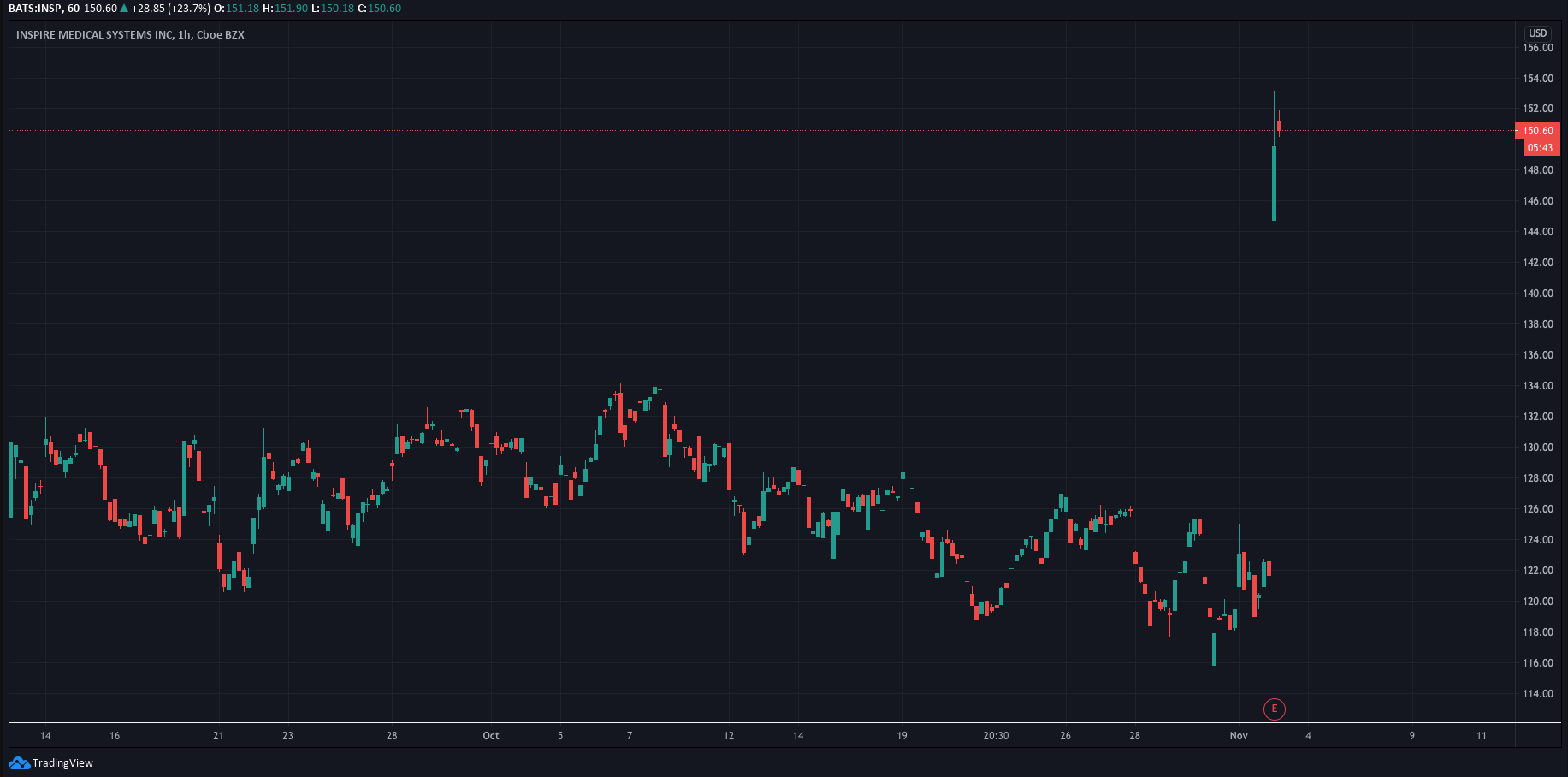 14:35


US Indices Higher

DOW          +1.12%

S&P            +0.89%

NASDAQ  +0.53%
14:11


Ant Group IPO Suspended

Ant Groups Record $34.5 billion IPO in Shanghai and Hong Kong has been suspended.

Both the Shanghai and Hong Kong stock exchanges made that announcement earlier today. As a result, Alibaba, who owns an approximately 33% stake in Ant Group, saw its share price fall over 8%.

According to CNBC's translation of the Shanghai Stock Exchanges announcements, they said that the company has "reported significant issues such as the changes in financial technology regulatory environment."
12:49


Arista Networks Shares Surge Premarket

Arista Network's ($ANET) stock price is up over 13% at $244.59 premarket on Tuesday after the company posted an adjusted Q3 profit of $2.42 beating the $2.21 estimate and its revenue of $605.4 million beats the $581 million estimates as the company said it saw continued improvement in underlying business trends during the quarter.
10:45


UK Stock Movers

Gainers:

Rainbow Rare Earths +40.60% – Company announced it has signed a binding agreement for the co-development of the Phalaborwa Rare Earths Project in South Africa

Hornby Plc +21.10%

Crest Nicholson +18.66% – Crest Nicholson shares surge after upgrading profit expectations

Losers:

Panther Securities -14.29%

Amigo Holdings -13.43% – Company provides a complaints update

Zaim Credit Systems -12.55%
08:29


European Equities Higher

FTSE 100     +1.55%

DAX              +1.40%

STOXX 50   +1.26%

IBEX 35       +1.46%

CAC 40        +1.49%
07:55


Preview

Good morning all…

-First off, happy US election day…

-APAC equity markets traded positively following the closer higher on Wall Street yesterday

-The RBA cut interest rates to 0.1% from 0.25% and announced a boost to its QE programme

-China is threatening to impose bans on up to $6 billion of key Australian exports from Friday. Copper ore and sugar could be added to a growing list of commodities targeted by China.

-On the economic data calendar today we have US factory orders, but of course, all eyes will be on the US election

-Companies releasing earnings today include Wayfair, Prudential, Catalent, and Bausch Health