If you are looking for a play in the mega-data analytics field, then Palantir Technologies stock (PLTR) may be worthy of your consideration. The firm has effectively been in business since 2004, but it was only recently listed on the New York Stock Exchange via a direct public offering conducted on September 30, 2020.

It opened at $10 a share and went through a typical rollercoaster ride for an overhyped stock offering. Prices have ranged from $8.50 to $45.00, but have settled down to just under $22 at the time of writing in late July 2021. Market capitalization is at $45bn.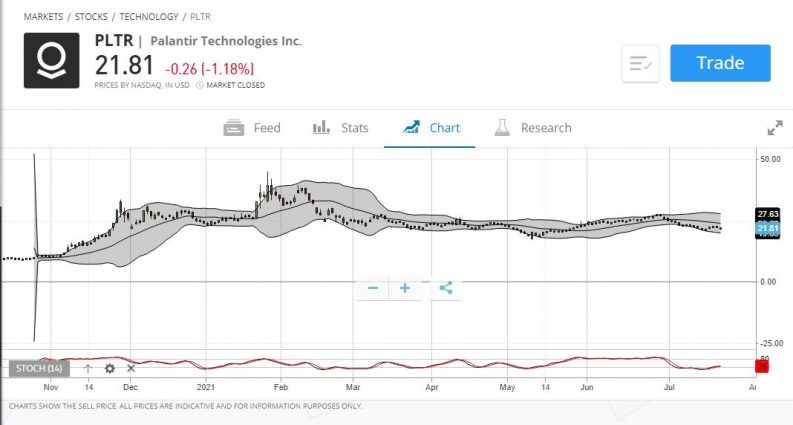 *68% of retail CFD accounts lose money
As per the above chart, PLTR gathered momentum after the release of earnings for its first quarter after its listing event, rising to $45, but has since declined by more than 50%. Analyst recommendations are still just above a 'Hold' rating, with a few notables issuing 'Sell' signals. Depending on the source, prospects for future growth over the next five years are impressive, ranging from 25% to 49%, but the overhyped nature of the company's shares are of concern.
Who are Palantir Technologies?
The firm is the brainchild of Peter Thiel, who is a co-founder and chairman. Thiel and a few other software associates jumped on the wave that formed in the aftermath of '9/11' to develop the analytical means for ferreting out terrorist activities and providing the support necessary for government intelligence agencies to adapt to the ever-evolving needs of the new global landscape. The firm prides itself on its unique value proposition in the arena of big data analytics, and although it got its start with the federal government, it has branched out and has offered its solutions to state and local governments, as well as to private companies in the financial and healthcare fields, most notably in COVID-19 vaccine distribution.
For those investors curious about the company's name, it was derived from the popular trilogy The Lord of the Rings. In Tolkien's masterpiece of fantasy, the magical palantíri were "seeing-stones", described as indestructible balls of crystal used for communication and to see events in other parts of the world. Thiel applied the metaphor to his firm's reason for being as a "mission-oriented company" that would use specialized software to peer behind the veil of massive amounts of data to perceive patterns of terrorist activity and preserve our civil liberties from afar.
Technically, Palantir was formed in May 2003 and now maintains its headquarters in Denver, Colorado. It now has several products, but during its formative years, the company relied upon two major product lines: Palantir Gotham and Palantir Foundry. Gotham supports defense and intelligence experts within the government to coordinate the concentration of disparate data sources, find legitimate patterns of concern, and then help facilitate action plans to address the threats uncovered. Foundry addresses the need for government agencies to house previously 'silo-ed' data elements into one seamless environment, thereby allowing for a coordinated approach for integration and analysis of accumulated data upon a single platform.
Initially operating out of Palo Alto, California, the firm had difficulty attracting early investors. The Central Intelligence Agency (CIA) stepped in with $2m from its private investment wing, and Thiel's venture firm added $30m. Palantir was off and running, working directly with the CIA to develop specifically directed software for the next three years. The firm determined early on that computers and artificial intelligence algorithms were not enough to combat modern-day adversaries. The process needed to be augmented with a band of analysts sifting through data from a multitude of sources to determine relevant patterns and key necessary action plans.
2009 witnessed the firm's first success story. Its software uncovered the activities of two Chinese espionage networks, GhostNet and the Shadow Network. Over that year and the next, Information Warfare Monitor used the Palantir product to reveal that GhostNet had targeted 1,295 computers in 103 countries to compromise various national embassies, as well as offices of NATO and the Dalai Lama, while the Shadow Network had breached Indian security interests and stolen documents related to Indian national security and NATO movements in Afghanistan.
The decade that followed was one of growth, expansion, and becoming a darling of the private investment community. Management shunned the IPO process, stating that this type of company could function more effectively without public disclosures and all that goes with being a publicly traded entity. By 2013, $196m had been raised and more than 12 government agencies could be claimed as clients. Within the next few years, another $1.3bn in capital would flow to the company coffers, before its direct public offering in September 2020. Palantir Technologies, however, has never operated at a profit, but its valuation stands at roughly $45bn.
Where Will Palantir Technologies' Stock Price Be in 3 Months?
On May 11, 2021, Palantir announced its first quarter earnings performance, citing 49% revenue growth. Currently, government revenues constituted $208m of a $341m base. Commercial clients added the remaining $133m. Both sectors are growing significantly, and management supports a 30% CAGR through 2025. It also predicted $360m in revenue for its second quarter, above analyst estimates, and due out in August of this year. Performance targets are being met, but an elusive breakeven moment remains in the distant future.
Trailing 12-month revenues were $1.2bn, but the firm operated at a loss for a similar amount or -$0.96 per share. EBITDA was also a negative $1.2bn. Clearly, Palantir is an emotional play at the moment, and bulls and bears abound on both sides of the equation. It may be difficult for investors to get their heads around this stock because the company has the premier platform for data analytics on a large scale, and understanding what that means can be troublesome. The firm's clients tend to be governments, which can be 'sticky', but the presumption is that significant tailwinds will carry the day over the next five to 10 years.
As for the next three months, the Palantir Technologies stock forecast is dependent on how well the firm performed for its second calendar quarter. An earnings announcement would typically occur in mid-August for the period ended June 30, 2021. Analysts will be focused on revenue growth, management forecasts, and any revisions of previous statements. From a technical perspective, the near-term chart is currently range bound and has been since last March, bouncing back and forth between $20 and $27 (Source: eToro).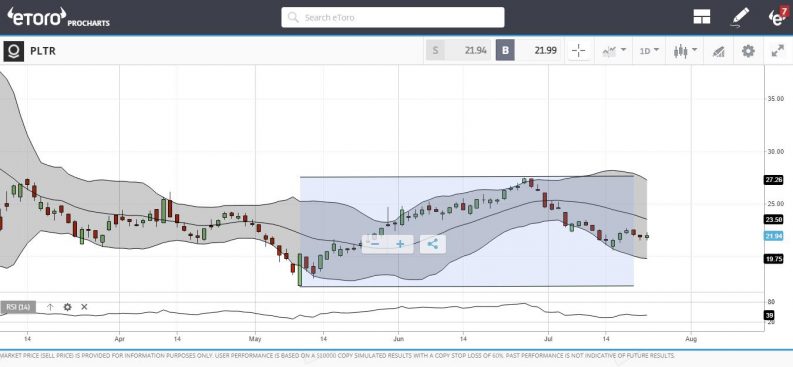 *68% of retail CFD accounts lose money
PLTR's share price may follow a similar path as it did up until last May 11 when Q1 results were put to print. If that is the case, one might expect a further dip leading up to mid-August, and then, depending upon the report, the market will take it from there. Although Palantir has only been public for three quarters, management has established a good track record for meeting or bettering its forecasts to date. If news is favorable, expect a $7 to $10 rise in price afterwards.
Where Will Palantir Technologies' Stock Price Be in 1 Year?
Palantir Technologies stock predictions and applicable ranges for one year out are depicted in the following chart, courtesy of Wallstreetzen.com: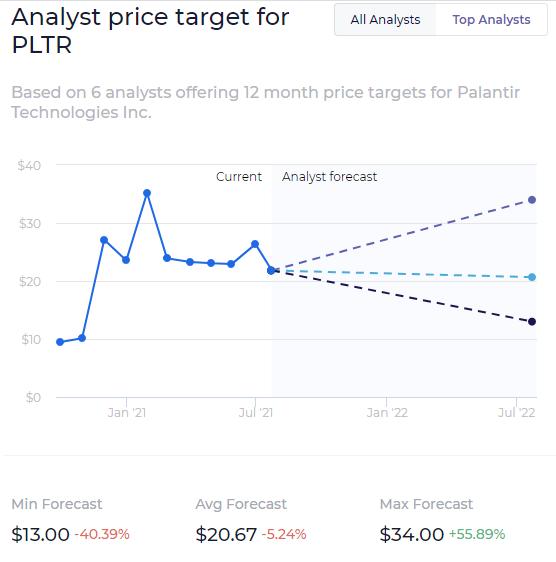 Outliers have not been included in this depiction. There are PLTR zealots who expect $74 and more over the next 12 months, but these types of predictions are based more on faith than on the technical aspects of the firm's share price behavior. Technical information, however, is slim. Prices have reacted in a typical IPO fashion, rising quickly to establish a new All-Time High (ATH) and then falling back within tight ranging boundaries. Investor sentiment is presently driving price behavior, and until there are measurable positive earnings, prices will not accelerate upwards.
As for the current Palantir buy or sell dynamics, nine analysts on Wall Street are evenly split across the board. Their consensus is for a firm 'Hold', suggesting that investors neither close their current positions nor increase them. More than a majority of analyst forecasts that are 12 months down the line favor a $34 price level, which implies a 50% rise from today's watermark. Goldman Sachs points to $34, while Jefferies Financial Group raised its estimate to $40 from $30 with an upper potential of $50.
Where Will Palantir Technologies' Stock Price Be in 5 Years?
Palantir Technologies stock forecast for 2025 presumes that the firm will still be operating independently. The opinion on the street at present is that Palantir's market cap of $45bn precludes it from being considered an acquisition candidate, but a merger could be an exit strategy that management might consider. If we assume neither an acquisition nor a merger, then stock forecasts out to 2025 depend solely on revenue projections for that period.
*68% of retail CFD accounts lose money
Management has already stated that it expects 30% in CAGR growth out through 2025, but the outlook for breaking even and delivering profits to the bottom line remains sketchy. In order to evaluate this revenue growth forecast, it is important to review client relationships and known partnerships.
Estimates are that Palantir has 150 very large clients, most of which are government agencies of some sort. In 2013, these included DHS, NSA, FBI, CDC, the Marine Corps, the Air Force, Special Operations Command, West Point, the Joint IED Defeat Organization and Allies. While most spy agencies are customers, the US Army still uses its own software tools, but different departments have utilized Palantir from time to time.
Palantir also works with local police departments and with the US Immigration and Customs Enforcement (ICE). The International Atomic Energy Agency (IAEA) is also a client, and on the commercial side, JP Morgan and First Data Corporation have already been mentioned. IBM and Palantir recently announced a new partnership going forward. Amazon soon followed suit, and the firm bought an interest in Babylon Health this past June. There are also new contracts with Rio Tinto, PG&E and BP.
For its next growth phase, however, the company is targeting small to medium-sized companies with products tailored for their specific needs. The company's sales force is presently expanding to market the firm's products to this new audience across departments and countries. It remains to be seen if smaller enterprises have the ability to afford such analytic tools.
Palantir share forecasts to 2025 are not an exact science, but analysts have chosen to extend a current trend line on today's price history to suggest that $100 and up are not unreasonable estimates. There are critics on the low end at $30, but the general consensus points more to the $80 range. These figures must be taken on faith, since positive earnings have yet to be recorded. Critics contend that Palantir's business model is not scalable, that the analytics space is quickly becoming crowded, and that PLTR's current price has been overhyped.
Is Palantir Technologies a Good Buy?
Is Palantir Technologies a good stock to buy at the moment? Traditional Wall Street wisdom is to avoid a stock that everyone else is buying. The 'hype premium', if you will, can take the wind out of anyone's investment return sails, at least for an extended period of time. This firm definitely has what its customers need: a software solution for delving behind mountains of data and providing a coordinated front for combating terrorist threats on a governmental basis. From a purely thematic perspective, Palantir appears to be positioned appropriately for the future.
The question asked by most investors, however, is, when will this company break even and show a profit? Projections suggest that 2021 may be the year. The company has also funded its development through its equity capital, leaving very little in the way of debt obligations – roughly 11% of equity. With debt risk a non-issue, the focus then shifts to revenue projections, which are presently pegged at anywhere from 25% to 50% per annum over the next five years.
Data analytics software is in big demand by governments, and Palantir has the desired platform and support solutions. If you are a long-term player, PLTR may be a good bet, but wait for a dip before buying. Potential sellers may soon grow weary and seek momentum plays elsewhere, thereby creating an ideal buying opportunity.
The Best Brokers to Trade Palantir Technologies Stocks:
eToro:
68% of retail CFD accounts lose money
Take a look
If you are ready to add some Palantir Technologies stocks to your portfolio you'll need a broker that is regulated, has low fees and a user-friendly platform. Finding one can be a daunting task, which is why we've selected some of our favourites that tick all of these boxes to help you get started.