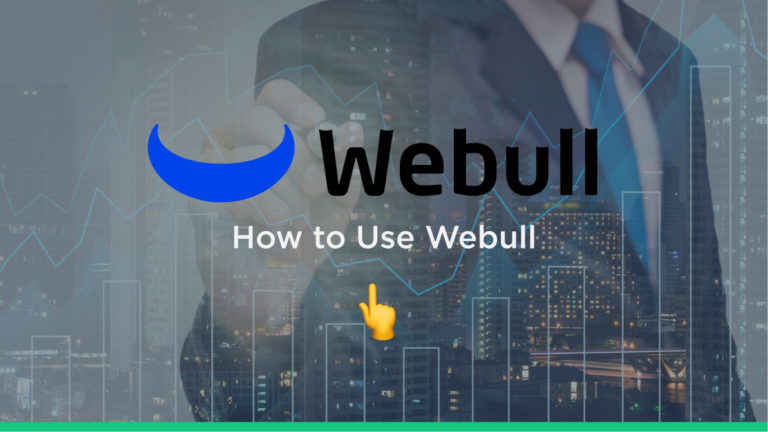 How to Deposit
One neat feature of trading with Webull is that there are no minimum deposit requirements. This means you can start trading in small size and build up trading skills without burning through your cash pile. It also means that if you're a risk-averse investor and like to double and triple-check when money is involved, you can send a small initial payment to check your new account is working as it should.
Whether you take this approach or go all-in, the procedure is the same. If you're using the Webull app, then the deposit process starts by tapping on the middle of the five icons at the bottom of the screen. You are then given two options:
Make Your First Deposit – for those who are new to the platform.
Transfer – for those who have already set up their account or are looking to transfer from another broker.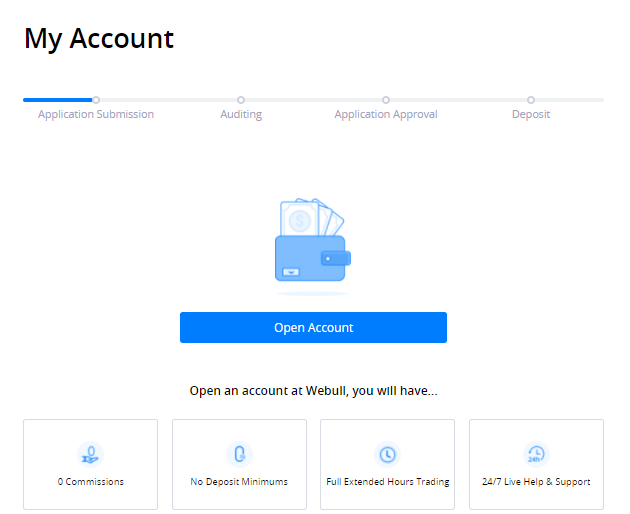 Two more options then follow. These allow you to choose which type of payment process you want to run with.
ACH – Free for most users, but do check the small print.
Wire – For wire transfers and US and international customers. Typically associated with admin charges at both the sending and receiving bank.
The next screen asks you to confirm what type of account you are sending from, for example, Savings, Checking or IBO. One thing to note is that certain methods, notably savings accounts, require the name on your Webull account to identically match the name on the savings one.
The final stretch involves ticking boxes to introduce your Webull and bank account to each other. The first part of the set-up process is to choose between the 'Real-Time Verification' and 'Micro-Deposit Verification'. The former is faster and involves you confirming details by logging in to your base bank account to confirm details.
The second takes one to two days to complete as Webull and your base bank account relay messages and tiny payments between each other to check all is in place as it should be. You'll then be asked to select your bank from a list. If your bank is not already on the list, you can use the search function to link it up.
After some final account verification checks, choose how much money you want to deposit and confirm the payment. One promotion to look out for is the 'Free Stock Offer'. The exact T&Cs change over time, but it's not unusual for Webull to give new clients one or two free stocks when they sign up and deposit funds.
How to Withdraw
You might not be too surprised to learn that the process for returning funds to your bank account is very similar to the one used to make deposits. Once more, you can process the payment using the Webull desktop or app and on your account homepage, selecting 'Transfers'.
To initiate an ACH withdrawal on the Webull app:
Go to the homepage of the mobile app and tap the same Webull logo in the bottom middle of your screen. The middle one of the five icons.
Click on the 'Transfers' tab at the top of the screen.
Click 'Withdraw'.
Enter an amount less than or equal to the amount you have available to withdraw and confirm the instruction.
ACH withdrawals usually take 1–2 business days to complete.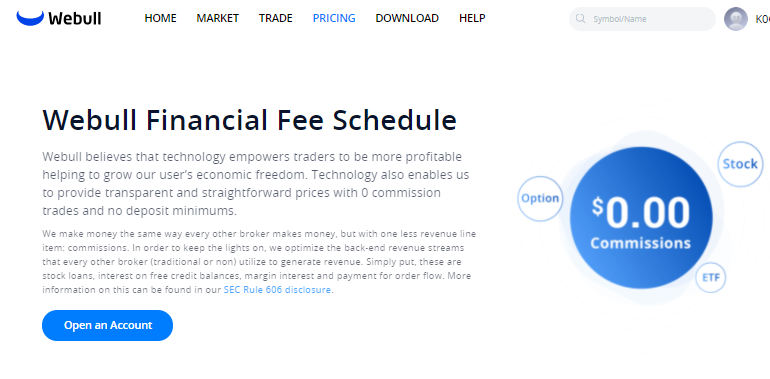 What Fees Are There?
Part of the attraction of Webull is that it offers cost-effective trading. The broker has attracted more than 11m registered users in the space of a few years and many would be described as price sensitive.
Does Webull Charge Fees?
The answer to this question is yes, and no. Most of the headline commissions associated with some other brokers have been done away with. The high-profile, big ticket items are as below:
Zero commission trading at Webull
Stock trading costs – $0
ETF trading costs – $0
ADR trading costs – $0
Option trading contract fees – $0
Option trading commissions – $0
Option trading assignment or exercise fees – $0
Webull does not charge for trading cryptocurrencies. There is a 100-basis point spread on either side of a crypto trade.
There are also zero annual account charges and no fees relating to account inactivity, transfers and closing.
Some fees do apply and these typically relate directly to a particular type of trading activity – if you want to expand your trading to include short-selling, for example, fees apply. This means if you don't use the service, you won't be charged for it and nor will you end up effectively supporting the trading of others by sharing some of the charge.
Webull Fees
Margin Fees
Those using the Margin Account will be able to use leverage on their trades. As the broker is effectively lending those clients money to scale up their trading, there are charges to pay.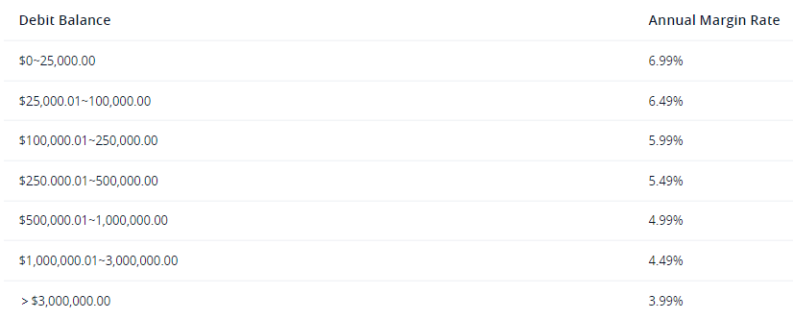 Stock Loan Fees
Short sellers need to borrow stock from the stock loan market. That involves a (variable) cost being incurred and this is passed onto Webull short sellers using the below formula:
Daily margin interest (short position) = the daily market value of the borrowed stocks when market closes * stock loan rate for that stock/360.
Exchange and Regulator Fees
There's not much any broker can do about charges levied by exchanges and regulators. These are passed on to clients on a trade-by-trade basis. The more you trade, the more the total cost. Though it should be noted the amounts charged are relatively small and reflect the need for the guardians of the markets to take a small cut to finance their operations.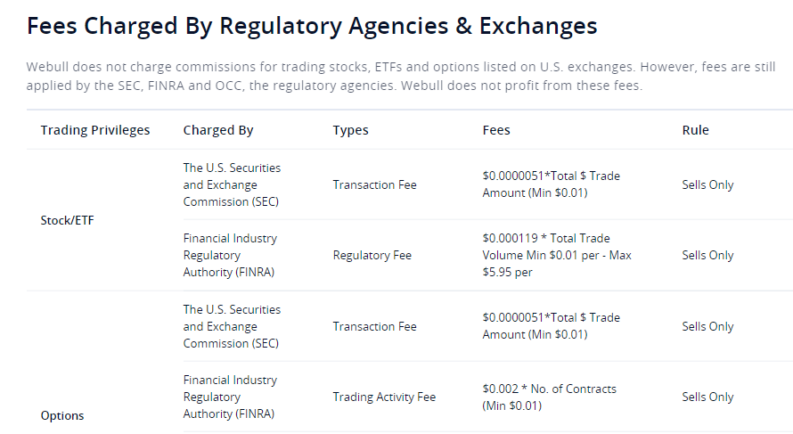 Reporting Fees
Electronic reports are free of charge, but if you just can't do without a hard copy, you can elect to receive one. However, there is a charge.
Paper confirm fee – Apex (clearing firm) – $2/Confirm
Paper statements fee – Apex (clearing firm) – $5/Statement
Paper prospectus fee – Apex (clearing firm) – $2.5/Mail
Banking Fees
Webull's approach to transparency of reporting is to be commended. It's a sign that it feels strong in this area. While that does carry over to the area of banking fees, there is a lot of detail in the T&Cs.
Fees (and processing times) vary depending on what payment process method you choose. There is also the chance that third parties stick on a charge, and deposits and withdrawals between the same two accounts often incur different charges. It's worth checking these over to make sure you don't fritter money away unnecessarily, but the summary-level breakdown is as below.
ACH deposit – US bank account: $0.00
ACH withdrawal – US bank account: $0.00
Deposit via wire transfer – US bank account: $8 per deposit – Apex (clearing firm)
Withdraw via wire transfer – US bank account: $25 per withdrawal – Apex (clearing firm)
Deposit via wire transfer (international) – Non-US Bank Account: $12.5 per deposit – Apex (clearing firm)
Withdraw via wire transfer (international) – Non-US bank account: $45 per withdrawal – Apex (clearing firm)
Webull Desktop App
For ease of access, it's possible to log on to your Webull account using the Webtrader platform. This allows you to log on from any device that has internet connectivity. To get the most out of the Webull suite of features, it is recommended to download the Webull app for desktop, which is compatible with Windows, Mac and Linux operating systems.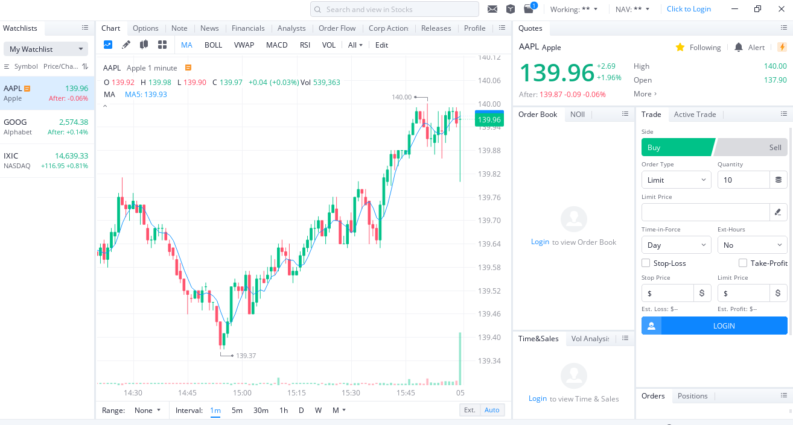 Right from the off, the Webull desktop app demonstrates why it's so highly thought of in the trading community. The dashboard has a crisp aesthetic and is easy to navigate. A vast number of powerful software indicators are at hand but don't get in the way. Instead, you can just click through to the indicator, screener, market, order flow monitor, options table or research panel you want to use.

The range of services on offer reflects Webull's relatively recent entry into the broker sector. The firm launched in 2017 and has used the technological advantage associated with that to offer a range of tools and services to suit all types of traders. Moving around the platform has an intuitive feel, but click through to what you need and it's possible to find a highly impressive range of options, some of which are unique to the platform.
Webull Mobile App
The Webull mobile app is an ideal way for clients to keep up to date with the markets while on the go. It's worth noting that the number of features on offer is very impressive. You can dig down into earnings reports, run price comparisons and a whole lot more.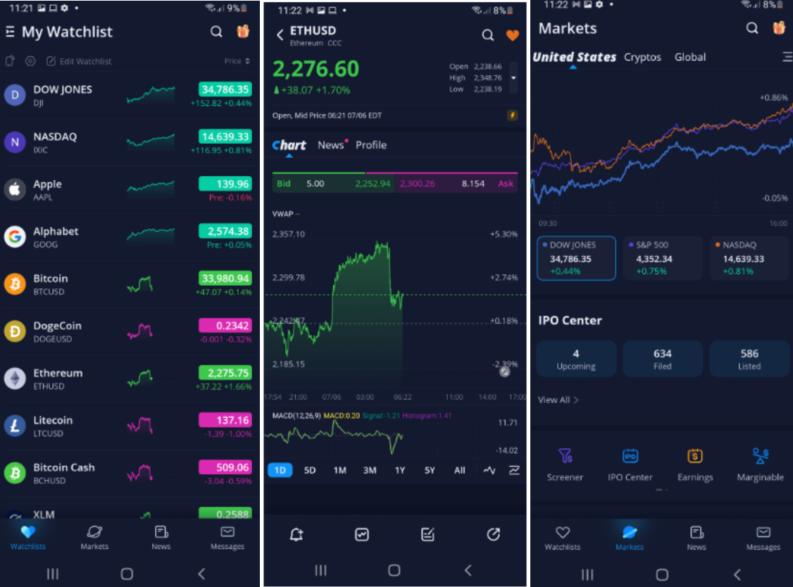 The app is one area where Webull takes full advantage of being a newcomer. It has a next-generation feel to it, not only in terms of the number of features available but also its high-speed navigation.
After downloading the app and signing in the first time, you have the option to set your account to automated log-in. This allows you to access the markets with one tap of the screen. The homepage includes a list of the most popular markets and has a good range of crypto and equity assets.
The five icons at the bottom of the screen are the portals to different sections of the site. You can flip to your personal watchlist, browse markets, deposit or catch up with news and messages.
The news monitor includes direct feeds from renowned agencies, including Reuters. If events lead you to a trading idea, you can explore it by accessing the research found on the markets page. There are screeners, IPO calendars, earnings reports and a chance to scale up your risk-return using leverage of x2 or x4.
How to Make a Trade
Both the desktop and mobile Webull apps are state-of-the-art next-generation platforms. There is a market-leading range of trading tools available, all designed to support your trading. When it comes down to actually booking a trade, the process is, in its simplest form, just the same as it's always been – locate your market, enter the amount you want to trade and click, or tap, 'buy'. There are, of course, a range of order types you might want to consider. Stop-losses, trailing stops, take-profits and limit orders are all designed to manage risk and apply some finesse to your trade execution.
On the desktop app, the order placing monitor is on the right-hand side of the screen. Default buttons are in place, offering one-click placing of buy, or sell, instructions. Once placed, these orders can be tracked in the 'Orders' monitor, which gives details on how much of the order has been 'filled', which orders are still 'working' and which have been 'cancelled'.

Once filled, the new position is shown in the 'Positions' monitor. This is where you'll be able to track P&L as it moves in line with market price and, if you want, adjust your stop-losses or take-profit instructions.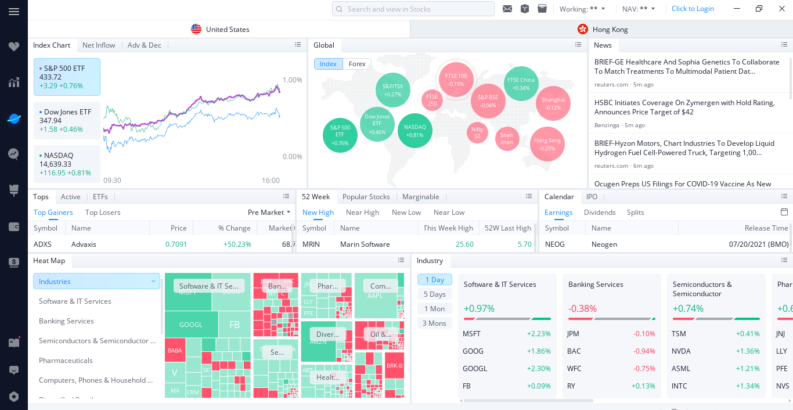 Source: Webull
The mobile app has similar functionality, and you end up at the same monitors. But being a smaller screen, there is a need to use the $ trade icon, which is the fourth in the taskbar at the bottom of the screen.
Closing out a trade follows a similar process. When the time comes to trade out of a position, then head to the 'Positions' monitor and input the amount you want to sell. Once that order is filled, the asset position will return to zero and the cash proceeds will be credited to your account and crystalise any losses or gains you made.
What Markets are Available?
All the major asset groups are available at Webull.
Stocks
There are in excess of 5,000 different stocks to invest in, which means all the big names are covered. You can also drill down to US and global small-cap names, including firms that are listed on China exchanges. The IPO calendar is a neat tool designed to help clients spot up and coming listings and there is also grey-market trading.

Indices & ETFs
You can gain broad exposure to equity markets around the world if you buy stock indices. Webull offers markets in all the major names, such as Nasdaq, S&P 500 and Dow Jones, but you can also take positions in a range of non-US markets, including FTSE 250 and the Hang Seng index.
Crypto
Webull's cryptocurrency offering is quite impressive. All the big-name coins are there, Bitcoin (BTC), Dogecoin (DOGE), Bitcoin Cash (BCH), Ethereum (ETH), Ethereum Classic (ETC), Litecoin (LTC), ZEC (ZEC) and XLM (XLM). In addition, there are a range of alt-coins, including Kusama (KSMUSD), Eos (EOSUSD) and Solana (SOLUSD). All in all, Webull currently offers a total of 19 crypto markets.
Forex
Webull provides markets in the major currency pairs. It's also possible to use leverage to scale up your risk. EURUSD, GBPUSD, USDJPY, USDCAD, USDCHF, AUDUSD, NZDUSD and USDCNH (Chinese Yuan Offshore) are all available to trade.
Options
An exciting feature of Webull's platform is 'Options' trading. Options do come with additional risk warnings but are increasingly popular. At Webull, Options are margin-backed, which means there is a degree of leverage built into them.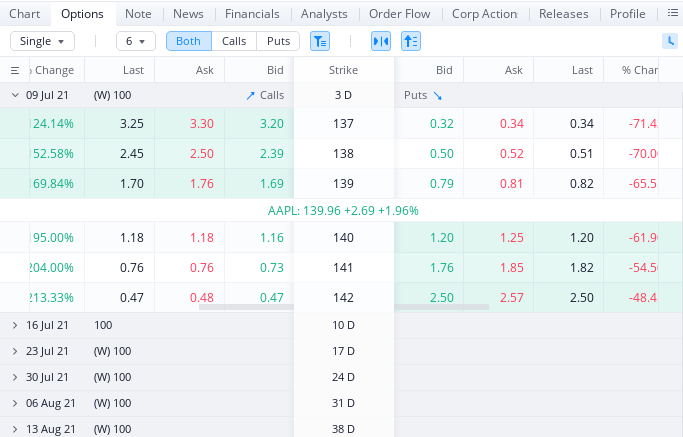 The Webull platform supports trading in a diverse range of asset groups. There is something for everyone and both beginners and more advanced traders are unlikely to struggle to find their favourite markets. The options trading is a particularly neat add-on.
What Account Types are There?
With four different types of account on offer, there's very little chance of not finding a good fit.
Webull Cash Account
Non-margin-based trading and trades can only be put on using settled funds. That means if you've sold out of a position, you need to wait for funds to clear (usually 24hrs) before being able to invest them in a new position. You can execute up to three trades per day, every five rolling business days.
Cash accounts do offer four options markets, long puts, long calls, covered calls, and cash-secured puts. They also have a zero minimum account balance requirement.
Webull Margin Account
This has similar functionality to the Webull Cash account, but with a $2,000 minimum balance requirement and a range of additional features. Leverage is one possibility with some products able to be traded on x2 or x4 margin.
Those with cash balances in excess of $25,000 are able to make an unlimited amount of day trades. Another add-on is that Margin Accounts support short-selling and offer access to all the Options markets on the platform.
Upgrading your account from Cash to Margin is simply a case of depositing $2,000 or more and accessing the settings page and clicking a few buttons.

IRA Account
Webull offers Traditional, Roth, and Rollover IRAs. Each client is eligible to set up one IRA but must have an individual account before creating an IRA.
The good news is that there are no fees associated with opening or closing IRAs, nor are there annual fees for Webull's Traditional, Roth or Rollover IRAs.
To sign up for an IRA account using your mobile phone, follow these steps:
Download the Webull app, sign up, and open a brokerage account.
Once your brokerage account has been approved, select 'Open an IRA'.
Choose the type of IRA you would like to open.
Read and sign the terms & conditions.
Corporate Account
Webull supports LLC/Entity accounts. The minimum initial balance requirement is $100,000 and there is an application process.
Webull Customer Service
Something that will be particularly appealing to newbies is that the Webull Customer Service team is contactable 24//7. This can be done via phone or email. App users also have the option of using live chat.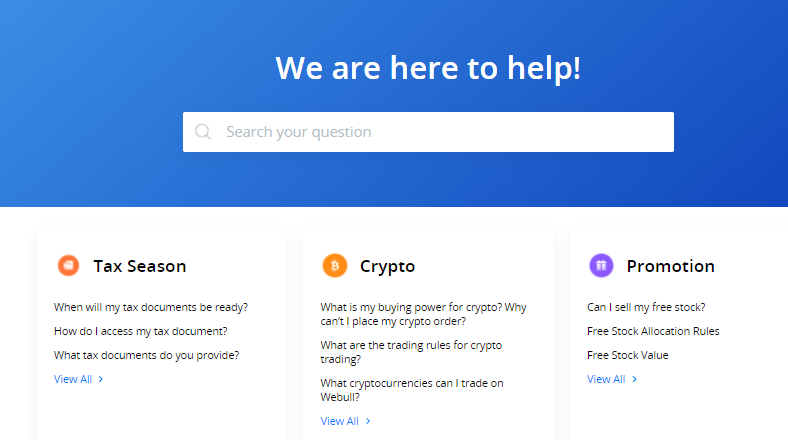 Webull hosts a well-thought-out FAQ section, which helps clients build up their understanding of the site. Topics covered range from 'How to trade' through to more complex tax issues.