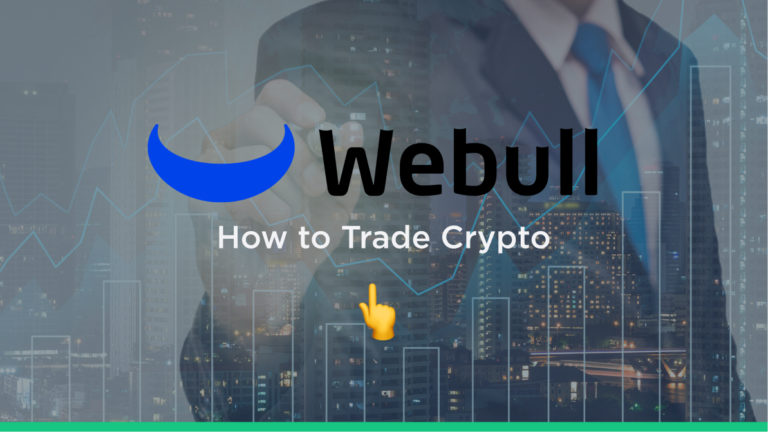 Webull ticks a lot of boxes and this review will point out the good and not so good features of the service. From there, it's possible to establish if Webull might be a good fit for you and worth a try in Paper Trading format. Our team of experienced traders will show you how to do that, and also run through some of the hints and tips that can make your trading safer and more successful.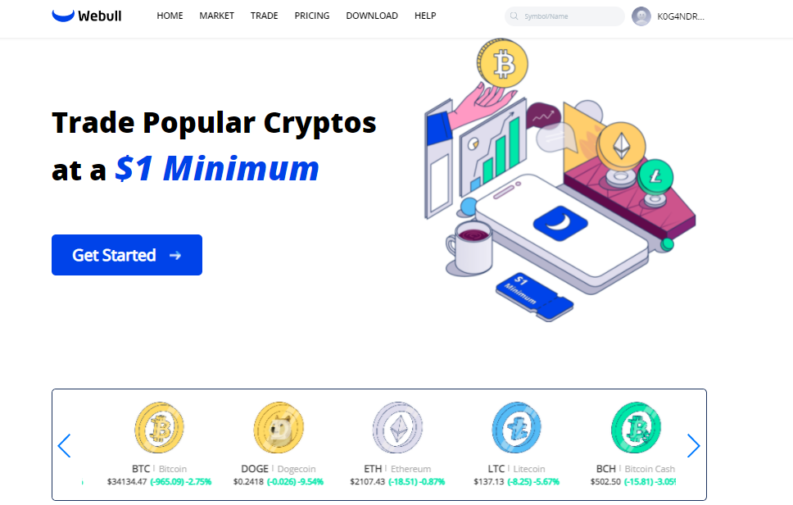 Can You Trade Crypto on Webull?
Webull entered the online broker market in 2017. The timing is important because it meant Webull crypto trading could incorporate all the good things about existing platforms, but the leveraging of its Fintech pedigree has allowed it to also introduce a range of innovative new features designed to enhance the crypto trading experience.
Start Trading Crypto on Webull with $1
As mentioned, the broker has no minimum opening balance requirement and traders can start with as little as $1. Newbies, in particular, can take advantage of this and develop their trading skills without burning through their entire cash pile.
Instant Settlement
When you buy and sell crypto on Webull (we'll show you how to do this later in the review), funds are debited and credited to your account instantly. This means you can move in and out of positions faster than if you had to wait for the trade settlement to be processed.
Great Platform Functionality
Real-time price data is provided free of charge and the platform's research and analysis tools can be customised to your preference and fit in with whether you want to trade using desktop or handheld devices.
24/7 trading on Webull
The crypto markets don't sleep and nor does your Webull account.
High-spec Security Features
Webull protects its clients by using the latest security protocols, including two-step verification.
24/7 Customer Support
Everyone has questions about trading from time to time, and to match the fact that it offers markets around the clock, Webull also provides customer support 24/7. This can be particularly helpful for those fitting trading in with their day job and looking to learn more about the crypto markets on the weekend.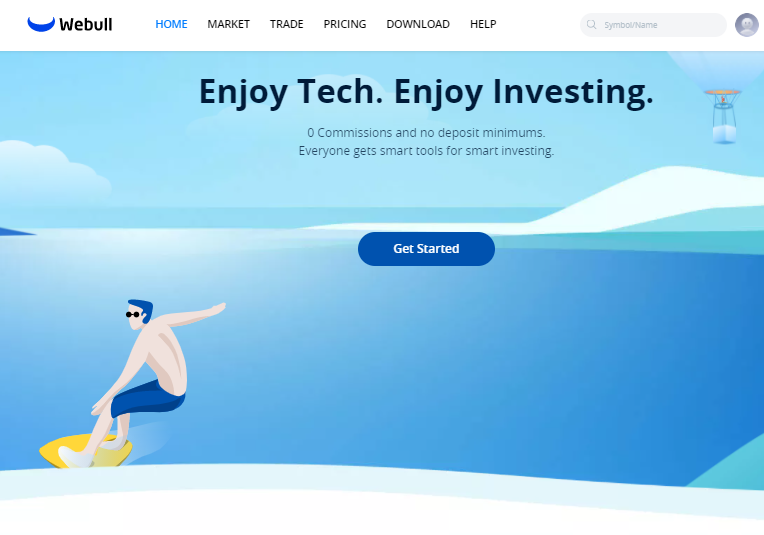 What Cryptos are Available?
The platform supports trading in nine different crypto markets, which ensures all the big names are there as well as some of the up-and-coming coins. Insurgent altcoins – those threatening to break through into the crypto mainstream – are particularly sought after. Their chances of success might be relatively slim, but this is reflected in their price and Webull does well to offer markets in some of the left-field options.
XLMUSD – Stella Lumens
BCHUSD – Bitcoin Cash
BTCUSD – Bitcoin
ZECUSD – Zcash
LTCUSD – Litecoin
DOGEUSD – Dogecoin
ETHUSD – Ethereum
ETCUSD – Ethereum Classic
How to Buy Crypto on Webull
Cryptocurrencies have caught a certain zeitgeist and have been responsible for bringing thousands of first-time traders into the financial markets. For many, crypto is the only market they are interested in, for others, it's an accepted high-risk side-hustle on their other investments in their portfolio.
Although the blockchain technology that crypto is based on is revolutionary, the actual mechanics of trading cryptos are the same as if you're buying stocks, bonds, ETFs or forex. One of the easiest ways to develop the skills needed to trade safely is to take advantage of the Webull Paper Trade service. This is free to use and takes moments to set up. Webull then provides new clients with virtual funds and access to the same platform and markets as if they were trading real funds. Risk-free trading like this is a great opportunity to test the system and any mistakes are valuable lessons learned rather than costly failures.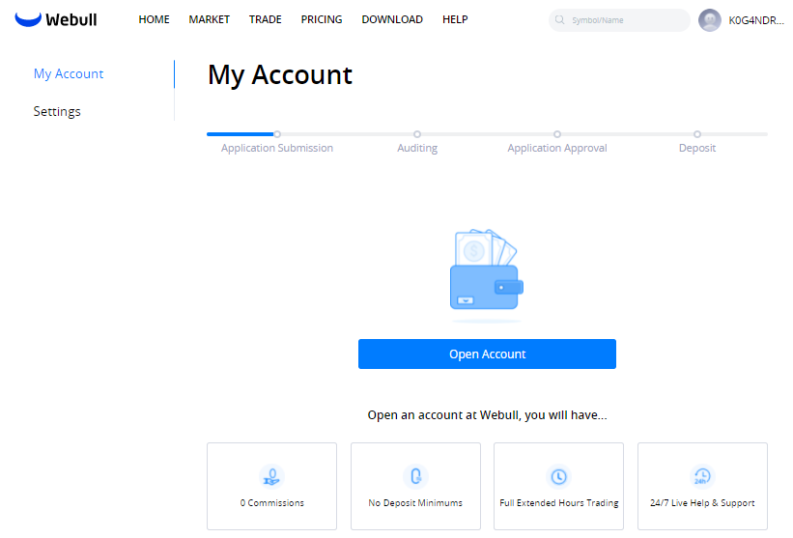 One of the first steps towards the crypto markets and becoming a Webull Dogecoin trader is checking your desktop, or handheld device is set up with the latest versions of the Webull platform. To update your app to the latest version, follow these steps:
On your app, tap on the Webull icon (Bottom row, middle icon)
Tap on the 'More' button
Tap on 'Crypto Trading' to apply
Step 1 – Open and Fund an Account
This straight-forward process can be done using a handheld or desktop device and takes minutes to complete. The first step is completing the required online form filling. As you're setting up a new account, which will hold real cash, there are some personal details that need to be shared. These ensure that you, and only you, have access to the account.
Some additional information is also required, which helps the broker build a profile of each client and ensures it complies with client care guidelines. These are set out by the regulators that oversee Webull activities – the Securities and Exchange Commission (SEC) and the Financial Industry Regulatory Authority (FINRA).
As new clients to Webull are wiring hard-earned funds to a new account, it's worth taking stock of the role of regulators. The organisations Webull are licensed by – SEC and FINRA – are widely regarded as being some of the hardest taskmasters in the financial markets. They carry out their regulatory duties with a focus on the protection of retail traders and Webull's willingness to sign up to and abide with the rules and regulations is a sign that they can be trusted. Compliance is costly and time-consuming and a sign that Webull is looking to be around for years to come.
As an asset group, cryptocurrencies are themselves unregulated, but opening an account with a regulated broker is a good first step towards safer trading. Dedicated crypto exchanges might, or might not, have their advantages in terms of functionality or market flow. However, the overriding principle to abide by is protecting your capital and signing up with a well-regulated broker. This is the first step to take in achieving that aim.
For example, the SEC has recently announced it embraces its new enforcement weapon – the Anti-Money Laundering and Reporting Requirements Under the Bank Secrecy Act. These finer details might appear like small print, but looking for a broker that is rubber-stamped by a Tier-1 authority can be the difference between signing up with a legit broker or a scammer.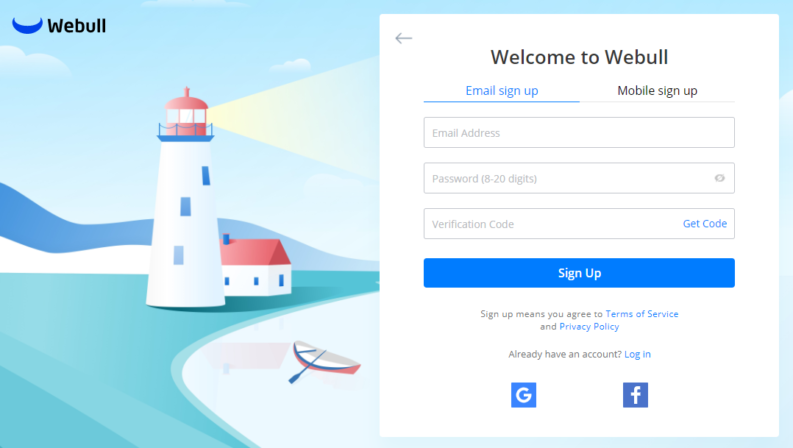 You can link your bank account to Webull to make deposits easier to process. Once done, the Micro-Deposit Verification process involves following five simple steps.
Log in Webull and Tap 'Deposit'.
Choose 'Micro-Deposit Verification'.
Choose the account type of your bank account (Checking account is recommended).
Enter your routing and account number.
Tap 'Next'.
Step 2 – Locate the Crypto Market You Want to Trade
First off, you have to identify and locate the crypto market you want to trade. The easiest way to do this is to use the 'symbol/name' search function in the top right-hand corner of the trading dashboard. That will take you through to the market you are looking for and display the price chart for Bitcoin, Ether, Doge or the other coins you are looking for.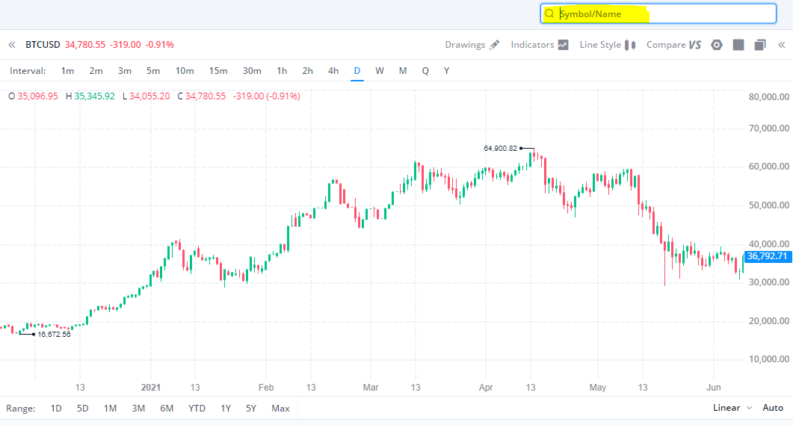 You can also click on the 'News' tab to get up to speed with the latest events or use the various technical analysis tools on offer. For some investors, the main priority is buying a bit of crypto just to see what it's all about. A little patience and thought can help all traders optimise their trade entry point.
Step 3 – Enter the Quantity You Want to Trade
Trading in its simplest form involves finding the market you want to trade, entering the amount you want to trade into the required data field and clicking 'Buy'. There are other types of trade instructions you can take advantage of as well. Stop Loss and Take Profit orders are instructions built into the system to close out some or all of your position if price reaches a certain point. Stop losses minimise your downside risk and take profits crystalise any gains.
The crypto markets are particularly volatile and there is a chance you get closed out due to price 'whipsawing'. For that reason, some prefer to not use stop losses but to instead adopt a buy and hold-style approach and manage risk by only using an amount of funds they can afford to lose entirely.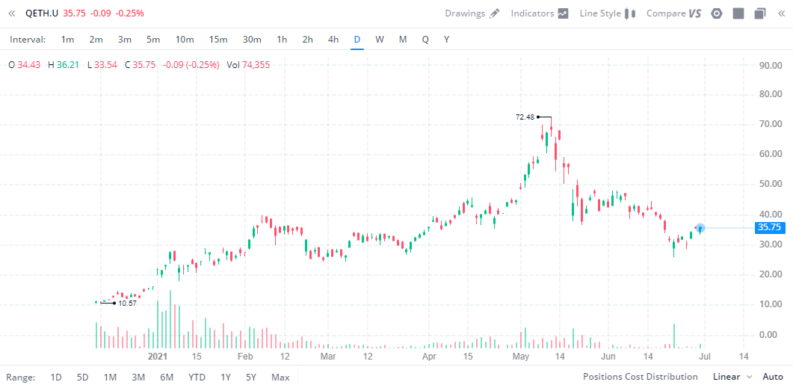 Top-Tip – One habit that experienced traders take great pride in is checking your trade as soon as it's executed. This can be done by accessing the Portfolio section of the Webull site. Any 'fat-finger' errors are best spotted and rectified as soon as possible. Crypto markets are, after all, associated with dramatic price moves.
Can I Transfer Crypto from Other Wallets to Webull?
You can buy and sell cryptocurrency on Webull. However, the platform does not currently support transferring crypto into or out of your Webull account.
Are There Any Fees for Trading Crypto on Webull?
There are two positive aspects to the Webull platform in terms of crypto trading fees. The first is that Webull crypto fees are low, in some cases super-low, as low as zero. There are, for example, no extra commissions applied to crypto trades. The second positive point is that Webull is incredibly transparent about the other unavoidable charges, which do need to be factored in.
As is often the case, brokers that are comfortable with their pricing tend to be most willing to freely share information on what charges do apply. "Webull does not charge for trading crypto. There is a 100-basis point spread on either side of a crypto trade" (source: Webull)
Adopting a refreshing approach to the subject, Webull lays out all of the admin fees that might apply to trading. By reducing the risk of clients coming up against 'hidden' charges, the broker allows its investors to design fully-informed strategies.
Online statements are provided free of charge but if you want hard-copy statements, there is a fee to pay.
Paper confirm fee – Apex (clearing firm): $2/Confirm
Paper statements fee – Apex (clearing firm): $5/Statement
Paper prospectus fee – Apex (clearing firm): $2.5/Mail
There are also some banking fees relating to cash deposits and withdrawals, though it should be repeated that Webull is in a good position compared to its peer group on these.
ACH deposit – US bank account: $0.00
ACH withdrawal – US bank account: $0.00
Deposit via wire transfer – US bank account: $8 per deposit – Apex (clearing firm)
Withdraw via wire transfer – US bank account: $25 per withdrawal – Apex (clearing firm)
Deposit via wire transfer (international) – Non-US Bank Account: $12.5 per deposit – Apex (clearing firm)
Withdraw via wire transfer (international) – Non-US bank account: $45 per withdrawal – Apex (clearing firm)