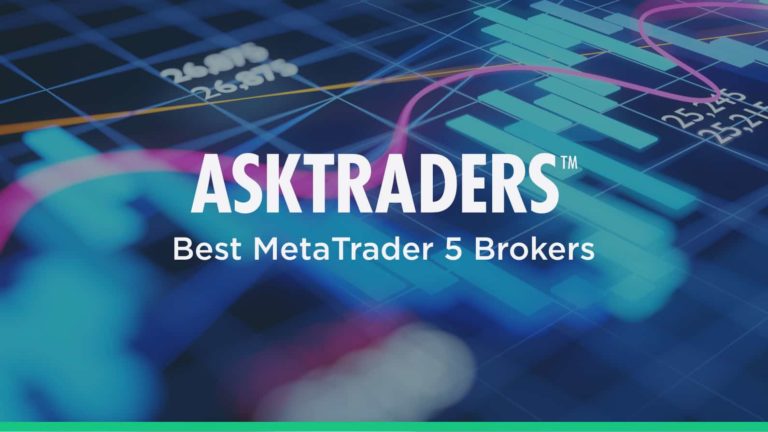 Developed by MetaQuotes Software and released back in 2010, MetaTrader 5 is the successor of the popular MetaTrader 4 trading platform. Designed with additional trading features, including the ability to trade futures and stocks, MT5 is more efficient and easier to use than its predecessor. But not every broker provides access to it for their clients. In this guide, we'll take a look at some of the very best MT5 brokers to help you decide which one is right for you.
Best MT5 (MetaTrader 5) Brokers:
#1

Pepperstone
What We Liked
No inactivity fees
Access to raw spreads
Strong regulation
Award-winning customer support
Fast execution speeds (~30ms)

Pepperstone has a long-established reputation as being one of the best forex brokers in the market. The firm's decision to offer its clients access to the MT5 platform demonstrates an understanding that a multi-asset approach to trading can help the bottom line.
The stocks and futures offered by Pepperstone's MT5 platform allow its clients to hedge forex positions, or even take out stand-alone positions in other assets. Something worth considering if you are looking to iron out some volatility in your P&L performance.
Pepperstone is set up to offer its clients intuitional grade access into the markets, and the technical infrastructure they have in place makes the most of the powerful MT5 software. The platform can be extensively customised and software updates mean coding using MQL5 is now easier.
MT5 now has faster processing times, a newly released ability to hedge your positions, advanced pending orders processing and the newest tools and indicators to help you take your trading to the next level.
…the technical infrastructure they have in place makes the most of the powerful MT5 software
Pepperstone allows you to utilise all the great features of MT5 by providing two extra special packages to run alongside your MT5 trading. The Smart Trader Tools package is a suite of 28 easy to use Expert Advisor tools designed to help trade execution and management.
Autochartist is one of the most advanced statistical and charting market-scanning tools on the market. Having the option to use it is a real plus-point for Pepperstone clients who can take advantage of content that is applicable to both novice and experienced traders. The AC site is full of fresh and new ideas, which are appropriate for any style of trading.
More good news is that Pepperstone offers an extensive suite of research and learning tools to help you get the most out of the services it provides. The market analysis reports such as 'The Week Ahead' videos provide a valuable snapshot of upcoming events. The web-based tutorials are also of very high quality and cover a wide range of topics, ranging from 'How to get started' to 'Advanced Risk Management'.
Pepperstone is also regarded as having top-ranking customer services. It is regulated by the FCA (Financial Conduct Authority) and ASIC (Australian Securities and Investments Commission) as well as the CySEC, BaFIN, DFSA, CMA and SCB. It's easy to see why this broker would be a contender for best MT5 broker.
#2

XM
What We Liked
Free educational courses
Extremely low minimum deposits
Competitive variable spreads
Top-tier regulation
Transparent about fees

The extensive range of markets that XM offers on its MT5 platform demonstrates why the second generation has that little bit more to offer than MT4. MT5 has all the pioneering features of the MT4 platform but provides markets in more than 1,000 CFDs. Instruments traded include stocks and shares, gold, oil and equity indices. Leverage of between 1:1 and 30:1 is available.
The beauty of MT5 at XM is that it offers a one-stop-shop. A single login provides access to seven platforms where trading spread can be as low as zero pips. The trading interface is very user-friendly and comes with the option of one-click trading, full 'Expert Advisors' functionality, the ability to set sophisticated orders and the use of over 80 technical analysis tools and 40 analytical objects.
Market depth analysis, limited slippage, latest price quotes and the ability to hedge, completes what is a very impressive suite of trading tools. The MT5 platform at XM is available in desktop and WebtTader format (Windows, Mac, Linux OS compatible) and is downloadable as an Android and iOS app.
XM is a serious player. The firm has more than two million users and is regulated by Tier-1 regulators. Its global approach sits well with MT5 as both the broker and the platform are ideal choices for traders looking to access thousands of global instruments and markets.
#3

Admiral Markets
What We Liked
Tier 1 Regulation
STP (Straight Through Processing) for direct market access
Free MetaTrader Supreme Edition plugin
Wide variety of educational content

Admiral Markets is more of a boutique operator than some of the other 'mega-brokers', but that could work to its advantage.
With client numbers in the tens of thousands rather than millions, Admiral Markets has a more 'intimate' feel. Its small size has not prevented it from setting up a gold-labelled corporate structure. With a head office in London and regulatory licenses from both the FCA and CySec, there are few ways that it could improve in terms of client protection.
It also scores highly in terms of operational security. Two-factor authentication at login enhances the security of your account by using a secondary device to verify your identity. That prevents everyone but you from accessing your account, even if they know your password. This is a development that is starting to take off among brokers and Admiral Markets deserves credit for joining that trend to enhance the security of its clients.
the advanced features…are as good as you could hope to find.
Admiral Markets is much, much more than just 'safe'. It offers more than 3,800 CFD markets and excellent investor education services. In terms of MT5, the advanced features such as the Supreme add-on and market research via Premium Analytics are as good as you could hope to find. Both of these additional features are excellent tools, and beginner and advanced traders will both benefit from using them.
The latter (Premium Analytics) even allows you to tap into other highly regarded services, including Dow Jones News, Acuity Trading, and Trading Central.
Admiral Markets is very good indeed and appears to have plans to be the next big thing. It offers users the chance to develop secondary income streams through the Introducing Broker (IB) and Affiliate schemes.
#4

AvaTrade
What We Liked
Expert Advisor (EA) allowed
Top-tier regulation
Fast and easy account opening
No withdrawal fees
Multi-award-winning broker

The AvaTrade broker platform is certainly a good fit for MetaTrader 5 trading. Much like the system itself, the broker is adept at catering to beginner, intermediate and advanced types of trading.
The entry-level claims of AvaTrade are backed up by its £100 minimum balance on new accounts. The more experienced will note the wealth of powerful analytical tools on multiple, flexible and interactive charts.
As well as CFDs, forex, indices and commodities AvaTrade also supports the trading of cryptocurrencies and ETFs. It utilises MT5 functionality to tap into investment opportunities and a wide range of markets, which makes it one of the best brokers in that regard. The AvaTrade platform also offers a seamless fit for the 'Copy Trading' and 'Expert Advisor' facilities of MT5. This allows the trader to test their own algorithmic models or take advantage of other traders.
AvaTrade's comprehensive adoption of all the best features of MT5 extends to it supporting Windows, Mac, and Webmaster desktop platforms. It also supports Android and iOS handheld devices.
AvaTrade has a global outlook, so client protection depends on an individual's location. It is regulated by a range of Tier-1 authorities including Central Bank of Ireland, ASIC (Australian Securities & Investments Commission) and in Japan by the Financial Services Agency.
#5

HYCM
What We Liked
Choice of fixed or variable spreads and multiple account types
Higher leverage
Strong tracked record (established in 1977)
No deposit, withdrawal or inactivity fees
Fast trade execution speeds

Although founded back in 1977, HYCM has the feeling of being a new type of broker. The firm's innovative approach blends well with the MT5 platform, which it offers to its clients. By providing MT5, it is certainly looking to provide a next-generation style approach.
If you're registering with HYCM, the first neat feature you'll come across is that you can select from a choice of accounts with fixed or floating spreads. A third account is also on offer in the form of RAW spreads and Islamic style accounts are also available.
The minimum opening balance is a relatively low $100 and leverage can be as high as 1:500. The more liberal approach to maximum leverage terms comes from the broker's choice to operate using Tier-1 and Tier-2 regulators. It holds licenses with FCA and CySec but also the regulators of Dubai (DFSA) and the Cayman Islands (CIMA). The latter two may not be quite as highly regarded as their European peers but are certainly a long way off from being low grade.
If MetaTrader 5 trading is your preferred option, then HYCM could be for you.
Instruments available to trade include ETFs, CFDs, commodities, metals, stocks, oil, gold and indices. Customer support is available 24/5 and the platform can be set up in a range of different languages.
If MetaTrader 5 trading is your preferred option, then HYCM could be for you. The broker only offers MT platforms, so is 'all-in' in terms of getting the most out of the platform. The price alerts function is a neat feature and the MT charting tools carry over very nicely to the smaller screens of hand-held devices.