Pepperstone Review
Open Demo Account
14 minutes read
/
Updated: 03 August 2020
Pepperstone Group is the parent company of Pepperstone Limited, and it was founded in Melbourne, Australia, in 2010. The founders are experienced traders that have the common goal of improving online trading.
Over the years, Pepperstone has grown. Today, more than 73,000 traders from around the world use Pepperstone. The company processes USD $12.55 billion daily, on average. This figure is enough to refer to it as one of the largest brokers in the world for that asset class.
Strengths
Regulated by the FCA and ASIC.
Offers multiple free deposit methods.
Is an award-winning broker.
Has a local London office.
Weaknesses
The product portfolio is somewhat limited.
What can you trade?
Trading forex gives clients access to the world's most liquid market, including majors, minors, and exotics. Pepperstone prides itself on offering competitive spreads and low commissions. The broker also places an emphasis on high-quality, low-latency execution without a dealing desk.
Trading with Pepperstone gives investors access to more than 60 currency pairs. The raw spreads can be just 0.0 pips for Razor accounts.
Most assets offered by Pepperstone will be found in a CFD review. Pepperstone offers index CFDs, share CFDs, cryptocurrency CFDs, commodities, and currency index CFDs.
There are 14 index CFDs on major stock markets from around the world, all without commissions and no hidden mark-ups. They also feature no requotes, low latency, and no dealing desk. The currency index CFD offerings from Pepperstone focus on the USDX, which measures six of the major currencies against the USD. Leverage on this currency index CFD can be up to 5:1.
Clients reading this Pepperstone UK review can also invest in more than 60 share CFDs from the United States markets. Trading commodities gives Pepperstone clients the ability to diversify their portfolio with assets that are typically considered safe. This includes five gold and silver options, two platinum and palladium options, five soft commodities, and three energy commodities. As you review Pepperstone's energy trading instruments, you will notice trade sizes start at just 10c per pip, they are commission-free, and the leverage is flexible up to 30:1.
Pepperstone does not offer direct investment into stocks, but the broker does offer share CFDs. These give traders who prefer the offerings found in a Pepperstone CFD review to buy and sell CFDs on shares.
There is access to more than 60 of the top-listed stocks from the United States. Although the Pepperstone share CFDs are limited to this region, the US share market has a market cap of more than $30 trillion, offering extensive opportunities for traders. It is among the few brokers that let clients take advantage of extended market hours for US equities, something that can help traders take positions early or reduce risk, a positive point in this Pepperstone review.
A Pepperstone UK review will not show any proprietary social trading choices, but the broker has partnered with third-party services to offer this type of trading.
Traders can use MetaTrader Trading Signals or ZuluTrade with Pepperstone for seamless social trading.
A Pepperstone cryptocurrency review will show you five major cryptocurrencies to invest in. These investments are in the form of CFDs, allowing traders to benefit from the highly volatile nature of the cryptocurrency market without having to own the assets.
As you review Pepperstone cryptocurrency CFDs, you will notice that all of them feature a major cryptocurrency traded against USD. Leverage on all of the cryptocurrency CFDs can be as high as 5:1 for professional clients or 2:1 for retail clients. There are no commission fees.
What did our traders think after reviewing the key criteria?
Pepperstone Fees
The majority of the broker's profits come from spreads, so those spreads tend to be the primary focus of most reviews looking at fees. The broker prides itself on offering competitive pricing and low spreads due to deep liquidity, which it does hold up to.
The spreads that traders get when using MetaTrader 4 or MetaTrader 5 are variable. Pepperstone reviews prices from multiple sources and providers to offer competitive rates to traders. This does mean that before making any trade, clients should take a minute to review Pepperstone's current spreads on the given asset.
As an example of the competitive nature of the broker's spreads, consider that you may review Pepperstone forex spreads to find them as low as 0 pips for EUR/USD, assuming you have the Razor account. Although the spreads are variable, Pepperstone strives for transparency. Our review team appreciates the list of minimum and average spreads for all of the broker's assets, which is readily available on the website.
In addition to spreads, clients will need to pay attention to swap rates, which can also be easily found on the various platforms. There are also clearly outlined commissions listed on the website, which vary based on the base currency and are rounded. Those who want to review Pepperstone's UK commissions in GBP for Razor accounts will notice commissions of GBP 0.02 per 0.01 lots and GBP 2.29 per one lot, with lots set to 100,000 of the base currency. The round turns are at 0.05 and 4.59, respectively.
Account Types
As you review Pepperstone account types, you will notice two main choices, Standard and Razor. Regardless of the account type, all retail clients have minimum trade sizes of 0.01 lots, maximum trade sizes of 100 lots, and leverage of up to 30:1. The minimum balance to open the account is always £200, and base currencies can be GBP, EUR, USD, or CHF. Both account types also allow scalping, hedging, and expert advisors. Neither has dealing desk execution and both offer news trading.
Standard accounts have institutional grade spreads with an average EUR/USD spread of 1.0 to 1.3 pips. This account type has no commission and is ideal for new traders.
Razor accounts have institutional grade spreads without markups and average EUR/USD spreads between 0.0 and 0.3 pips. This Pepperstone review suggests this type of account for algorithmic traders and scalpers, as that is whom the broker designed it for. Commissions start at GBP 4.59 round turns for every 100,000 traded.
Professional clients can apply to get exclusive features and higher leverage, but they will lose negative balance protection. Professional accounts include access to exclusive events, a relationship manager, access to the Active Trader program, credit facilities, and leverage of up to 1:200 for indices with up to 1:500 for forex.
Those who qualify for the Active Trader program receive rebates for forex trades completed on Razor accounts, with the rebates depending on the volume of trades completed.
Additionally, you can review Pepperstone yourself without any commitment via a demo account.
Platforms
We are impressed with the number of platforms offered by the broker, with MetaTrader 4, MetaTrader 5, and cTrader all available.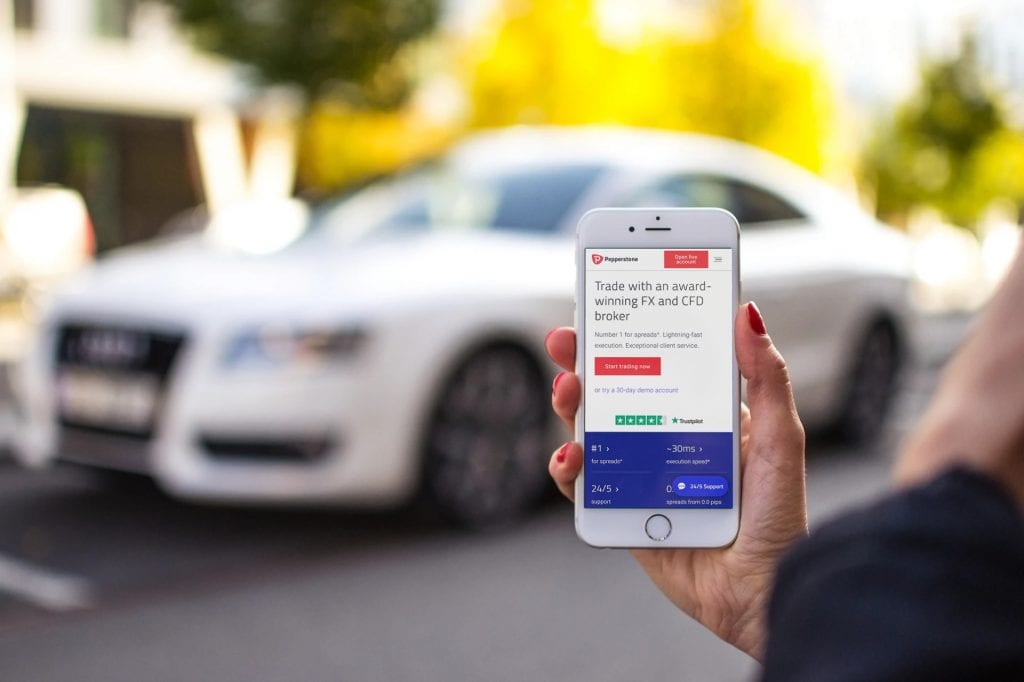 MetaTrader 4 is regarded as the most popular of the trading platforms in the world. It offers full customisation, the ability to create expert advisors with MQL4 or use the expert advisors created by others, and Autochartist for identifying trades with high probabilities. Pepperstone also offers Smart Trader Tools to supplement MT4, including the ability to access EAs and 28 indicators.
MetaTrader 5 is a more powerful version of MetaTrader 4, offering enhanced functionality. This Pepperstone review suggests that advanced traders opt for this platform to take advantage of the ability to code with MQL5, advanced customisation, in-built indicators, and faster processing.
cTrader offers an intuitive design that appeals to beginning traders and experts alike. It creates an environment similar to that of institutional trading. You can use advanced features to control order fills and slippage, code in C# via cTrader Automate, and access the FIX API.
All three platforms offer full support for iOS, Android, and Windows. MetaTrader 4 and MetaTrader 5 also support Mac OS, while cTrader and MetaTrader 4 both have browser versions.
Usability
Most people who try Pepperstone will agree that the website and platforms are highly usable. It is easy to find relevant information on the website, which has a professional appearance and layout. The bottom navigation menu is somewhat limited, but the main navigation menu is extensive enough to easily make up for this.
Customer Support
As you review Pepperstone CFD trading and other offerings, you will find the Support section of the website to be incredibly helpful. This page includes the FAQ section, where there are answers to the most common questions. Our Pepperstone review must caution that most brokers have a more extensive FAQ section than this one.
Contact information for Pepperstone is found at the bottom of every page on the website, including the UK phone number, the London address, and a support email. You will also notice a floating live chat button in the bottom-right corner of the page for easy contact.
Payment Methods
Clients should have no problem finding a payment option that works for them. However, it is important to note that you will not see the full range of deposit options until you open an account and login. There is also the notable absence of support for e-wallets.
Card Payments
Card payments are accepted, with both MasterCard and Visa compatibility.
Bank Wire Transfer
Pepperstone clients can also opt for a bank transfer. This method typically takes three to five business days.
Best Offers
We feel that most traders will find that the broker offers enough tools to help them make educated trades and stay informed. Smart Tools for MetaTrader adds 28 tools, indicators, and expert advisors. Other useful in-built tools in the various platforms include cTrader Automate, Autochartist, and API trading.
Pepperstone also has sections of its website dedicated to Market Analysis and Education. The first of these includes market news with daily articles, information on major financial events, and expert analysis for trading opportunities. It also features the economic calendar.
The Education section offers webinars, trading guides, and other online resources. Additionally, the broker encourages clients to review the educational offerings and contact Pepperstone if they would like to see more educational tools in a certain category.
Regulation & Deposit Protection
Pepperstone excels in terms of regulation, as both the FCA (Financial Conduct Authority) and ASIC (Australian Services and Investments Commission) regulate and authorise it in their respective jurisdictions. As such, it is no surprise that Pepperstone segregates client funds.
Awards
Over the years, many organisations have completed their own Pepperstone reviews and honoured the broker as a result. In 2019, the Global Forex Awards honoured Pepperstone as the "Best Forex Trading Support – Europe" and "Best Global Forex ECN Broker." In 2018, the Investment Trends report in Australia ranked Pepperstone "#1 for Spreads."
That same year, Compareforexbrokers named it the "Best Trading Platform and Best Australian Broker," and the UK Forex Awards honoured Pepperstone as the "Best Forex ECN Broker," "Best Forex Trading Conditions," and "Best Forex Trading Support."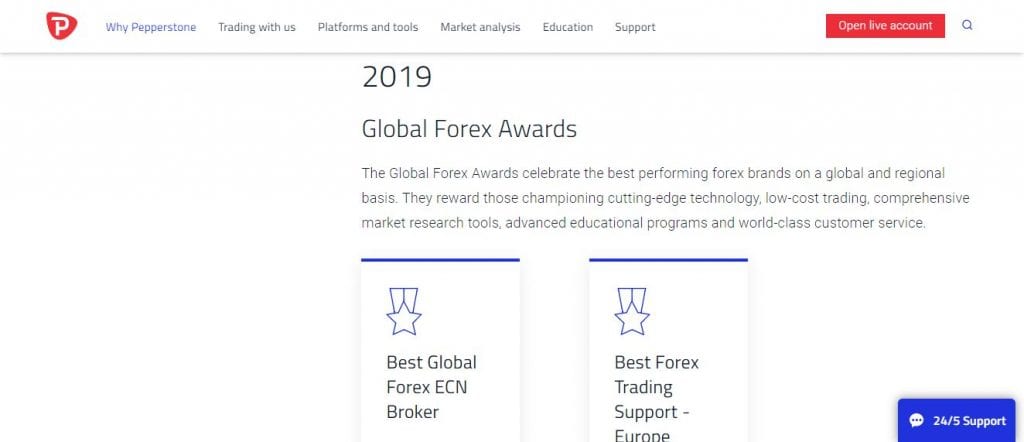 In 2017, Investment Trends honoured Pepperstone in the Australia FX Report, ranking it number 1 for Customer Service, Value for Money, Spreads, Risk Management, Fund Withdrawal, and Education Materials.
Pepperstone FAQs
To withdraw funds, log in to your Pepperstone client area, select the 'Funds' tab and click on 'Withdraw funds' to find all the withdrawal options. Choose your fund payout method and confirm the request sent to your confirmation email.
The fund withdrawal methods at Pepperstone include Visa, MasterCard, bank transfer and eWallets like Neteller, Skrill, PayPal, Union Pay and others. For requests received by 07.00 AEST, the ECN broker processes withdrawals the same day, else the following day.
Yes, Pepperstone is an ECN broker and depends on the competitive spread to earn profits.  The broker uses multiple liquidity providers to ensure high-speed order execution and external pricing sources to provide clients with competitive quotes. The broker also offers competitive swap rates and low commissions, making them very inexpensive in terms of client trading costs.
With a client base of 73,000 traders and more than $12.5 billion in average daily trading volumes, Pepperstone is one of the largest CFD brokers in the industry. The ECN broker is well-regulated, offers 150+ products, an average trade execution speed of 30ms, excellent trading conditions,  and 24/5 support, all of which are makings of a good broker.
Besides, the broker's awards and recognitions include
Best forex trading support – Europe.
Best Global forex ECN broker.
#1 for spreads.
Pepperstone offers the choice of two account types – Standard and Razor. While the spread on the Standard Account starts at 1.0 pip with zero commissions, the bid-ask difference on the Razor Account is from 0.0 pips with commissions of £4.59 for a transaction size of 100,000.
Regardless of the account type, the minimum deposit is £200, which is not bad for an ECN broker with low client trading costs.