Buying into small and undervalued firms can really pay off if they reach their full potential. Amazon, Microsoft and Apple now have market capitalisations of trillions of dollars but were all once low-key operations that each spent periods being out of fashion.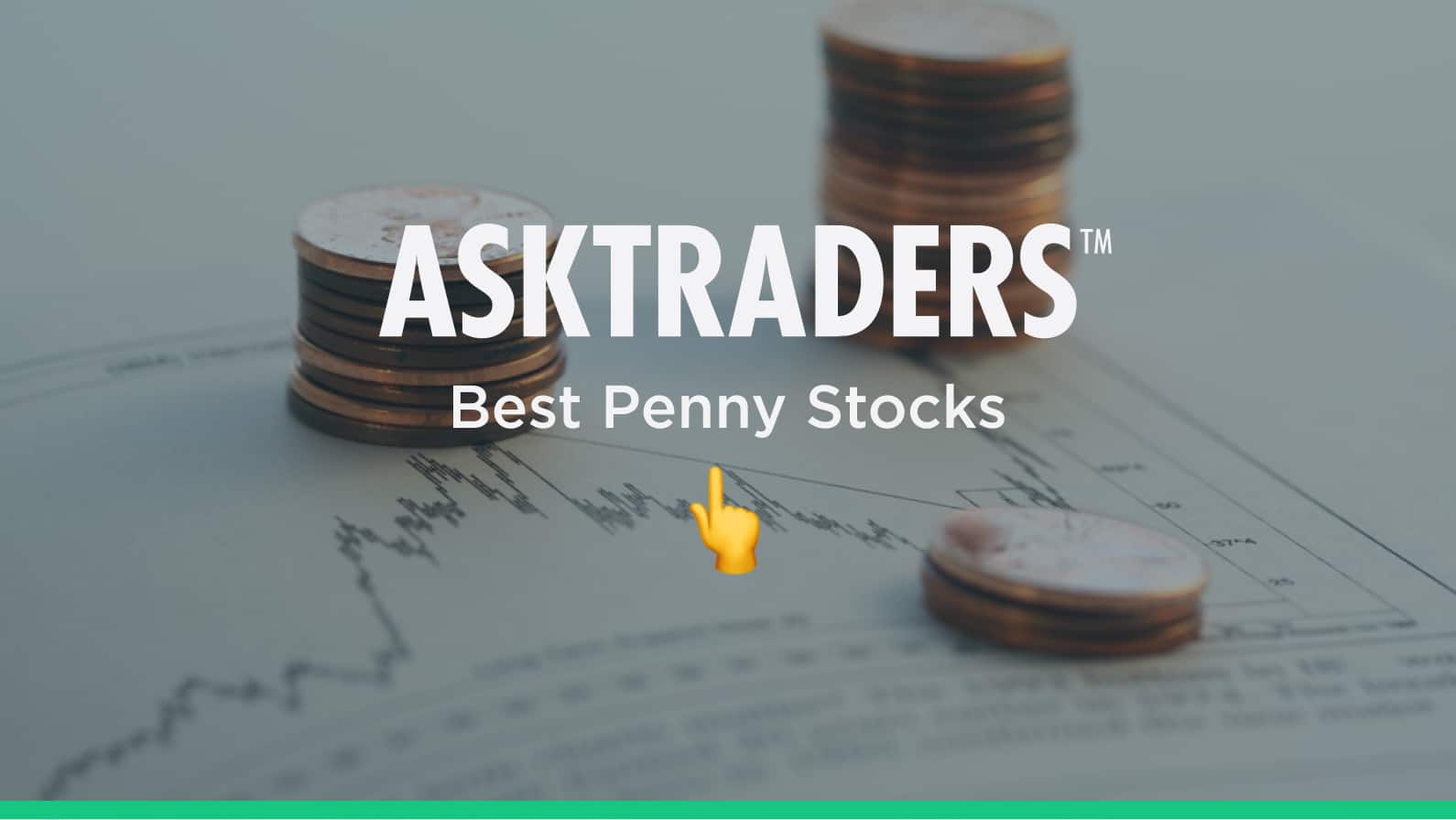 If you'd bought 100 shares of Microsoft in the IPO in 1986, you'd have paid $21 per share and by December 1999, you would have been sitting on an asset worth $1.25m. Penny stocks and growth stocks can be a rollercoaster ride. Less than 12 months later, that Microsoft position would have been worth less than half it was at the peak of the dot-com boom.
The trick to buying into small cap stocks is to do your research and develop the right mentality for holding the position. This review will show you how, and will also cover which brokers can help you meet your aims for getting a return on cheap stocks.
The Best Cheap Stocks to Buy Now
The phrase 'cheap stocks' refers to firms that have a lower-than-expected valuation. The key factor to consider is that the valuation is determined using a formula, but the view on whether that valuation makes a stock cheap or not, is subjective.
A firm's market capitalisation is calculated using a simple formula
The number of shares issued by the firm x share price = market capitalisation
A commonly used measure of a stock's valuation is the Price/Earnings ratio.
P/E ratio = company's share price / earnings per share
Put another way, if a firm currently has a low share price it will have a low market cap and low P/E ratio. If you expect a firm's earnings to increase in the future, then it's likely its share price will increase as a result. Buying some of those cheap shares will allow you to benefit when the current mispricing is resolved by market forces.
If the P/E ratio goes too low it attracts the attention of the millions of traders who monitor such things very closely. These firms have low P/E ratios and if you expect the situation to improve, then now would be a good time to buy.
The Best Undervalued Cheap Stocks to Buy Now
Apple
Apple is a great place to start, as it demonstrates how 'cheap' is determined by an individual's own take on a situation.
The firm has a market cap in excess of $2tn and a P/E ratio in the region of 36. This is not dirt cheap but there are reasons to think the tech giant is currently undervalued.
The firm now has a secure base of 1 billion iPhone users.
Its roll out of additional services such as wearables and music services will allow the firm to leverage its loyal client base.
Analysts forecast revenues will grow by 22% in 2020.
Apple's P/E of 36 is actually lower than the market benchmark — the average for the S&P 500 index is closer to 40.
Apple proves valuations are relative and there are clear arguments to suggest the stock is currently undervalued.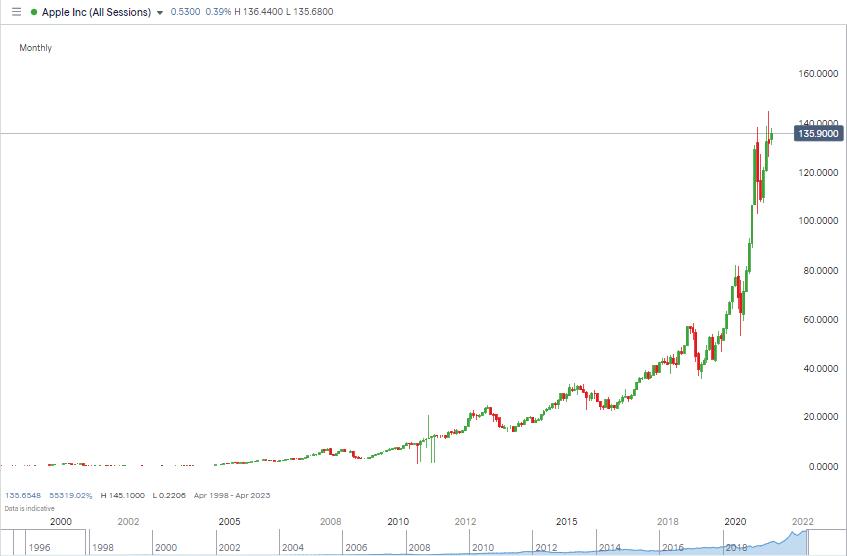 Source: IG
Barclays
Banks have so far weathered the COVID-19 storm. Expectations that the challenges of the pandemic would put pressure on the finance sector drove prices down in 2020.
Green-shoots of economic recovery are beginning to appear.
If inflation takes hold then interest rates will rise — banking margins are fatter in higher interest rate environments.
The Bank of England announced in December that UK banks can once more pay dividends to their shareholders.
The share price has languished for months and years — you haven't missed the boat on this one, yet.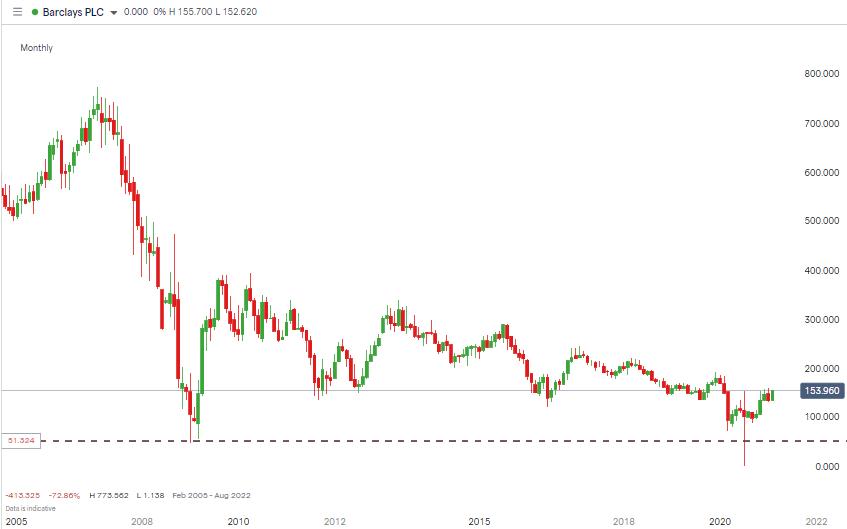 Source: IG
BT Group
The BT share price took a hit in 2020 when it announced it would not be paying a dividend to shareholders. The firm had built a loyal following of yield-hungry investors, which meant the stock price was firmly shaken by the news.
The dividend is back for 2021 and expected to be an interest rate busting 6%.
5G — BT currently has the greatest UK network coverage of the new tech rollout.
The fibre-to-the-premises (FTTP) project, which has drained resources, is going well.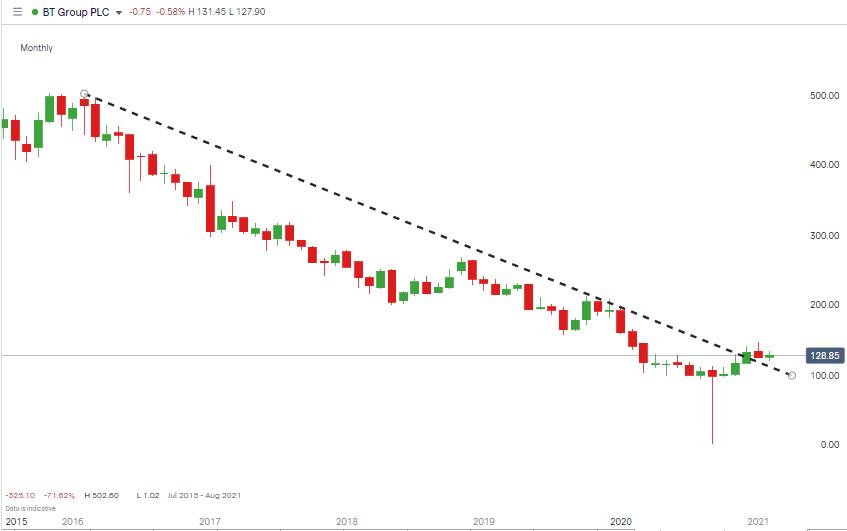 Source: IG
Rapidly Growing Cheap Stocks
Eve Sleep
Mattress maker Eve Sleep is typical of an up and coming stock making a big return for some, but not all, investors. The firm traces its origins back to 2015 and has a share price that could be about to take off.
Catalysts for growth include:
Change of plan — The management team appears to have accepted its initial business plans were over-ambitious, for now at least. The firm has scaled back on expansion plans and focussed on day-to-day business. As a result, the Eve Sleep share price is up more than 200% in less than 12 months.
Current demand — Lockdown has been good for some. Middle-earners who have been saving on commuting costs have been busy buying diverting cash to Eve Sleep products. Eve Sleep looks set to benefit from consumers giving higher priority to the quality of their home environment.
Latent demand — If the release of lockdown rules triggers a boom in house sales then a bedding firm is in a good position to also benefit.
Some Eve Sleep investors are still sitting on losses, which date back to the stock trading above £20 back in 2018. However, dynamic firms are inherently risky for investors and those getting in at current levels will be weighing up whether to take the £20 price level as a target or a warning.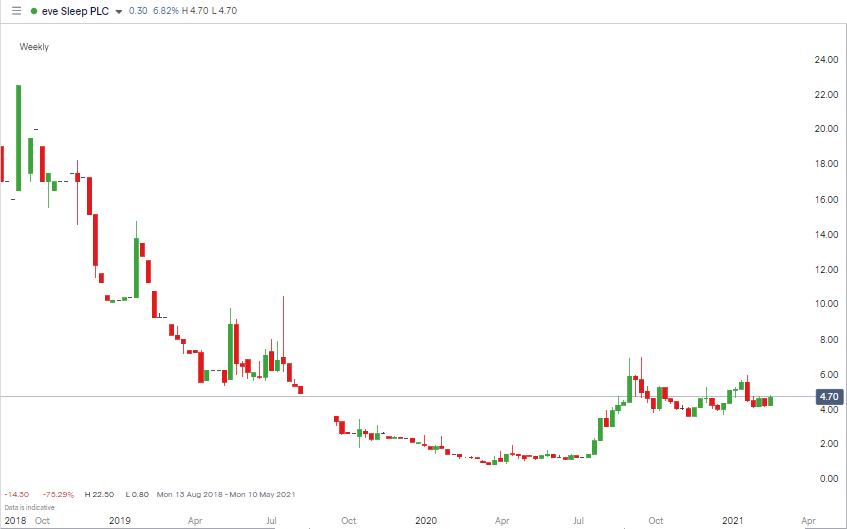 Source: IG
Wishbone Gold
Mining stocks are often associated with rapid growth. Positive results from test-drilling programs can seriously boost the share price as demonstrated by Wishbone Gold's doubling of value in one day in August 2020.
News that the firm probably has its drills in the right place has seen the stock price increase by more than 1,000% in five months.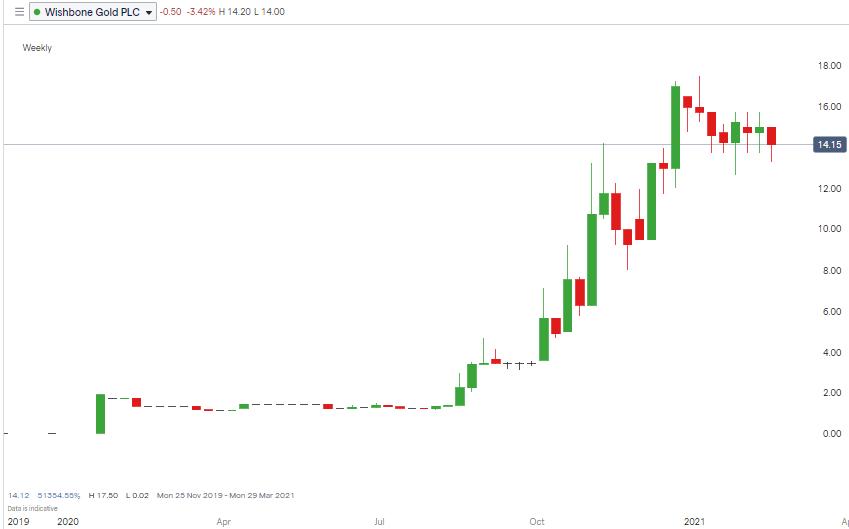 Source: IG
Cheap Stocks with the Strongest Momentum
Maestrano Group
Maestrano Group is a data analytics firm that has patented platforms in the in-fashion cloud-based computing sector. Its services include business intelligence and data visualisation, which are already very popular with the banking sector.
The company signed several new deals in 2020 and expanded its reach by securing new relationships with third parties. Its acquisition of engineering surveyor AirSight in 2019 gave the firm a foothold in the infrastructure sector.
Nothing is ever guaranteed, but Maestrano is often referenced in studies of the best penny stocks to buy in the UK.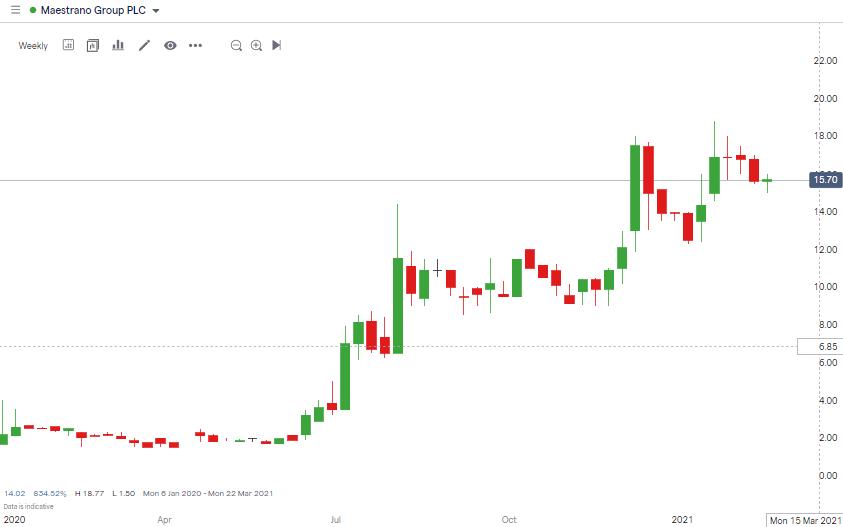 Source: IG
Galantas Gold Corp
Galantas Gold has been picking up steam since May 2020. The shares are listed on the LSE AIM market and are have, at times, surged by more than 1,000% in a matter of weeks.
Drilling results from the firm's mine in County Tyrone, Northern Ireland, suggested that the amount of gold in the location far exceeds what was previously thought.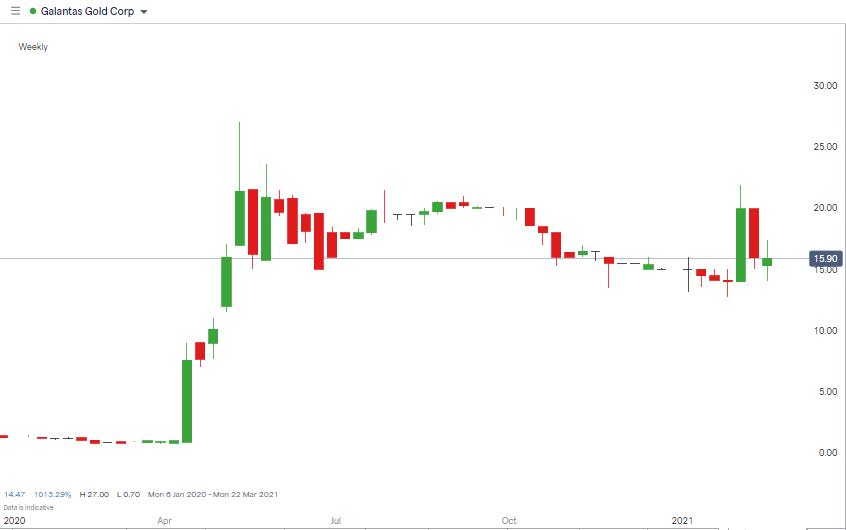 Source: IG
ValiRx
Life science firm ValiRx demonstrates both the highs and lows of investing in penny stocks. The firm almost went bust in early 2020 and corporate restructuring programs took existing shareholders to the brink of being wiped out.
Some months later, in September 2020, the firm was releasing positive lab reports on a new cancer drug and the ValiRx share price doubled in the space of one week. Having recovered from its near-death experience, ValiRx is now frequently referenced in lists identifying the best penny stocks for 2021.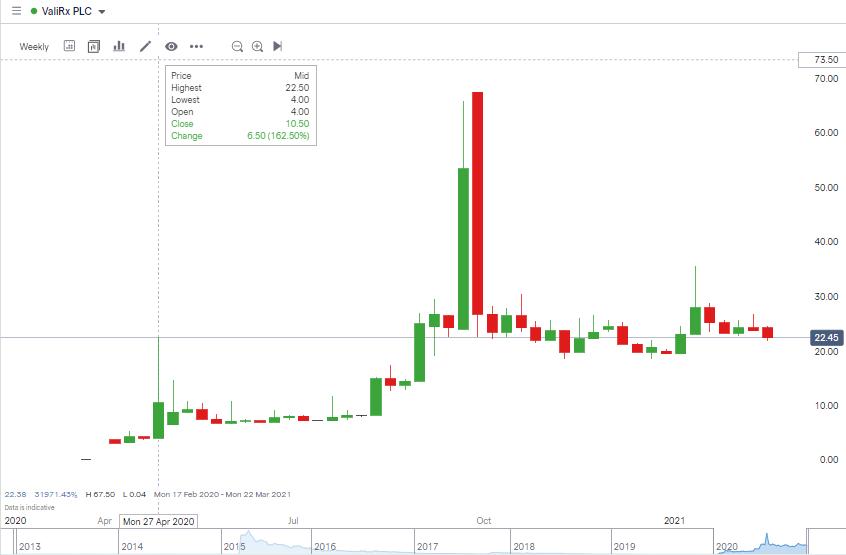 Source: IG
Why Invest in Penny Stocks Now?
Penny stocks are a way to scale up your risk-return ratio. They can be a white-knuckle ride and so even the most experienced investors will usually assign only a small percentage of their capital to them. However, buying into a small growth stock and doubling your money never went out of fashion.
What to Know Before Investing in Penny Stocks?
It's possible to make substantial profits from the best penny stocks, but there are some potential downsides to be aware of.
Time intensive
Sudden bursts of stock price momentum can see investors banking considerable profits, but the fact that a situation is ever-changing can be a demand on your time. With prices whipsawing, keeping up to date with events can make a big difference to your P&L. It is worth assessing how much time you realistically have to follow events.
Scams & Scammers
Stocks with low trading volumes are susceptible to price manipulation. Penny stocks are a cut-throat world so check average trading volumes prior to taking a position or else you risk getting stuck in a losing trade.
Insider information
The penny stock market is one of whispers and intrigue. More importantly, it's one of mis-information with agents willing to land you in a bad position if it helps them get out of one.
Catalysts needed
Even great stories need a spark to get their share price moving. If that spark is not forthcoming, you might find your cash tied up for a considerable time.
Cold calling
The world of penny stocks has a well-deserved bad reputation due to the exploits of certain brokers who make unsolicited calls.
If someone calls you to give you the inside line on the next big thing, then treat it as a huge red flag.
How to Start Trading Penny Stocks Online
It takes moments to set up an account with an online broker and start buying penny stocks. It can be time well spent and once done it is just a case of tracking the share prices using desktop platforms and mobile trading apps.
Free demo accounts are a great resource for beginners. They allow new users to get to grips with the mechanics of how to trade and also let you test-drive the brokers.
There are two factors that are particularly important for penny stock investors.
The length of time you expect to hold the stock will determine whether you buy the stock outright or in CFD form. This research report on CFD vs Share Dealing explores that subject in greater detail. Penny stocks can sky-rocket overnight, but they can also be a slow-burn situation. If you think you'll be holding your investment for months and years rather than days or weeks, you are probably better off buying shares outright.
Choose a well-regulated broker to ensure your funds are safe. There is nothing more disheartening than making a profit on paper but finding out your broker is a scam. Choosing a broker operating under license from any of the below is a good place to start.
Tier-1 Regulators:
The Financial Conduct Authority (FCA)
The Australian Securities and Investments Commission (ASIC)
The US Securities and Exchange Commission (SEC)
Cyprus Securities and Exchange Commission (CySEC)
1. Research Penny Stocks
If you're looking for the best penny stocks to buy now then you'll need to work out how to establish the long-term prospects of a company and any potential price change catalysts. Good online brokers offer their clients in-depth fundamental analysis and news feeds on the different stocks.
Using a stock screener is another good idea. These scan the market for stocks that meet a certain criterion and one of the important metrics is daily trading volumes — to make sure you don't get stuck in a position.
2. Choose a Broker
Most brokers offer markets in large cap stocks but not all make it possible for their clients to trade small cap listings and penny stocks. We've provided a list of regulated brokers that are strong in terms of equity coverage. All you need to do is visit their site and check the layout and T&Cs are to your liking.
3. Open and Fund an Account
Registering for an online brokerage account is very straightforward. There are some Know Your Client (KYC) protocols, which the regulator asks for. These are designed to enhance client protection and shouldn't take more than a few minutes to complete.
4. Set Order Types
As penny stock markets can be illiquid it is recommended that traders use limit orders rather than market orders. This means you don't buy the real-time price and risk chasing the price up, but instead you wait for price to come to you and fill your order as and when market conditions allow.
5. Select and Buy Penny Stocks
Buying the best penny stocks is then as simple as logging on, entering the amount of shares you want to purchase, and setting your limit order. One last minute check to make is whether you're buying in CFD format or buying shares outright.
Best Broker for Trading Penny Stocks:
eToro:
68% of retail CFD accounts lose money
Take a look
The trading platforms of these brokers are market-leading. Brokers invest heavily in developing their sites so they have functionality that is both user-friendly but also powerful enough to help you spot opportunities for profits. In terms of security of funds, these brokers are hard to beat. They are all regulated and have impressive track records. Whether you are already committed to buying some penny stocks or are just curious, it's possible to visit their sites and maybe put on some positions.
Summary
Trading penny stocks can be a high-octane experience. If you're still not quite sure about the idea it's worth trying it out using a risk-free demo account before committing. If you're already certain it's for you, then do make sure you use a regulated broker because if things do go well for you there could be significant profits made and you'll want those to be protected.