Disney (NYSE: DIS) shares have experienced a roller-coaster over the past couple of years. The share price was hit by COVID, and the firm's theme parks and Disney Cruise operations found themselves in the heart of sectors most impacted by lockdowns.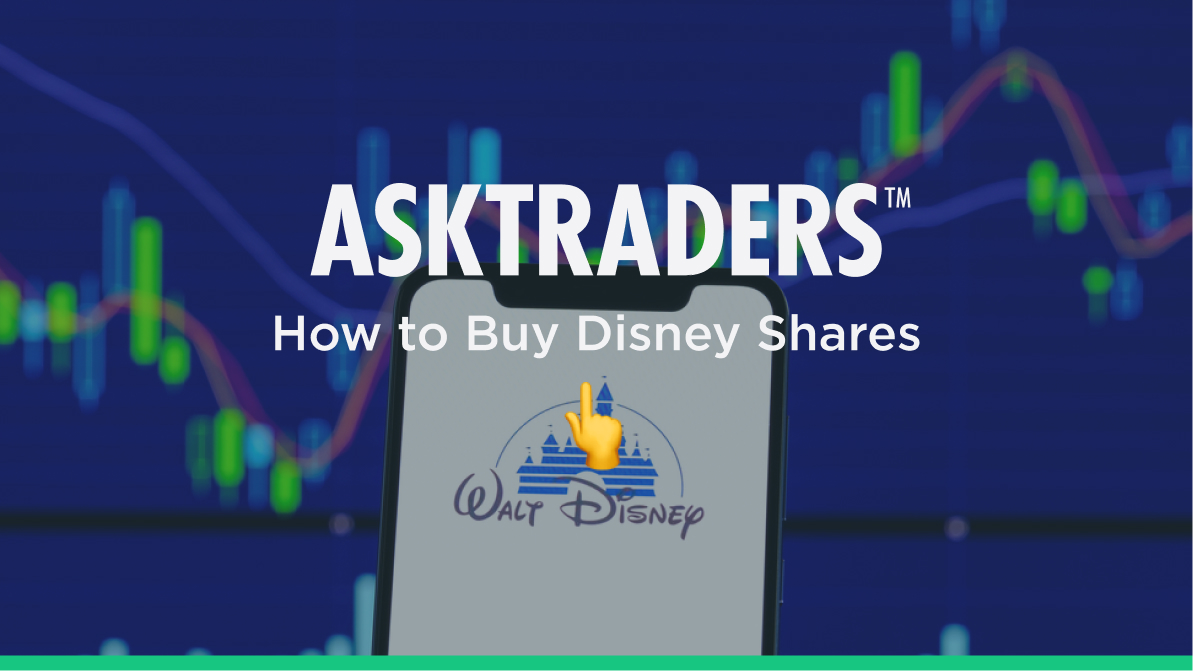 While lockdowns are long gone, the share price has remained under pressure despite the performance of the company's Disney+ streaming service, which was launched in 2019. Even so, many analysts and investors still see good reasons to buy Disney shares. Doing so is incredibly easy, thanks to online brokers that can get you set up and holding Disney shares in a matter of minutes.
Disney Overview
Disney's operations date back to the era of silent movies and were initially focused on family entertainment. The firm built such a strong brand in that area that its name has come into common usage. During the 1980s, it broadened its approach and moved into different markets. Films such as The Dead Poets Society (1989) and Pretty Woman (1990) opened up new markets. At the same time, the Disney renaissance saw a renewed interest in classic animations such as The Little Mermaid (1989) and The Lion King (1994).
It's been no stranger to engaging with disruptors who were pushing boundaries. In 1989 it formed a partnership with muppet creator Jim Henson and, in 2012, bought the Star Wars franchise for $4.05bn. Despite the hefty price tag on the purchase of Lucasfilm, Disney has managed to successfully leverage the brand and make a profitable return.
The strong bond between the public and the firm cuts both ways and often means boardroom fall-outs spill into the mainstream press. The fallout between Disney and Pixar is one example of when the challenges faced by the firm were publicly exposed.
Disney Shares: The Basics
Walt Disney Company is listed on the New York Stock Exchange under the ticker DIS. The company has a significant market capitalisation, and being so large in size means it qualifies as a member of the Dow Jones Industrial Average index.
The firm is a global player — it has ten offices in eight different countries, with the group headquarters found in Burbank, California.
Future growth is tightly linked to the Disney+ direct-to-consumer streaming business.
Potential investors in Disney are keeping a close eye on streaming rivals, including Netflix, which has recently tested the loyalty of its consumer base by increasing subscription charges. Either way, Disney+ looks set to build on its nearly 100 million client base.
Disney's other divisions also have strong potential.
Steps to Buy Disney Shares
Online brokers have revolutionised the investment industry. Whether you're using a desktop or mobile device, it's possible to register with a trusted broker and, within minutes, buy Disney shares online. It's cost-effective, reliable, and easy to do.
It doesn't matter where you are located, as the brokers are global operations, and many have millions of existing clients taking advantage of the user-friendly service. If you want to buy Disney shares from the UK or the USA, the process is the same.
When you buy Disney shares, you get exposure to the future prospects for a global operator. Whether buying Euro Disney shares or those of Tokyo Disney, all operations are reflected in the price of Disney shares.

1. Choose a Broker
There are a lot of good and trusted brokers who are set up to make buying Disney shares as easy as possible. As the process of buying has been so streamlined, they offer a fairly generic approach, but some brokers focus on prioritising one part of the trading experience.
This list of good brokers is a short list of firms that are established in the market and licensed by well-regarded financial regulators.

Source: IG
2. Open & Fund an Account
The process of registering for an account is done online and can even be completed from mobile phone handsets. Regulated brokers are required to ask a series of questions to build a profile of their clients. Going through the 'Know Your Client' questions doesn't take long and can be useful as some of the questions are on subjects such as 'what are your investment goals'.
Once you've completed the form-filling, it's a matter of transferring funds to your new online account. Most brokers offer a large number of different payment methods, including bank transfer and debit and credit card. If you're in a hurry to buy Disney shares, it is worth checking the time taken for the different methods to be credited to your brokerage account.
Searching for the Perfect Broker?
Discover our top-recommended brokers for trading stocks, CFDs, forex, cryptos, and beyond. Dive in and test their capabilities with complimentary demo accounts.
YOUR CAPITAL IS AT RISK. 81% OF RETAIL CFD ACCOUNTS LOSE MONEY
3. Open an order ticket and set your position size
Once you're past those stages, buying Disney involves locating the market, entering the amount you want to buy, and clicking the 'buy' button. There are a lot of markets on offer, and it's a case of filtering through the different asset groups to find Disney or, alternatively, looking the firm up using the stock search function.
4. Set your stops and limits
Stop Loss and Take Profit orders are instructions built into your trades that automatically close out positions if the price reaches a certain level. Stop losses are a risk management tool that ensures you cut a position that goes against you. Take Profits lock in gains if the price reaches your target price.
Some brokers also offer Limit Orders, which allow you to set your target price for opening a trade. If Disney shares are trading at $200, for example, you can instruct your broker to buy the next time the price reaches $195. There is no guarantee you'll be filled on a Limit Order, but picking an optimal entry point can enhance trading returns.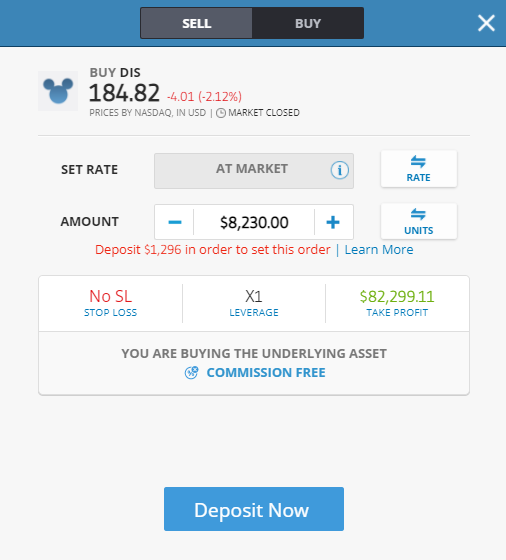 5. Select & Buy Disney Shares
Clicking or tapping a screen is all it takes to buy Disney shares. There are two final checks to make — one comes before you click 'buy' and one afterward.
Before you buy, it's important to check if you are buying the CFD instrument or buying the equity outright. CFDs allow you to use leverage and scale up the risk-return on the trade. This does mean that financing charges come into play. If you're looking to hold your Disney shares for more than a few weeks, it's likely to be more cost-effective to buy them outright. This article explores that subject in greater detail.
After you trade, be sure to check your portfolio and that what you wanted to buy is what you actually did. Any errors are best corrected before the price moves too far from your trade entry price.
Fees When Buying Disney Stock
The user-friendly nature of online brokers extends to the pricing schedules they apply. The majority make their money on the difference between the buy and sell prices they offer clients — the bid-offer spread.
This approach removes the need to factor in separate commissions into your calculations and also allows you to compare brokers to find the one offering the tightest Disney spreads.
| | eToro | Plus 500 | Markets.com | AvaTrade |
| --- | --- | --- | --- | --- |
| Live Account Fee | No charge | No charge | No charge | No charge |
| Demo Account Fee | No charge | No charge | No charge | No charge |
| Bid Offer Spread – Disney shares | $0.19 | $1.39 | $0.49 | $1.05 |
| Cash Deposit Fee | No charge | No charge | No charge | No charge |
| Cash Withdrawal Fee | Yes – $5 per transaction | No charge | No charge | No charge |
| Inactivity Fee | Yes – $10 per month after 12 months inactivity | Yes – $10 per month after 3 months inactivity | Yes – $10 per month after 3 months inactivity | Yes – $50 per quarter after 3 months inactivity |
| FX Conversion Fee | Offers accounts in USD, only | Offers accounts in USD, GBP and EUR | Offers accounts in 14 base currencies incl. USD, GBP, EUR | Offers accounts in USD, GBP, EUR, CHF |
| Minimum Deposit | $200 (or equivalent) | $100 (or equivalent) | $250 (or equivalent) | $100 (or equivalent) |
There are some other administrative charges to factor in. Some of these can be avoided if you instil some discipline into your trading. Trying out the demo accounts of different platforms is recommended as it will not only allow you to practise trading but also get a better understanding of each broker.
Once you're on the platform, it's easy to dig down into the T&Cs and make sure your Disney trading strategy can be carried out in a cost-effective manner.
Final Thoughts
Walt Disney shares, buy or sell? The company's share price has certainly posed questions for investors and analysts in recent years. The global uncertainty has certainly weighed on the stock. 
Regardless, Disney has critical mass and the opportunity to move into growth sectors. It can't be guaranteed that the firm will be successful in executing that strategy, but for many, now is the right time to buy Disney shares.
The best news, particularly for new entrants into the market, is that the process of buying Disney shares is now a user-friendly and cost-effective experience.