Note: This content does not apply to US users
eToro Demo account is a great way to experience how online trading works without risking any of your hard-earned savings. Once you open the account you'll be awarded $100,000 of virtual cash, which you can invest in any asset available on the platform.
---
76% OF RETAIL CFD ACCOUNTS LOSE MONEY
---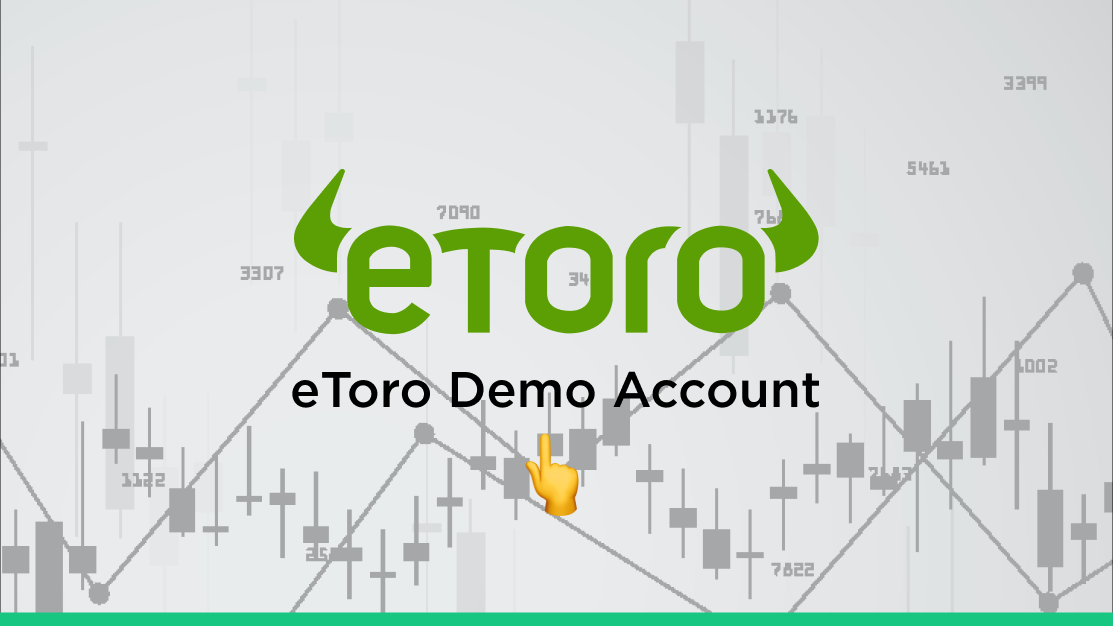 After you invest in the virtual assets, you'll be able to track the success of your portfolio and determine if online trading is for you. To help you get started, in this eToro demo account article we will explain:
How to open an eToro demo account
Opening an eToro Demo account is a relatively simple affair. All you need is an email and 5 minutes of your time. No credit card data is required.
Step 1: Visit eToro's website
The first step is to go to eToro's website.
---
76% OF RETAIL CFD ACCOUNTS LOSE MONEY
---
Step 2: Click the "JOIN NOW" button and complete the registration process
Once you are there, all you need is to click the "JOIN NOW" button in the top right corner.
Once you've clicked there, you will be taken to the standard sign-up screen.
There you need to provide your email, choose your username and password, and agree with Terms & Conditions and Privacy/Cookie Policy.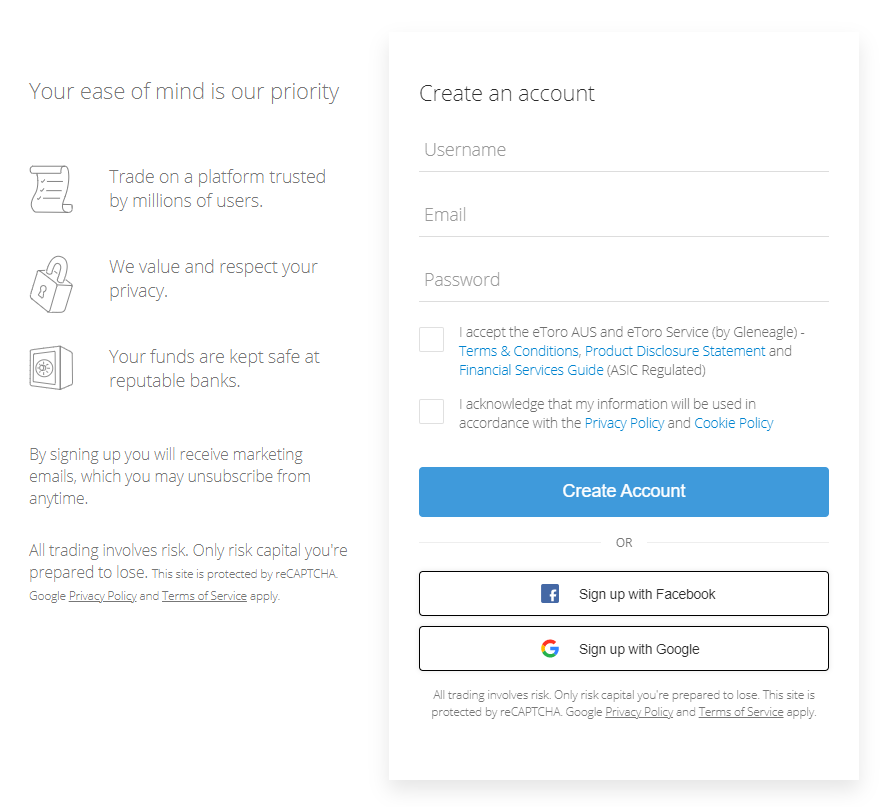 Once you do that, you will be sent an email from eToro to the email address you provided.
Now all you have to do is log into your email account and confirm the email by clicking on the "Verify Your Email" green button.
STEP 3: Switch to Virtual Portfolio
This will take you straight to eToro's online platform.
However, there's one more step before you can start your virtual trading journey.
You need to switch the account from "Real" to "Virtual".
To do this, click on the "REAL" green text below your profile picture and choose "Virtual Portfolio" and then just click "Go to Virtual Portfolio"
You can also click "Complete Profile" and provide the full data, but this is not necessary at this stage.
STEP 4: Get to know the platform
Viola! Now you are using eToro's online platform and you can start experimenting. However, it's worth having a look at the basic features of the platform before making your first virtual trade.
Here's a look at the platform of one of our colleagues who recently opened a demo account.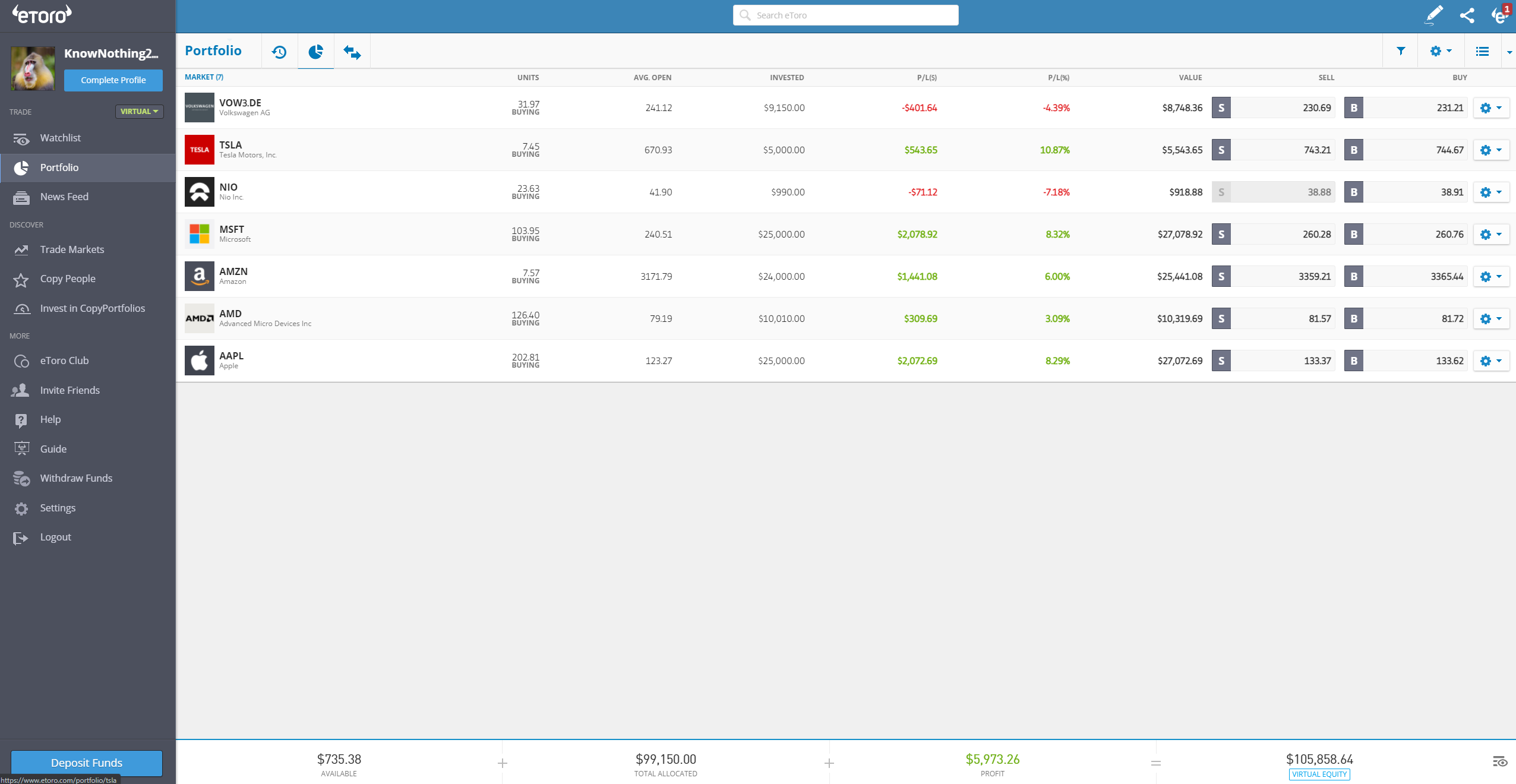 Note: Your past performance is not an indication of future results.
The most important terms to know are:
Watchlist — this is a list of assets you follow but you may or may not virtually own them. You can freely remove or add them to your watchlist. eToro creates a watchlist of the most popular assets automatically for you.
Portfolio — this is a list of assets that you virtually bought. Here you can track your profits and losses. Once you buy an asset it will be added to your portfolio, and once you sell it, it will be removed.
Copy people — eToro is one of the brokers that popularized copy trading. This button lets you review and choose traders to copy.
Available funds — they represent the virtual money that you haven't spent on any asset, or in other words, you did not invest it yet.
Total allocated funds — this is the total amount of the virtual $100,000 you received that you invested in anything on the platform.
Profit — this is how much virtual money you would make or lose if you would sell all assets immediately.
Virtual Equity — this is the sum of Available funds, Total allocated funds, and Profit. In other words, that's the amount of virtual $ you would have if you would sell all assets.
Making your first trade
Now that we grasped all the basics, it's time to make your first trade. Note that markets open and close around the world and that you cannot trade any asset at any time.
For this example, we will choose stocks of a popular blue-chip company, Apple.
Apple Inc. is listed on NASDAQ and its stock ticker is AAPL. To buy virtual stocks follow these steps:
Step 1: Search for "APPLE" or "AAPL" in your demo account and click on the first result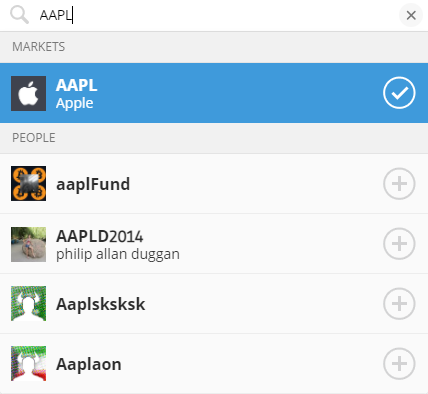 Step 2: Click on the "Trade" button in the top right corner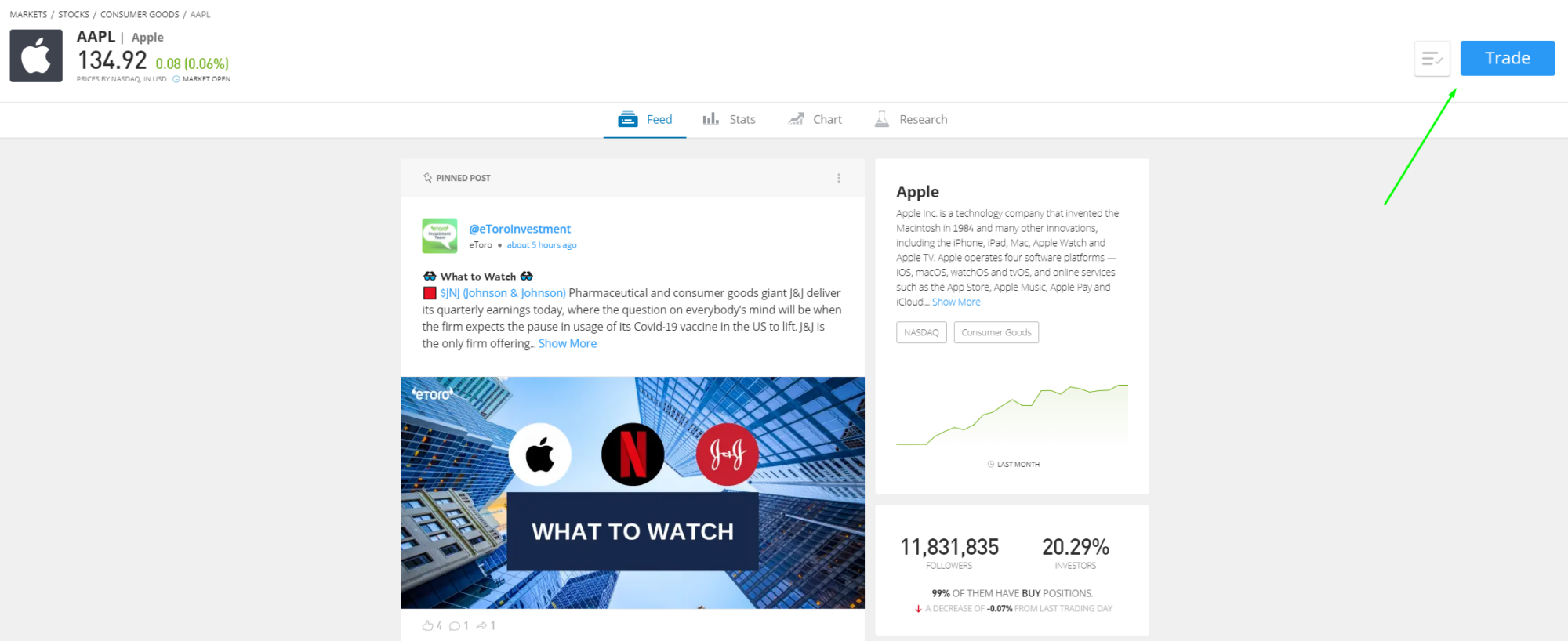 Step 3: Make sure "Buy" is selected and click "Open Trade"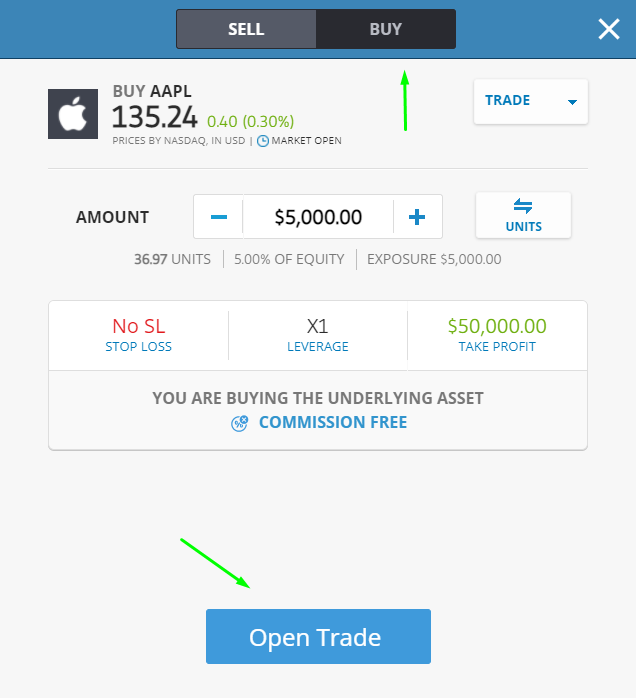 At this point, you might also experiment with the amount, stop loss limit and other variables.
While we strongly encourage you to do that with the virtual account, it's optimal to keep the first trade as simple as possible.
Step 4: Go to your portfolio and admire the virtual Apple shares you bought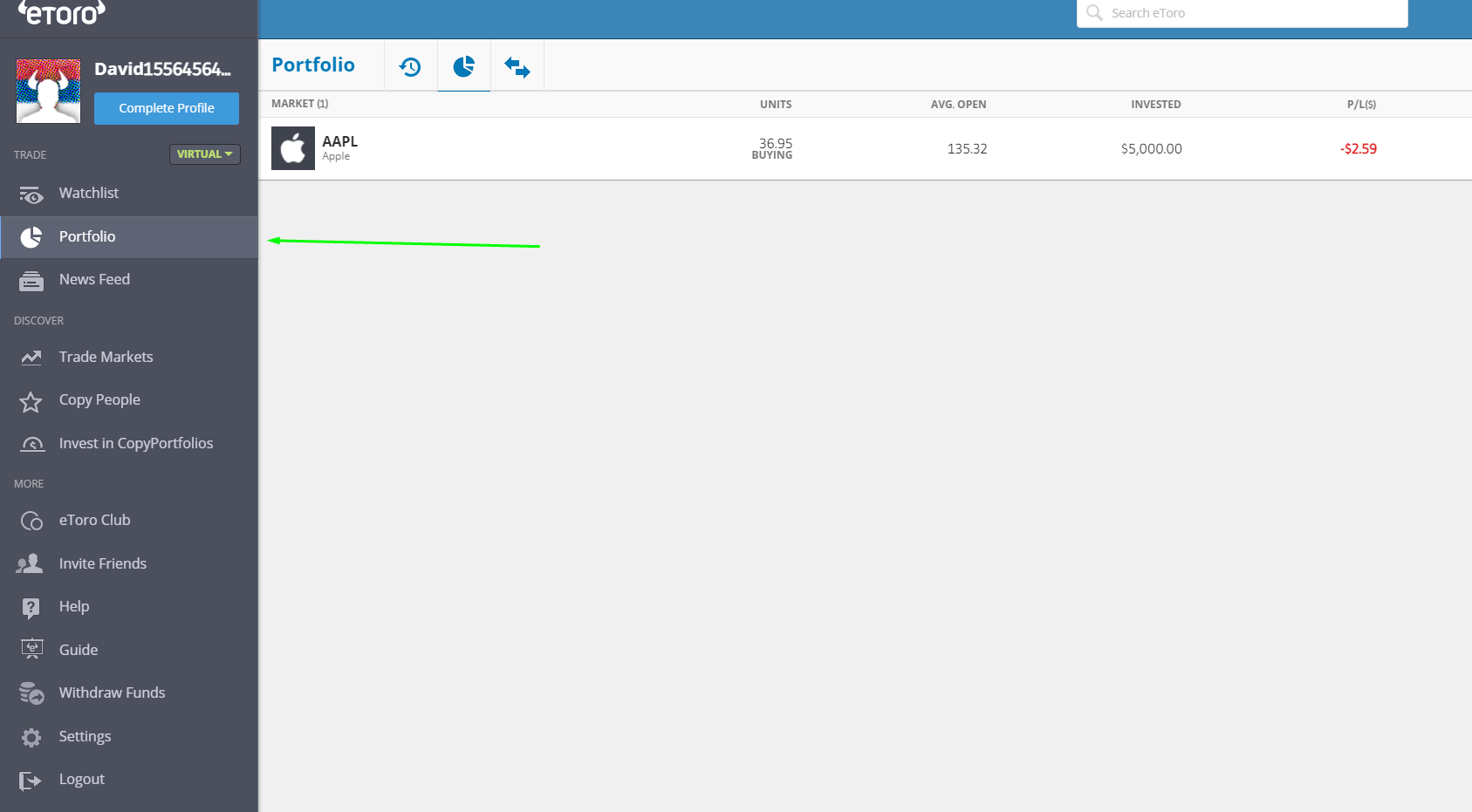 Now that you successfully invested virtually in Apple stocks, they will stay in your portfolio until you sell them. There you can track how the asset's value moves, and how much profit or loss you made. You can decide to sell the stock at any time.
How to learn the basics with eToro
Now we covered the bare minimum, but there is still a lot left to learn to become a successful trader.
For instance, stop loss, take profit, leverage — the terms we saw in the "BUY" screen — are all vital tools for any experienced trader.
One great source to get you started is the eToro trading academy.
Its main benefits are:
Live webinars
eToro eCourse program
Expert advice from online trading professionals
The academy helps traders develop mastery over the realm of financial trading with the benefit of moving at their own pace.
Add in the tool of community involvement, and new traders can learn how to manoeuvre around the eToro platform with aid and advice from eToro's own online trading experts.
Is eToro demo account the right choice
Experts agree that eToro is the best demo account for new and even intermediate traders looking for a secure way to brush up on their trading skills. Not only do they let users learn for free, but they also provide tools that allow self-guided teaching with the aid of a clean and intuitive interface.
The tools that eToro offers, from learning resources, to community support, to CopyTrader, are all designed to make the knowledge curve a pain-free experience.
However, this is not to say that eToro is perfect. Here are some drawbacks of the platform:
For starters, other brokers offering demo accounts may also offer a broader range of products available, but the support and simplified access to the eToro platform is what outweighs this negative.
Additionally, because the platform is so globally popular, there have been reported problems from time to time of the platform freezing. The unavoidable pangs of growing pains are bound to affect a company as large as eToro on occasion, even with a decade of experience behind them.
Another complaint that some have of the eToro platform is the cost associated. The spread fees at eToro are not the lowest in the industry, but nor do they claim that they are – and part of that is because eToro knows that in the big picture, when all of their trading-related fees are accounted for, tabulating their spread along with their lack of overnight fees and commissions, their overall fee structure is one of the most competitive in the business.
Nonetheless, eToro is an industry leader with an excellent platform offering accessibility for all interested parties looking to learn how to trade.
Opening a demo account doesn't cost you anything, but eventually, when you are willing to invest your own capital, eToro can help you do so in a way that primes you for success.
eToro platform overview
Boasting one of the easiest trading platforms on the market today, eToro thrives in the cross-section of simplicity and accessibility. A wide range of trading currencies, as well as the ability to trade in a variety of markets such as CFDs, commodity markets, and new emerging trends such as cryptocurrencies mean that eToro can offer such a plethora that anyone can find a way to trade that works for them.
The piece that pulls the eToro platform together and ties it up into a neat little package is the WebTrader, which allows users to engage on a global scale. Starting in 2009, WebTrader became the key for eToro clients around the world to find footing as traders, and has since been adapted into the award-winning and world-renowned all-in-one eToro program.
It includes tools for traders with experience ranging from beginner to advanced, and even an eToro demo account holder has access to all the same mechanisms that the "real" accounts do.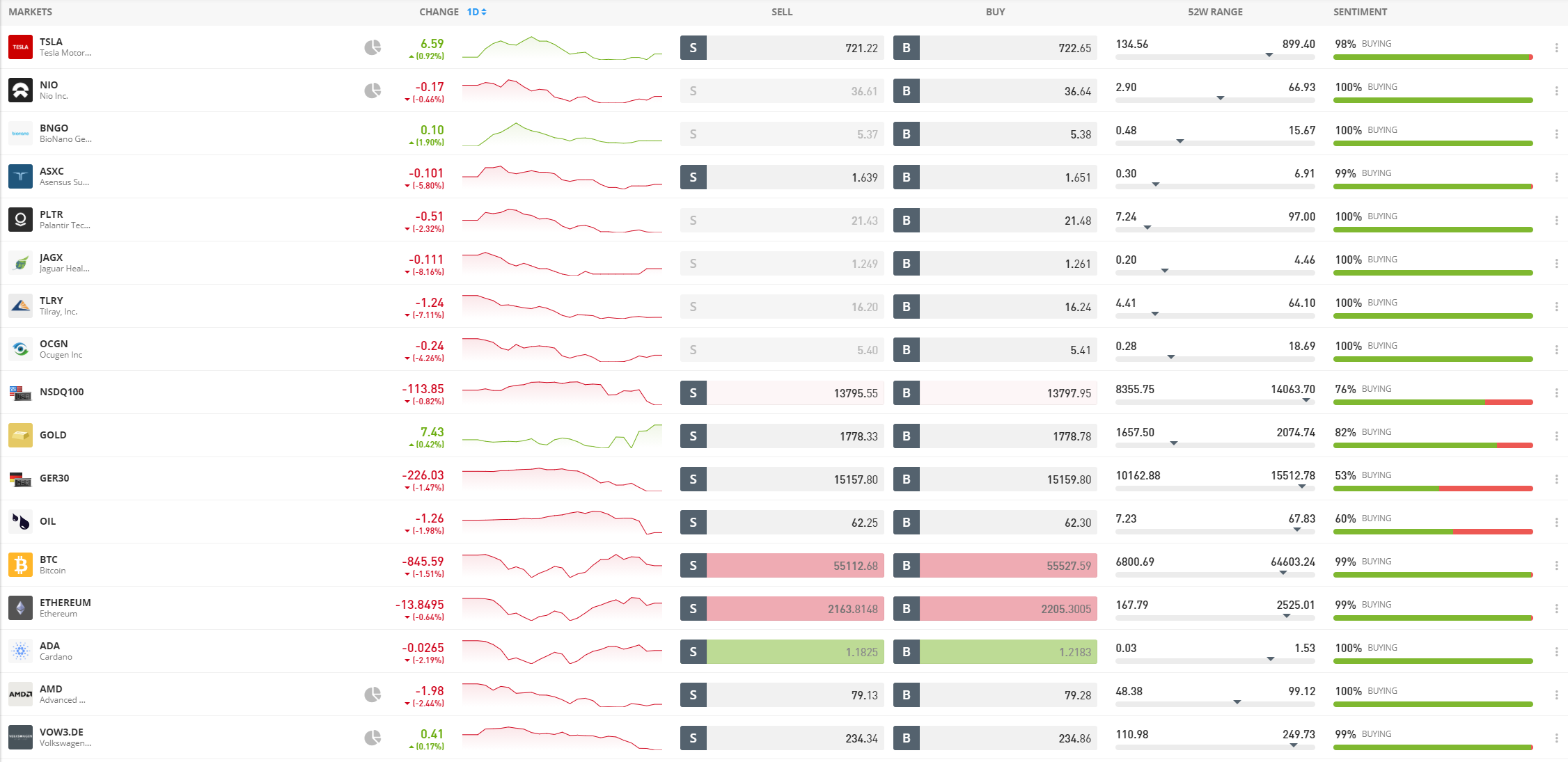 The result? After learning the platform through practice, a user can seamlessly transition into a real account with their own investment in the exact same environment where they safely learnt how to trade.
Not only can you learn how to trade without any personal expenses, but you can also do it on the move thanks to the eToro mobile trading options, making your demo account both physically and intellectually accessible.
eToro's platform key advantages are:
On-the-move trading options
Multiple currencies, cryptocurrencies markets
Seamless transition from demo to standard account
Copying other traders
One of the best ways to learn to trade, whether a novice or more experienced trader, is through watching other traders at work. Going above and beyond mere observation, the eToro platform actually allows you to directly copy the successful trading techniques of others. For paid user accounts, this practice costs a small fee, more noticeable to the most popular traders who accumulate them than the individual who contributes a tiny portion to that larger amount.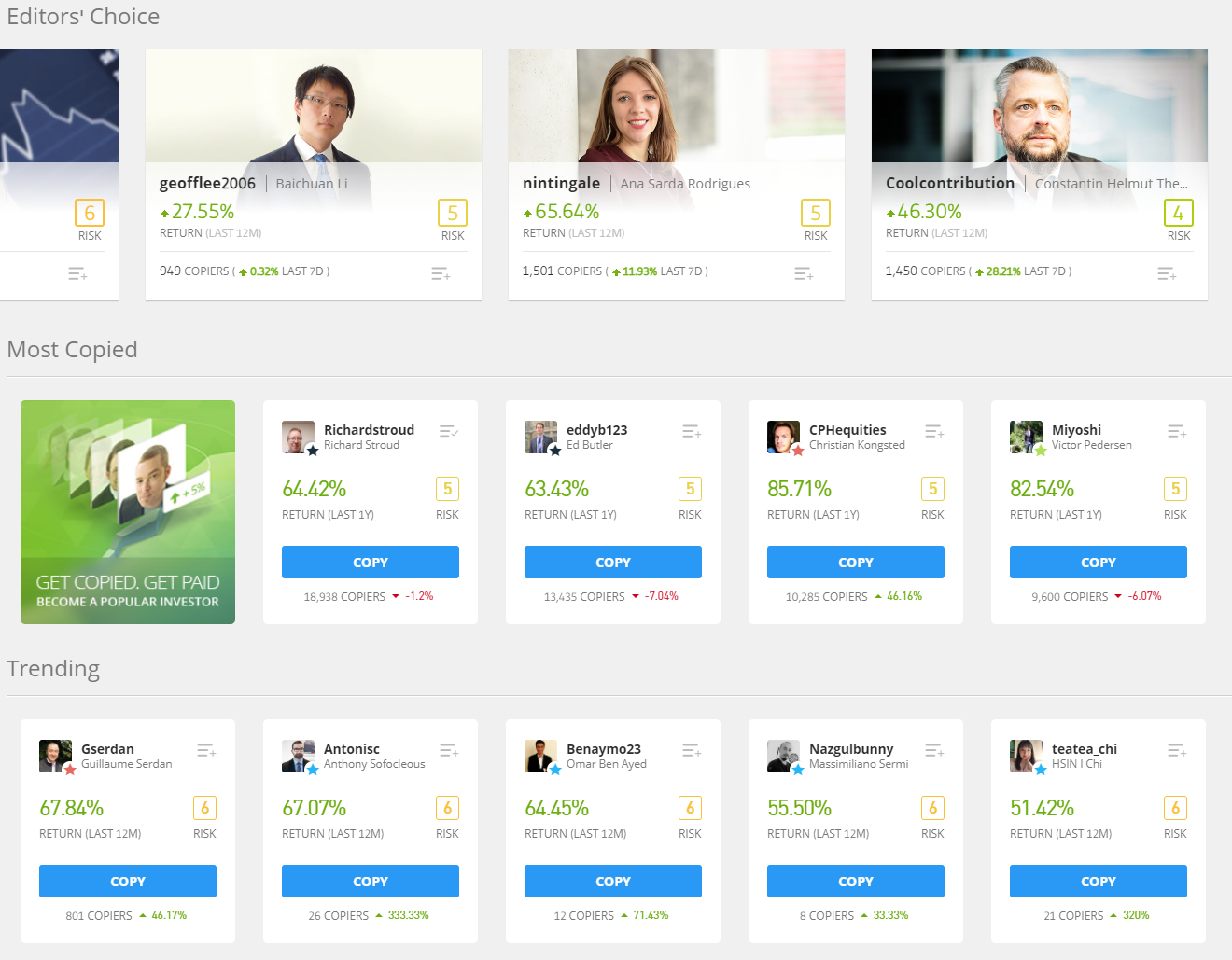 Note: Your past performance is not an indication of future results.
However, the eToro practice account option allows a user to learn techniques and skills through CopyTrader at no personal cost of their own. Most users who start out with eToro's trading platform stay loyal to the company even after establishing themselves as experienced traders, meaning that there is always an impressive pool of traders to learn from.
More on social trading
The popularity of social trading has grown exponentially in the last several years. This is due in part to the benefits that can be gained through social trading, in particular for new traders but also for traders who have been doing it for a while. Before social trading gained popularity, fundamental and technical analysis were the cornerstones in forming trading decisions.
While those principles continue to apply today, one of the major drawbacks that the system faces is the inaccessibility of that knowledge, except to the select few who have the luxury of time and resources to embark on the arduous undertaking of learning enough of this complicated system to be granted access.
Under the model of social trading, however, that hard-won information belonging to the elite of the financial world is able to be more easily disseminated and used by a broader base, greatly increasing the accessibility of the market. This new analysis style provides a platform based on comparison and duplication of trades so that you learn quickly, effortlessly, and from the best of the best.
The free flow of information creates transparency in what was once an opaque system, making your own clarity more achievable through the cooperation of individuals within the system.
The eToro community
Because the eToro platform supports social trading, it places great importance on the growth and maintenance of the eToro community. By becoming an eToro customer, you are considered highly in your individuality, as evidenced by their focus on individualised support.
However, you also become a member of the larger collective known as eToro members, granting you access to both the professionals at eToro and your peers, the cohort of your fellow eToro users. This includes a ranked system of Popular Investors, the teachers that you look to when participating in the CopyTrader functions.
Note: Your past performance is not an indication of future results.
The term "social trading" indicates a type of learning style within eToro, but they also encourage the other meanings of social – after all, this is an opportunity for not only a platform but also a network.
One of the great things about getting to interact with real people through the real-time chat function is that you can see that they are motivated by the same things as you. In fact, they were you once – everyone starts as a beginner.
The community environment is one of the best access keys that your demo account affords you, because you get the support of not only the structured ease of the eToro platform but also the community that grows organically from within the platform.
eToro history and awards
In 2006, in Tel Aviv, Israel, two brothers and their business partner had an idea:
What if there was an investment and trading platform that was designed for anyone, anywhere?
One year later, eToro was born with the intention of disrupting the world of trading by increasing accessibility and reducing reliance on more traditional financial institutions.
Since then, eToro has grown to become a top-ranked social trading network and online forex broker with more than 5 million users spread throughout 170 countries.
Another evidence of the recognition that eToro has received are its Awards:
Money AM Online Finance Awards (2010)
Finovate Best of Show (2015 & 2017)
World Financial Award Most Innovative Trading Platform (2010)
Verdict
While eToro does not offer as many assets as some competitors, and occasional bugs happen, we still recommend eToro's demo account highly.
It is easy to set up, and a breeze to use, and it has all the essential tools for starting your trading journey plus an industry-leading range of traders to copy.
PEOPLE WHO READ THIS ALSO VIEWED:
eToro is a multi-asset platform which offers both investing in stocks and cryptoassets, as well as trading CFDs.
Please note that CFDs are complex instruments and come with a high risk of losing money rapidly due to leverage. 76% of retail investor accounts lose money when trading CFDs with this provider. You should consider whether you understand how CFDs work, and whether you can afford to take the high risk of losing your money.
Past performance is not an indication of future results. Trading history presented is less than 5 complete years and may not suffice as basis for investment decision.
Copy trading is a portfolio management service, provided by eToro (Europe) Ltd., which is authorised and regulated by the Cyprus Securities and Exchange Commission.
Don't invest in cryptos unless you're prepared to lose all the money you invest. This is a high-risk investment, and you should not expect to be protected if something goes wrong. Take 2 mins to learn more.
eToro USA LLC does not offer CFDs and makes no representation and assumes no liability as to the accuracy or completeness of the content of this publication, which has been prepared by our partner utilizing publicly available non-entity specific information about eToro.