Scalpers typically employ technical analysis strategies as a way to identify potential trading setups.  Some of the most common technical indicator tools used by expert scalpers include:
Support and Resistance Levels
Stochastic Oscillators
Bollinger Bands
Moving Averages
Parabolic SAR
Trend Analysis
Since scalpers primarily focus on market prices, technical indicators will contain a high level of importance when traders are constructing active positions.  However, charting time frames also play a critical role in determining when to enter and exit trades.  In most cases, scalpers will focus on 1-minute or 5-minute price charts.  It's very rare that a scalper will monitor charting time frames that are longer than 15 minutes.
As is the case with most other trading styles, there are several different methods that can be used to design a successful scalping trading system.  Most scalping techniques aim to identify extreme moves in price momentum and then either take a position in the same direction (a trend-following approach) or in the opposing direction (a contrarian approach).
Ultimately, a scalper's goal is to open at least three to five trades each day, quickly move into profitability (after trading costs are overcome), and then close each position.  Sometimes, this can be accomplished in less than a minute, so understanding the differences between charting time frames will always be an essential part of the scalping strategy.
Scalping Trade Techniques
 Scalping trades tend to involve larger-than-normal position sizes because traders are only able to capture small moves in the market.  In order to achieve returns that are acceptable, scalpers must open multiple positions each day and rely on substantial position sizes in order to drive profitability.  Of course, maintaining a large position size also carries an increased level of risk, which is why stop losses are absolutely critical in all positions.  When scalpers fail to use hard stops in their positions, substantial losses can accumulate if short-term trend reversals are encountered.
Expert traders tend to have a preference with respect to which strategy is used most often (i.e. Trend-Following, News Events, or Contrarian Trading).  However, short-term market trends will always dictate which approach is likely to result in the best chances for profitability.  Let's take a look at some examples to see how each approach can be visualized using live price charts.
Real-Time Trading Examples: Scalping Strategies
Since scalpers must identify multiple trading opportunities each market session, it's often a good idea to use technical tools that will send a variety of alternating trade signals over a short period of time.  One of the best tools to use in these types of scenarios is the Parabolic Stop and Reverse (SAR), which offers scalpers an opportunity to identify many contrarian trading opportunities throughout each day.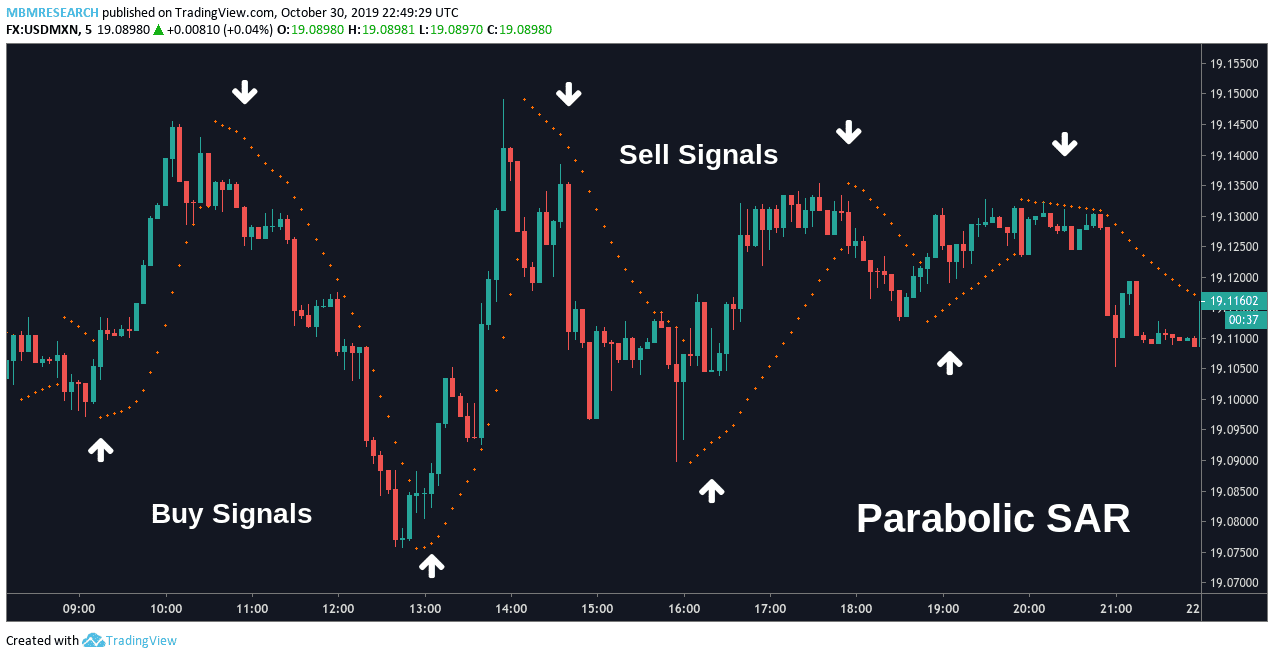 Overall, the Parabolic SAR flashes "buy" signals when the indicator is visible below market prices.  In contrast, "sell" signals are present when the indicator moves above market prices.  What's most interesting about the Parabolic SAR is that it also offers its own signals to close each position.  Essentially, long positions can be maintained until the indicator "stops" and "reverses."  When this happens, the indicator is essentially sending a new signal and the opposing trading stance should be adopted.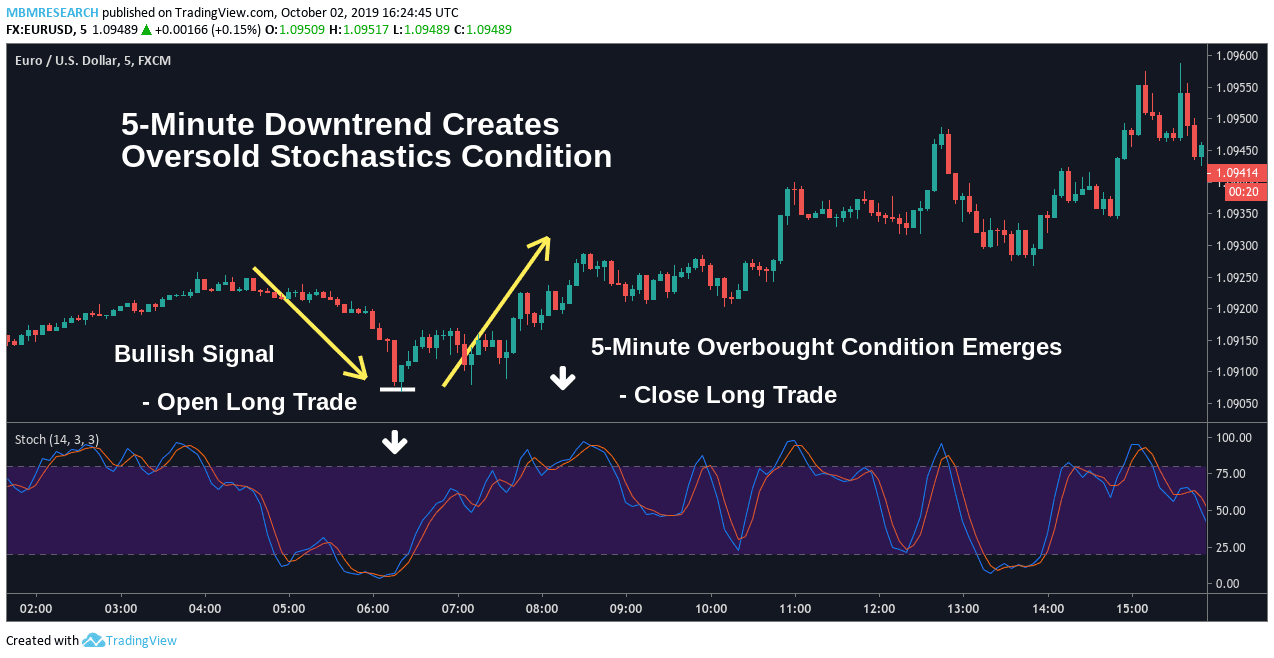 In the next example, we can see how scalpers can use technical indicators as a way of finding new trading opportunities.  The 5-minute chart above starts with a downward price move that creates an oversold condition in the historical stochastic readings.  Scalpers could have spotted this short-term price change as a new opportunity to initiate long positions.  Stop losses on the trade would be placed below the price low that created the oversold reading on the Stochastics indicator.
Once the position is open (and a protective stop loss is in place), it is absolutely critical that a scalper begins looking for an opportunity to close the trade at a profit.  Of course, this means capturing trading gains that are greater than any trading costs that will be charged by a broker.  From a technical perspective, the first signal to close the trade comes as the stochastic readings move back into overbought territory.  This event removes the original reasoning behind the trade and suggests market prices might be ready to turn lower.  As this occurs, expert scalpers would close the long trade and collect small profits on the position.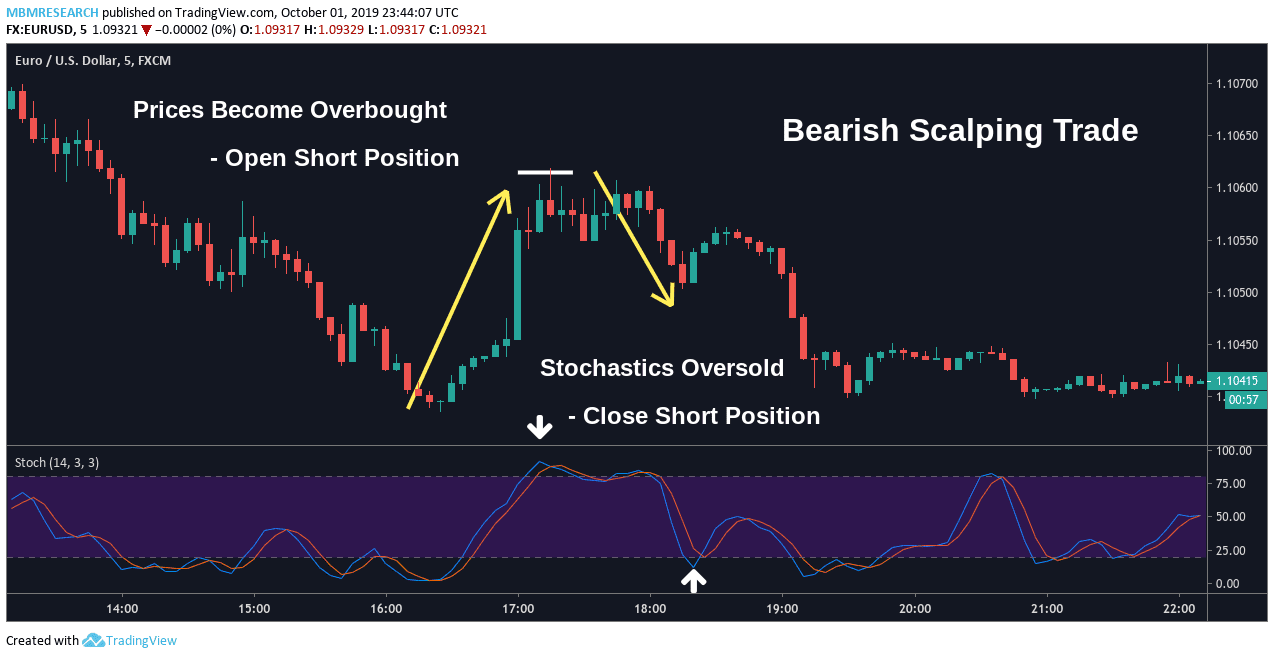 In this example, a 5-minute chart shows that prices have reached overbought territory.  This is a bearish signal that scalpers might use to initiate short positions.  Stop losses on the trade would be placed above the price highs which created the overbought reading in the stochastic indicator.  As prices reverse lower, scalpers would be looking for sufficient evidence to close the trade.  This occurs as the stochastic reading moves into oversold territory and trades must be closed quickly given the growing possibility that asset prices are ready to start moving higher.
Next, we will look at a potential trade that bases its stance on another technical indicator (Bollinger Bands).  In this example, the 5-minute chart shows a breach of the upper Bollinger Band (sell signal).  We know that this would indicate a new sell signal because roughly 95% of all price action is contained within a 2-standard deviation Bollinger Band.  As a result, price movements outside of the Bollinger Band suggest that a reversal is imminent.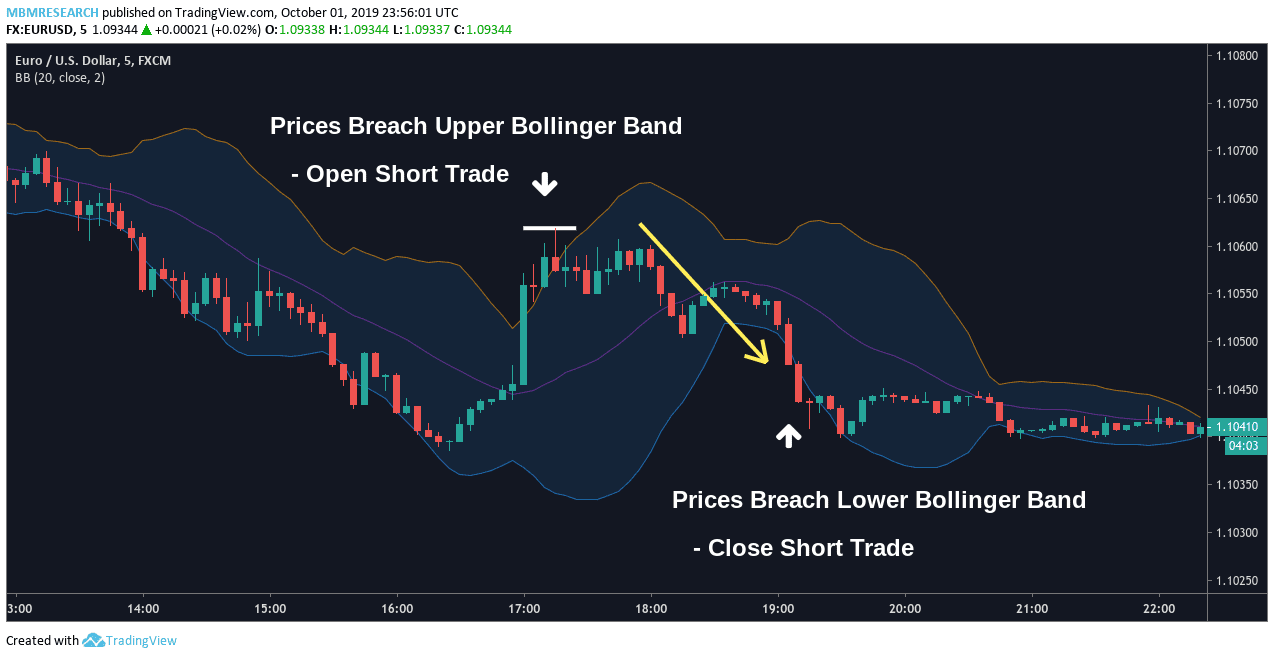 In the example above, expert scalpers would use this signal as a reason to open short positions (with a stop loss placed above the price level that caused the original signal).  The short trade would be held until the rationale behind the position stance becomes invalidated and this occurs as prices breach the lower Bollinger Band.  Once this happens, scalpers would be able to close the trade and capture gains on the position.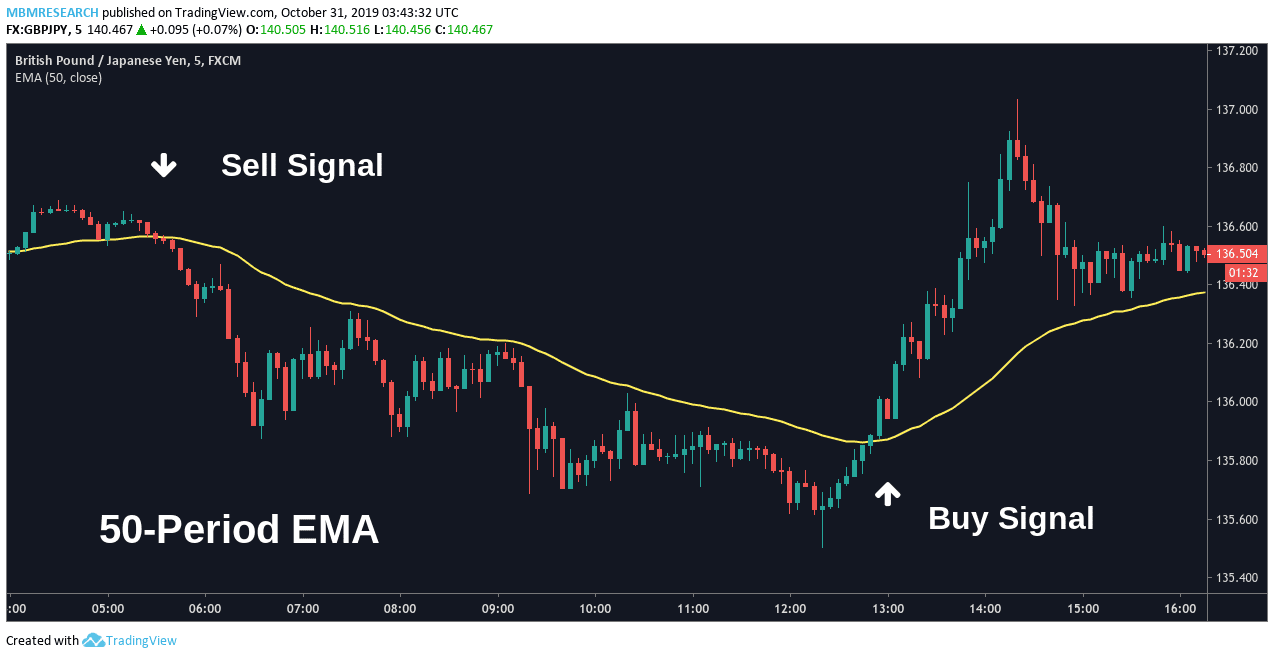 In this chart example, we can see how scalpers use Exponential Moving Averages (EMAs) to establish positions.  When prices cross below the 50-period EMA, a sell signal emerges and short positions can be established.  Conversely, buy signals become visible when market prices cross above the EMA dividing line and long positions can be established.  In this way, EMAs can be a great way of determining trend direction and the specific trading parameters can be adjusted on every trading station.
Shorter EMA settings (i.e. those below 50 price periods) will send a larger number of buy/sell signals during each trading session.  Longer EMA settings (i.e. those above 50 price periods) will generate a smoother moving average line that produces fewer trading signals.  As a result, individual settings choices will largely depend on the number of trading signals a scalper would like to see each day.  Longer EMA settings tend to produce stronger signals (with a higher probability for trending follow-through) while shorter EMA settings tend to give scalpers additional opportunities to open new positions.
News Trading
From the series of trade examples shown above, we can see that scalping is primarily a strategy that is used by technical analysts.  However, there are also fundamental events that can create opportunities for traders using the scalping approach.  Specifically, market news events can have a dramatic short-term impact on prices and this unexpected volatility can lead to profits when trades are properly structured.  These events can take various forms as an important geopolitical story, an economic data release, or a corporate earnings report (when trading in stocks).  Some of the market's most commonly watched economic reports include:
Macro-Economic Reports: GDP, Retail Sales, Consumer Confidence
Labor Market Data Reports: Non-farm Payrolls, Unemployment Rate (Monthly), Jobless Claims (Weekly)
Manufacturing Reports: Purchasing Managers Index (PMI), ISM Surveys
Inflation Reports: Personal Consumption Expenditures (PCE), Consumer Price Index (CPI)
Earnings Reports: Profitability reports released by publicly traded companies
Short-term fundamental analysis is usually dictated by intraday changes in market expectations.  When good news is likely to impact the value of an asset, scalpers initiate long positions.   In contrast, bad news might cause declines in the value of an asset and this might lead scalpers to initiate short positions.  News events often set the tone for an entire trading day, so many expert scalpers will consistently monitor a financial news feed in order to stay up-to-date with all of the latest information that's likely to move market prices.
Scalping Price Breakouts
News events often cause major breakouts above prior resistance levels or below prior support levels.  These events make it easier to combine technical analysis with fundamental analysis when construction positions using a scalping trade approach.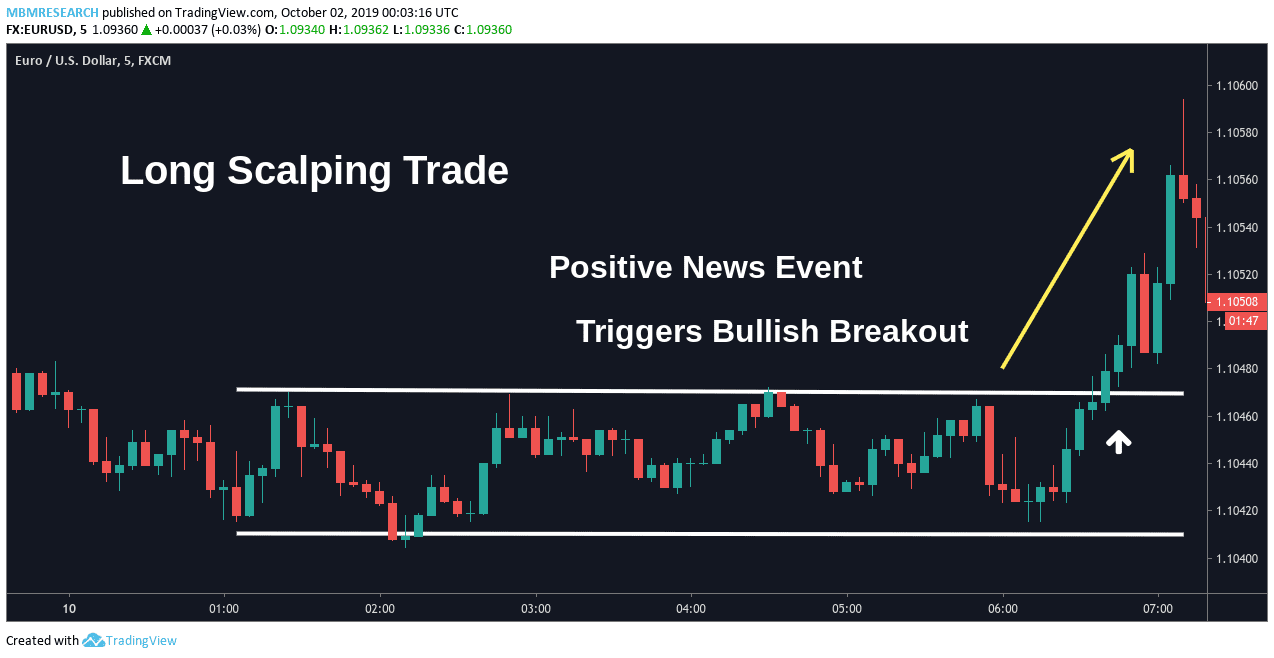 Classical technical analysis techniques tell us that prices often break forcefully after a period of constriction in a trading range.  An example of this type of event has occurred in the chart above, as a sideways trading range contained values in the pair prior to an important market event.  From a fundamental perspective, this is not surprising because asset values will often trade in a tight range before an important economic report is released.
In this example, price valuations were impacted by an important economic report.  Scalpers will use this information to determine potential trend direction, as prices are expected to continue traveling in the same direction as the initial break.  In other words, if prices move upward through resistance levels, a bullish trend is expected to follow. Conversely, if prices move downward through support levels, a bearish trend is expected to follow.
Scalping Strategies: Protective Stop Losses
Using each of these strategies, scalping traders could have capitalized on new opportunities in the market by initiating a long or short position while placing a protective stop loss as a way of limiting losses.  In most cases, stop loss orders should be initiated any time the original ideas behind the trade become invalidated. This is very important for those utilizing a scalping strategy because position sizes tend to be larger and unexpected market reversals can quickly lead to substantial losses when positions are not properly managed.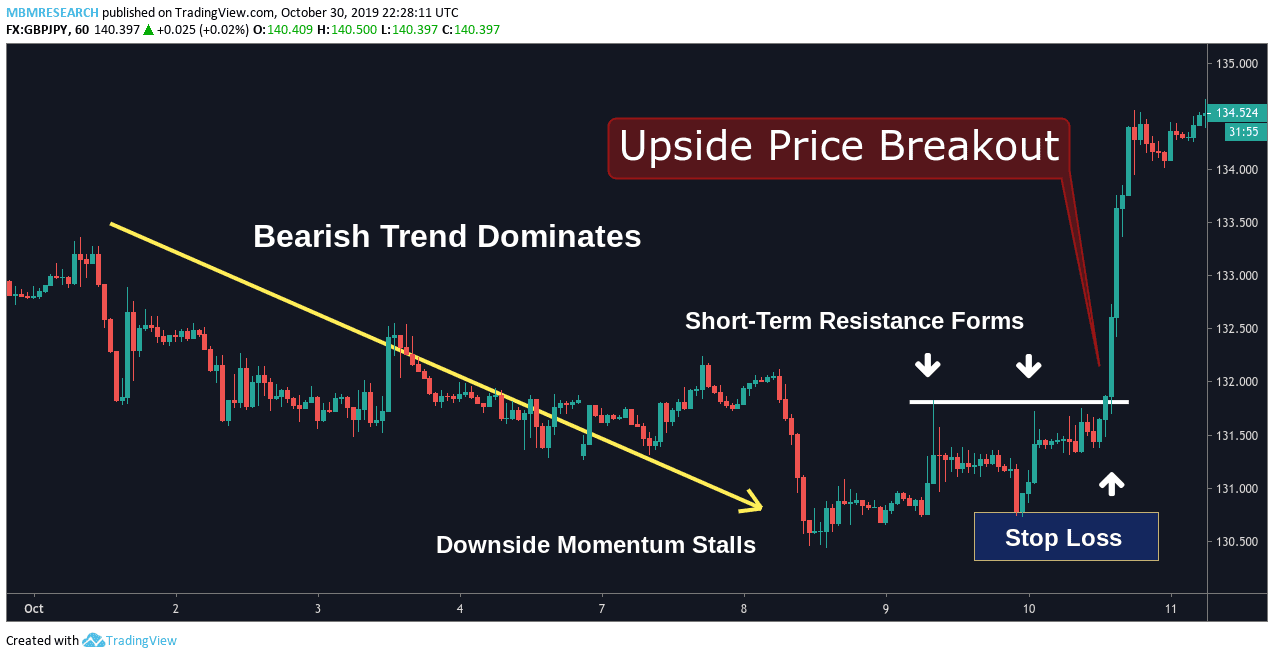 For example, when dealing with a Breakout strategy, expert scalpers will often use prior support and resistance levels as the best way to establish stop loss parameters.  In the chart above, we can see that stalling in a longer-term downtrend results in the formation of resistance.
Once this resistance level breaks, scalping traders are able to identify the next likely trend direction (bullish) and stop losses can be placed below the lows that preceded the rally.  The reason expert scalpers are likely to choose this price zone as a stop loss parameter is due to the fact that the upside price break would no longer be valid if valuations were to fall below this level in the future.  If this occurred, it would be prudent to close the position at a loss, and look for other scalping opportunities in the market.
Trading Strategies: Scalping
Scalping strategies that rely on indicator readings (i.e. Parabolic SAR or Stochastics) come with what could be described as a "self-contained" stop loss.  This is due to the fact that conflicting indicator signals would imply a strong need to close the position (whether it's profitable or showing losses).  For example, a long scalping trade that is based on an oversold Stochastics condition would need to be closed once the indicator reaches overbought territory.  Similarly, a short scalping trade that is based on a bearish Parabolic SAR signal should be closed once the indicator falls below chart prices: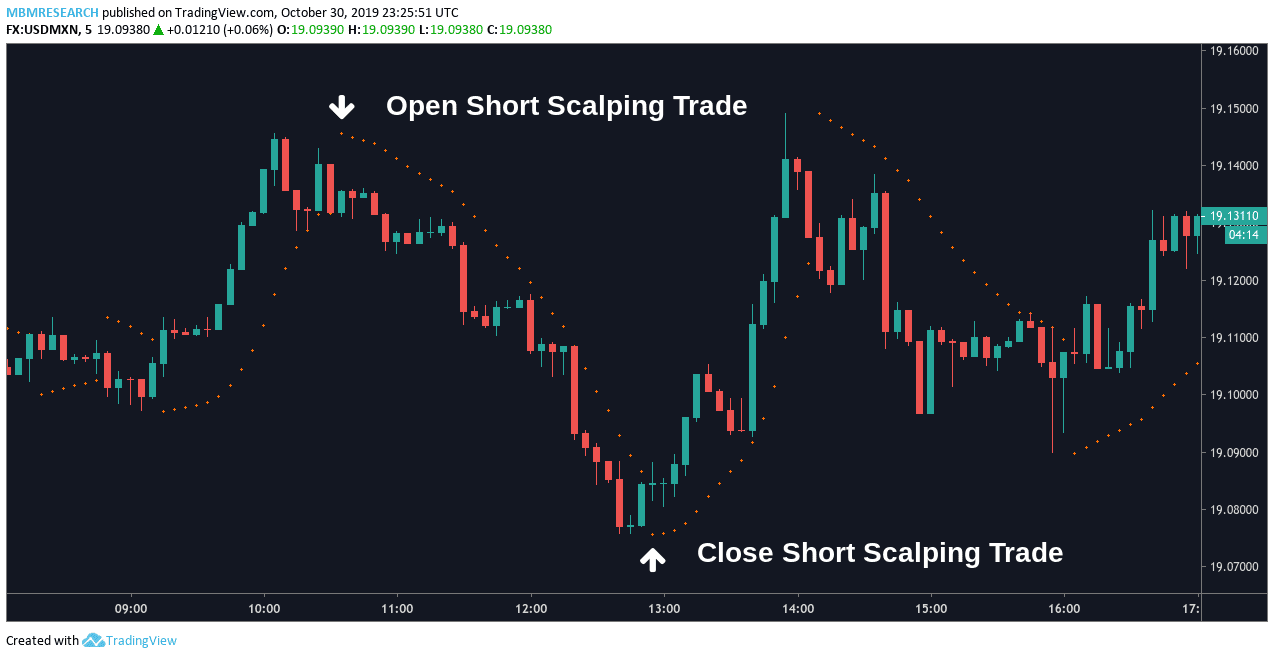 In both of these cases, the chart indicator would be sending signals that conflict with the open position.  This would invalidate the underlying logic which created the original trading stance and this means the market is no longer offering a favorable edge that is likely to end in profitability.  Once this occurs, it's time to close the position and find new opportunities in the market.
Scalping: Trading Market Volatility

In the trading example below, we will be looking at a scalping trade that involves market volatility.  After an important economic news event, the price of gold quickly started to drop: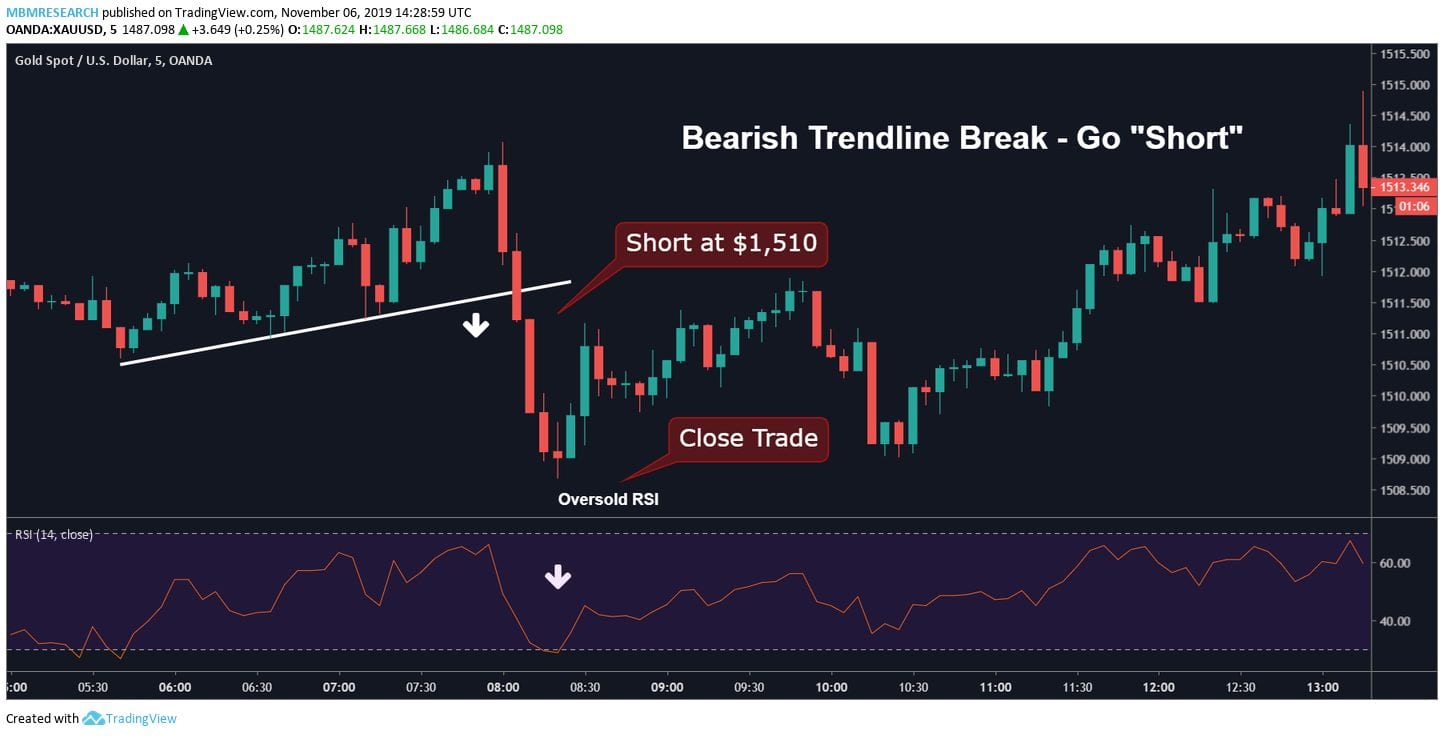 An expert scalper would have seen the negative momentum and initiated short positions at $1,510 using a 5-minute price chart.  Once indicator readings on the Relative Strength Index (RSI) reached oversold territory, scalping traders would close the position at a profit.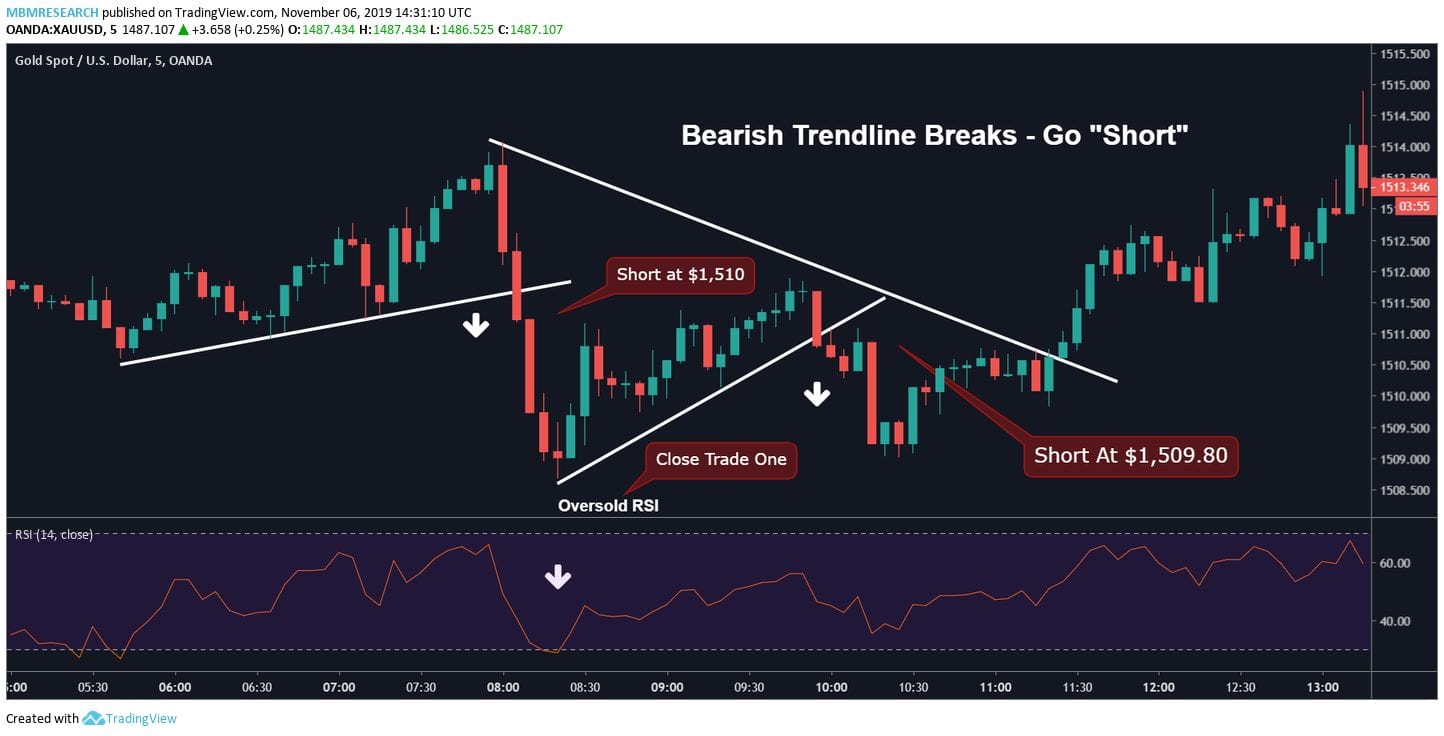 Scalping traders are always looking for the next great opportunity, and another short trade becomes apparent as prices fall through trendline support a second time.  This would allow scalping traders to open new short positions at $1,509.80.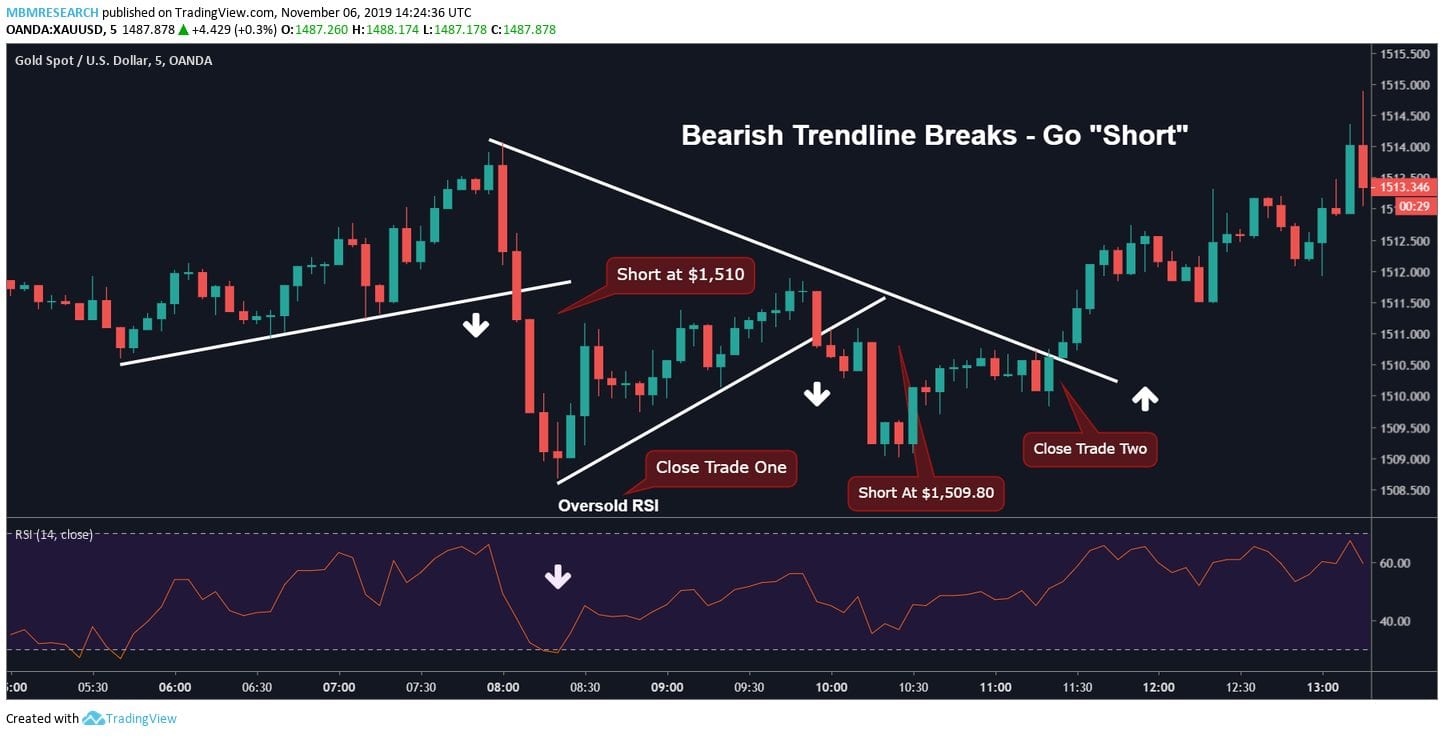 A signal to close the second short trade emerges, as the price of gold breaks above the downward trendline on the 5-minute charts.   This turns the trading bias to bullish (positively) and this creates new interest in long positions.  In this example, scalping  traders might open the third trade while simultaneously closing the second trade.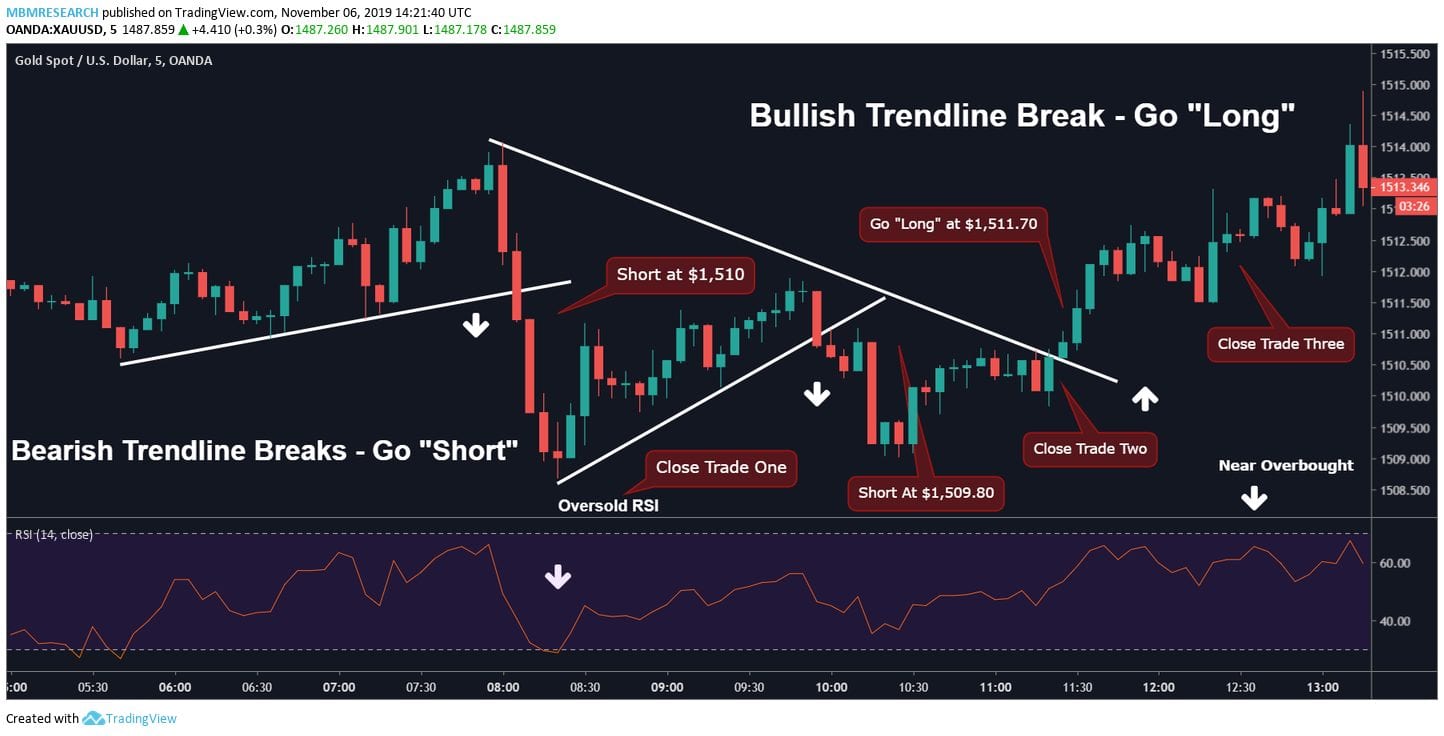 Signals to close the third trade (long position) become apparent as the RSI reading begins to approach overbought territory.  Scalping traders might than choose to close the third trade to collect profits. 
Scalping Trader Psychology
On the surface, scalping strategies appear simple due to the fact that traders have the ability to collect a full day's profit in just a few minutes.  In reality, however, the successful implementation of scalping strategies can create unexpected challenges due to the fact that there's not much room for error.  For these reasons, it should be understood that scalping is only suitable for certain types of trading personalities.
Successful scalpers must show a high level of discipline and be willing to follow the parameters of a trading system at all times.  This can be easier said than done, as the market will often introduce surprises that can derail initial expectations.  Scalpers are often required to make important decisions without hesitating (or questioning their decisions in ways that are disruptive).  At the same time, scalpers are flexible enough to recognize the differences between a trade that's working —and one that isn't.  In the end, a successful scalper is a person that's able to play to the strengths of the market and exit trades at highly favorable moments.