The most popular equity valuation methods use the price to earnings ratio to reverse engineer the current share price from future forecast earnings. If a stock has a low p/e ratio, it's being undervalued because the market is pessimistic about its potential for meeting future earnings targets. Understanding the reasons for that view being taken can lead to that premise being challenged and you buying a stock because you think it is undervalued. Confusion in terms of future earnings can lead to widely differing valuations. If you're using p/e ratio methods, how do you value:

A start-up firm that has growth potential but has not yet made a profit.
A firm involved in a high-stakes court case that could go either way.
A pharma company with a new wonder-drug in the pipeline that could make or break it.
Firms that saw their revenues battered by COVID-19 but 'expect' they will return to previous levels.
There are lots of ways to identify and trade undervalued UK stocks. As ever, the name of the game is managing risk-return and this article will outline some methods used by the pros to make returns from UK shares that are being mispriced by the market.
Most Undervalued Stocks in the UK
There are some tell-tale signs that a stock is being undervalued. The UK companies in the below list provide examples of some of them.
1. Ceres Power Holdings PLC
Ceres Power is in the interesting position of receiving positive press coverage but seeing its share price slump. The stock has been on an impressive run. At the start of 2020, its share price was in the region of £2.60, and just over 12 months later, it was £16.26.
A news article in The Telegraph on 27th January extolled the benefits of this firm, which is at the heart of the United Kingdom's hydrogen energy sector. In a seemingly contrarian move, the Ceres stock price crashed by more than 30% in the space of four weeks.
Since then, price has stabilised and many are making the investment decision to buy this dip in the share price. Prior to the correction, the share price was overextended, but it is now finding support from the Weekly 20 Simple Moving Average. At current levels, it looks like a prime target of investors looking to buy undervalued UK stocks.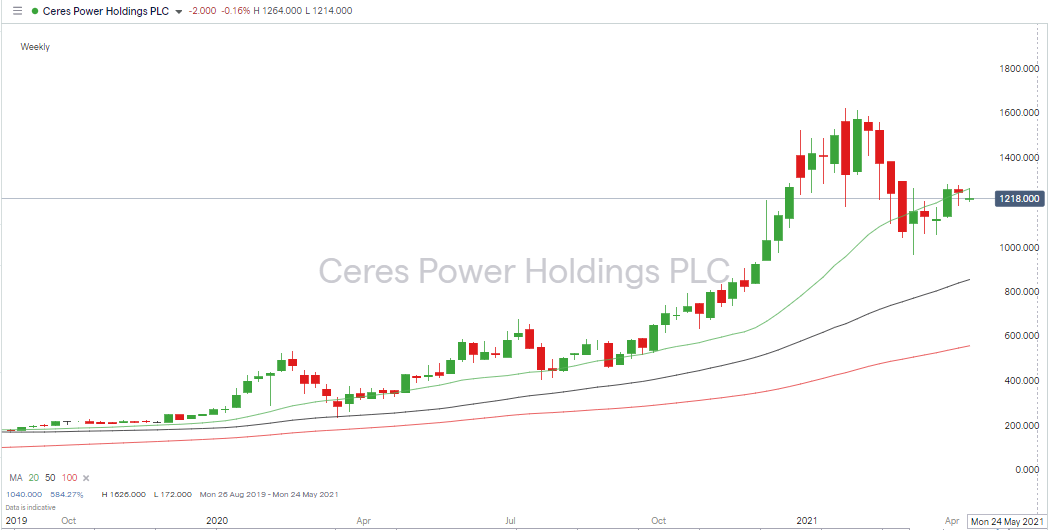 [email protected] Capital is an innovative Fintech firm, which means that despite its small size and the fact that it's yet to turn a profit, it is attracting a lot of attention. Investor interest is on such a scale that earlier this year, the firm was so fearful of price volatility in its stock that it asked for trading in its shares to be suspended while its company accounts were released.
This extraordinary step reflects how investor opinion of the stock can whipsaw, and it currently looks to be going through one of its undervalued stages.
In the last 12 months, its price has traded between 4p–96p. It can be a bit of a rollercoaster ride, but its underlying business model has spotted a gap in the market. The firm uses a proprietary platform to link up investors and industry and provide a market in working capital. If the idea takes off then [email protected] could fulfil its promise as one of the most exciting growth stocks in the UK. Hopes of a broader economic recovery and increased corporate spending could also offer it a supporting tail-wind.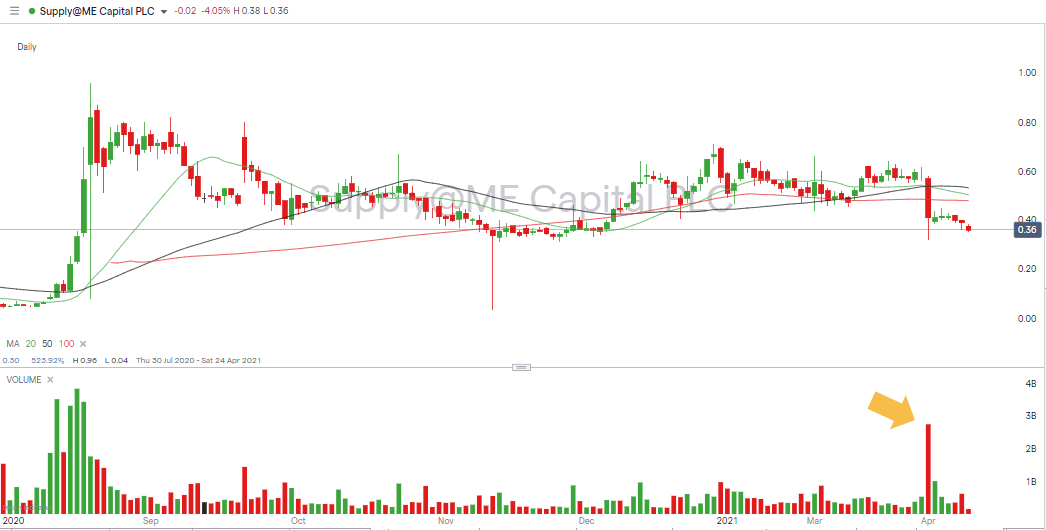 From a technical perspective, the spike in trading volumes on 1st April reflects the market giving the firm's share price a huge shakedown. If it can continue trading above that low of 32p, then buyers could well return to the market.
3. GS Technologies Limited
In early February, GST saw its price spike and fall back despite there being very little news. The firm falls into the category of firms where there is relatively little information available and that can cause price moves, which result in it being undervalued.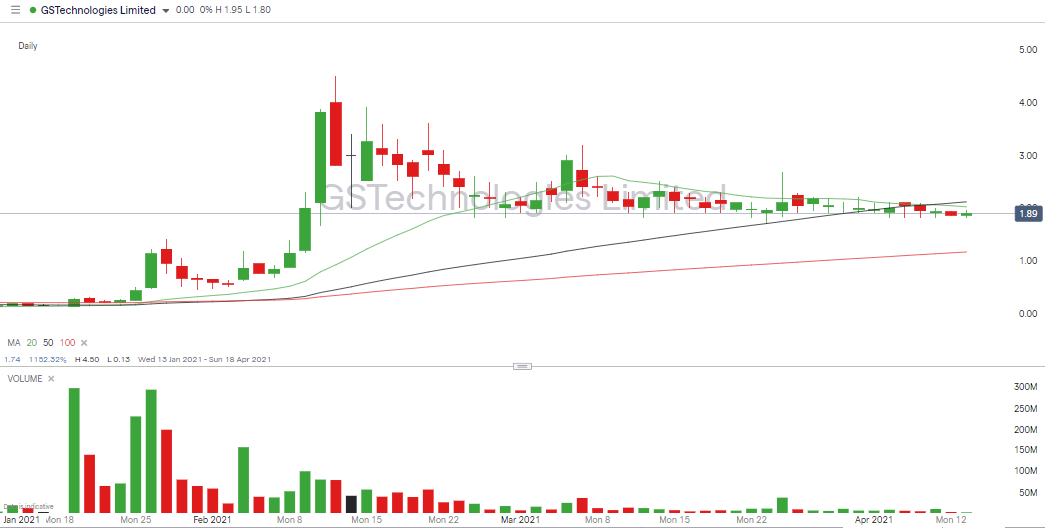 The firm operates in the booming blockchain technology sector and has a global client base, so there is potential for growth. There aren't many UK listed firms that offer this kind of potential and if more positive information finds its way into the market, then a secondary surge can't be ruled out.
4. Amigo Holdings PLC
Founded in 2005, Amigo Holdings once had a share price as high in excess of £3.00. With the share price currently printing in the region of 14p, there is obvious potential for the firm to be mispriced.
Recent developments, which might act as a catalyst for a price recovery, relate to a backlog of consumer claims hanging over the firm. On 21st March 202, the Financial Conduct Authority controversially ruled that Amigo could cap the liabilities on its balance sheet. This overnight adjustment to the company's accounts saw the share price of Amigo almost double in little more than one week.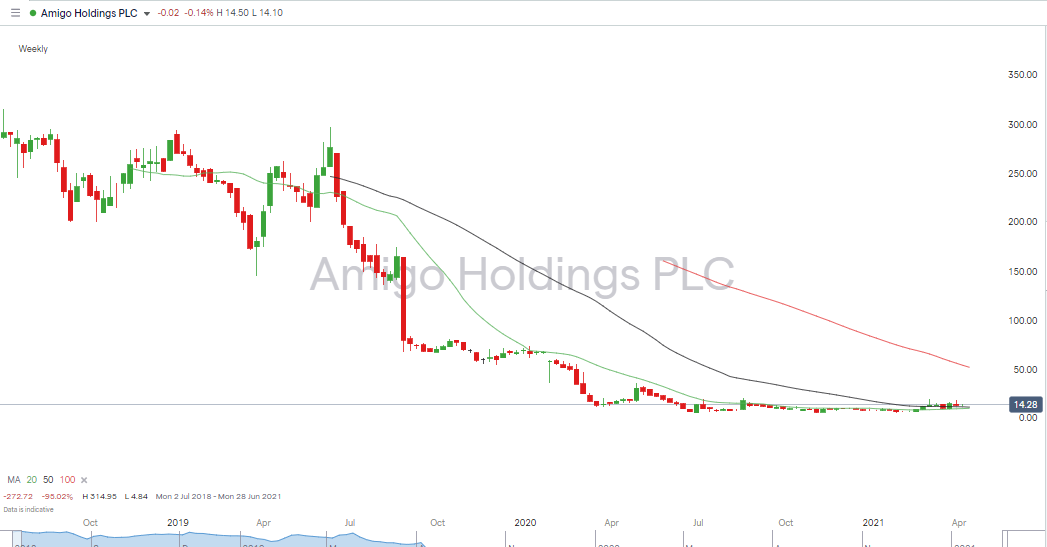 The long-term price chart illustrates the challenges facing the firm.
5. Aston Martin Lagonda
Aston Martin has gone through a tough time of late, but the AML share price is showing signs of recovery. Cash flow has been a concern and the loan package agreed in 2020 places it firmly in the growth stock and not the dividend stock group of companies. Potential buyers will note that the new management team have considerable skin in the game, with Canadian billionaire Lawrence Stroll now owning a 25% stake in the firm.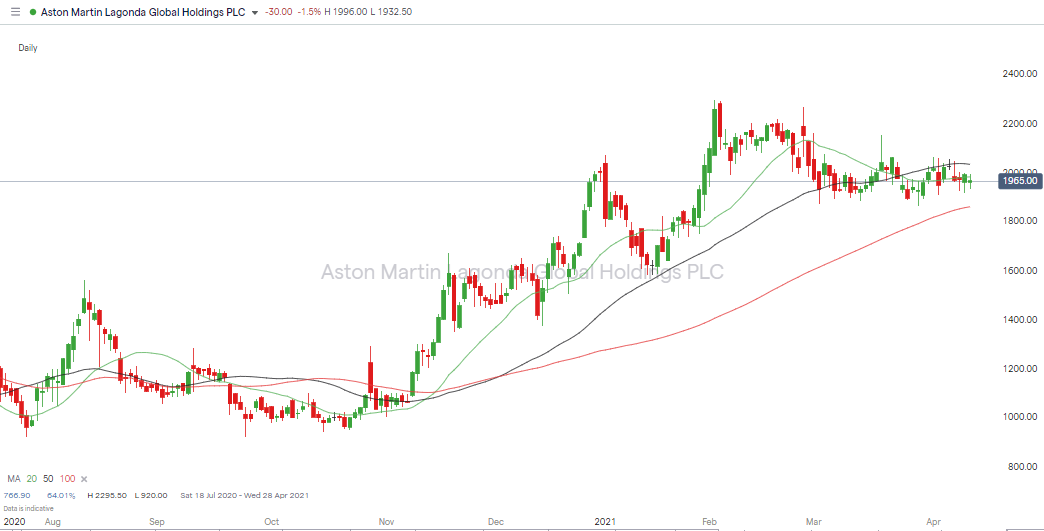 Why Invest in Undervalued Shares
Markets can be inefficient and it can even be an open secret that the share prices of some firms are regarded as being undervalued. Investing in undervalued stocks, therefore, presents opportunities for substantial potential returns if you can hold the position until 'normality' returns.
What to Know Before Investing in Undervalued Stocks
The Amigo Loans situation is a prime example of how a catalyst can bring about the intended share price move. Without such an event, a lot of undervalued stocks can remain undervalued for some time and give traders ample time to question their investment decision.
Do keep in mind that no one has perfect information. Your undervalued stock may be trading with a low p/e ratio due to not widely known events. Corporate governance is one example. If meetings between company top brass and City investors break down because the management team are considered low-grade, you are unlikely to hear about that. It would leave big institutions unwilling to allocate cash to a trade and a suppressed share price, but the stock would be undervalued for good reason.
Buy-and-hold can pay off, but there is an opportunity cost associated with having cash tied up in slow-burn stocks.
In terms of practicalities, it's also worth mentioning that as undervalued stocks can be a long-term investment, it's more cost-effective to buy the shares outright rather than trade them in CFD form. This is important to keep in mind as most good brokers offer both CFD and share dealing markets in firms.
This article expands on the best approach to take to make sure you trade as efficiently as possible.
How to Start Trading Stocks Online
Market risk, the possibility that price might move in the wrong direction, is an unavoidable part of investing. There are other risks that need to be considered and managed. A lot of this involves applying a degree of common sense when working through the steps involved with opening an online investment account.
1. Find a Safe Broker
The first and most important step is to ensure your broker is legitimate. There's no point worrying about 'market risk' and your undervalued stock not taking off yet if your cash is at risk from a scam.
Make sure your chosen broker is regulated by a tier-1 authority such as one of the below:
The Financial Conduct Authority (FCA)
The Australian Securities and Investments Commission (ASIC)
The US Securities and Exchange Commission (SEC)
Cyprus Securities and Exchange Commission (CySEC)
2. Find a Broker That Supports Trading in Undervalued Stocks
Different brokers focus on different markets. Some, for example, specialise in providing no-frills super-cheap access to the major forex markets. If you're looking to scour the equity markets for diamonds in the dust, then you'd do well to use a broker that offers a wide range of equity markets.
Brokers not only offer you the chance to buy, sell and hold shares, but they also offer additional services such as news reports and system-generated price alerts.
Best Brokers to buy Undervalued Stocks:
eToro:
68% of retail CFD accounts lose money
Take a look
If you are ready to add some undervalued stocks to your portfolio you'll need a broker that is regulated, has low fees and a user-friendly platform. Finding one can be a daunting task, which is why we've selected some of our favourites that tick all of these boxes to help you get started.
3. Research Undervalued UK Stocks
Brokers are a good first place to look for research and analysis reports. There are also a range of third-party service providers that offer company insight using fundamental and technical analysis.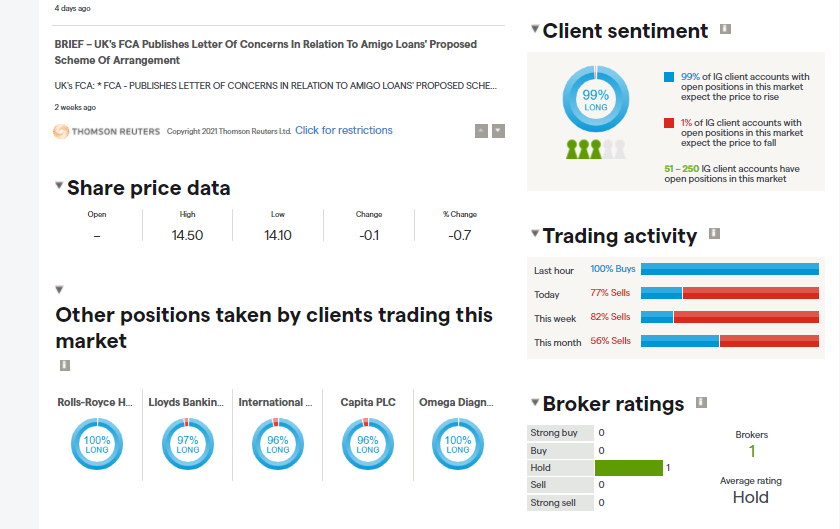 Source: IG
4. Open and Fund an Account
A lot of the work associated with onboarding to a broker is front-loaded. Investing some time in trying out the demo accounts of a shortlist of candidates is highly recommended. Not only do you get to practise trading using virtual funds but you get a hands-on feel for the broker's strengths and weaknesses.
Once that decision is made and you're sure your broker is safe, then signing up for an account takes place online and can take as little as a few minutes. UK broker platforms have been designed with beginners in mind and the functionality is particularly user-friendly.
Your online broking account will appear very similar to any other online bank account. You'll be the only person who has access to the account. Sending funds to it can be done using a variety of payment methods, including credit card, debit card and wire transfer.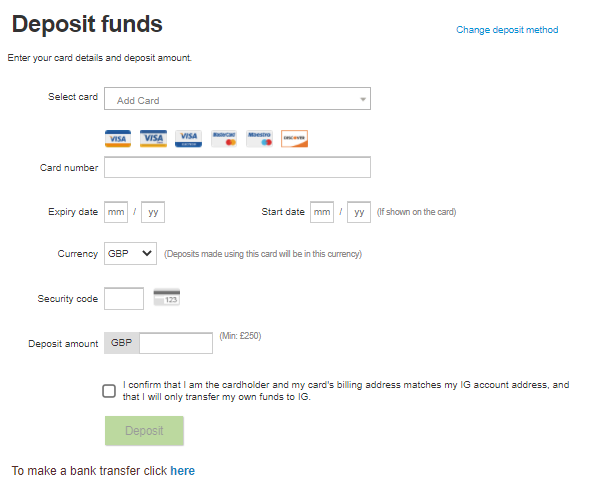 Source: IG
5. Select and Buy Undervalued UK stocks
Once your account is set up and funded, you can start buying stocks and converting your cash into equity positions. Simply locate the market on your broker's trading platform and enter the amount you want to buy. Depending on the strategy you are running, you might want to use stop-loss and take-profit orders. These are instructions built into the system to sell part or all of your position if price reaches a certain point.
You can use a desktop or mobile device, which makes putting your investment decision into practice as easy as clicking a button or tapping a screen.
6. Post-Trading checks
Investing in undervalued stocks can be a long-term play so it's important to check your portfolio before you leave the position alone and allow time to take its course. Even experienced traders make 'fat-finger' errors. Immediately after trading, it's important to check you bought what you wanted to buy and the right amount of it. Errors are best rectified before market prices move too far from your trade entry point.
The portfolio section of your account will show the basic data fields of your position. These include trade size, direction (buy or sell), and instrument name. Also check if you bought the shares outright or in CFD format as the latter incur overnight financing fees, which can stack up.
Regular reviews of your position's performance are, of course, advisable and will act as a reminder to check if any news events have occurred.
Final Thoughts
Online brokerage accounts are one of the best ways to buy undervalued UK stocks. The barriers to entry are low, with some having minimum opening balance requirements below £100. The functionality is also super easy to get to grips with and intense competition between brokers has driven down trading costs.
Investing in undervalued UK stocks is a high risk-return strategy. Basic risk management principles include diversifying your risk by buying a basket of stocks. It's also important to avoid putting more cash at stake than you can afford to lose. Choosing a trusted and well-regulated broker can take some of the operational risk out of the process. Market risk is harder to avoid, but investing in small size can take the emotion out of the situation and actually increase your chances of success by reducing the risk of panic selling.