Long-term investments can generate considerable returns. Spotting a trend and holding on to a position might be a bumpy ride at times, but if your macro style analysis pays off, you can let your strategy work its way to completion and devote time to your day job or interests.
It's a more hands-off way of making your money work a bit harder. At the same time, it does require you to invest some time up-front to select the right stocks and broker. This article will show you how to find the best long term investments in the UK.
The Best Long-Term Investments in the UK
1. FTSE 100 ETF
The FTSE 100 is the index of the largest companies listed in the UK. The largest firm in the index is blue-chip manufacture of household goods Unilever PLC and the smallest is property firm British Land PLC. By investing in the FTSE 100 you avoid single stock risk as your position will be formed by a basket of the constituent parts of the index.
ETFs (Exchange Traded Funds) offer the opportunity to follow the performance of the FTSE 100 and there is a case to be made that the index is currently undervalued. The FTSE is full of oil and gas giants and big banks that have fallen out of favour with investors thanks to ecological concerns and low-interest rates that squeeze profit margins. They might be out of fashion with investors at the minute, and a lot of hot money has flooded into tech stocks, but FTSE100 member firms offer stability, make profits and pay dividends.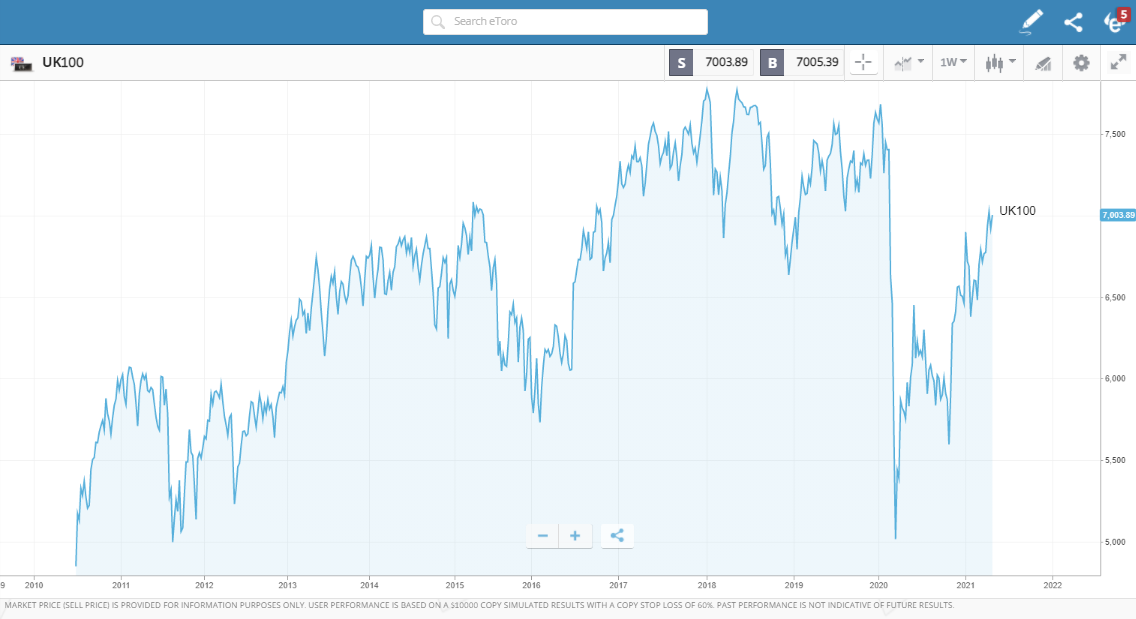 *68% of retail CFD accounts lose money
Robert Shiller's CAPE (Cyclically Adjusted PE ratio) uses 10-year inflation-adjusted earnings to calculate long-term value. By considering a 10-year time period, it irons out short-term fluctuations and calculated the FTSE 100 CAPE ratio on 30th December 2020 to be 13.66. In 2017 and 2018, the CAPE ratio was above 16 and if the FTSE 100s 2021 CAPE ratio is to revert to the long-term average its value has to rise.
As the share prices of blue-chip firms are unlikely to sky-rocket, buying the dips is an effective way of enhancing long-term returns. The ULVR share price is sitting just above a long-term support level at £3.70, making now the time to buy this leading UK blue-chip firm.
2. Anglo American
Scaling up on risk-return isn't for everybody, but those looking for a bit more juice in their trade might want to consider the mining firm Anglo American. The firm operates globally and is a major player in the platinum, diamond, copper, coal and iron markets.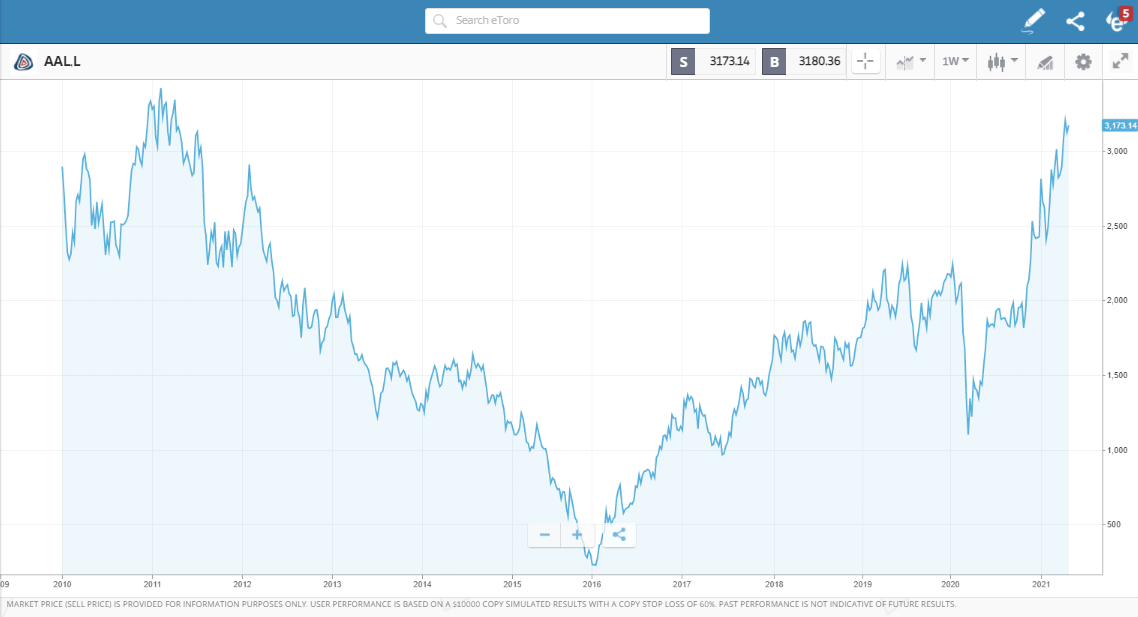 *68% of retail CFD accounts lose money
Commodity markets are notoriously cyclical because demand for their products is a function of the health of the broader global economy. It can take years for new projects to come to fruition and that time lag means a burst of real-economy growth drives up prices as supply struggles to catch up.
If the recovery from the COVID-19 pandemic goes to plan, mining firms that cut back on investment during lockdown could see the price of their products spike and share prices will follow. There's even talk of a 'commodities super-cycle' forming. These long-term booms in the commodity markets can last for decades and the last one was seen back in the early 2000s.
3. UK Dividend Stocks
Firms that pay out high dividends to investors are considered a more conservative proposition. Established orthodoxy is that long-term investors, on average, generate better returns by diversifying their portfolio and high-yield UK stocks could be a good counterbalance to some riskier positions.
Being relatively low risk doesn't mean you have to sacrifice returns. In fact, long-term investors in the UK who reinvest any dividends back into their positions and buy more shares have done well historically. This article on the best dividend stocks to buy in the UK provides a shortlist of high-yield names, each offering different pros and cons in terms of long-term investment prospects.
4.  Halma PLC
UK tech stock Halma PLC offers a way to tap into potential growth in the IT sector. Headquartered in Amersham, the firm has a global client base and specialises in hazard protection and life detection systems. Tech stocks have a large fan base, but Halma has cross-over into the medical and environmental sectors as well – both of which look set to benefit from the 'new way of doing things' post-COVID-19.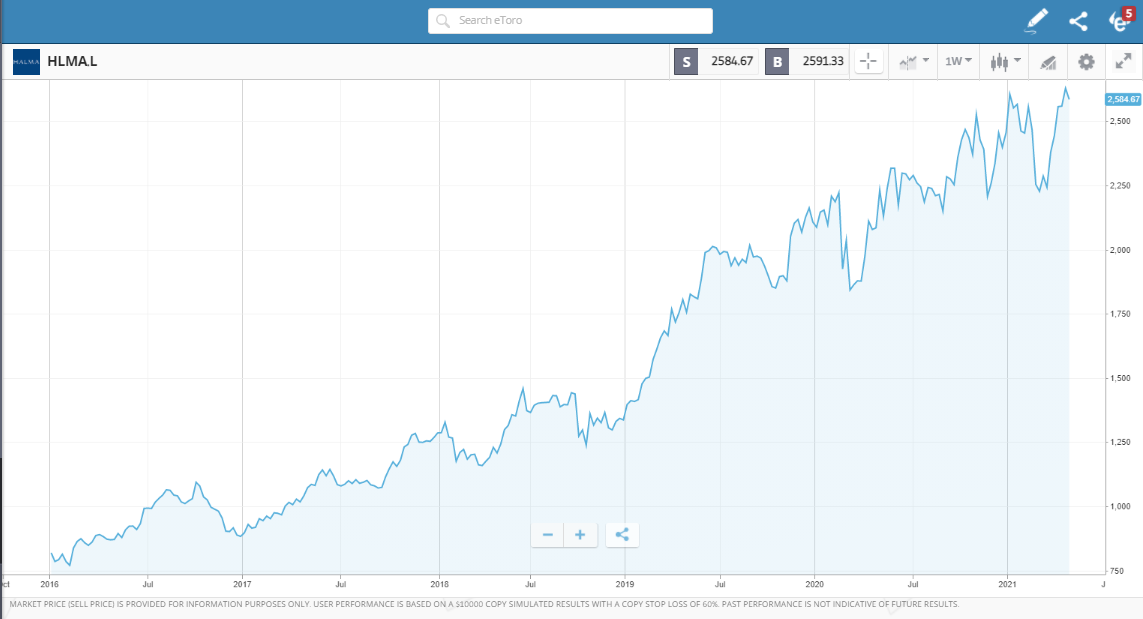 *68% of retail CFD accounts lose money
The Halma share price is already on the move but the firm has aggressive expansion plans and doesn't only rely on organic growth. Its venture partnership schemes and acquisitions of smaller start-ups means it is building a pipeline of potential future winners, which might take years to mature. If you're looking for long-term investments in the UK stock market, Halma would be a good fit for that strategy.
5. Crypto CopyPortfolio
The market in cryptocurrencies is hard to ignore. To some, it represents a speculative bubble, to others, it's an innovative and under-priced tool, which is going to revolutionise the global financial system.
Past prices aren't a guarantee of future returns, but those who have held a long-term investment in crypto have, to date, by and large, recorded eye-watering gains.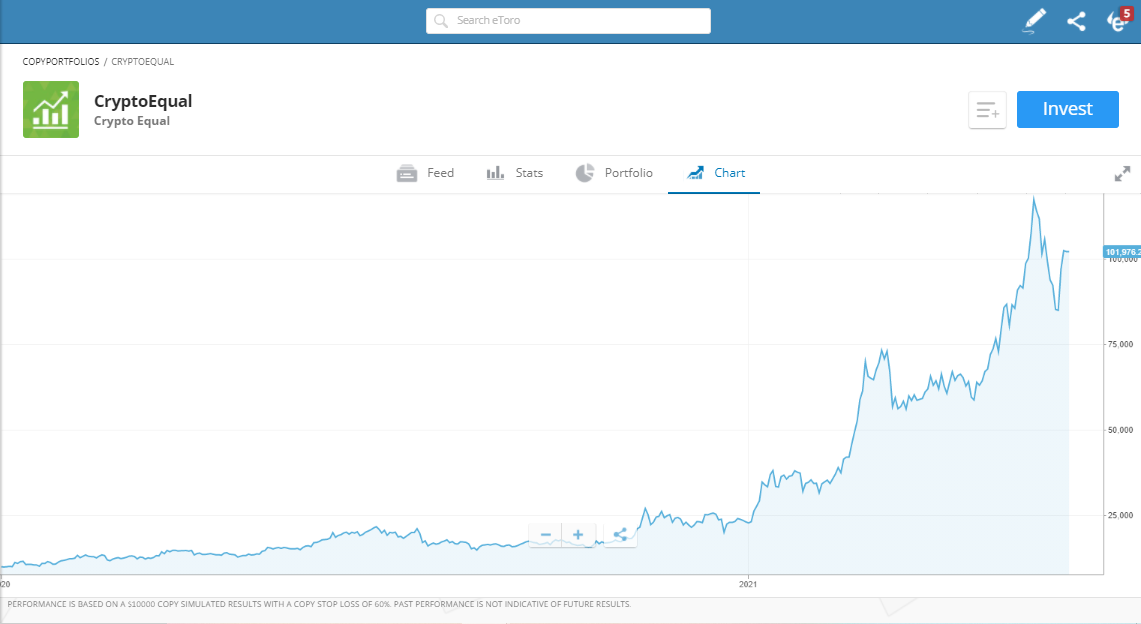 *68% of retail CFD accounts lose money
The CryptoEqual CopyPortfolio at eToro allows clients to gain diversified exposure to the crypto markets by buying into one algorithm-determined basket of different coins.
5 Steps When Choosing Your Long-Term Investment
Step 1 – Know Your Investment Aims
The above list of long-term investments in UK assets contains very different risk-return profiles. Establishing your own risk appetite is important as long-term investing can be a rollercoaster ride. Designing a strategy that factors in your attitude to risk goes some of the way to taking the emotion out of the situation and avoiding the chance of making panic decisions.
Step 2 – Have a Clear Strategy
All investing should be done on the basis of using an amount of funds you can afford to lose completely. There is a greater likelihood of that happening with a crypto-based strategy than a high-yield stock one. An effective strategy includes giving thought to entry price and exit price levels and ways in which you will manage risk.
Step 3 – Buy the Right Instrument
If you're holding an asset as a long-term investment, then it's important to check the T&Cs. Depending on whether your investment is in equity, ETF, or fund form, will determine the administrative costs applied. If you're holding your position for several years, these can add up and as CFDs can be particularly expensive, it is important for long-term investors to avoid using them by mistake.
Another potential cost to look out for is account inactivity fees. These vary from broker to broker and reflect the fact that client accounts are costly to maintain. Checking the T&Cs is important as there are ways to swerve the headline rate charges.
| | | | | | |
| --- | --- | --- | --- | --- | --- |
| | eToro | Plus 500 | Markets.com | AvaTrade | IG |
| Live Account Fee | No charge | No charge | No charge | No charge | No charge |
| Demo Account Fee | No charge | No charge | No charge | No charge | No charge |
| Cash Deposit Fee | No charge | No charge | No charge | No charge | No charge |
| Cash Withdrawal Fee | Yes – $5 per transaction | No charge | No charge | No charge | No charge |
| Inactivity Fee | Yes – $10 per month after 12 months inactivity | Yes – $10 per month after 3 months inactivity | Yes – $10 per month after 3 months inactivity | Yes – $50 per quarter after 3 months inactivity | Yes – £12 per month after 24 months inactivity |
| FX Conversion Fee | Offers accounts in USD, only | Offers accounts in USD, GBP and EUR | Offers accounts in 14 base currencies incl. USD, GBP, EUR | Offers accounts in USD, GBP, EUR, CHF | Offers accounts in 6 base currencies, including USD, GBP and EUR |
| Minimum Deposit | $200 (or equivalent) | $100 (or equivalent) | $250 (or equivalent) | $100 (or equivalent) | $250 (or equivalent) |
Step 4 – Consider Using Tax-Efficient Investment Vehicles
Investing over the long term can benefit from certain tax breaks. Pension funds, SIPPs and ISAs all have come with some degree of preferential treatment. ISAs (Investment Savings Accounts) are a popular option for those in the UK who are thinking they have found the best long-term investment as they can support a variety of asset groups. This article explains how to take advantage of tax-free investing.
Step 5 – Monitor Your Long-Term Investment
One of the advantages of long-term investing is that it can be relatively hands-off. In fact, not tinkering with a position and sticking with your strategy is recommended. The truth is that things change. If an unexpected event changes the basis of your strategy, then be prepared to reassess. Choosing a broker that offers news and price alerts, which can be sent to your email or phone, can help you keep up to date without having to devote too much time to the markets.
The Advantages of Long-Term Investments
The main advantage of long-term investments is that, statistically speaking, you're more likely to make a profitable return. Historical data points to stock markets beating returns in a range of other asset groups – particularly cash savings accounts. However, it is a bumpy ride and the longer you hold the position, the more likely it will revert to mean.
The Disadvantages of Long-Term Investments
First, there is the opportunity cost associated with your investment. The funds tied up in a long-term strategy could be used to finance other investment ideas. This could be short-term trading strategies or a side-hustle business.
There is also a risk that your personal situation may change and cause you to become a forced seller. Liquidating positions to meet cash flow demands leaves you open to the risk of selling up at the wrong time.
How to Securely Invest Money Online
1. Choose a Broker
Once you have your investment decision confirmed, it's a case of finding the right broker to trade it with. The most important factor to consider is to choose a broker that is regulated by a tier-1 regulatory authority such as one of the below:
The Financial Conduct Authority (FCA)
The Australian Securities and Investments Commission (ASIC)
The US Securities and Exchange Commission (SEC)
Cyprus Securities and Exchange Commission (CySEC)
It's also worth noting that different brokers focus on different markets. Some specialise in providing no-frills access and super-tight trading spreads. But when investing over the long-term, a $5 saving on your initial purchase is a relatively small advantage if your broker doesn't offer you research and news to help you follow the market.
Best Brokers for Long-Term Investing:
eToro:
68% of retail CFD accounts lose money
Take a look
If you are ready to add some long-term investments to your portfolio you'll need a broker that is regulated, has low fees and a user-friendly platform. Finding one can be a daunting task, which is why we've selected some of our favourites that tick all of these boxes to help you get started.
2. Open & Fund an Account
Setting up an account is done completely online. The process takes a matter of minutes to work through and, as it can be done using a mobile phone as well as a desktop device, you can complete it even when you're out and about. Account verification is almost instant and payments into your new account using a debit or credit card typically arrive straight away. Other payment options such as bank transfer are available but typically take longer to clear.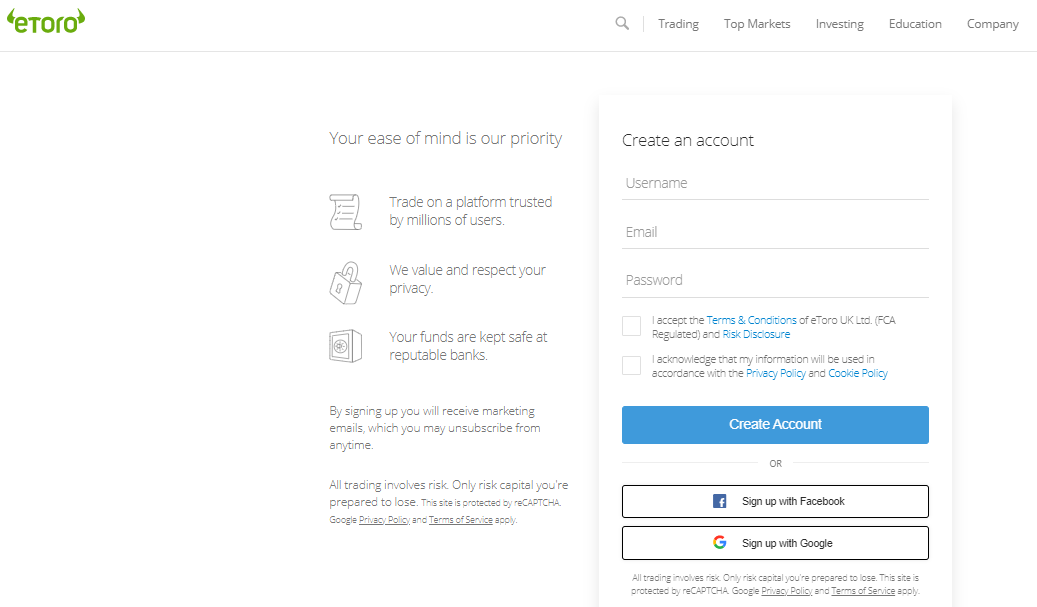 Source: eToro
3. Research Companies Using Fundamental and Technical Analysis
A lot of the work with long-term investing is done prior to trading. Once your strategy has been formulated, it's then a case of waiting to see if it works out as expected. Beforehand, your shortlist of markets will need to be studied in depth. A lot of investors use Fundamental Analysis to identify targets and Technical Analysis to help them find the optimal time to pull the trigger. Good brokers offer the reports and tools to help you with this.
4. Open a Ticket Order and Select Your Position Size
The process of buying shares and other assets is particularly user-friendly. Locate the market by searching your broker's database and input the amount of shares you want to trade.
Depending on the type of strategy you are running, you might want to consider using a stop-loss, or take profit order. These risk-management tools are automated instructions you input into the system to trade part or all of your position if price moves to a certain level.
5. Select & Buy UK Long-Term Stocks
Once everything is in place, it's simply a case of clicking your mouse or tapping your screen. You will then convert a proportion of your cash balance into stocks, which then fluctuate in value in line with market price. One top tip shared by pro traders is to ensure you actually bought what you wanted to. It's easy to make a 'fat finger' error and any errors are best corrected before market prices move too far away.
Final Thoughts
It's important to move away from the perception that all stocks go up in the end. This is certainly not the case, so some thought has to be given to stock selection and the best strategy to trade it. If you make the right choice, you can enjoy a relatively hands-free way of generating some kind of return on your cash. By comparison, choosing a reliable, trusted and cost-effective broker is relatively simple – as long as you follow the common-sense ground rules.