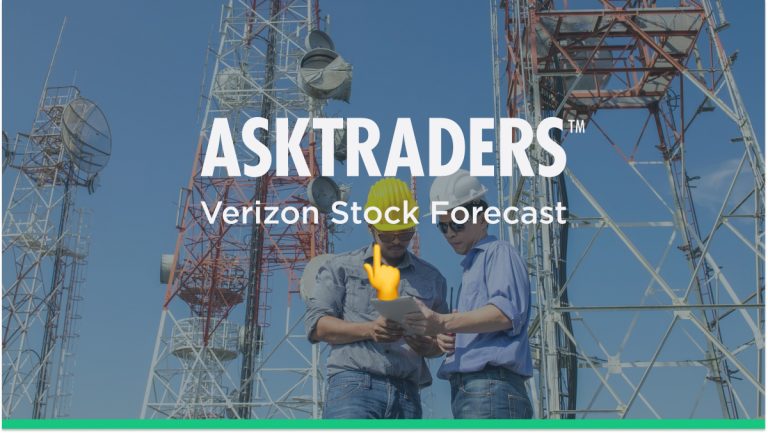 The US-based multinational telecommunications conglomerate has a business model that can smooth out investment returns. The firm's mobile network is the largest wireless carrier in the US, and in 2020 it boasted 120.9m subscribers. It holds the position of the second-largest US telecommunications company by revenue after AT&T. For investors, that converts to an impressive dividend yield currently close to 4.8%. The business model is pitched at offering high quality and reliable products, and also taken care of are the increasingly important ESG considerations. Some challenges are facing the firm, but some opportunities too, especially relating to the rollout of the 5G network. Using technical and fundamental analysis, the below Verizon stock forecast outlines the reasons to buy Verizon and how to find the best time to purchase.

Verizon Communications Inc (VZ) Share Price 2002 -2022
Source: IG
Who is Verizon (NYSE: VZ, NASDAQ: VZ)?
Verizon traces its history to a substantial and government-led re-organisation of US telecoms operators. In 1984 the US Department of Justice initiated a breakup of AT&T's network on competition grounds, and a range of smaller operators, 'Baby Bells', were formed. The economies of scale in the industry are hard to resist, and thanks to rounds of takeovers and acquisitions, these smaller firms merged back into larger firms. Verizon was created out of a rebranding of Bell Atlantic, which by 2000 had built itself back into a telecoms operator with a nationwide reach and 132,200 employees.
Deals carried out in 2015 saw Verizon branch out into content ownership by buying AOL and Yahoo! This experimental push into new business lines came to an end in 2021 when both firms were sold to hedge fund Apollo Global Management for $5bn. That  signified a decision by the firm to focus on its core networks operations and the impending rollout of 5G mobile communications.
Verizon is a constituent part of the blue-chip Dow Jones Industrial Average index and can be traded on the NASDAQ and New York Stock Exchange, though its primary listing is on the NYSE.
Verizon Fundamentals

Source: IG
Verizon Balance Sheet

Source: IG
Highlights from the 9-month financial results up to 30th September 2021 include:
Verizon Communications Inc. revenues increased 6% to $99.55bn
Net income increased 32% to $17.45bn
Revenues reflect Consumer segment increase of 8% to $69.6bn
Corporate And Other segment increase of 10% to $7.09bn
Business segment increase of 1% to $23.23bn
Net income benefited from Consumer segment income increase of 4% to $22.61bn
Dividend per share increased from $1.85 to $1.88
Where Will The Verizon Stock Price Be in 3 Months?
Verizon's networks are associated with long-term contracts that insulate the firm to economic downturns to a greater extent than some of its tech rivals. There are also aspects of a 'utility sector stock' about the firm; phone contracts probably being one of the last outgoings on which consumers would consider cutting their spending.
Verizon may not offer the same excitement as some of the more volatile tech stocks in the market, but recent Verizon stock price history confirms it's not entirely immune to overall weakness in the sector. For many, that could be seen as a buy signal.
Verizon Communications Inc (VZ) Share Price 2018 -2022 – Potential Breakout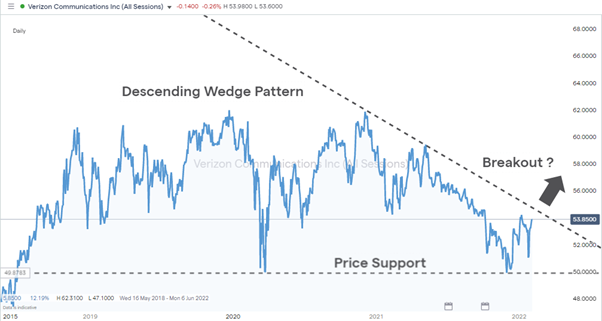 Source: IG
The price high of $61.98 recorded in November 2020 has been followed by a period of VZ stock price weakness. The price low of $49.77 printed in December 2021 indicates the $50 price tag has formed a significant support level. The low price of $48.84 in March 2020 also rebounded off this price level, which is a psychologically significant 'big number' that investors will be closely monitoring.
With price funnelling into the end of a descending wedge pattern, a breakout to the upside could offer investors a chance to buy Verizon stock below $55. Analyst price targets range from $50 to $79, meaning current market conditions point to this being a dip to buy.
Where Will The Verizon Stock Price Be in 1 Year?
Whilst increased short-term price weakness can't be ruled out, the news out of Verizon HQ remains positive in terms of dividend payment forecasts. Verizon stock history points to this reliable income stream supporting the stock price, which has a dividend yield of 4.79% and an attractive P/E ratio of 10.90. In pure cash terms, the Verizon dividend has held up well over recent years, most significantly even during the worst of the Covid-19 pandemic
Verizon – Total Cash Dividend Per Share
2021 – $2.535
2020 – $2.485
2019 – $2.435
2018 – $2.385
2017 – $2.335
Source: Verizon
Verizon Communications Inc (VZ) Share Price 2002 -2022 – Price Line Resistance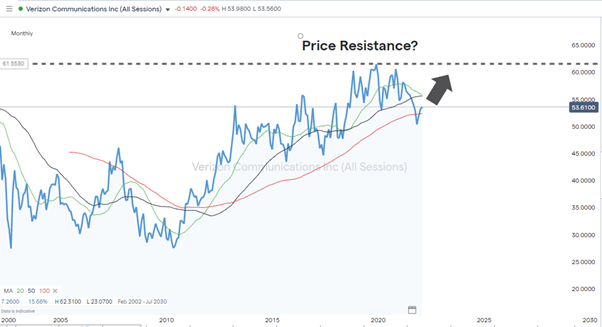 Source: IG
From a technical perspective, the Verizon stock price could face resistance in the region of $62.31, which was last touched in December 2019, marking the 20-year price high. There is plenty of headroom between current price levels and that potential resistance which remains +25% away.
Some investors have considered the question Verizon, buy or sell, and have taken a bet on the VZ stock price falling. Short-sellers currently hold short positions equal to 1.30% of the entire company, equivalent to 2.6 days of average trading volumes. That doesn't mark Verizon out as a poor prospect. Some of the short-selling will be by hedge-funds running market-neutral strategies that have gone long on another stock they consider having better prospects than Verizon.
Where Will The Verizon Stock Price Be in 5 Years?
Extending the Verizon stock forecast up to 2025 and beyond continues to find reasons to buy Verizon stock at the moment.
Any stock which can ride out uncertainty associated with Covid and Omicron deserves consideration. It might not generate life-changing returns but offers some stability as part of a well-diversified investment portfolio.
The income streams the firm generates are impressive and stable. Even when revenue forecasts overshot in 2020, Verizon still closed the year with $23.6bn in free cash flow, an impressive uptick of 32.4% from the same number in 2019. The final year statements for 2021 look set to reflect momentum is continuing to build thanks to 5G coming online.
Those looking towards 2025 will note the $52bn of debt the firm took onto the balance sheet in Q1 of 2021 that allowed Verizon to bid for rights to the 5G network. That is now being repaid as a priority. Once off the books, Verizon investors can expect to benefit from revenues sourced from new and existing ends of the telecoms network.
Verizon Communications Inc (VZ) Share Price 2002 -2022 – Price Line Resistance
Source: IG
In September of 1999, in the heat of the dot-com bubble, Verizon printed an all-time high price of $68.18. The VZ stock price isn't likely to test that level in the immediate future; its stock history is more about 'slow and steady' winning the race. However, a new all-time high can't be dismissed by investors running long-term, buy-and-hold strategies.
A total of 29 broker analysts cover the stock, and whilst the majority tip the stock as a 'hold', nine analysts expect it to outperform the wider market.
Verizon Broker Ratings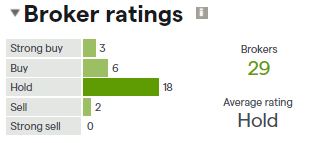 Source: IG
Who Owns VERIZON stock?
Verizon stock is owned by a wide range of institutional investors, including pension and hedge funds. Those big players carried out extensive research and have come up with Verizon stock forecasts encouraging enough for them to build positions close to half a billion dollars in value.
Officially reported positions in 2021 included New York State Common Retirement Fund's position in Verizon stock of $413.73m, Advisor Group Holdings owns $136m, Los Angeles Capital Management LLC $11.6m, and KBC Group NV $70.50m.
One clue is that investing in Verizon is skewed towards the lower risk-return end of the investment universe. Compared to some other companies in the tech sector, Verizon has more pension funds than hedge funds ranking in the top ten investors by position size.
Is Verizon a Good Stock to Buy?
Those asking the question is Verizon a good stock to buy would benefit from considering the existing structure of their investment portfolio. Verizon would complement most portfolios, particularly those skewed towards more speculative strategies. A stock position that smooths out returns can help take the emotion out of trading and allow traders to ride out unavoidable dips in the market.
Complete beginners looking to make their first stock purchase might also consider the stock thanks to its track record of paying dividends whilst offering some degree of growth thanks to the new 5G network being rolled out.
Will Verizon Stock Go Up?
Few expect Verizon to punch the lights out, but the stock did begin to show signs of upward momentum through 2021. The prospect for the firm could be changing, and the debt taken down to fund future growth is already being paid off. Once that is cleared from the balance sheet, the management looks unlikely to stray from their long-established approach of returning cash to investors. That revenue stream is a crucial element of VZ stock support, and whilst there is some chance of the stock going up – possibly more importantly – there appears less chance of it going down.