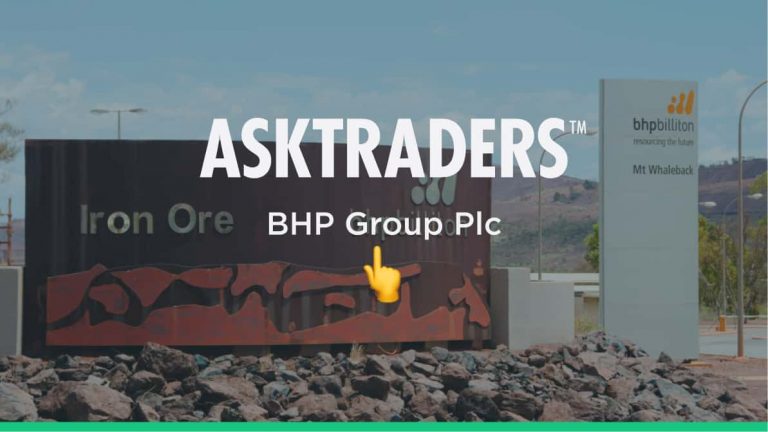 What is BHP Group Plc
BHP Group Plc, now trading as BHP, is a diversified resources company listed on the Johannesburg Stock Exchange (JSE) that extracts, processes and markets metals, minerals, copper, gas, metallurgical coal, iron ore and petroleum products to global markets.
BHP Group Plc operates primarily in Australia and the Americas and products are sold worldwide, with sales and marketing led through Singapore and Houston, United States.
The history of BHP Group Plc can be traced back to 1885 when the Broken Hill Proprietary Company Limited (BHP) was founded. In 1994, South Africa's Gencor acquired the mining division of Billiton, excluding the downstream metal division.  In 1997 Billiton was divested from Gencor and in 1998 amalgamated with Gold Fields.
In 1997, Billiton plc became a constituent of the FTSE 100 Index and in 2001 Billiton plc merged with the Broken Hill Proprietary Company Limited (BHP) to form BHP Billiton.
Today, BHP Group Plc has a diversified portfolio of products including the following: Iron ore, coal, petroleum, copper, natural gas, nickel and uranium.
Subsidiaries of BHP Group Plc include BHP Petroleum International Pty Ltd, BHP Marine & General Insurances Pty Ltd, and Bhp Minerals Europe Limited.
The headquarters of BHP Billiton Limited and the global headquarters of BHP Group Plc are located in Melbourne, Australia. The headquarters of BHP Billiton plc are located in London, England. Other main office locations are in Australia, the U.S., Canada, the UK, Chile, Malaysia, and Singapore.
BHP Group Plc has more than 80,000 employees and currently serves clients worldwide.
The current CEO of BHP Group Plc is Mike Henry.
BHP Group Plc's equity stocks are for sale online on the Johannesburg Stock Exchange (JSE) under the stock symbol BHP.
BHP Group Plc forms part of the Mining Industry and the Basic Materials Sector of the Johannesburg Stock Exchange (JSE).
BHP Group Plc Stock Performance
The current price for BHP Group Plc stocks on the Johannesburg Stock Exchange (JSE) is 361.15 ZAR.
BHP stocks closed a recent trading day (Friday 17 September 2021) at 376.67 ZAR per share on the Johannesburg Stock Exchange (JSE), experiencing a 4.7% drop from its previous closing price of 395.40 ZAR.
An analysis of financial data of BHP Group Plc showed that the company has a total market capitalisation of 796 Billion ZAR, with a Price/Earnings ratio of 8.58 and earnings per share of 43.8877 ZAR. The dividend per share of BHP was 44.84 ZAR and its dividend yield was 11.9%. A total of 2.11 Billion shares were outstanding.
With an increase of earnings per share and reliable profits over a period, investors who want to buy or sell BHP Group Plc stocks can be assured of lucrative dividends and earnings in times to come.
According to an analysis on the live chart of BHP Group Plc, analysts forecast further improved performance for the Basic Materials Sector with market share growing as trading volumes increase.
Highlights of BHP Group Plc in 2021
BHP Group Plc started the current financial year (2021) with a share price of 389.06 ZAR on the Johannesburg Stock Exchange (JSE), but it has lost 3.18% in value on its price valuation, ranking 336th on the JSE where its year-to-date performance is concerned.
BHP Group Plc is currently the 65th most-traded stock on the JSE and it has experienced a total trading volume of more than 81.8 million shares, which were finalised in 321,638 deals and were valued at a total of 35.7 billion ZAR over the recent three month period from 22 June to 17 September 2021, with an average of 1.3 million shares in each trading session.
During the same period a volume high of 8.09 million was achieved on 16 September and a low of 539,339 on 24 June.
How to buy BHP Group Plc stocks – Step by Step
The stock market is one of the most attractive financial markets that sees millions of retail investors and traders' participating daily. To buy, sell or trade BHP Group Plc stocks on the Johannesburg Stock Exchange (JSE), traders and investors can follow a few simple steps:
Find the share that you want to buy, in this case, "BHP".
Select a forex broker that offers access to the Johannesburg Stock Exchange (JSE).
Review the broker's trading conditions, fees, deposit and withdrawal methods, trading platform, customer support, regulation, and other components to ensure that they are aligned with your trading plan.
Open a live trading account with the broker by completing the online application form and providing the necessary documentation to verify the trading account.
You are now ready to make your first share purchase through the broker.
You can further start to build and diversify your portfolio by buying more shares.