#1

Forex
| | | | |
| --- | --- | --- | --- |
| Min Deposit | App Support | Max Leverage | Trading Fees |
| £1 | Mid | 1:30 | Mid |
XTB offers trading on a wide selection of currency pairs, including the majors, minors, cross rates and emerging markets. There are 48 currency pairs to choose from in total, with spreads starting as low as just 0.1 pips.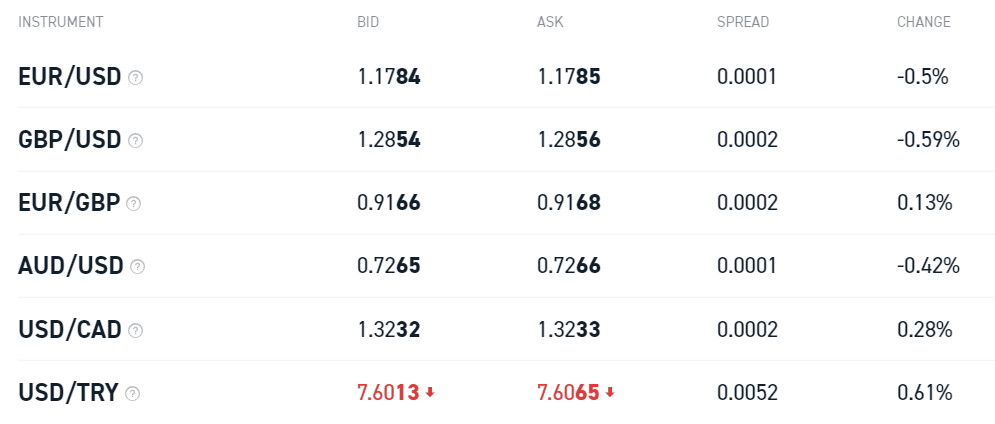 The offering in the Forex space is very similar to the many other brokers and peers of XTB. However, the availability of micro-lots, the ability to trade on much smaller amounts per trade, could appeal to many newbie traders or for those who are looking to make smaller investments and who want to minimise risks.
#2

CFDs
| | | | |
| --- | --- | --- | --- |
| Min Deposit | App Support | Max Leverage | Trading Fees |
| £1 | Mid | 1:30 | Mid |
Alongside Forex markets, XTB offers trading in 42 global CFD stock indices, 25 cryptocurrency CFDs, 22 commodity CFDs, plus 1828 individual stock CFDs and 118 ETF (Exchange Traded Funds) CFDs.
Additionally, XTB traders can benefit from negative balance protection, no requotes and mobile trade alerts for trading on-the-go.
#3

Stocks
| | | | |
| --- | --- | --- | --- |
| Min Deposit | App Support | Max Leverage | Trading Fees |
| £1 | Good | 1:5 | Mid |
There are 42 stock average CFDs, but stock investors will likely be very interested in the impressive 1828 individual stock CFDs and 118 ETF CFDs offered by XTB. This makes the offering from XTB of stock CFDs wide, varied and impressive.
When it comes to actual, direct investment in real stocks, XTB do not offer this service.
#4

Crypto
| | | | |
| --- | --- | --- | --- |
| Min Deposit | App Support | Max Leverage | Trading Fees |
| £1 | Many | 1:2 | High |
XTB offer a total of 25 of the most popular cryptocurrencies and altcoins as tradeable CFDs, including 9 individual coins and 16 crypto pairs. These are all offered on a x2 leverage basis and trading spreads are targeted at 1.0-1.5% of market price. Yes, this is lower than some of the more specialised cryptocurrencies brokers out there, but about in line with that on offer from XTB's peers.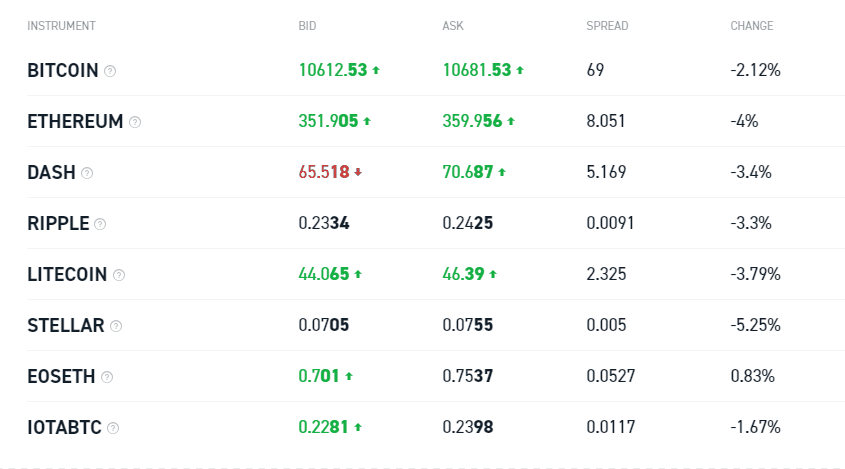 XTB do not offer actual, direct investment in cryptocurrencies.
Trust and Regulation
Trader Rating
XTB was founded in Poland in 2002 and is a public limited company listed on the Warsaw Stock Exchange. They are regulated and authorised by four global supervision authorities. In the upper tier of regulation, XTB are regulated in the UK by the Financial Conduct Authority. They are also regulated elsewhere with licences in; France, Germany, Spain, Cyprus, Poland and Belize. XTB have worldwide offices in 13 countries.
Overall, this puts XTB at the upper end of regulation compared to their peers and are viewed as a reliable broker on the trust front.
| | |
| --- | --- |
| Trust and regulation | XTB |
| Regulated in how many countries | 4 |
| Year established | 2002 |
| Publicly traded | Yes |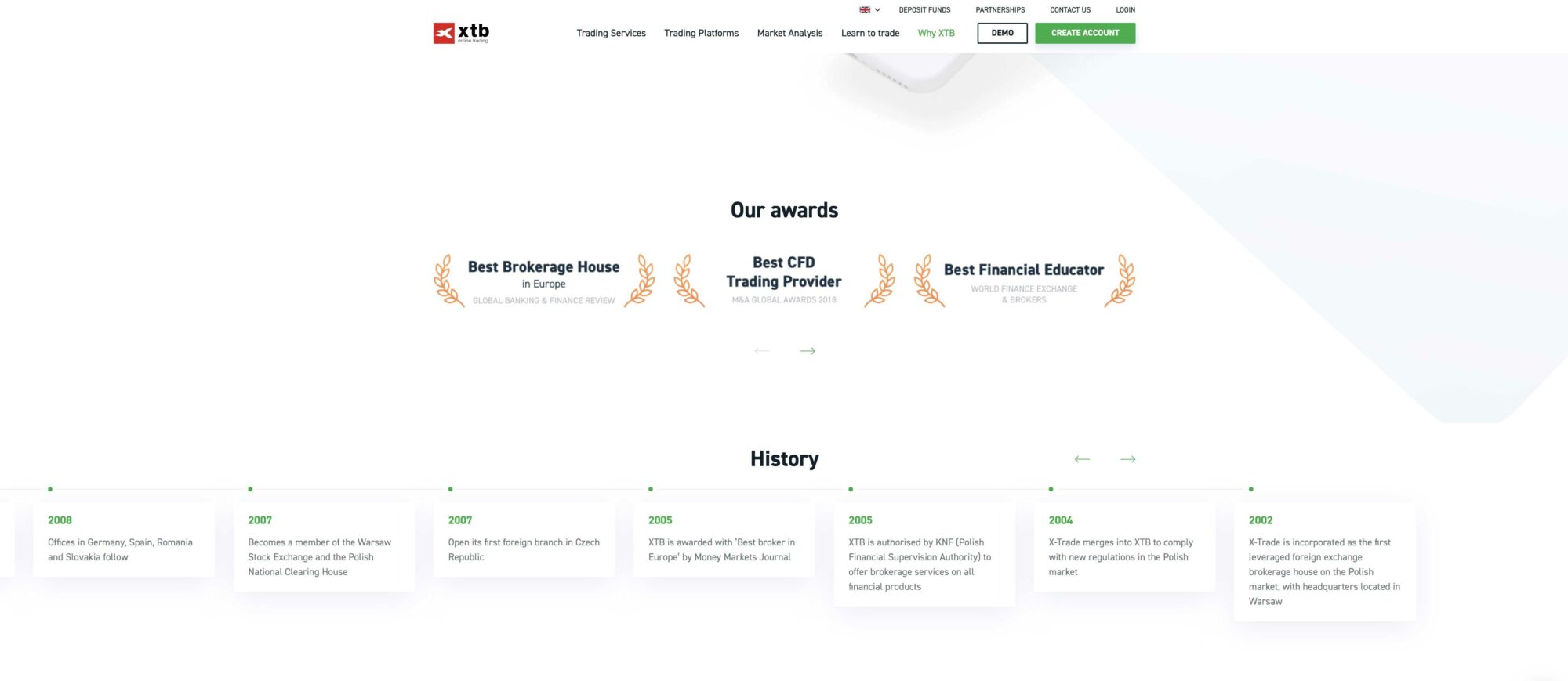 Offering of Tradeable Products
Trader Rating
XTB have a wide offering of tradeable instruments across the major global asset classes. AS can be seen in the table below, the offering in the forex, stock indices, commodities and cryptocurrencies is above the average when compared to many other brokers. In addition, XTB offer trading in individual stock CFDs, with 1828 stock CFDs available across 15 different exchanges. Furthermore, it is also possible to trade in CFDs on ETFs, which many of XTB's competitors do not offer.
| | |
| --- | --- |
| Product offering | XTB |
| How many Forex Pairs offered | 48 |
| How many Stock Indices offered | 42 |
| How many Individual stocks offered | 1828 |
| How many Bonds offered | 0 |
| How many Commodities offered | 22 |
| How many Crypto pairs offered | 25 |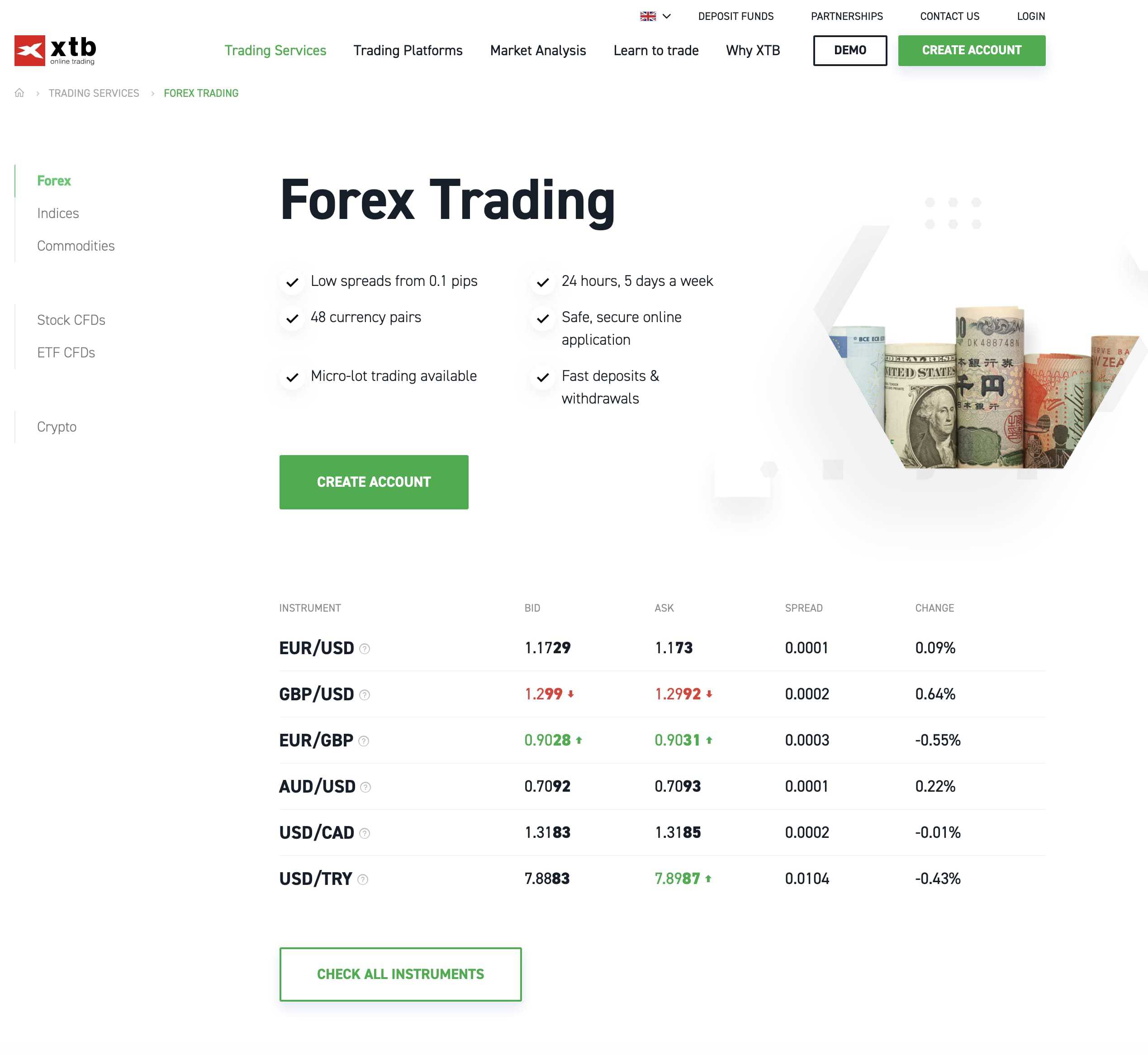 Fees/Commissions
Trader Rating
XTB offer two trading accounts types, with different fee structures. The Standard Account offers a spread only, whilst the Pro Account has a lower spread, but with commission too. If you trade regularly and/ or with larger trading volume per trade, the Pro Account can offer better value.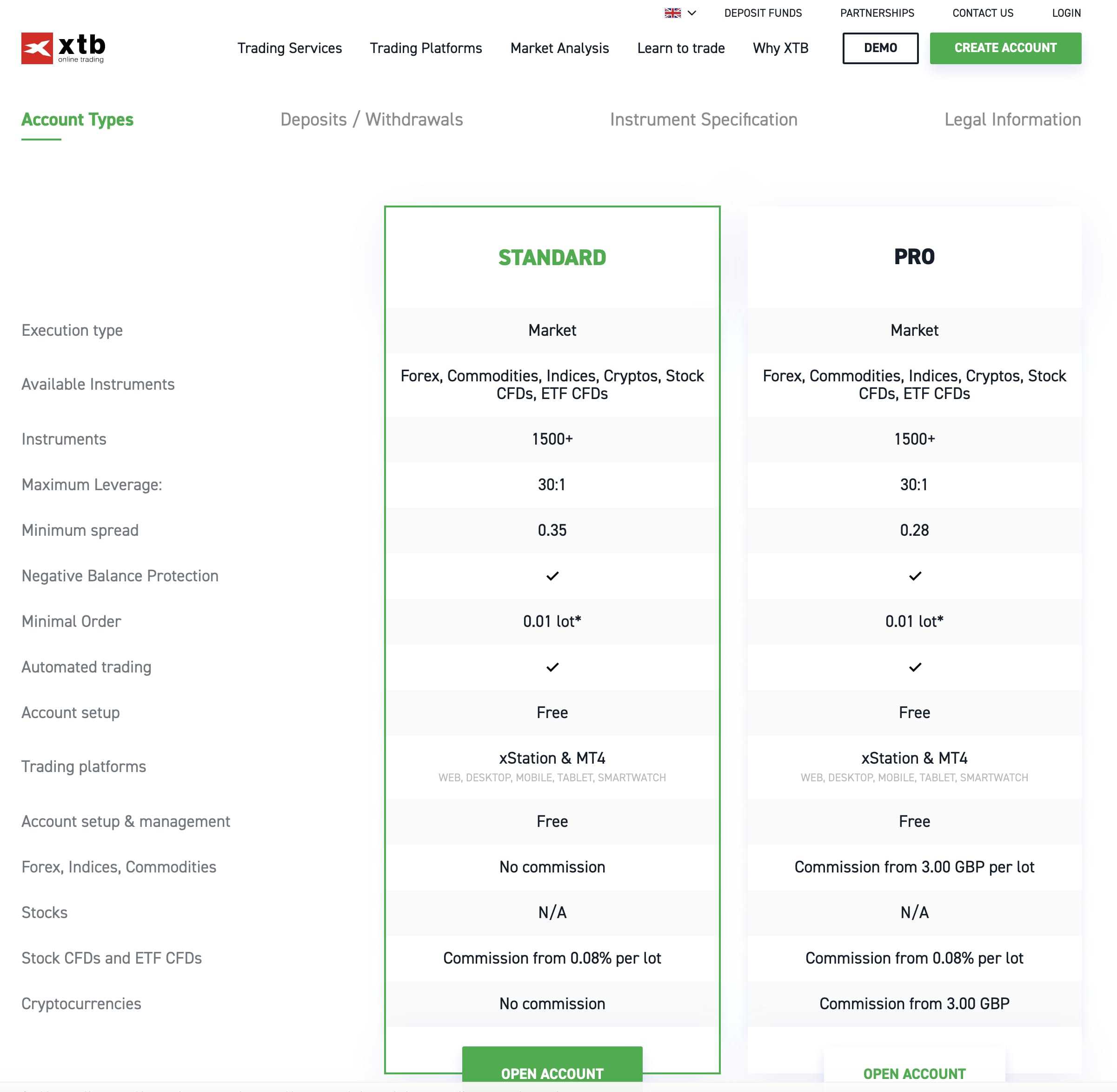 | | |
| --- | --- |
| Fees/ Commissions | XTB |
| EUR/USD average spread | 0.5 pips |
| EUR/USD minimum spread | 0.1 pips |
| Minimum account opening deposit | €1 |
| Withdrawal Fee | Yes |
| Inactivity Fee | Yes |
Lower spreads discounts are also offered for active traders. Spread discounts start from 5% and are available if you trade more than 20 lots per month. This rises to 10% for more than 50 lots, 20% for more than 300 lots and 30% over 1000 lots per month.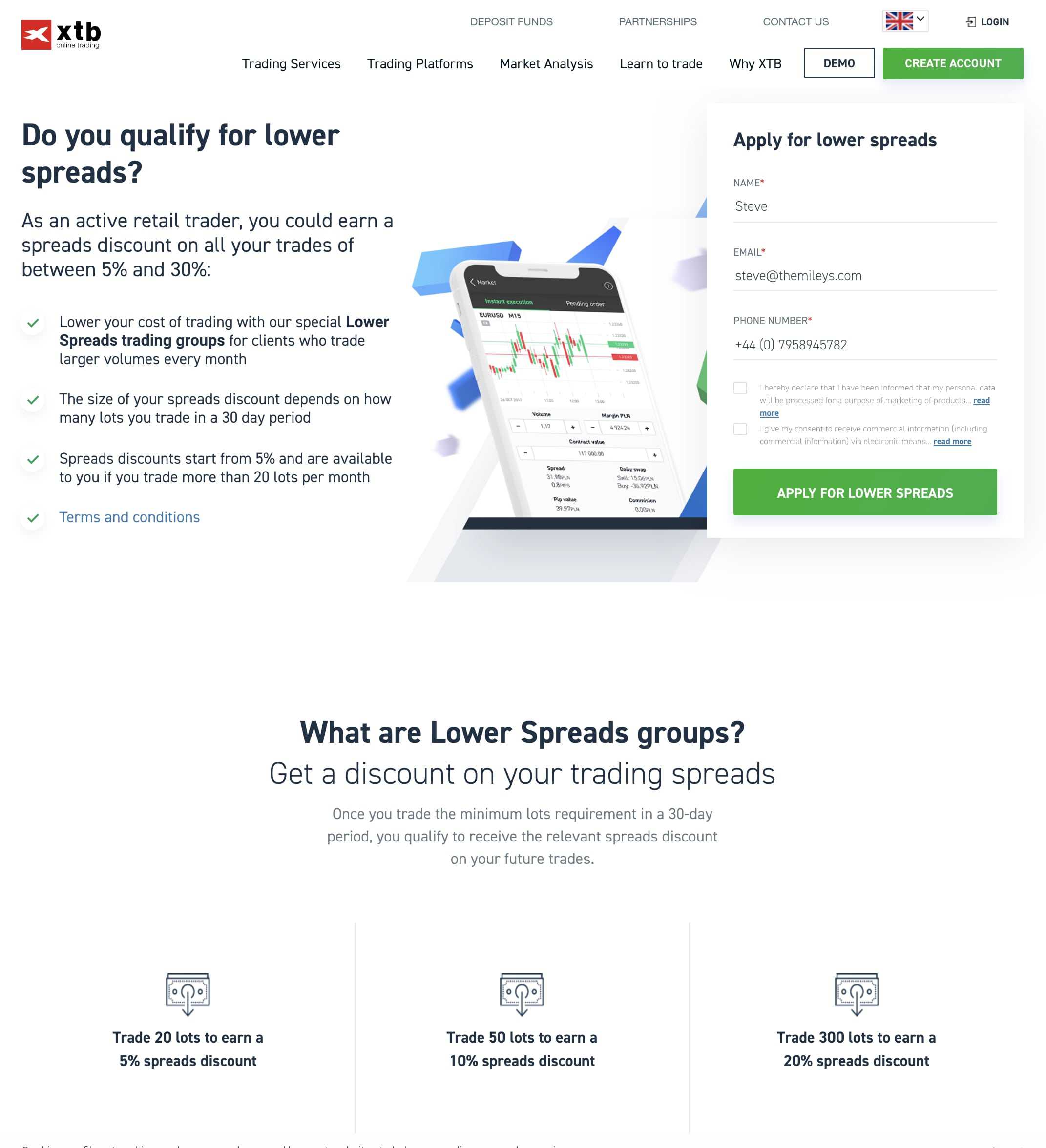 Trading Platform
Trader Rating
xStation 5 is the XTB in-house and flagship trading platform and is widely regarded as an excellent trading platform, better than the generic platforms that many brokers offer their clients. It is intuitive and easy to use, but as well as being user-friendly the xStation 5 platform is incredibly powerful, offering access to a suite of advanced analytical tools for more experienced traders. These include economic news releases that appear within charts alongside the 34 drawing tools and 37 technical indicators that are available.
Alongside the access to the technical analysis tools and the overall user friendly and responsive design, from within the platform you can access other great trading tools, such as the stock screener, heat maps and sentiment analysis.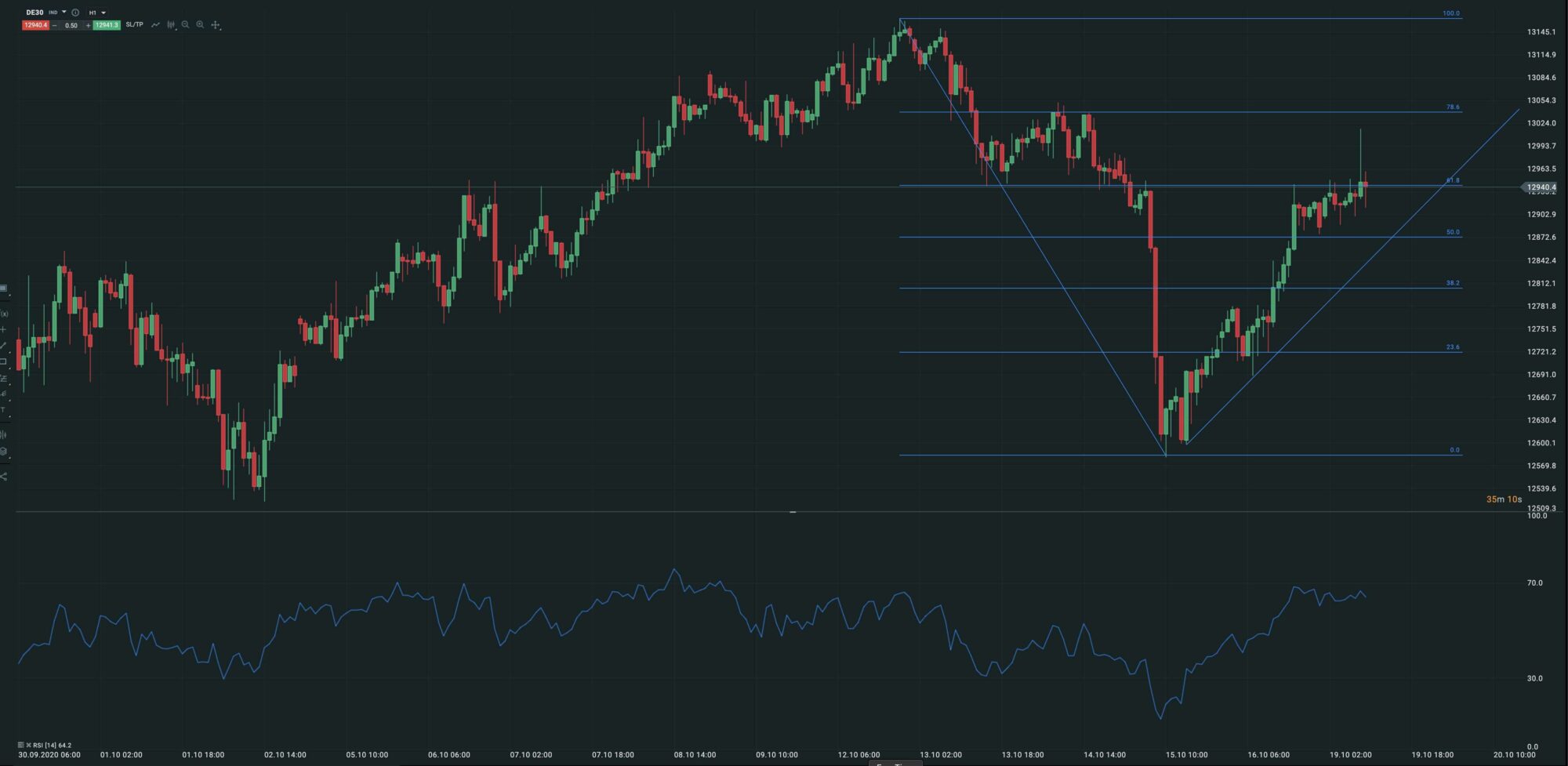 The standard version is the Web Trade Platform, which is compatible with Chrome, Safari, Opera, and Firefox. Alternatively, clients can download a desktop version for either OS X or Windows. There is also an xStation mobile app available, plus access via iOS and Android smartwatches, which we look at in more detail in the Mobile section below.

XTB also offer the option of using MetaTrader 4 (MT4) with their accounts, for those that are happier using a third-party platform they may be more used to. However, we would have to say that the in-house xStation 5 is superior to the MT4 offering. Other key features include access to market sentiments, easy risk management tools, in-built trading, and access to the economic calendar and expert analysis from within the platform.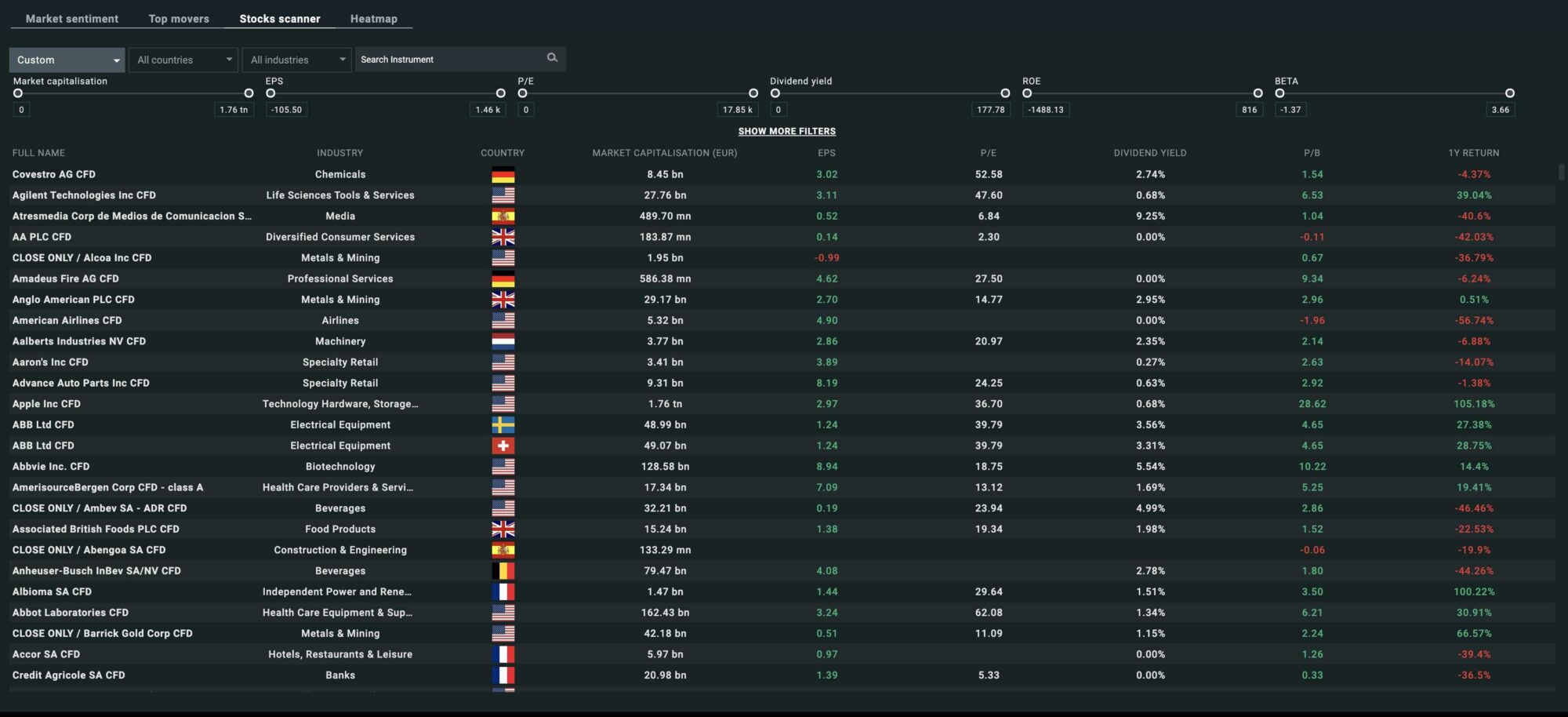 | | |
| --- | --- |
| Platform feature | XTB |
| Own platform | Yes |
| Demo account offered | Yes |
| MT4 | Yes |
| MT5 | No |
| cTrader | No |
| Chart Indicators | 37 |
| Chart drawing tools | 34 |
Mobile Offering
Trader Rating
XTB's xStation 5 trading platform is also available in a mobile version for both iOS and Android devises via the App Store and Google Play respectively. The app is a superb compliment to the very impressive xStation 5 desktop trading platform with much of the functionality of the desktop version. The sentiment analysis, economic calendar and streaming news are all available in the app, alongside access to the education section. Although there are fewer indicators on the charting side, the technical analysis is still extremely user friendly with strong functionality. There is also the option to use iOS and Android smartwatches with the apps.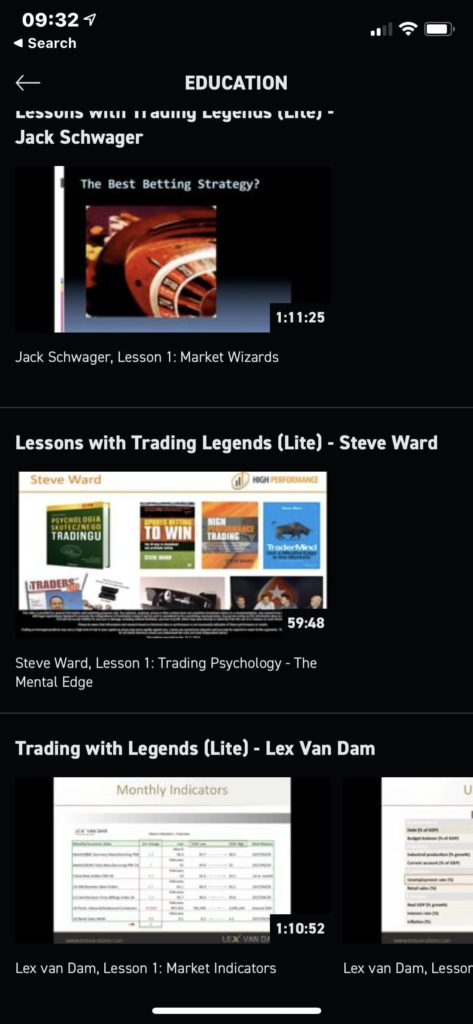 It is also possible to link your XTB trading account to the MT4 mobile trading app.
| | |
| --- | --- |
| Mobile feature | XTB |
| Own Apple app | Yes |
| Own Android app | Yes |
| Third party app (MT4/MT5/other) | Yes |
Education
Trader Rating
The education offering from XTB is of high quality and to an impressive depth. First of all, the fact that the education content is organized by experience level and also broken down into topics makes navigating the learning content very easy. In the "Basic" section, each lesson is followed by a quiz, which is a definite value added, and whilst the "Intermediate" section does not have the quizzes, the content is solid. As yet there is no "Expert" section available, but there is a "Premium" section available to those with a live trading account. Video content is also available via You Tube and in the "Premium" section, but at the time of this review, there were no educational or research webinars available.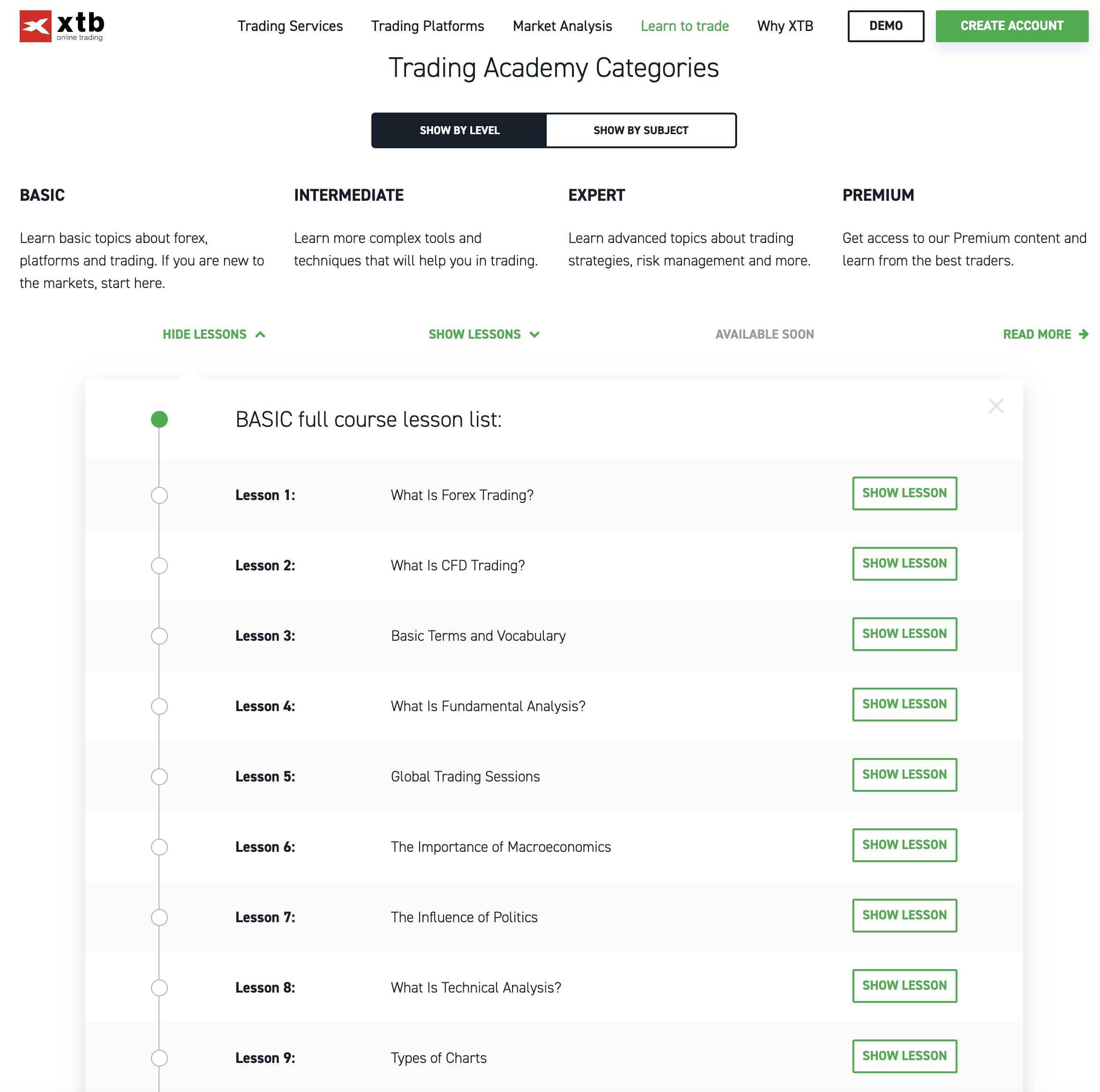 | | |
| --- | --- |
| Education feature | XTB |
| Webinars | No |
| Videos | Yes |
| Community Forums | No |
| Education Organized by Experience Level | Yes |
| Education Organized by Topic | Yes |
| Education Organized by Type | No |
| Has Education – Forex | Yes |
| Has Education – Stock Indices | Yes |
| Has Education – Individual Stocks | Yes |
| Has Education – Bonds | No |
| Has Education – Commodities | Yes |
| Has Education – Crypto | Yes |
| Investor Dictionary/ Glossary | Yes |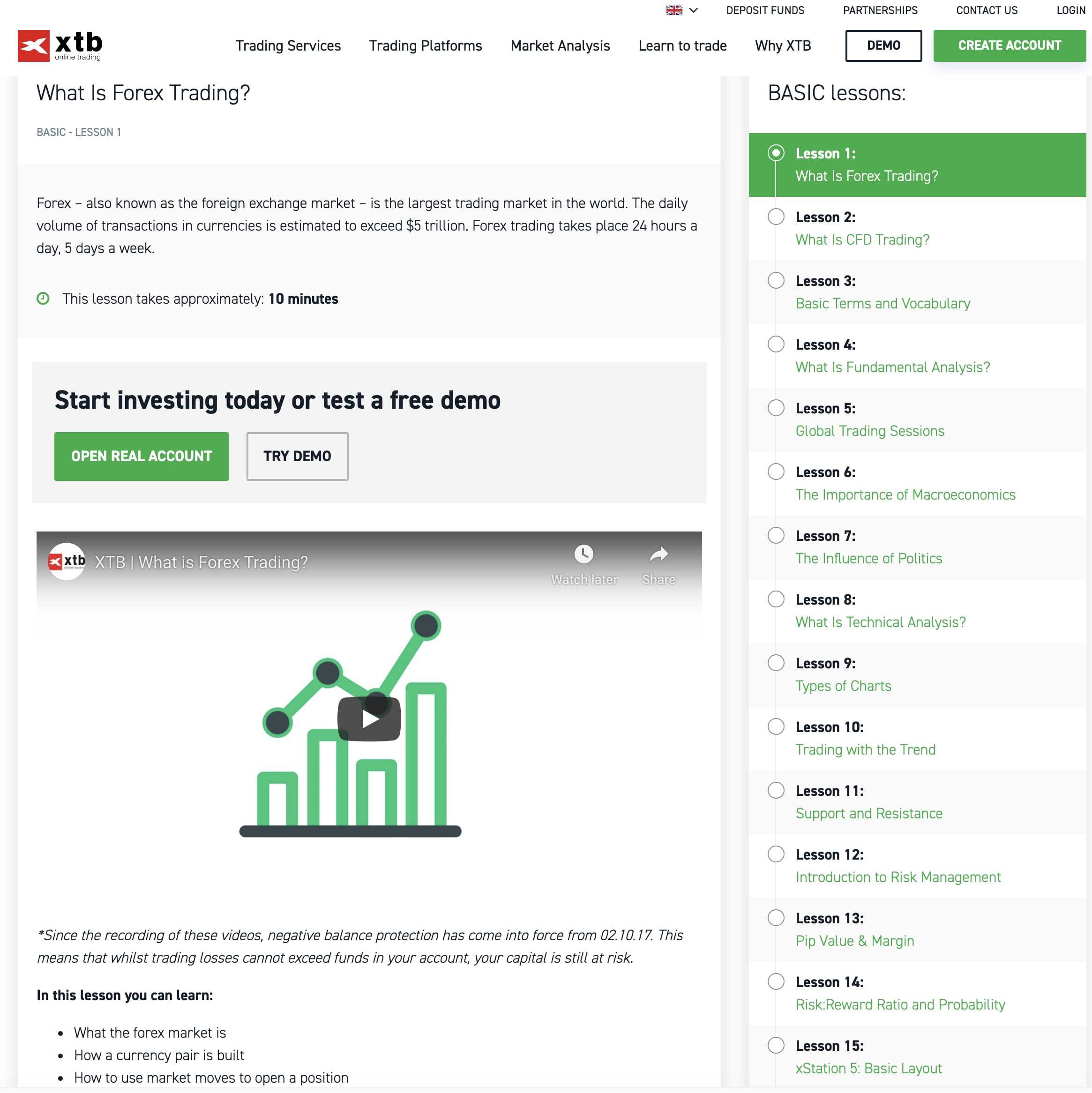 Research
Trader Rating
XTB offers both third-party and in-house research, which easily competes with their broker peers. The Trading Central and Autochartist extras that many brokers offer are not available, but XTB do offer other value-added services. There are streaming news articles and breaking news from both the in-house research team and from third parties, a market sentiment indicator alongside a stock screener that has various filters, plus a solid economic calendar.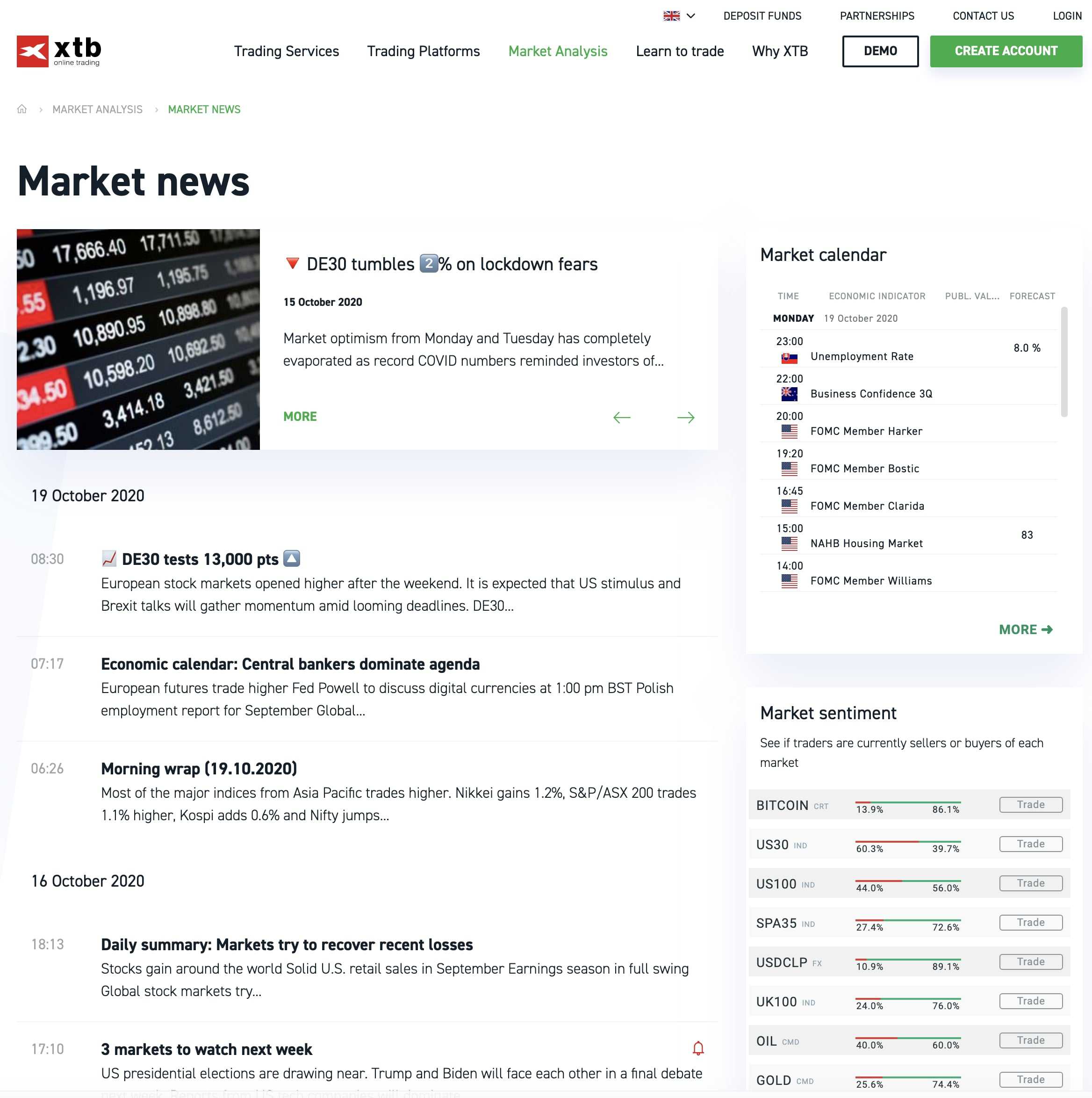 With respect to videos, the English-speaking section on You Tube had not seen any notable updates at the time of this review for some time, though non-English speaking channels on You Tube did have a healthy flow of research analysis, particularly from France, Germany and Spain.
At the time of this review, there were no research or educational webinars scheduled.
| | |
| --- | --- |
| Research feature | XTB |
| Research Organized by Experience Level | No |
| Research Organized by Topic | No |
| Research Organized by Type | No |
| Has Research – Forex | Yes |
| Has Research – Stock Indices | Yes |
| Has Research – Individual Stocks | Yes |
| Has Research – Bonds | No |
| Has Research – Commodities | Yes |
| Has Research – Crypto | Yes |
Customer Support