Key points:
DraftKings shares fall 15% premarket
The company reported Q3 results
Jefferies says the bar may have been high
Shares of DraktKings (NASDAQ: DKNG) have plunged premarket Friday after the company reported third-quarter earnings.

DraftKings reported third-quarter revenue of $502 million, above expectations of $437.23 million, and an increase of 136% compared to $213 million during the same period in 2021.
In addition, monthly unique payers increased to 1.6 million average monthly unique paying B2C customers, representing an increase of 22% compared to the third quarter of 2021.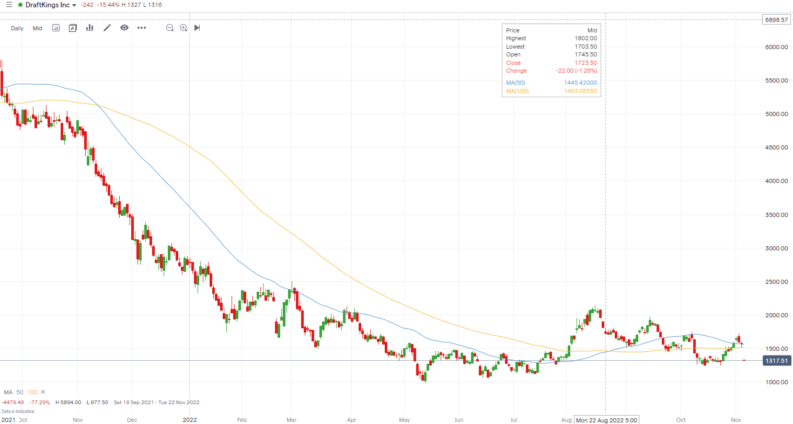 The company raised 2022 revenue guidance. It now expects revenue for the year to be in a range of $2.16 billion to $2.19 billion from the range of $2.08 billion to $2.18 billion previously announced in its second-quarter release.
DraftKings also adjusted its fiscal year 2022 adjusted EBITDA guidance and now expects an adjusted EBITDA loss of between $800 million and $780 million in fiscal 2022 compared to its guidance of a loss of between $835 million and $765 million.
Furthermore, the company introduced fiscal 2023 guidance, stating it expects revenue for the period to be between $2.8 billion and $3 billion.
At the time of writing, DraftKings shares are down over 15%.
Following the report, Jefferies analyst David Katz said DraftKings reported "strong" revenue and a narrower-than-expected EBITDA loss in Q3.
Still, he believes "the bar may have been high given competitors' solid results this past week," while the company's new FY22 and FY23 guidance suggested another $600M-$700M of EBITDA burn before turning a profit in Q4 of 2023. As a result, the analyst expects "a neutral to modestly negative reaction pending further commentaries." The Jefferies analyst has a Buy rating and a $33 price target on DraftKings.