NantKwest (NASDAQ: NK) and ImmunityBio reported early interim results of its PD-L1 t-haNK protocols showing median survival rates more than doubled in its QUILT trials.
The company said that the trial validates the theory that survival rates could be improved without high-dose chemotherapy by orchestrating natural killer and T-cell therapy.
The trials explored the idea that by activating the patient's own immune system, a paradigm change in cancer therapy could evolve to eradicate cancer cells without high-dose chemotherapy.
"The initial results of these Cancer Moonshot trials combining immunotherapy molecules—including Abraxane from Celgene, haNK from NantKwest, Anktiva from ImmunityBio, and a PD-L1 inhibitor Avelumab from Pfizer—provided promising early data that a doubling of median overall survival rate in patients with advanced metastatic disease across multiple tumour types was possible," said Patrick Soon-Shiong, Chairman, and CEO of ImmunityBio.
The interim study results showed cancer Moonshot QUILT trials of haNK combined with PD-L1 inhibitor avelumab were completed in 2019, the median overall survival rate more than doubled, and complete remission was achieved when replacing haNK and PD-L1 inhibitor avelumab with PD-L1 t-haNK.
On December 21st NantKwest and ImmunityBio struck a reverse merger deal that is expected to close during Q1 2021, with the company being listed on the Nasdaq under the ticker symbol IBRX.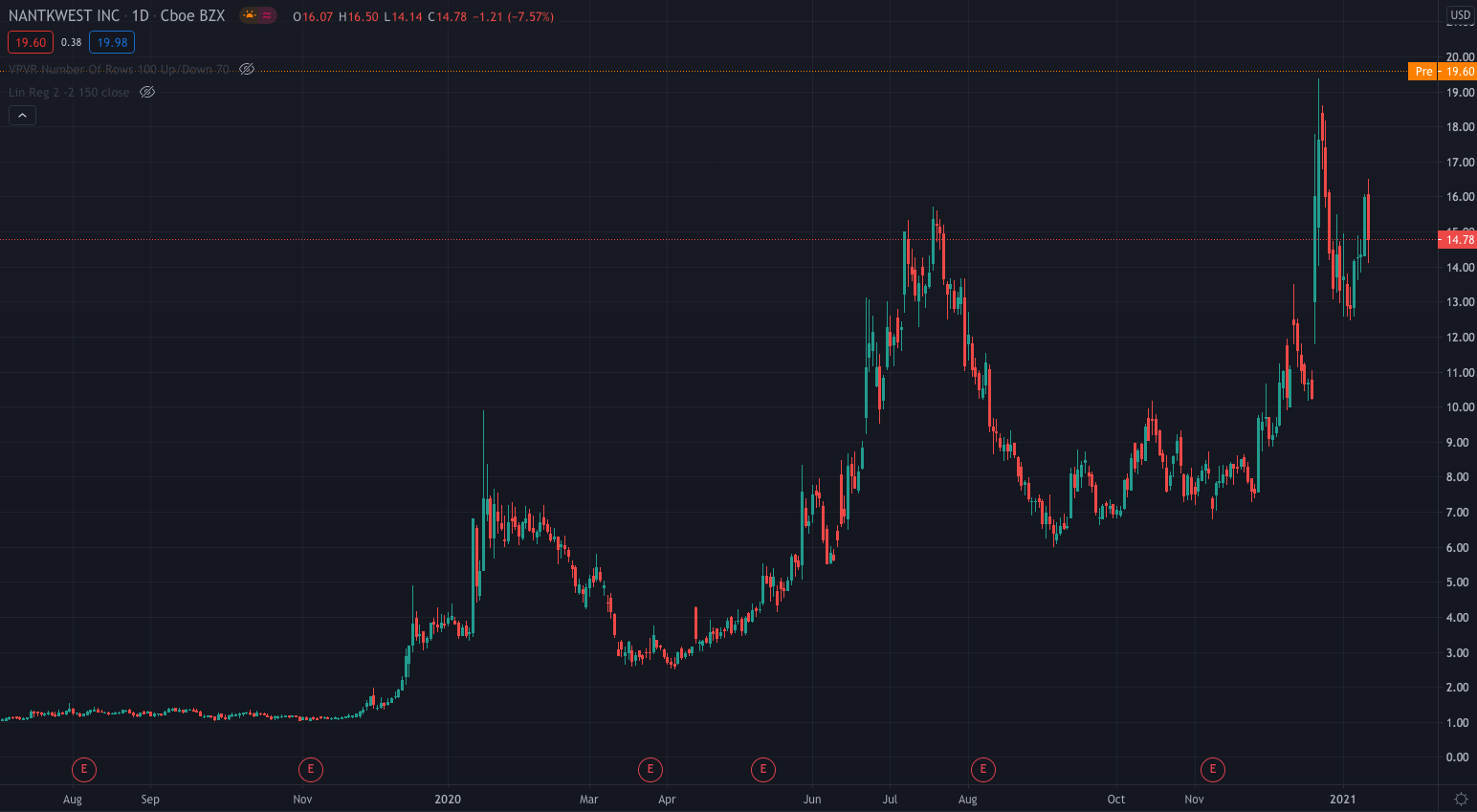 NantKwest shares are up 32.61% premarket, priced at $19.60.
CFDs are complex instruments and come with a high risk of losing money rapidly due to leverage . 75 % of retail investor accounts lose money when trading CFDs with this provider . You should consider whether you understand how CFDs work, and whether you can afford to take the high risk of losing your money .