Latest

21:05


US Equities Close
DOW: -1.25%
S&P: -1.45%
NASDAQ: -1.47%
20:55


Teledyne To Acquire FLIR

On Monday, Teledyne Technologies (NYSE: TDY) announced it has agreed on a deal to acquire FLIR Sytems (NASDAQ: FLIR) in a cash and stock transaction worth approximately $8 billion.

Full Story: TELEDYNE (TDY) TO ACQUIRE FLIR SYSTEMS, STOCK SOARS 19%
17:02


US Equities Plunge
DOW: -2.07%
S&P: -2.01%
NASDAQ: -1.96%
16:36


European Equities
FTSE 100: +1.75%
DAX: +0.09%
STOXX 50: -0.27%
IBEX 35: +0.24%
CAC 40: +0.68%
As coronavirus restrictions look set to tighten in Europe (particularly in the UK), most European indices close higher.
16:02


Synairgen

"Some analysts are concerned about the company's over-dependence on its COVID-19 treatment as a future revenue generator, given that sales of the drug could drop substantially once the pandemic is under control."

Full Story: SYNAIRGEN SHARES SURGE 9.8% STARTING 2021 ON A HIGH NOTE
14:41


US Equities
DOW: -0.26%
S&P: -0.18%
NASDAQ: -0.10%
Despite a positive open, US equities are trading lower.
14:08


Electric Vehicle Stocks

Premarket:
Tesla: +1.72%
NIO: +4.68%
Nikola: +0.98%
Xpeng: +6.23%
Workhorse: +5.26%
Li Auto: +4.51%
Fisker: +3.41%
Kandi: +1.88%
12:14


The9 Limited

Shares of The9 Limited (NASDAQ: NCTY) have are rocketing 123% premarket, currently trading at $7.91 after the company announced it has signed a cooperation and investment term sheet with several investors in the cryptocurrencies mining industry including Jianping Kong, the former Director and Co-Chairman of Canaan Inc. (Nasdaq: CAN), Qifeng Sun, the former Director of Canaan Inc., Li Zhang and Enguang Li.

The9 said the investors are expected to utilize their cryptocurrencies mining industry resources to assist The9 for its development of cryptocurrencies mining business. The9 will set up a new wholly-owned subsidiary NBTC Limited to operate its blockchain and cryptocurrencies business.
10:42


NIO Posts Record Deliveries

NIO shares look set to climb on the first trading day of the year after the company reported a 112.6% increase in vehicle deliveries in 2020 compared with 2019.

Full Story: NIO SHARES SET TO CLIMB AS IT POSTS RECORD DELIVERY NUMBERS FOR DECEMBER, Q4 AND 2020
10:30


MGM Bid For Entain

US Casino powerhouse MGM Resorts International (NYSE: MGM) has made an offer of approximately $8.1 billion to acquire Ladbrokes and Bwin owner Entain (LON: ENT).

Full Story: ENTAIN SHARES SURGE AFTER RECEIVING MGM RESORTS BID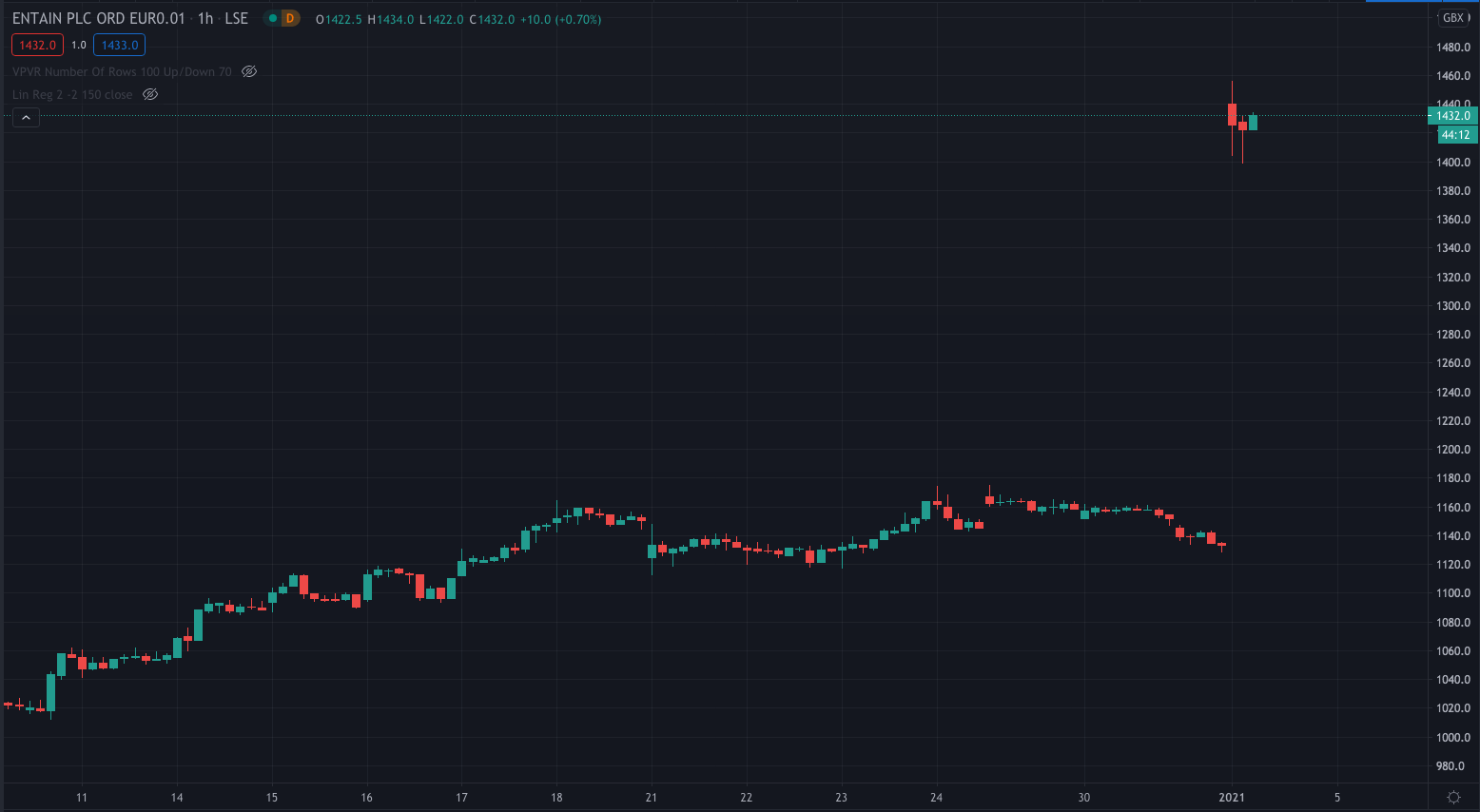 09:26


UK Stock Gainers
08:05


European Equities
FTSE 100: +1.76%
DAX: +1.45%
STOXX 50: +0.86%
IBEX 35: +1.38%
CAC 40: +1.32%
Stock News:
Tesla almost hit its 500,000 car delivery target, reporting 499,550 deliveries for 2020
Tesla Model Y deliveries will start in China this month at a starting price of approximately $52,000, compared with the $49,990 starting price in the US
MGM Resorts International is looking to buy Ladbrokes owner Entain plc
NYSE are to delist China's three large telecom carriers, China Mobile Ltd, Telecom Corp, and China Unicom Hong Kong Ltd