TomCo Energy (LON: TOM) announced on Wednesday that Greenfield Energy, its 50/50 joint venture with Valkor, has entered into a membership interest purchase agreement with Endeavour Capital Group and Tar Sands Holdings II (TSHII) for the potential acquisition of TSHII.
TomCo said TSHII owns approximately 760 acres of land and certain non-producing assets in Uintah County, Utah, USA.
Greenfield plans to use the site for the future mining of oil sands and construction of a commercial-scale processing plant utilising the FEED (Front-End Engineering and Design) study findings.

According to TomCo, the site has existing infrastructure, plant and equipment, and a current large mine permit to facilitate future development.
Greenfield has paid a non-refundable deposit of $200,000 to secure 90 days to undertake due diligence and an exclusive option for up to 120 days to acquire an initial 10% of the membership interests.
Greenfield can exercise its right to acquire an initial 10% of the membership interests for cash consideration of $2 million on or before 1 September 2021.
Following completion of the acquisition of the initial 10%, Greenfield will then have an exclusive option to acquire the remaining 90% of the membership interests for an additional $15.25 million, if acquired on or before 31 December, or $16.25 million if acquired between 1 January 2022 and 31 December 2022.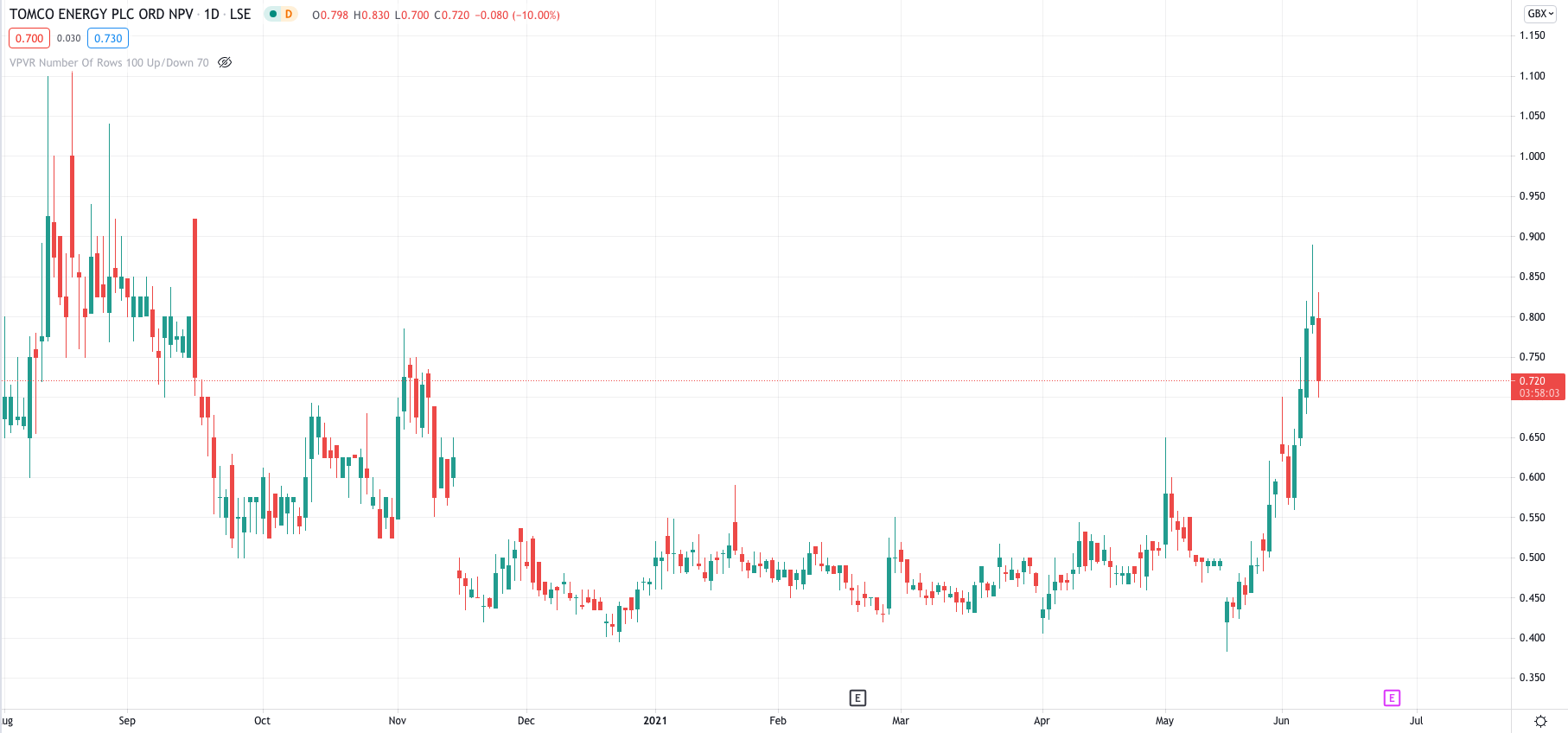 John Potter, CEO of TomCo, said: "I am delighted that Greenfield has secured the right to acquire, via TSHII, a suitable site for the potential construction, subject to funding, of its first commercial scale plant.
"The Site has the key attributes that our JV has been seeking and Greenfield will shortly be commencing detailed due diligence, whilst simultaneously progressing discussions with potential funders. In the meantime the POSP continues to produce saleable oil and sand andcommercial-scale to providing further updates in due course as matters progress."
TomCo's share price is down 10.28% at 0.718p. Earlier in the session, it fell to lows of 0.70p.
Should you invest in TomCo Energy shares?
TomCo Energy shares are traded on the London stock exchange's AIM market (the alternative investment market), which is the submarket specifically for smaller companies. AIM stocks are attractive to investors as they have tax advantages and smaller companies have the potential to benefit from rapid growth. But are TomCo shares the best buy? Our stock market analysts regularly review the market and share their picks for high growth companies